Movies entered our lives more than 100 years ago and had been the inseparable part of it since then. The fact is that people like to watch visual beautiful stories of the big screen. Well, as time has passed, we started watching the movies not only on big screens but on tiny screens of our gadgets as well.
However, it created a huge problem with piracy. When there was no authority to control the copying of the movies, users could freely exchange copies or simply download then from the Internet.
But as time has passed, a more online media platform that was proving movies for a certain price of subscription occurred and the control for pirate copies of media files became the most strict in history.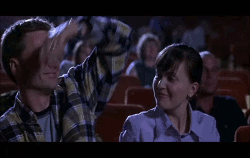 That's why at one moment it became extremely hard to just find a movie on the Internet and watch it online. And when you were going on the trip, wanting to have it in an offline mode, well, that mission was almost impossible.
But luckily now many apps have come to the market which allows users to enjoy any kind of movies online and offline for a reasonable price of the subscription or even for free.
1. Tubi
This is one of the best and beneficial apps on the market. For all those movie lovers out there – this is your gem which will allow you to watch any motion picture in an unlimited mode and for a tiny price.
Tubi is 100% legal unlimited streaming, with no credit cards and no subscription required. If you are looking for a way to save money, Tubi is your cost-effective solution.
Of course, since Tubi is free it is going to include some amount of advertisement. But here it is not so much as you could find on TV, for example. It's a freat free-streaming service that provides movies by such famous companies as Paramount, Lionsgate, MGM, and more.
Almost every genre of a movie is presented here, so everyone can find something to watch in their free time. Here are some examples: from comedy to drama, kids to classics, and niche favorites such as Korean dramas, anime, and British series.
An interesting feature of this app is that it represents even those rare movies that are not presented on other, more famous platforms. Just fo to the category "Not on Netflix" and see what it got. You can also affect your search by "Highly Recommended on Roten Tomatoes" (known movie critics resource).
If you are getting interrupted while watching a movie the app will get you back automatically later to the moment where you stopped. Here you can also create your list of favorite movies or the movies you are planning to watch in order not to forget anything.
New movies are added every week. Besides, you can sync your account between online devices, including Apple TV, Roku, Xbox, and Amazon. Basically, it is a great platform to watch movies, don't hesitate to use it.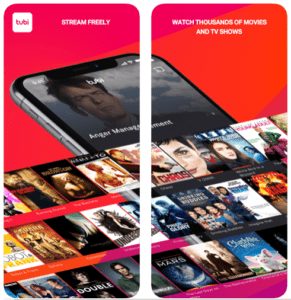 You may also like: 10 Best apps to watch TV shows for free (Android & iOS)
2. Popcornflix
It is really crazy how many platforms out there today mocking the famous Netflix. Well, it doesn't make this movie and shows watching the platform worse, moreover that it is free.
Here is no subscription is required and all the stuff watched is legal and official. Of course, it is going to include ads but again, it is quite bearable.
Watch movies and TV shows showcase some of the biggest stars in the world, including Brie Larson, Ben Affleck, and Robert Downey, Jr. However, in terms of genre variety, this app is a little bit less diverse than the previous one. However, all the most popular ones are included.
Among them, you can find action, horror, thriller, comedy, family. Moreover, the new content is added every week. Well, speaking of genres, it is fair to say that most of us are not that much into some specific genres like art-chaos and others – so the app is suitable for the broad audience.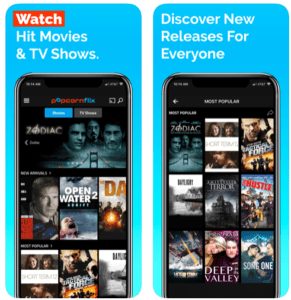 3. Yidio
Well, Yidio differs from the apps we had earlier in this list and you can see it from the first sight. It is actually a universal warrior that combines all the movies and TV shows streaming platforms together. Here you can find movies from Netflix, Amazon Prime, Hulu, Showtime and over 100 more services.
When you use the app for the first time, you can turn to the function Universal TV & Movie Search Guide that will explain to you how to find any movie you need on all these streaming services.
After you have watched several movies or shows, the app will be able to make personalized suggestions for you on what to watch. It is actually a useful thing for movie junkies since those motion pictures, close to those which you have already watched could become a pleasant discovery for you.
Here you can also create personalized watch-lists. A distinctive feature of this app is that it includes an every-day reminder about the new stuff uploaded.
Another aspect of this app – it is not completely free. Here you are more browsing through the streaming platforms, searching for the cheapest or the best option yourself. Of course, the app can make some suggestions for you but it is still better to make sure yourself.
The app is free for the first 7 days of usage. After that, the monthly subscription will cost $4.99 per month or each year with a cost of $47.99 per year. Less than Netflix charges, though. But, on the other hand, there can be some other payable subscription within the app.
4. Crackle
Another movie streaming platform where you can watch all your favorite movies for free. Life has definitely become easier since they invented streaming services, hasn't it?
In Crackle you can watch premium TV shows and movies from a full library of new and iconic hits. The ads are here as well, but what you can do to decrease its amount is to create your personal profile. Then the quantity of ads gets lower.
Filter genres like comedy, drama, action, thriller, and fandom to find fresh hits and all-time classics. Fill your "Watch Later" list with all your favorite titles. New movies and TV shows are uploaded on a regular basis.
The disadvantage of this app is when you have a certain problem the tech support is not quick to solve it. And, as practice shows, technical issues tend to occur quite often here.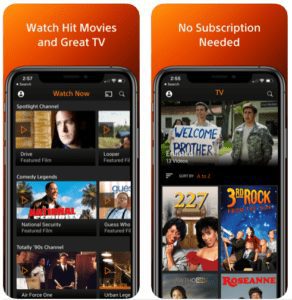 5. Crunchyroll
It is actually very cool that nowadays you got so many options to watch movies for free. People used to have pay for a DVD or a lease to see something new. This app has the largest anime collection in the world and mostly all of it is free.
Choose any genre you like – whether it's an action-adventure or hilarious comedy or critically acclaimed documentary – you can find all of those here. A distinctive feature of this app is that favorite anime episodes are released within an hour of their release in Japan so you do not have to wait a few days for a new episode
Apart from that, movies in such genres as action, adventure, drama, horror, science fiction, comedy, thrillers, and romance anime are available.
What is more, the app can be put in a kid-friendly mode. It includes anime that you can watch together with the whole family.
The serials can be watched with subtitles. Really beneficial for those who study the language. Another curious feature of the app is that it has both fairly iconic anime such as Naruto, Bleach, Sailor Moon, as well as new ones like Chainsaw Man, Shingeki no Kyojin, Mob Psycho, and others.
So you can see, that this is probably the app providing the widest choice of movies to watch. It was recommended by many media sources for its convenience and content.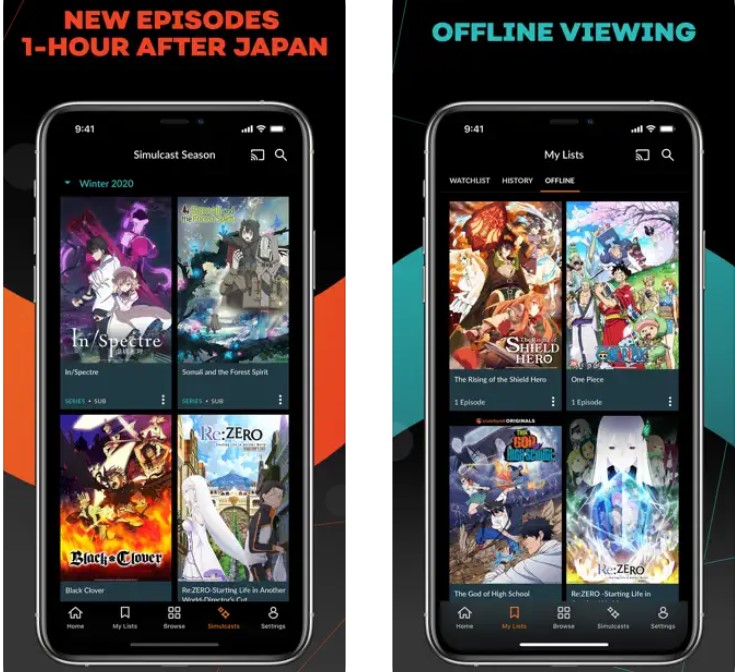 6. Pluto TV
This is another great app for watching free movies online, but it also differs from previous ones since it allows you not only to watch TV shows and movies but also the news broadcasts. Interesting features and probably those people who would like to follow the world's last events would like it.
And it is going to be, probably, an older audience. The leading free streaming TV and movie service is available for your gadgets and also Apple TV. Here you will find more than 200 live TV channels and 1000's of movies and TV shows on-demand, all streaming free.
The app requires no subscriptions and it contains movies of any genre. Even the old classic Hollywood movies are presented here. In total, the library of Pluto TV counts more than 1000's of on-demand movies and TV shows or from the 22 exclusive movie channels.
New movies from the top content providers like Paramount, MGM, Sony, and Lionsgate are added every day, you just need to constantly check them out. The only aspect here is that the app is not completely kids friendly.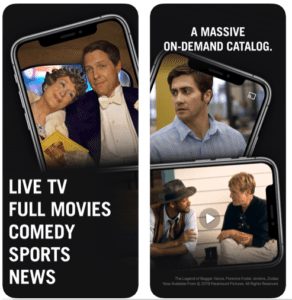 7. Vudu
Watch all the movies you want easily and for free. Moreover, the virtue of this app is that many anticipated TV shows, episodes, and movies appear here earlier than on Netflix or Blue-Ray. So for those who chase the latest movies of the industry – this is the right app.
Or you can binge on thousands of free movies on Movies On Us. There is also an option to stream your favorite titles to your iOS mobile devices in HDX and other compatible devices with Airplay right from the app.  No subscription is needed, all you have to do to get access is to sign up.
In total, there are around 100000 movies, shows, and episodes in Vudu that you can browse through. And one feature that especially cools here is that you can download all these media to your phone and watch it offline. That's extremely useful for long trips, especially flights.
This is basically an app that was developed for the TV so with the phone usage of it there might be some tech problems. The thing is that their tech support is not very fast and it may take you some time to get instruction from it. Also, study all the terms of usage before you install the app – since it is a TV software, the installation may cost something.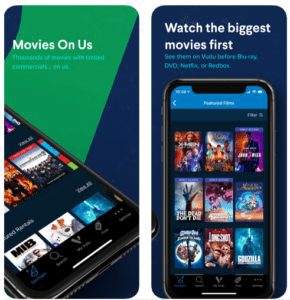 8. Funimation
In the case of this app, it reminds the app we reviewed a little bit above. And from first sight, you can see that this app will definitely be chosen by anime fans since its main feature is its abundance of different anime movies and TV shows.
All the content presented here is free of charge.
A cool feature of Funimation is that here you can choose subtitles almost in all languages for all the movies. It is especially useful for anime. New Anime shows and episodes are being added each week, so download the app now to explore current titles available in your country.
Considering such genres as horror, thrillers, and documentaries Viewstres provides a quite decent range of it all. It has really rare items that you won't find anywhere else.
Among other functions, you will find the possibility to create watch lists to always be aware of what to see and where we are stopped watching. In addition, some titles you can save to view offline, which is convenient for trips and journeys.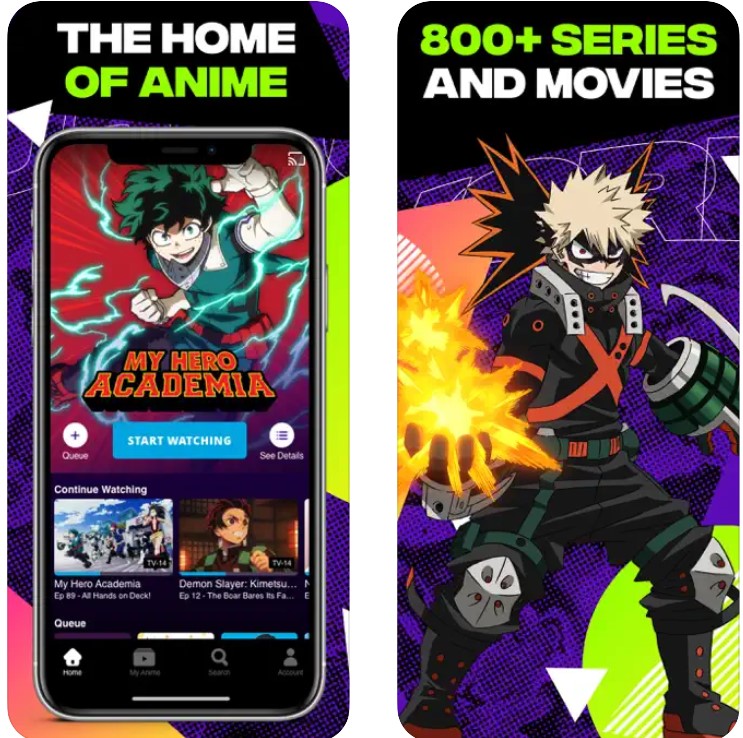 9. FilmRise
A little bit obsolete, but a nice app to watch different authentic movies that you won't find anywhere else. The app provides the best independent and international movies and TV shows. The App allows discovering new releases, indie movies, hard-to-find festival winners, documentaries, foreign movies, cult favorites, and much more.
So this is more of a movie app where movies and TV series are not added daily. However, users note that this does not prevent them from watching, for example, their favorite childhood serials, or iconic Oscar-winning films.
Considering this app, there is a section where you can scroll through the genres of movies available and choose the one you like and then see what it has to offer to you.
In addition, this service supports all the basic functions of a convenient app, such as creating playlists, smart searching, and viewing trailers.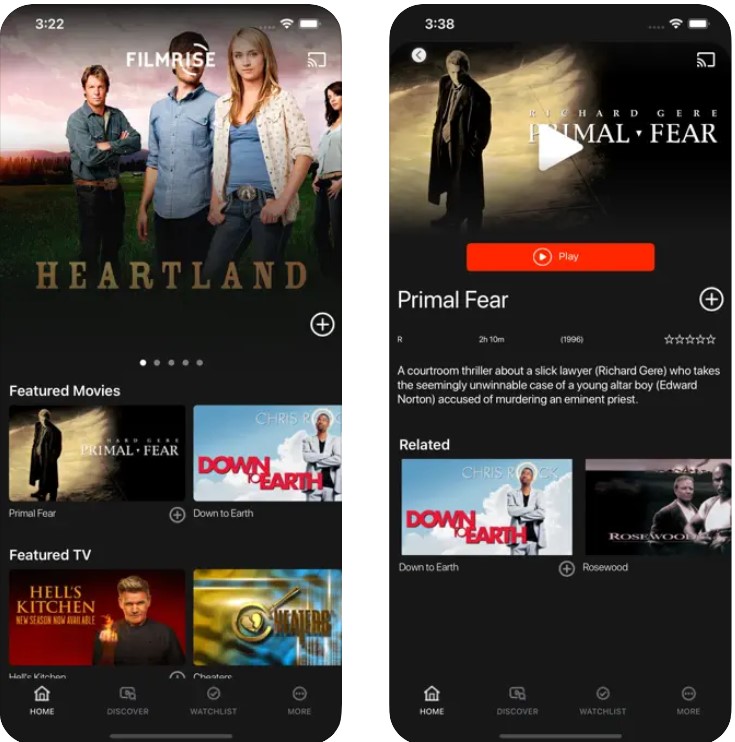 10. Viki: Asian Dramas & Movies
This service is perfect for fans of Korean drama shows from Korea. However, here you can find Asian shows for all tastes, such as Japanese, Vietnamese, Chinese, and others.
You can affect the search by text, popularity, rating, or genre. If you are going to watch a certain movie for the first time, there is an additional trailer for each of them so you can watch it first. Under each movie, you will see a short standard description with such details as genre, release date, actors, and so on.
You can also immediately see the reviews of other users about a picture and its overall ranking in the app. All the cast and crew that played in the movie are presented here with photos. It is useful if you are looking for a movie with an actor you know the look but doesn't remember the name.
When you watch a certain movie you will get a list of similar ones so you will never face a problem with a movie choice. The interface of the app is quite simple, but for simple watching, this is enough.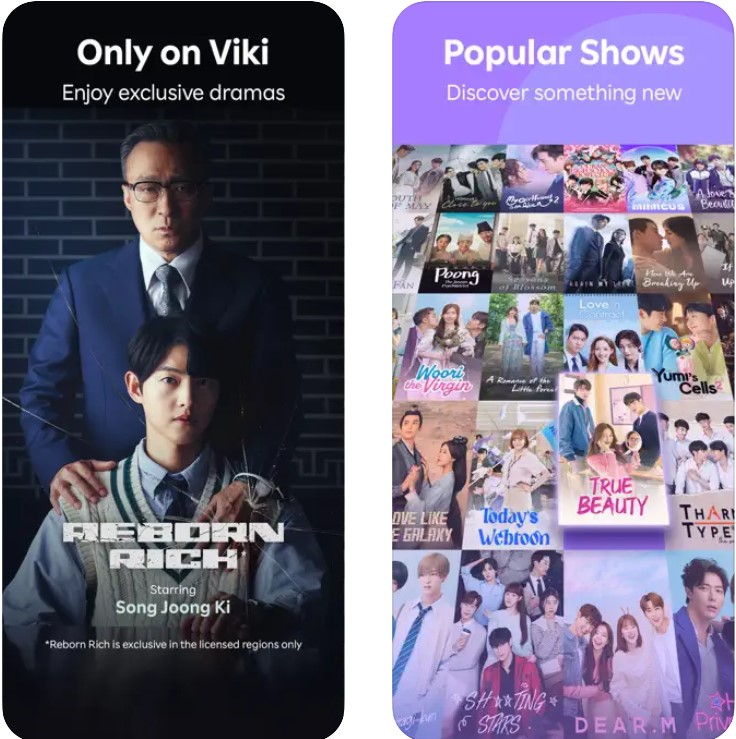 11. Google Play Movies
And of course, we couldn't exclude the app from the leading software developers. It is quite obvious that the movie watching apps produced by them cannot be bad. But it is even better when they are for free – and that's how you get a mixture of high quality and a real bargain.
Actually, Google Play Movies is sometimes is unfairly deprived of attention. It is a quite decent platform to watch your favorite TV shows and movies online. The choice is almost as wide as on Netflix, it just depends on which movies or TV series you want to watch – and the price will depend on that.
Moreover, this app allows you to download the media files on your phone so you can watch it offline later. The library is huge but, unfortunately, most of the movies are going to be not free.
However, there is an interesting feature of this app. You can, for example, take a movie for "lease" thus watching it once and then refund most of the price. This is a really convenient function and both the viewer and the produces get their profit.
And in terms of releasing the latest novelties, official sellers are always the best ones. You can pre-order upcoming motion pictures and get them immediately as they are released. The only negative aspect of Google Play at this point is that some media releases are delayed on this platform for 3-5 days.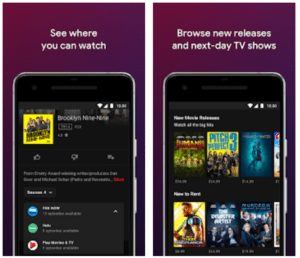 12. Hotstar
Another really cool streaming app that allows you to watch movies for free. In fact, Hotstar is one of the most popular apps on Google Play.
An interesting aspect is that the app doesn't say how many movies and TV shows does exactly it have, but it says about having more than 100000 hours of media files in more than 17 languages. That sounds quite impressive, doesn't it?
Another interesting fact is that the app was initially developed in India. After the app gained huge popularity in that country with more than 350 million downloads, it went worldwide.
The trial period in this app is for free and then it divides into 2 packages – HotstarVIP and Hotstar Premium. The first is more for those who want to watch sports channels and the latest TV shows episodes. The latter is more general and allows you to freely watch the whole library of movies.
And lastly, because this app was created in India – where you are going to find thousands of Bollywood movies. So for those who like this genre – a nice app to have.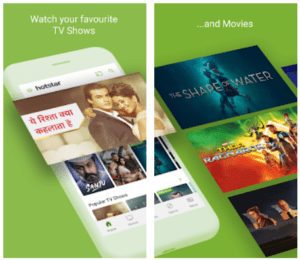 13. BBC iPlayer
BBC is one of the oldest and the most known and respected TV companies in the world. The quantity of staff that it includes is uncountable. Mostly it is famous for its documentaries about people and nature.
And this is a perfect app for the fans of BBC production. Any stuff that gets released on BBC – gets released here. And these are not only the documentaries but also TV series, news broadcasts, movies, interviews and many more.
Enjoy watching live TV in the palm of your hand, from live news coverage, music, and big sports events to great comedies, gripping documentaries, and nail-biting dramas.
A remarkable feature here is that this app is kid-friendly. You can easily set the required mode for the app and hand it over to your children to watch cartoons, education programs, and other staff relatable for their age.
Such popular and fresh TV shows as Strictly Come Dancing and RuPaul's Drag Race UK, His Dark Materials and Blue Planet can be found here. By the way, you can always save any series and movies to your device and watch them offline.
And you can also create watchlists. The only moment that requires attention is that the app works not in all countries.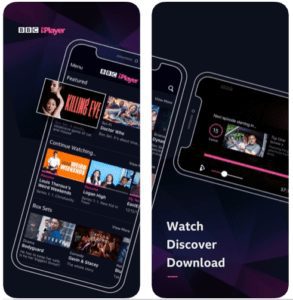 14. ITV Hub
The boom of TV shows was peaked probably in 90-s or 2000s. Do you remember, which diversity did we have when we were turning on the TV? Santa Barbara, Friends, Simpsons, Dancing with the Stars, Family Guy and many more… Well, there is actually no reason to be frustrated – now you can find all those shows in one app.
ITV Hub is a fine app to enjoy all your favorite movies and TV shows for free. Or, in case you don't want to spend your time watching ads, you can subscribe to a premium version.
Of course, here you will find some popular blockbusters… But this app is more about TV shows as you have probably already understood. Documentaries, dramas, comedies – any genre of them is available.
Besides, the latest episodes of your favorite TV shows are always uploaded instantly. Catch up on fresh ITV2 comedy like Family Guy or watch the latest episode of the Real Housewives of Cheshire – you really will be spoilt for choice.
All the media files are presented in high-quality and can be viewed both via phone and tablet. Another cool feature here is that if you want to go for a Premium account you don't have to pay for it instantly. You can take a 7 day trial period and see if it suits your needs or not.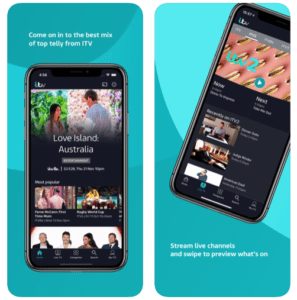 15. Amazon Prime Video
Ok, the app itself is free but in order to get access to the videos, you will need to get a monthly subscription for a good price. And actually it is worth it – but only if you are an active Amazon user and regularly shop in this online store – in this case, you will get the fast premium shipment of goods and access to Amazon Prime.
Actually, nowadays Amazon Prime Video is one of the best movie-watching platforms which offers exclusive content and the latest episodes of the most popular shows. The company even now has its own filmmaking studio. No need to say more, you are probably familiar with this source. Just here is the more detailed info on what you are going to find in this app.
First of all, the content, produced from all the prominent Hollywood studios and TV channels is uploaded on a regular basis. It's don't matter if you are a fan of Game of Thrones or just watch documentaries about beetles from time to time – you can find everything here.
Another essential feature – you can watch videos offline. And with the Chromecast, you can cast the media files from your phone to the big screen. With X-Ray, view IMDb data about the actors, songs, and trivia related to videos as you watch.
In total, the app includes more than 150 channels –  HBO, SHOWTIME, STARZ, and others. Easy-to-use interface, ranking system, personalized recommendations – all of that you can discover in the Amazon Prime Video.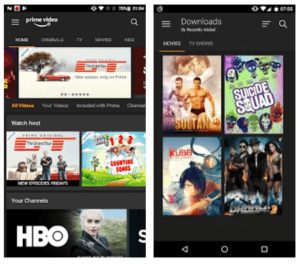 16. Flixster Video
This is an unofficial version of an app that was initially meant to be a provider of movie tickets and TV programs. In the original version, you could browse through the movies that are currently in cinemas or find some movies for lease and then buy the tickets online or lease a movie for a small payment.
That is convenient, but we all know that Google Play tends to be a little more neglecting to official content and that's why it has another version of this app – the one that allows you browsing through your favorite movies and watch them online or download them.
Basically, here you can find any sort of movie you want. When you found it, you can choose whether you want to save it or just watch it online. An interesting aspect is that you don't watch or download from the app itself. It redirects you to the sources where those movies are available.
As you can see, there can be thousands of sources and most of them are illegal. So don't be surprised when the page that you are getting redirected is unavailable. It will probably be fixed soon, but it is a common problem with free movies watching.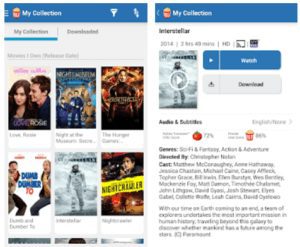 17. HD Video Downloader
Don't be surprised that most of the following apps are going to be mostly for Android. Unfortunately (or luckily), App Store has a much stricter policy concerning illegal copying of media files and it has always been more difficult to get irate staff inside the iOS system.
So yes, if you want to get the movies for free you better have an Android phone. Here is a cool video downloader that will help you to get any movie you want. The official sources may be secured but there is no system that cannot be cracked.
There is a browser in the app using which you can find a video you would like to download. When you found it, you will see the download icon in the upper corner of the app and then just click on it. The video will be uploaded to your media base.
You can store your videos both on your SD memory card and in the app. All the formats of videos are compatible with HD Video Downloader.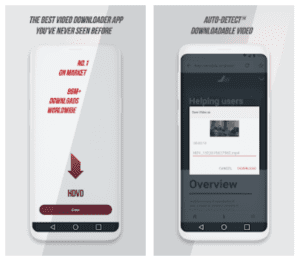 18. Video Downloader
This app gives you the possibility to download videos from websites you may like.
That is why it is an effective app to download movies so you could watch them on your device later. A useful feature here is that it is programmed to save your Internet traffic so even if you are downloading a long movie, the process will be optimized to the best level possible.
And the rest of the process is pretty much the same as it was in the case with the previous app. You just browse the websites with videos being able to download any of them.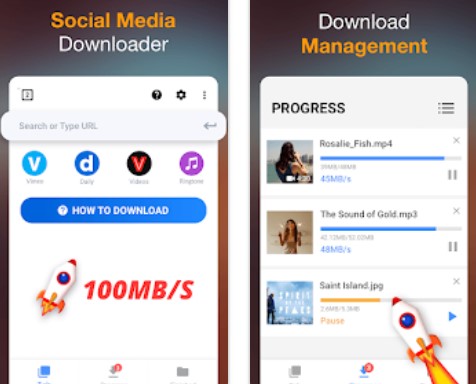 19. iflix
A great app to watch movies, TV shows, TV series and other kinds of videos for free. Actually, iflix is quite popular on Google Play. However, the app works only in the following countries: Indonesia, Malaysia, Philippines, Myanmar, Vietnam, Bangladesh, Nepal, Cambodia, Pakistan, Thailand, Sri Lanka, Maldives, and Brunei.
But maybe you are spending your holidays in one of those countries so you can use this software freely. You can actually try to run in in other countries as well, but there's no guarantee it's going to work properly.
Considering the main functions of this app – it contains a quite decent range of movies to watch. There is a possibility to download a video and watch it offline. Moreover, you can stream 2 movies at the same time.
Personalized recommendations function is also included. And for the unofficial app, it manages to get new content very fast. There is no payment for subscription, no hidden fees. The English language is available. For the kids, there is a special mode of the app. The only aspect is the number of working countries is very limited.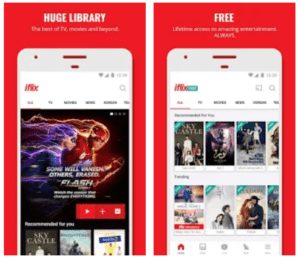 20. Download Movies App
This app is like an ultra tool for downloading movies from everywhere you want. It works in a little bit different way than previous video downloading apps. Here you can just type the name of a movie into a search bar and the app will show you the results you can download.
Well, this can be a little tricky because there is a possibility that the app doesn't cover all the sources available. By the way, here you can not only download but also stream movies. And the base of the app is constantly getting updated so the latest novelties should be included as well.
Before downloading the file you are able to choose on quality of a video. An interesting feature of this app is that it not only allows you to download movies but reformat them for burning on DVD. Not the most useful function, but just in case.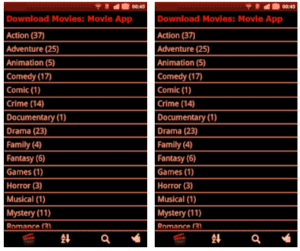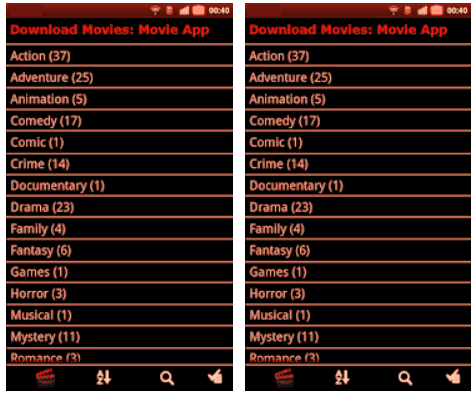 21. Video Downloader – Downloader
Another video downloader is going to close our list. You see, there are no sources for downloading videos for free for iOS, only for Android. But there are some cool apps that allow you to watch movies online.
The algorithm of work is similar. There is a built-in browser in the app where you can find any video you need and then download it. Then you can find your downloaded file in the lest-side menu.
The app is useful for cases when you need a series of videos from various sources, for example, for a presentation. Then you can easily find them in the browser and get to your gadget. You can also download long three-hour movies in the same way. It all depends on the free memory on your device.
You may also like: 6 Best Ace stream apps for Android & iOS