Have you ever imagined yourself at the controls as a pilot? There is no doubt that it is a childhood dream of many people across the world. If you want your dream come true right now, there is only one available way to do that.
The simple and cool option that comes to mind is installing one of the best Airplane Simulator Games on your gadget. While holding a device in your hands, you will believe that it is a control stick. That's why your feelings will be extremely realistic.
Our team has chosen the leaders among apps of this category. Installing a game from our list below will allow you to understand is piloting your cup of tea or not.
1. Flight Pilot Simulator 3D Free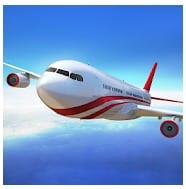 The first game app we are going to review is called Flight Pilot Simulator 3D Free. By the way, it is Editor's Choice awarded, which is essential.
After installing the app, you will gain access to dozens of airplanes. The choice will be especially great because the planes differ in sizes, purposes, construction, etc. The 3D models of the planes will be very close to the real ones.
As for the gaming process itself, there are several modes supported. The first one is a free flight mode. With it, you will feel the complete freedom of flying wherever you want across the globe. Nevertheless, you will surely face unpredictable situations that will make you highly experienced.
As for an alternative, you will be offered to try yourself in a mission mode. You will have a chance to become a hero while taking part in emergencies, rescue missions, rough landings, fires, and so on. Believe us that these accidents will make a gaming process so exciting.
Besides, we can add that the app is so intuitive. That's why you will be able to control a plane with no difficulty.
Lastly, there is no internet connection required. It is an obvious advantage for most mobile game lovers.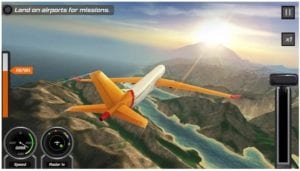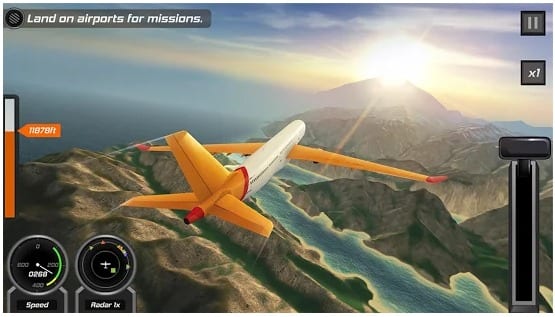 2. Airline Commander – A real flight experience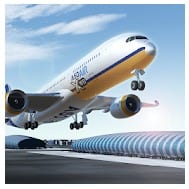 Airline Commander is also considered to be one of the best airplane simulator games. And if you are searching for the most realistic game, this one is what you need.
Nevertheless, let's start with basic game-related things. The game will make you an owner of a large fleet. Your planes will vary from turboprop to reactive ones, from single- to double deck. It remains to choose which plane you want to try for piloting.
When it comes to reviewing the most amazing features, we can say once again that this very game is so lifelike. By it, we mean pre-loaded settings, including realistic airports, runways, and routes across the world. The choice of them will surprise you for sure.
What is more, all the graphics are based on satellite images. That what makes the game outstanding.
Apart from this, the game includes realtime traffic, both air and ground. Though it makes the tasks more difficult to deal with, you will become much more skillful with this peculiarity.
So you want something more? Here you are. The game will offer you flight during different times of the day. The elements that complete that view will be the sun, moon, stars, etc. By the way, do not forget that weather conditions are also changeable. The Weather Radar will help you to stay aware.
Talking about game modes, the game supports two of them. The first one is the simplest one when you will have a chance to fly, depending on your desire. The second one implies missions. In a word, you will be given a task to accomplish. They will be complicated by emergencies during takeoff, landing, and so on.
As for technical details, the cockpit space will be full of cutting-edge equipment, just like the real one. It will allow you to become familiar with all the peculiarities while piloting. So dozens of sensors, radars, and instruments will be at your fingertips.
Don't worry if you are a novice in piloting. Even if you know nothing, the game's system will guide you. Otherwise, in case you are a professional, you will have access to advanced flight simulation.
One more distinguishing feature is the opportunity of competing with other users. That is one more cool advantage that motivates greatly.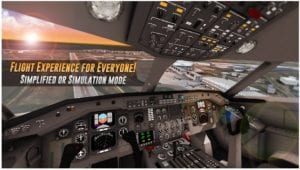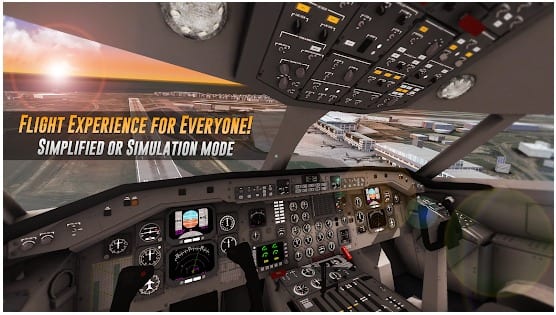 3. Turboprop Flight Simulator 3D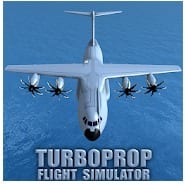 How do you feel about piloting an unusual aircraft? If your attitude is positive, Turboprop Flight Simulator 3D will be the best choice for you.
The app will let you feel yourself a pilot of a military plane (tactical cargo, coastguard, spec-ops, and their analogs). After choosing an aircraft, you will be instructed on how to fly, takeoff, land, taxiing, etc. As for cargo airplanes, in addition, you will take charge of loading/unloading airdrop supplies.
While sitting at the controls, you will enjoy seeing everything in a first-person (with access to cameras). The cockpits are equipped with mechanisms responsible for rudders, flaps, spoilers, thrust reversers, auto-brake, and so on.
As usual, you will be able to play in a free-flight mode as well as complete the missions suggested by developers. Just like the pilots in real life, you will face difficulties (onboard fire, fuselage breakage, clipping wing tips, full wings separation, and many others) to overcome.
As for minor advantages, the app supports several measuring units (metric, aviation standard, and imperial) on several parameters.
The developers also pay attention to the sounds used. They claim that the noises were recorded from real aircraft. It is a nice addition to the gaming process, isn't it?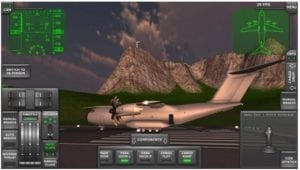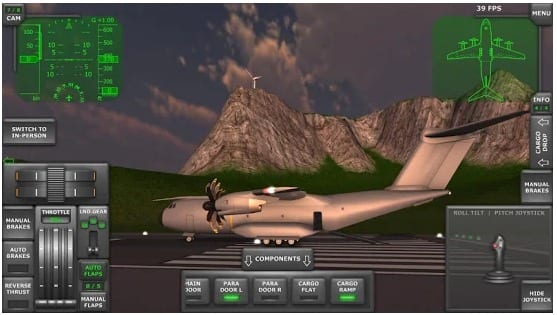 A plane engine's sound is quite monotonous for both pilots and passengers. If you find these sounds relaxing, we recommend you to install one of the best white noise apps for Android & iOS.
4. Extreme Landings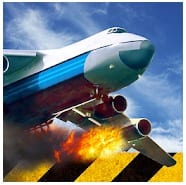 Sometimes the landings occur in terms of breakages, severe weather conditions, onboard fire, and so on. If you want to know how professional you are for landing during emergencies, we highly recommend you install the Extreme Landings game.
Before we start, it must be mentioned that the choice of missions, airports, and runways isn't so wide. To increase the number of them, you will be suggested to buy a subscription.
As for tech details, the app is full of things to admire. Thus, the cockpit will be perfectly equipped to make you as you were a pilot in real life. You will have access to controlling dozens of parameters with ILS, Speed autopilot, Route, Altitude and Vertical speed, and so on. That's why you will have you will have good chances to soft-land and save passengers' lives.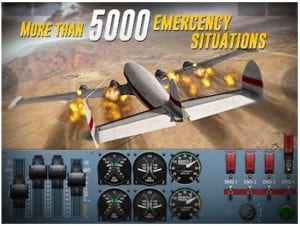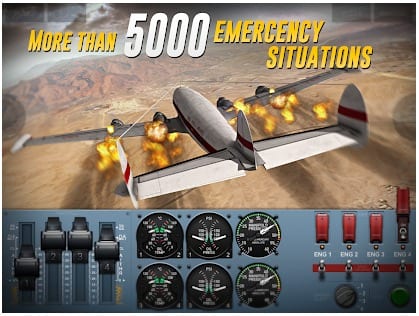 5. Take Off Flight Simulator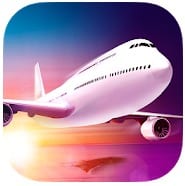 Here is one more flight simulator game that worth being tried. It is called Take Off Flight Simulator.
As usual, the app will provide you with access to a big fleet with up to 25 planes. Each of them has a unique cockpit with all the necessary equipment to control the airplane fully. This will allow you to explore dozens of routes worldwide and visit well-known airports in many countries.
While flying, you will have a chance to enjoy the sights of fantastic places as well as to become a hero by taking part in rescue missions. Sometimes, the task will be more challenging because of the severe weather conditions or breakages.
Step by step, you will be able to enlarge your fleet and improve the planes. By the way, customizing an airplane's design will be possible, too.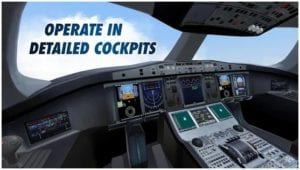 6. Avion Flight Simulator ™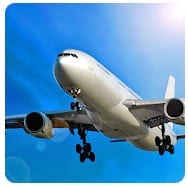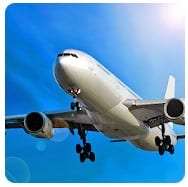 Are you dreaming of piloting fabulous airplanes? If you are, we advise you this very game to explore.
In Avion Flight Simulator ™, you will have an awesome opportunity to become a pilot of such airplanes as DE Havilland DHC6 Twin Otter, ATR 42, Piper PA46 Malibu Meridian, A-10 Thunderbolt II, DE Havilland Beaver, and many others. Totally, you will have 12 planes at your fingertips.
Though the game isn't perfect, the 3D models of planes and cockpits themselves are well-designed. What is more, they look so realistic. Talking about controlling a plane, it will be quite easy to do with the help of various built-in devices, sensors, and radars.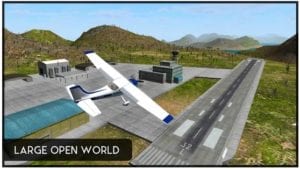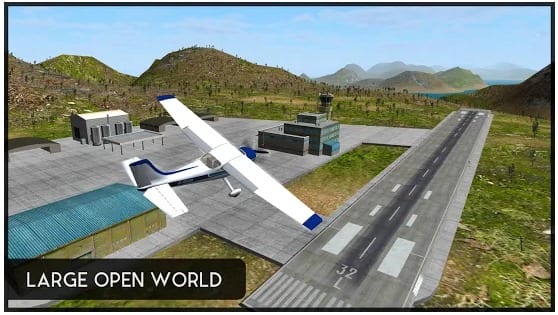 7. RFS – Real Flight Simulator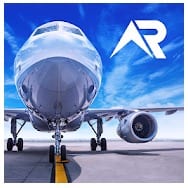 There is no doubt that Real Flight Simulator will be appropriate for those who appreciate realism even in a gaming process. It is one of the reasons for the app's popularity.
As always, the game will become your great opportunity for letting feel yourself a pilot of giant airplanes (both passenger and cargo). The choice of them will be quite wide, that's why you will be surely satisfied. What is more, the variety of airports and routes is also good.
In this case, the cockpits of airplanes will represent the exact copies of real ones. Furthermore, everything will be clickable. This absolute control will be improved by sensors, indicators, systems, and so on. Finally, all the real-life procedures will be available in the game, too. That what makes the gaming process so exciting.
Now we go back to the features connected with the realism of the game. Thus, all the settings, including sights, routes, airports, and runways were designed on the basis of GPS images. That's why everything will look like in real life.
As for minor disadvantages, many features will become available after purchasing a subscription. Only pro users will have an opportunity to set weather conditions, piloting in terms of the real-time traffic, viewing settings in HD, interacting with other pilots, etc. We guess that some of the Pro version features should be for free.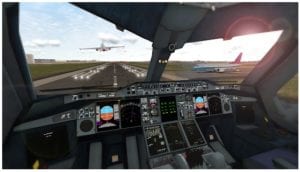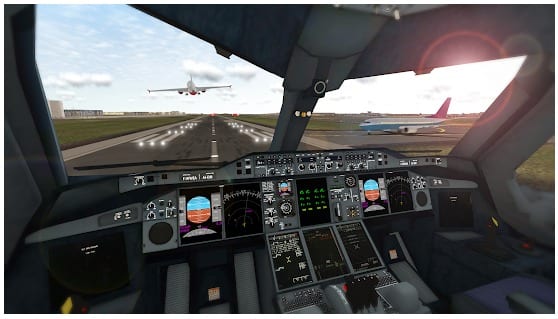 8. Flight Simulator: Fly Plane 3D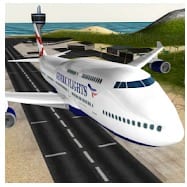 Now it's high time for reviewing Flight Simulator: Fly Plane 3D. Though the game is considered to be with no-frills, some players assume that it is one of the best flight simulator apps they tried.
The app will help you to explore the sky being in the cockpit of one of the planes suggested. All you will need to do is to complete missions to prove you're the best.
As for technical details, the game is probably one of the simplest in controlling an airplane. Just look at the images below to make yourself sure of it.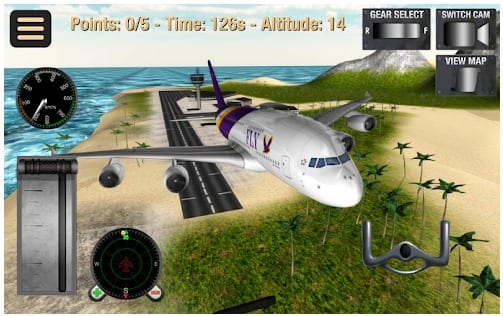 9. Flight Simulator Advanced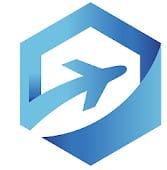 One more quite good alternative is Flight Simulator Advanced. Being simple for piloting, the game suits perfectly for a novice.
Your digital fleet will include both Boing and Airbus planes. Each of them will have an interactive 3D cockpit. Thus, you will be able to try yourself in starting and shutting down engines, landing, and so on. Also, you will surely enjoy the autopilot features. So again, the flight will be so realistic.
Talking about more advantages, the game supports several modes. To be more precise, the first one will guide you on how to pilot in the game. Then, you can try to park at the gate. The third one represents a mission on a smooth landing. Finally, the free flight will be available as well.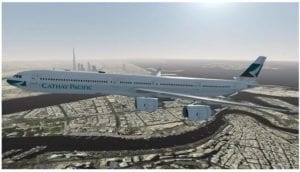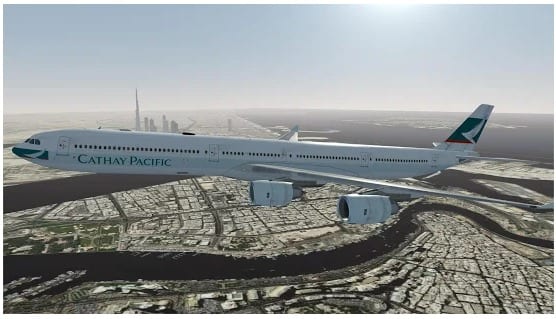 10. AFPS Airplane Flight Pilot Sim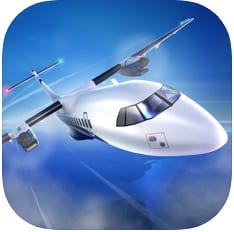 Reviewing the flight simulator apps available on the App Store only, we can't help including AFPS Airplane Flight Pilot Sim on our list.
First of all, the game offers a good choice of airplanes: Piper PA-46, DHC-6 Twin Otter, Boeing 777, and so on. As you can see, the variety of them is pretty wide.
As for tech details, the cockpits will let you control an airplane fully, which is great. What is more, it will be dozens of indicators, radars, and systems that help you. With the help of them, controlling seems flawless in this game.
It must be mentioned that the game is famous for its outstanding missions. You will have a chance to try each of them, from escorting a VIP to taking part in rescue missions and even racings. By the way, what makes these missions more difficult is the probability of onboard fire, breakage, bad weather conditions, etc. But these challenges will just make you more professional.
P.S. Though the game's ratings are not so good, the reviews are only positive. This fact makes us recommend this application.


11. Airplane Pilot Sim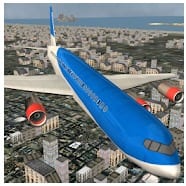 If you are an Android device user, here is the app for you only. Its name is Airplane Pilot Sim.
As usual, the game's interactive cockpit will become a great tool to try yourself in piloting. The instruments in access will be like the real once. So the game is as realistic as possible.
As for the settings, you will be able to explore tropical islands, an urban area, and a forest. Though they don't exist in real life, they have been designed quite accurately.
As for gaming modes, the app suggests a good choice of missions to complete. Plus, keep in mind that the awarding system is supported. It wings the game's users a lot.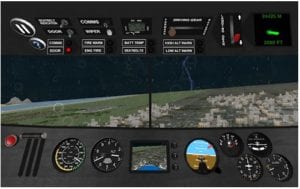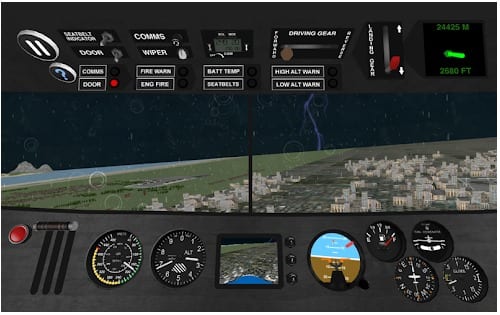 You may also like: 10 Best augmented reality apps for Android & iOS