In order to organize your clothing, it is sometimes enough to have a simple app. People often keep their outfits in their heads and do not understand how to structure them. What is an outfit itself? An outfit is an image that is created with the help of well-matched things such as clothes, shoes, and accessories. 
Making a suitable outfit is not so hard. Your assistants can also be your phone apps. You can also be helped by the use of apps that aim to combine your clothes when it comes to picking outfits.
1. ClosetSpace – Closet & Outfits
ClosetSpace can help you organize your closet and pick out an outfit. This application contains a number of useful functions. First of all, it allows you to choose your own look from your wardrobe. Users have an opportunity to take photos of all their shoes, blouses, T-shirts, and pants. And afterward, upload them to the app.
That way you have a visual representation of what you can wear tomorrow. At the second, the algorithm of the app will independently suggest images, and you will add them to your favorites, so later you can repeat your favorite ones. Thirdly, the app has a weather identification feature. So you will always be dressed according to the outdoor climate conditions.
In addition, there are ideas on how to dress better, what to avoid and how to combine the best clothes. Also, users are getting inspiration every day, so there are always things to admire. All these things together make up a personal fashion assistant, but only right on your phone.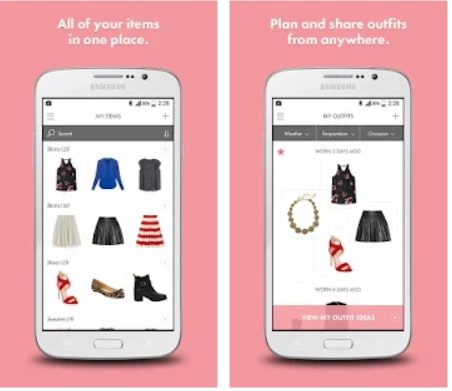 You may also like: 11 Best Packing List Apps for Android & iOS
2. My Wardrobe – Organize your clothes
Now your style will be able to complete this app. My Wardrobe is available on the Android platform. All you need to do is add a photo of all your things. Then you should combine them depending on the style. Moreover, you will be able to complete your look with a description.
Now you will be able to regroup things in your closet. This app is easy to use. Here you simply add photos and choose your own clothes. Users of this application claim that with the help of the application came to the realization of the real number of belongings possessed. The interface is more than cozy. As a result, you will always be pleased with the app.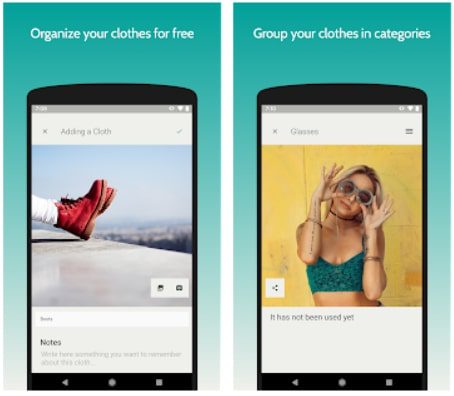 3. Closet+
Closet+ allows you to describe every item you have in a very detailed way. First of all, you get a grouped list of clothes divided into different types such as casual, evening, and holiday outfits. Users can add their preferred outfits into favorites. In addition, each user will be able to check the regularity of wearing a particular piece of clothing.
So, you will always know when you have last worn jeans for example. In addition, you can register all sorts of details of clothing, such as its cost and the quality of the material. So when you open the calendar section then click on a certain date and get information about the clothes you have worn. The app is also useful for those who often travel or go on work trips.
After all, a list of all your things is displayed in a structured manner. It is worth mentioning that each user of the application can share the created looks via Facebook or email. You can share your masterfully created creations.

4. Сombyne – your perfect Outfit
Do you have a lot of clothes in your apartment, and you still have no idea what to wear? The Combyne app will contribute to saving time and money you have. Once you enter the app, you will find a small design room in which users scroll through the available types of clothing.
Then you can clearly visualize what goes well with what and what does not. You can group your clothes into 35 different categories. That way you always know exactly how many things you have in your possession. In addition, Combyne can act as an online store.
After all, the app collaborates with more than 50 major online stores such as TopShop, Farfetch, Mango, ASSOS, and many others.
Not only will you be able to group and sort things, but you can also complete your look right in the app. Besides, it is worth mentioning that the app also provides users with mini tips and style advice.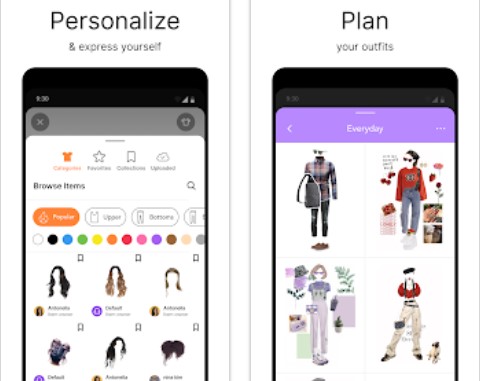 You may also like: 8 Best Apps to Customize Your Own Clothes (Android & iOS)
5. Shoplook Outfit Maker
Shoplook will help you add a little creativity to your looks. The photos you take will be easier to edit. You will be able to remove the background of the image in a couple of seconds. That way nothing will distract from your clothes. Afterward, the composed images will be elegant and beautiful.
You will be able to get ideas for your new images from other people's looks. After all, a whole platform of bloggers is right here. Also if you feel your mastery in the choice and the combination of clothes then share the images you have created. There are mini-games that are aimed at entertainment and the development of creative skills.
With Shoplook, you can organize your closet and be satisfied by creating beautiful outfits. In addition, it is suitable for all lovers of fashion. After all, there are a lot of fashion tips and people passionate about the world of fashion.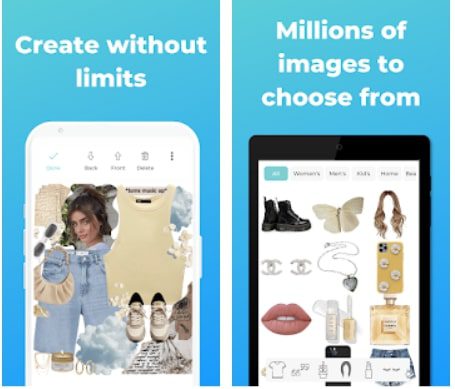 6. Bantoa: Outfit, Looks & Fashion trends
You have to be inspired by something to create your style. So this is where you can appreciate the exquisitely chosen outfits of many bloggers. Subscribe to those you like and add them to your favorites. Later you will be able to create your own clothing combinations from various accessories, outerwear, and shoes.
To complete your outfit you can add new clothes, which you can order directly in the app. Bantoa is essentially an online store where you can try on clothes that you have not bought yet. Only unlike other popular services, Bantoa can offer various coupons and discounts on certain products.
The users of this application note that they are often inspired here by other users. In addition, they have the opportunity to immediately buy the necessary thing.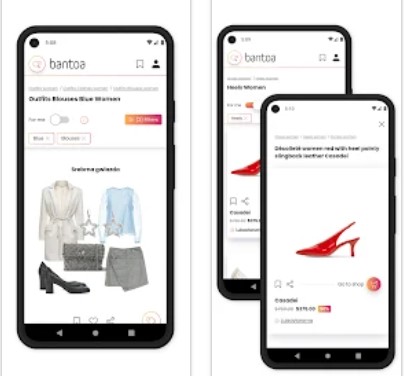 7. Outfit planner – Getwardrobe
To assemble an outfit, all you need to do is look at the Outfit Planner. After all, by downloading this app you are getting up to a hundred outfits out of all your clothes and accessories. The application has a very simple and, most importantly, convenient navigation.
It is available to sort according to various parameters such as season, brand, material, weather, and so on. In addition, there is a calendar where you can see the specific day and what you have worn. So you can always dress according to the weather and you will feel comfortable.
The app offers interesting features. First of all, all devices on any platform can be in sync with the app. Secondly, you can create a common, so to speak, family closet. And invited users will be able to add and modify clothing items and bows.
And also thanks to the built-in calendar you can plan any trip out of town. Because this way you will already know exactly what to take and you save time.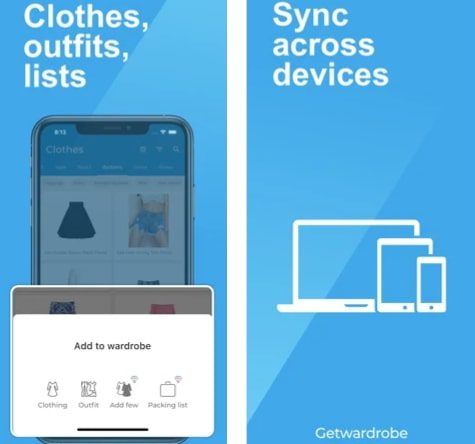 8. WE Smart closet & Outfit maker
WE Smart closet is your mini personal stylist, as well as a dressing room and fitting room. It allows you to subscribe to stylist bloggers and see how they design their outfits. Consequently, you too can become part of the fashion world by running your own blog. So you will be able to share your unique style here.
This is where users organize their closet by different parameters, such as season, weather conditions type of clothing. That way you can choose the right look for any season and time of the year.
How does the app work? When you upload a photo of your clothes the app removes the background. Then you see a list of clothes. For example, if you choose a pair of jeans, you can put them on a mannequin.
You will know what goes with what and what does not. You can also think about your look for certain events like holidays, birthdays and parties and put them in your favorites.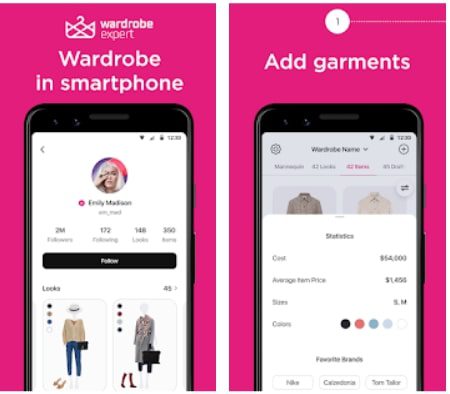 You may also like: 18 Best Apps for Teenage Girls on Android & iOS
9. Wardrobe: Outfit ideas for men
This app for picking out clothes is like a game. Indeed, instead of taking pictures of your clothes in the closet, it is offering to assemble them in the editor with the app's help. This means you can choose the type of item, then the shape and style, as well as the color and pattern.
One other feature is that the application is, more particularly, targeted precisely to men. You will see a mannequin on which you have to pick up clothes from a menswear store here.
Wardrobe: Outfit ideas for men is where you can look at what you have been dressing in a month. That is how you can understand what suits you and what does not. Also, there is a description of the clothes in the app. So you can easily specify a piece of clothing, for example, write down the brand of a piece of clothing, what it is for, and its condition.