Our smartphones are extremely personal. That is why we want to ensure its security. Sometimes a simple password is not enough. We always want to know if someone has touched our phone or not. To do this, you can use various applications. Some of them serve to really protect your data, while others are just for fun.
In this article, you will find a selection of the most interesting applications. This may be a way for you to create your own personal boundaries. There are situations in life when we feel that our partner is being unfaithful. So you may be interested in the article about Best Apps to Catch a Cheater.
1. Don't touch my phone™
Would you like to protect your phone from prying eyes and hands? If you are concerned about this problem, check out the Don't touch my phone™ app. It works in a way that your phone will alert you about potential dangers. For example, you left your phone on the table and someone tried to unlock it. In this case, an alarm will be triggered.
By the way, you can set all the warning sounds yourself by selecting your favorite audio track. In addition, this signal will be accompanied by a bright flickering screen, which will confuse intruders. Moreover, the app provides an anti-theft feature. It works on the same principle as we described above.
However, the feature is available when you keep the phone in your back pocket. There is also another interesting option that you can use at the party.
Let's suppose you want to charge your phone, but there are not many plugs in the house. Surely someone will want to pull out your phone to charge their own. This will trigger a loud warning that will discourage them from touching your cell phone.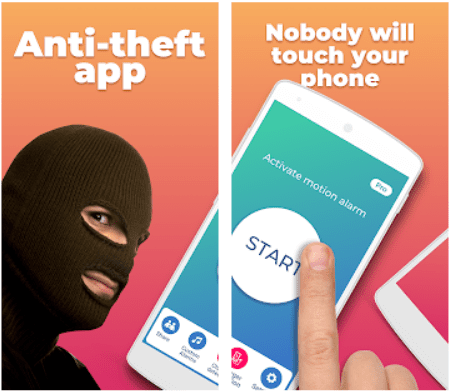 You may also like: 9 Free Apps To Limit Social Media on Android & iOS
2. No One Touch My Phone Security
This smart app will help you keep your phone safe. It has a special program that connects with your phone sensors. No One Touch My Phone Security works in such a way that it plays an incredibly loud alarm, which you will definitely hear. That way it will be extremely difficult for thieves to get your phone out of your bag unnoticed.
Also, let us mention the fact that the application remembers all those who have touched your locked phone while charging.
When you pick up your phone again, you will be notified immediately of any possible threats. The important thing is that even if someone opens your phone, they will not be able to silence it.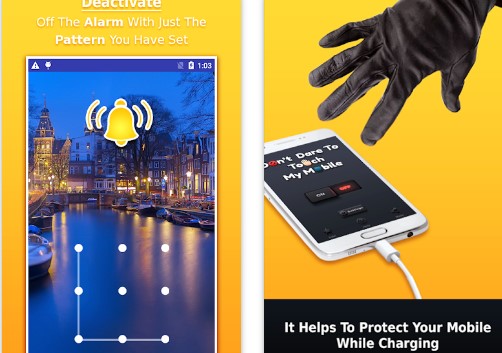 3. Anti Theft Alarm – Do Not Touch My Phone App 2021
Sometimes just using an app is enough to secure your device. Anti Theft Alarm – Do Not Touch My Phone App 2021 is the place where you can set your own security for your device. Go to the settings and set the desired parameters. For example, set the pocket sensor, alarm type, device charging indicator, wifi detector, motion scanner, and more.
All of these features you will be able to customize. For example, you can set the volume of the alarm, which is its volume, duration, and type. Otherwise, you can install the sensor which will let you know when the phone is being pulled out of the charger. In addition, the motion sensor will show you how many times your device has been touched.
This feature will also be useful when you are on a crowded street. This time is when the greatest number of thefts occur. It is also important to note that all the signals will be incredibly loud. That means you will pay attention to any suspicious activity with your phone.
Moreover, besides you, no one will be able to open your phone. First of all because here you set your own additional password. And secondly, because it is impossible to mute the alarm sign.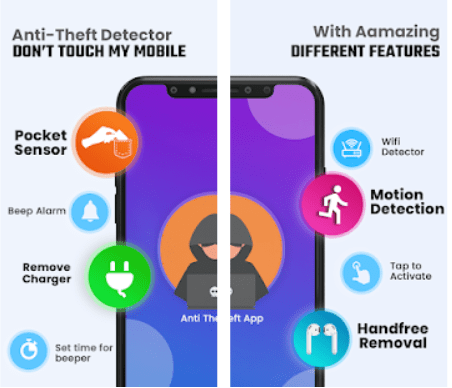 You may also like: 8 Best Text to Speech Apps for Android & iOS
4. Don't touch phone – Anti theft
Activate protection mode on your device. This way you can leave your device without any special attention. Let's assume you are at work and you do not quite trust your colleagues or clients. It is always better to be protected. So, Don't touch phone – Anti theft is an app that instantly informs you about unwanted intrusions in your device.
In addition, it will help you if you can not find your phone in the apartment. It also has a battery charge indicator. That way you will always know when your phone is sufficiently charged and it is time to unplug it from the socket. Or vice versa, you can set up the app so that the alarm will go off when the power is cut.
Moreover, there is an anti-theft feature that aims to activate during strange movements. It works in such a way that an atypical movement sensor is activated and an alarm warning is generated. Don't touch phone – Anti theft can always be activated and deactivated.
For example, you may not use the application when you come home. So just turn on the notification and the app will tell you when it is worth deactivating.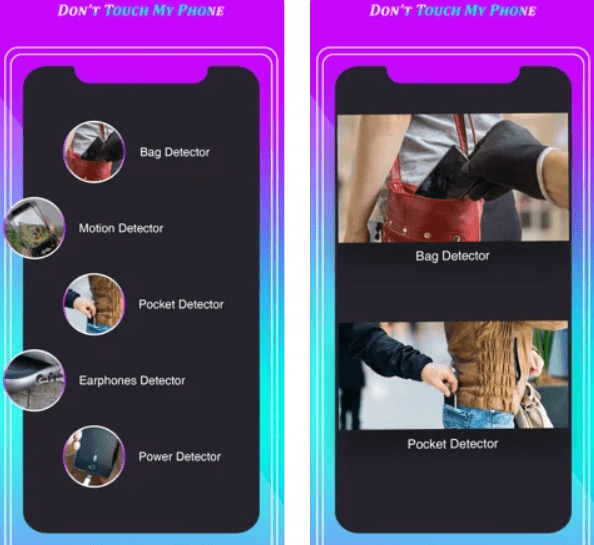 5. WTMP – Who touched my phone?
We all need personal data protection. However, sometimes we want to do it in such a way that no one would guess that protection is worthwhile. WTMP – Who touched my phone? is your personal spy, that will always notify you about attempts to penetrate your phone. Its functions primarily include recording intrusion reports.
All it does is detect suspicious break-ins on your phone. In other words, when a wrong password is entered, it instantly starts taking photos and notes the applications that the other person wanted to enter. Also, all these reports are stored regardless of whether the password was bypassed or not.
You need to enter WTMP – Who touched my phone? and press one button to activate the program. No one except you will not know that the application has already been activated. That way you can protect yourself from people trying to get into your phone without your permission.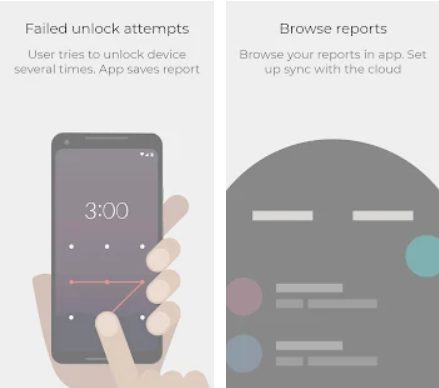 6. Security Alarm – AntiTheft
Security Alarm – AntiTheft protects your phone from being broken into or stolen. Your phone will be protected in four different ways. The first is that the app will activate when other people try to move your smartphone or pick it up from where it was lying. Secondly, there is an indexer which will make sure that your phone is not switched off from charging.
Thirdly, an activator that will play a warning when your headphones were disconnected from the phone. This feature is useful for frequent trips on the subway when your attention is out of focus. Fourthly, the app provides Pocket Mode. This feature works so that loud alarms play if someone tries to steal the phone from your pocket or your bag.
Also, since this app is designed for the iOs platform it supports Face ID. The app will not alert when you attempt to enter the phone if you are using Face ID. However, other people's wrong attempts will be logged as selfies with the front camera. These photos can be sent out later to your whole family.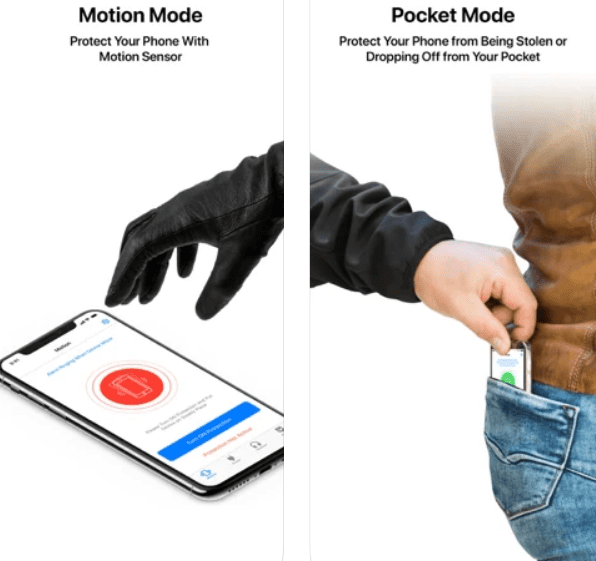 You may also like: 9 Best hidden voice recorder apps for Android & iOS
7. Don't Touch My Phone Wallpapers
Personal boundaries can sometimes be built with a simple reminder that your phone better not be touched. The Don't Touch My Phone Wallpapers app is designed to do exactly that. After all, it provides its users with a variety of wallpapers on the home screen of the phone that will discourage others from wanting to enter your phone without asking.
There are more than a hundred wallpapers for different tastes and themes. It is essential that all of them of excellent HD quality, which is a pleasant thing to look at. Also, this application does not require the use of the Internet. It is enough to download the desired set and install it on the lock screen.
There is a handy feature that gives you access every time to see a brand new image on the lock. All wallpapers are accompanied by the message "Don't Touch My Phone". It may not protect your phone much, but at least it serves as a little reminder not to touch other people's phones.