All of us are surrounded by plenty of items during our life, most of which we don't even fully notice. Every person has lots of commodities at their homes, workplaces, or other storage rooms. So what will help them to control and track what they possess and what goods they should purchase soon?
Precisely for this reason, the Home Inventory Apps were created to simplify people's lives, not to rubbish their brain by memorizing all the things they have and, finally, to save their precious time.
Therefore, I will discuss some of the best apps for tracking and saving the data about the items you have and in what quantities.
1. Sortly
The first app taken as the best by renowned companies and networks as Forbes, ABC News, Fox etc. is Sortly.
If you are an avid collector or a shopaholic, or merely a person with an awful memorizing ability, this app is an escape for you. Can you not remember what you acquired a week ago or five years ago? Just look it up in Sortly.
This app provides you with a perfect interface, the ability to sort every item in appropriate files, choose the photo for the wallpaper by yourself, design it as you want – there are no restrictions.
You can take into account all the things that you have at home, at work, in some storage rooms like garages, cellars or somewhere else. Inside each of the main files, you can add additional storage space to clarify what is stored where – in a closet, in a cupboard etc.
Furthermore, the app offers you some filters to concretize the value of the product: you can add costs, tags to easily find it, the notes to describe the product, also you can add some product and lending info.
However, alongside the benefits, the app has its cons. And the main negative feature is the restricted number of items it provides you to track free – only one hundred. If you want to add more products, you have to pay an additional fee every month; it is not a one-time purchase, you should pay every month not to lose additional items from your list.
This way, Sortly has many pros like an access inventory on the web, tablet, or smartphone; a simplified visual system, customizable fields. Also, you can use one app by the whole family because of access to this app to multiple users.
You can, by the way, manage their permission levels to hide something from them or not to give them the ability to add new items.
And one colossal con: too few items can be tracked for free, and the only interface language is English, which is not suitable for a lot of people.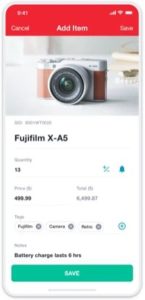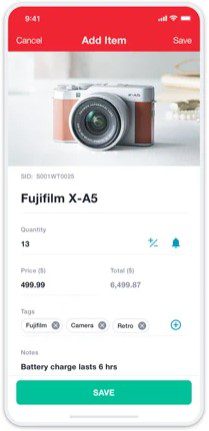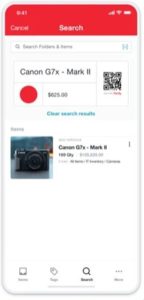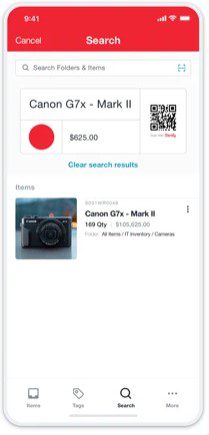 You may also like: 10 Best Free Data Monitoring Apps for Android
2. Memento Database
The second app, which is not the least, is Memento Database. This app allows you to store all the personal data in only one place. With its help, you can structure and link any lists and tables containing vital information.
You can also save some hobbies' items if you want. For instance, if you are a kinoman, you can list all the films you've watched already or the films on your wishlist, which you'll look through in your free time.
The same thing with books, music, recipes, games, or something else. You can use any of the several dozen ready-made libraries or create your personal ones.
While discussing the functions of this app, it should be mentioned that it has twenty-nine configurable parameters to organize every item in the most convenient for the consumers way. Grouping and sorting of the data by any of the fields are allowed by this app.
Furthermore, it offers backups not to lose any item or information and an opportunity to restore the lost. Memento database can also work with data stored in your Cloud storage. By the way, the app is entirely free, which is a total benefit for those who want to save their money.
Taking into account, Memento Database has a lot of pros, such as storing all the info in an organized manner, free of additional fees, and ability to make backups and work with your Cloud Storage alongside the chance to use it from any device, it is vivid and straightforward with its colorful icons, so it will be a pleasure to work with it.
Also, you can use passwords to secure your data. The only con it has is annoying advertisements.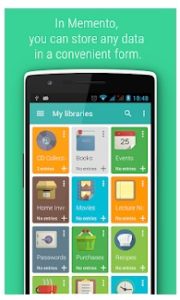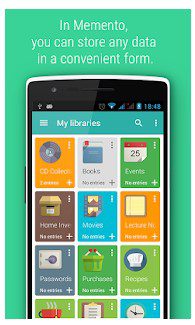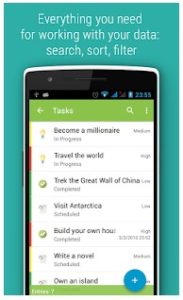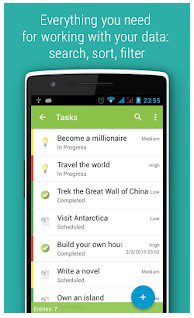 3. Nest Egg
The third app for tracking your home inventory is Nest Egg. It is an app where you can save all your items regarding their type, purposes, and other features.
By the way, it provides four versions:
one is for free but with a limited number of items (100) you can add and some other functions as a single user, etc.;
the standard version with 600 items and two users accessed (cost monthly – 3.99 dollars);
the enhanced version with 1000 items and three users (7.99 dollars per month);
and the professional which differs from standard only with the 6000 items available (cost – 15.99 dollars per month).
However, the app provides two weeks free trial of the purchased versions, which can be canceled at any time, with no obligation to purchase.
The app allows you to use it from any device like Iphones, Ipads, Ipods, and many others. You can save all the items easily by scanning the barcodes on them. It will help you be aware of the expiration date of the product without even looking for it; it is shown on your display at any time.
Also, the ability to scan things automatically fills all the information about this item, so this app helps its users to save their time to spend it on friends, relatives, lovers, or for hard workaholics on their work.
This app is global, which means that it has twenty-two languages accessible in its interface, so it's convenient for plenty of people of different nationalities and races.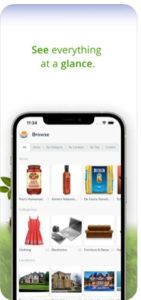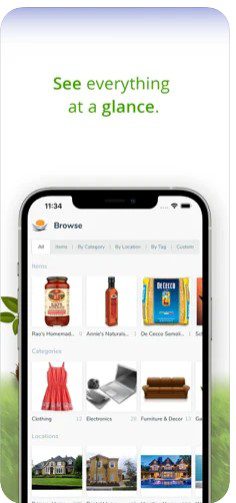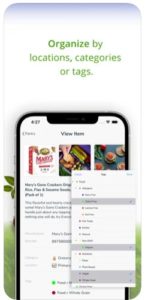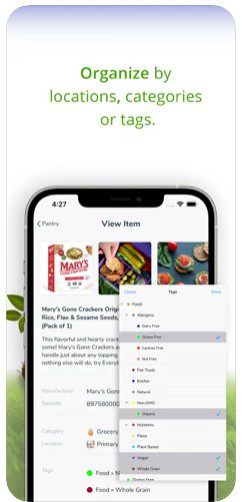 4. MyStuff
You are out of time being late for your work but still can't find your bag? Don't worry, if you have MyStuff downloaded on your phone, just open it and look where's your bag located and hurry up to your work.
This app helps you to store all the stuff you buy, including some details about the purchasing, the value of the product, or some of its characteristics.
You can keep track of your stuff and write down these items' expenses, making it easy to plan your budget.
Can you honestly remember how much one or another item costs to go to the supermarket and know precisely how much should you pay to purchase a substitute for the previous product? It's hard, but this app will help you to establish the costs and remember the prices.
The MyStuff app provides you with a quick backup and restores data, so your items can be safely saved for a long time or even forever.
It incorporates an ability to clarify the guarantee and warranty dates or lists with a reminder about the upcoming expiration date. You can easily categorize items in this app because of the simple visual infrastructure and the location of the buttons and colorful icons.
Managing your budget is one more benefit of this app. It enables you to save your money and time in shops.
Also, this app allows its users to share some details about your items with your family or friends or with somebody else. You choose by yourself how to structure things you add. How to name them, what picture to choose for identifying one or another item.
You can also delete some stuff that is not with you anymore (you gifted it or sold it).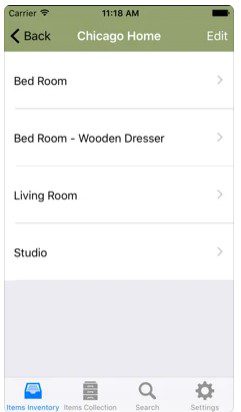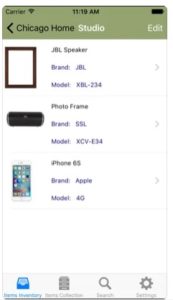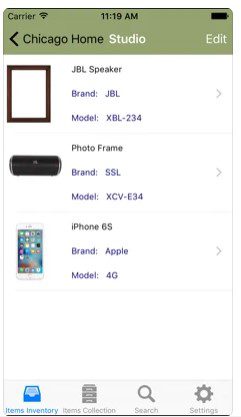 You may also like: Top 7 Phone Transfer Apps to Transfer Data Seamlessly 
5. Magic Home Inventory
You are far from home relaxing and lying on the beach after six months of continuous work without even taking breaks, and remembered you should have given your sister a set of markers on her birthday?
And you call her to say to take them by herself, but can't remember where they're located? The Magic Home Inventory app will help you find anything you need remotely by just clicking on your app and looking for it.
This app provides you with a hierarchy of storing your items: firstly, you choose the room, then the place of keeping it, or you can create a list with your items instead of deciding what the place of it was.
Also, there is a function of advanced searching available which means you can select features of a product and then click search; the app will show you all the items having this specific detail. The program offers more than 2500 selected keywords to help you systematize all the properties you possess.
Furthermore, besides the written texts or keywords, the app enables you to use visual definitions of every subject, making the interface bright and image-rich. And one more benefit is that this app is totally free.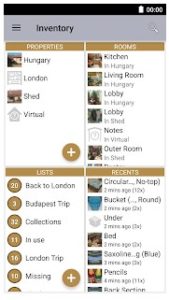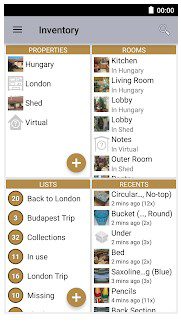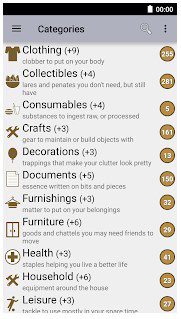 6. BluePlum Home Inventory
This app is one of the most complete home inventory apps for tracking your goods and keep an eye on them. You will always be aware of things you have and what you have to acquire soon.
BluePlum Home Inventory supports multiple properties, so you don't have to remember all of this information, it is with you anytime you need it.
The quality of photos in this program is higher than in any other: you can take a photo and then download it in the same feature as it was taken to use it as a wallpaper for your specific file.
Furthermore, you have the ability to add photos, receipts, and documents not to miss when need it.  For instance, you're making a deal with your business partner, and some documents are required, but you can't exactly remember where they are located to grab them and finish your work quickly.
The BluePlum Inventory App offers you an opportunity to keep and store all your documents to export them and print if needed quickly.
By the way, not only the photo-saving is its only main benefit. You can use this app on every device at any time because of the ability to synchronize data in no time.
If you need several things with the same features, you can easily click on the specific category while filtering, so all the items with the same characteristics will be shown immediately.
How does it work? While adding a new item to the list, you choose several settings for one or another product, so when you choose one of them, the program assorts them and shows you the results matching your requirements.
However, it has one con – this app is available only on IOS devices. Android users don't have access to the BluePlum Home Inventory app.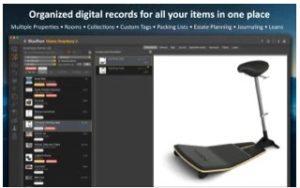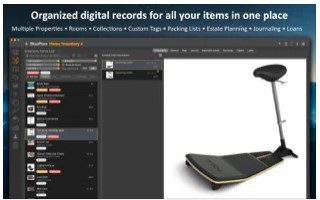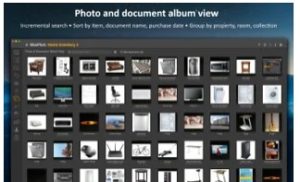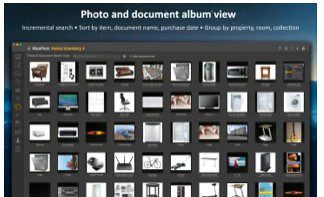 7. Smart Inventory System
This app offers you a shared use of the same account; you can log in and use it from any device because all the information you add is stored in your Cloud storage. That means that nothing will be lost.
The program itself has a three-level division of products:
the first is "item," where all the goods are numbered. So it helps you to move and track them easily by only numerous clicks;
the second level is "groups," where you can combine the items by the same attributes they incorporate (for instance, their location, purposes, similar characteristics, etc.);
and the third level is "tags," which allows you to add some more specific details to narrow the set of results.
You can also add the quantity of an item you have multiple copies of, helping you to track the moment they've gone.
Other positive features of this concrete app are the number of languages supported by the system and the images used for one or another item.
The users can choose eight languages within this app: English, Russian, German, French, Spanish, Turkish, Polish, and Portuguese. This means that more people in the world will feel convenient and comfortable while using it.
Moreover, the images of your items can be captured and downloaded as wallpaper for the icon of a particular good. It gives one a feeling that they are at home looking at these things in reality.
The only minus of this app is that it is supported only on Android devices, which restricts the number of users.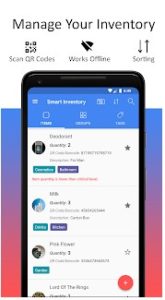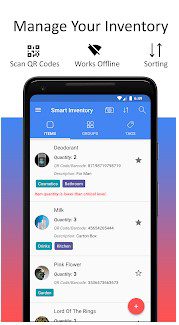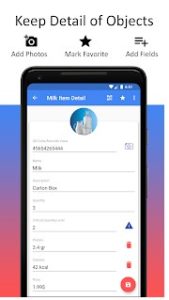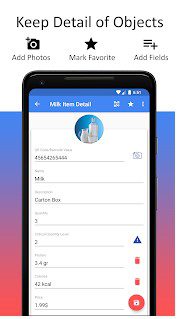 8. Encircle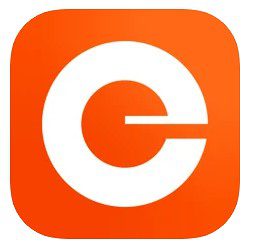 Encircle is a one-made platform combining a variety of functions such as storing and sharing documents, images, pictures, tracking goods you have at work, and also your own digital signature.
The program itself incorporates a home inventory app, insurance productivity tool, and field documentation field.
Want to purchase a good but have no sense of whether you already have it or not, just look at your phone, this information is stated in the app, you can simply find it out. Need a document immediately because of a car accident that occurred with you? Encircle will help you out, just open it and find it.
Also, you can share and print the necessary files or images.
The app provides you with a free two-week trial period, and you need to pay to use it completely. Although, if the restricted version with some limitations in the number of saved documents of properties is totally appropriate for you, then you can just download it for free.
The unique thing the app is offering is the innovated moisture tool and psychometrics, which will help you out when you face a flood or what else and need to save your goods or to record their costs – all these actions will be counted in no time by the program itself, suggesting you the solutions for preventing the consequences of the flood.
Moreover, while opening the app directly after the downloading, it requests you to choose between being a homeowner, a contractor, or an insurance professional.
That means Encircle itself matches the most suitable options for you to follow during the using process. It saves your time a lot alongside the memory of your device, downloading only one app instead of several with limited functions and capabilities.
One more advantage is that it is available both for IOS and Android users.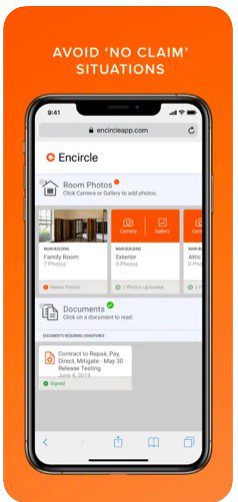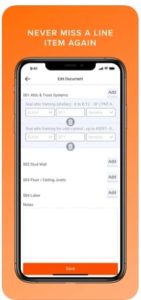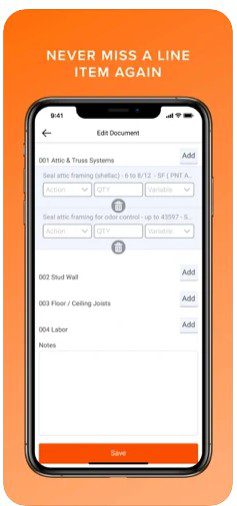 You may also like: 10 Best Data Usage Apps for Android in 2021
9. MyStuff2 Pro
This app was created to help human-beings in organizing their lives. Watching movies, reading books, collecting antiquaries, playing video or computer games, collecting various types of vines – all of these can be sorted now and put in one place.
You can create plenty of lists of different categories where can also be stated additional information about one or another book and not only read or going to be read by you one day.
If you're collecting coins, you can mention below when you found it, and the conditions of acquiring it, like its cost or is it a gift from someone.
If you're an art collector, you can add some details about the painter or about the painting itself, or maybe there are any other essential memories connected with the painting you shouldn't be forgetting ever in your life.
For these purposes, MyStuff 2 Pro is an upgraded version of its ancestor (MyStuff), collecting and combining more functions than it had before.
It's up to you to choose the colors of the icons of the single lists or to download images with a limited amount of 40 only. But it's quite a lot for solely one document.
Furthermore, you can share documents, files, or other data with whomever you want to. The app provides a barcode scanner, which means you can quickly scan the barcode from one or another item and simply save all the info about the product or sort it with similar goods by the purpose, features, or any other kind of information.
By the way, the app itself is for free excepting some restrictions like only 15 items available for downloading and sorting, but all the other functions are equal to Pro-version. It is a one-time purchase, so all the functions will be opened immediately after paying 10 dollars.
The only disadvantage of this app is that it can be downloaded and is supports only on IOS devices, which makes a  disparity between the two types of users.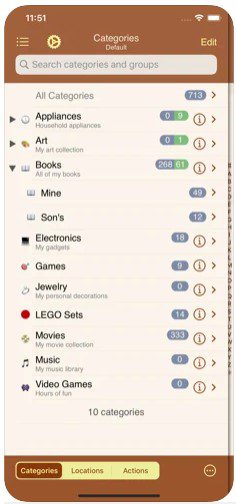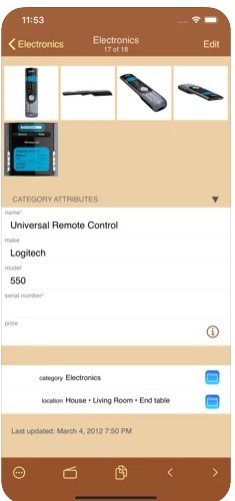 10. ZenOwn – Manage home inventory
This app was initially created to simplify people's lives, to turn things into a digital aspect that is always 24/7 with you.
You can save warranties of goods not to lose the actual paper receipts or folders in your phone and provide it any time you need it without insanely searching for it in every corner.
ZenOwn makes it easier to manage all the goods you have and to control their expiration dates or conditions. The app also offers some video tips about the product you have, which will help you better comprehend its actual usage.
Talking about the warranties, you can easily, by only one click, turn on the warranty alarm not to miss the time it expires because you'll get a notification from the app.
The program allows you to scan the barcodes to sort your goods by the overall similarities in the right way. All the furniture attributes will be saved automatically to one or various groups you have created accordingly.
Furthermore, you can snap the receipt by taking a photo of it saved at your app for 24 hours. This means that if you want to save it for more extended periods of time, you should transfer it into your telephone's memory. This is one of the disadvantages of this app, which inconveniences the users and repels them from using it.
However, it also has many benefits, one of which was not mentioned before in this description is online shopping. If you buy something online, you can just message invoice@zenown.com to add your newly purchased item into ZetOwn for you.
By the way, another disadvantage of this app is that it can be installed only on phones, it is not supported on other devices. Moreover, one more advantage – the app is for free.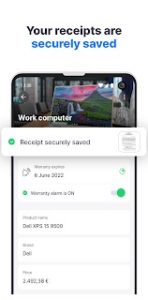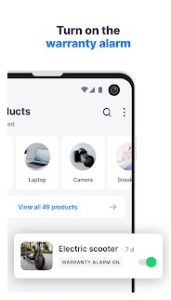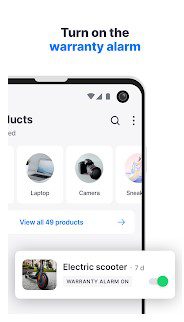 You may also like: 6 Best Apps to Transfer Data from Android to Iphone
11. Home Inventory Mobile Backup
Home Inventory Mobile Backup is one of the best apps for those who want to merge all the stuff they have at their homes and always be aware of what they possess and what should be bought soon.
There is also a possibility to save the warranty receipts of every item, take photos of your goods to download them and use them as icons for identifying one or another product and distinguishing them from each other.
Moreover, this app provides you the ability to share and transfer your data from computers to telephones because you cannot use it without downloading initially on a computer or a laptop, and only after it can you exploit the app respectively on other devices.
Furthermore, you can hide your data from whomever you want by putting a password on to protect the inventory files. If you don't want your friend to see the actual amount of your properties or their costs, you can decode it and prevent him or her from actually seeing it.
However, besides the advantages, it also has a disadvantage: this app exists only in English, which many people simply do not know, so they won't be able to use it. Nevertheless, this app is free, so you do not have to spend your money buying it.