You want to be original in the age of the Internet and the vast amount of video and photo content on social media. You have to produce good content to make your profiles look more engaging. To accomplish this task, you can use video editors that allow you to perform basic editing of your videos.
That is, split the fragments of the video, make them shorter and fit all the most important things into one short video that you can share with the whole world. Anyone who needs more editing features will be pleased to see a selection of Best Reverse Video Apps. They are designed to create a cool video effect.
1. YouCut – Video Editor & Maker
If you are reading this article you are most likely interested in video editing. We recommend one of the best applications on Google Play to do your tasks. So why does it get such high ratings? The obvious answer is that it packs all the basic features but it does not require any basic video editing knowledge.
In fact, you can see the tutorial, which briefly explains the management and the basic functions. In addition, there are no annoying popup ads at all. After all, the app is completely free. Let's move on to the main features.
To begin with, it is worth pointing out that with the help of YouCut – Video Editor & Maker you will be able to create one video from the bunch of short segments, or otherwise create a lot of clips from one video. You will also be able to add various photos to the video. Otherwise, you can create a whole video exclusively from photos.
After doing this you can use basic video editing. So for example here you will be able to impose the most advanced video effects such as RGB, Bad TV, Snow, Flow, Glitch, and others. You can also apply effects to video transitions such as Mix, Noise, Wipe U, Turn Page, and a whole range of other cool ways.
In addition, try overlaying music from your audio collection, attach animated text, adjust overlay, change the speed, and more. There is a whole collection of possibilities.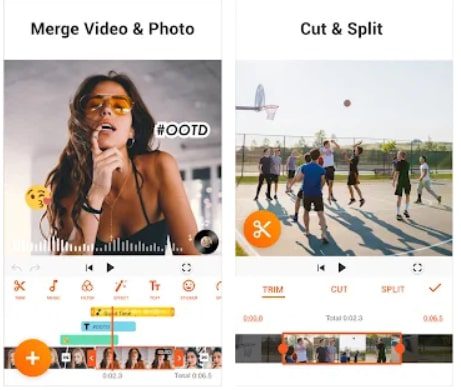 You may also like: 11 Best Video Lyrics Maker Apps for Android & iOS
2. FilmoraGo Video Editor & Maker
To qualitatively split the video you need a great video editor. FilmoraGo Video Editor & Maker can be your solution. It works with videos in HD quality. It contains all the basic editing features. So you will not regret downloading this application. You will not only be able to easily trim and split videos but also apply interesting filters.
It contains the most advanced video effects. So you can make your videos in the style of neon cyberpunk or old town. In addition, the application provides the ability to superimpose music compositions. Here you will see a selection of more than 1000 trending artists that the app offers. FilmoraGo Video Editor & Maker is rich in different sticker variations.
There are more than 5,000 of them. You will be able to impose both the most realistic and funny animated stickers. Apply such types of Video Transition as Flash, Page Cut, Cross Zoom, Blurry Roll, Cube. Control the speed of your edited video.
This is where you can increase the speed of your video, or apply your favorite slow-motion to every segment of your video. Here you can delete parts of the video, rotate, change the volume.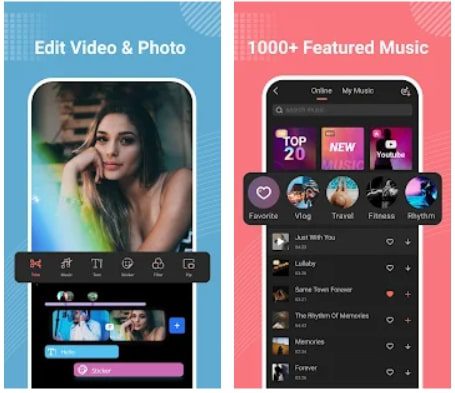 3. Story Video Cutter – Video Splitter
There are times when we need specialized video dividers. Let's suppose you want to make fancy highlights and stories on Instagram. For such cases, there are already special apps. So, Story Video Cutter – Video Splitter is designed especially for that. You will manage the task in just a couple of steps.
First, you have to choose a video from your gallery. Then you choose the length of time you want to split the video. For example, you could set a reference time of 15 seconds for one story. That way you would get a minute-long video into 4 short ones. Then you can share the resulting stories on Instagram and other social media platforms.
This application can also be used to create a Whatsapp status. In total, there is only one function. However, you will be able to create split videos without any effort by clicking just one button.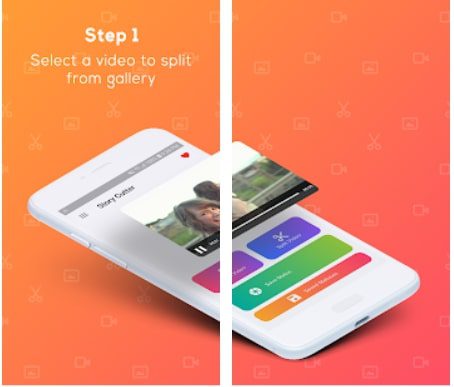 4. CutStory insta stories editor
Apps such as Instagram, Tik Tok, Snapchat require constant content downloads to maintain your popularity. It is possible to organize and edit your videos with the CutStory insta stories editor application. This application is suitable for the mentioned social networks because it creates small video clips from one long video.
You will be able to set the length of the clip according to the social network where you want to put the video. The same application will allow you to work with several video clips at once. In other words, you will be able to cut, merge, and trim them. After that, you can overlay some of the most popular tracks.
Download music from your phone or find tracks in the app's search bar. There is also a useful feature to work with Tik Tok. So, it is possible to organize short videos with ease. Let's assume you decided to post a long video and you want to make it into a bunch of one-minute videos.
So, the app itself will download and post the edited video in the right order. CutStory insta stories editor works with Instagram stories the same way. You either can download stories and posts without leaving the app, or download them to your device.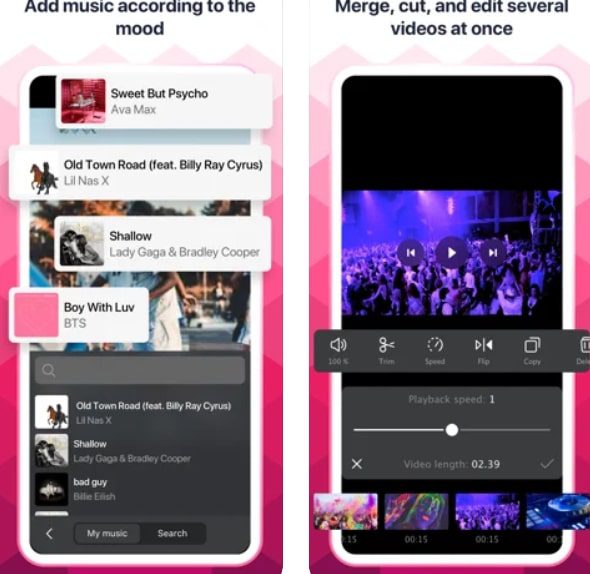 5. Movavi Clips – Video Editor with Slideshows
Do you want to perform more complicated video editing tasks? Then Movavi Clips – Video Editor with Slideshows is what you need. It provides simple features like video splitting, merging, trimming, and rotating. They are incredibly easy to apply. The editing with this app is close to complicated PC editors in its quality.
If you want to split a video, all you have to do is click on the video track. Then you will be able to trim the resulting clips. You can also speed up or slow down each of them.
Movavi Clips – Video Editor with Slideshows is a multifunctional application. It has useful features like changing the aspect ratio to formats like 1:1, 9:16, 4:5, 16:9. This is handy for videos serving different purposes and publishing locations. That way you can make content for Instagram, YouTube, Tik Tok, Snapchat, and other social networks.
No need to be afraid to experiment with different video effects here. You can adjust the intensity of each of them. The application also allows you to add unique text edited directly in the application. You can also attach a sticker or your own logo. Create the atmosphere you want and share your videos with Movavi.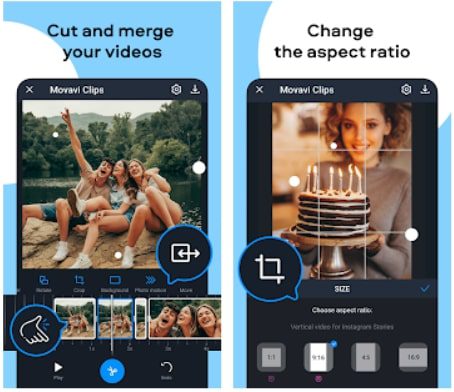 You may also like: 8 Best 3D Photo Apps in 2021 (Android & iOS)
6. Video Editor Music Video Maker
Each video processing requires a special approach. If you want a high-quality split video tool it is easier and much more convenient to use an app. So, Video Editor Music Video Maker is a thing that combines a fast split and easy editing. With its help, you will be able to create atmospheric and more importantly creative videos.
Take advantage of such opportunities as creating slideshows or combining video and photos. You will also be able to try out various effects for different occasions. For example, Bright, Ocean, Sunny effects are great for vivid photos from the sea. While for the night street you can use such mysterious filters as Fade and Lime.
After that, you can change the speed of video clips. By the way, there is one very interesting function. It is the ability to synchronize the music track and video. So you can not waste time on trimming fragments so that they match the beat of the music. Likewise, your time will be saved by such functions as adding text and stickers.
All changes for video improvement can be made in one place. It is important to mention that Video Editor Music Video Maker does not degrade the quality of the edited video. So you can export the material in HD quality to other applications.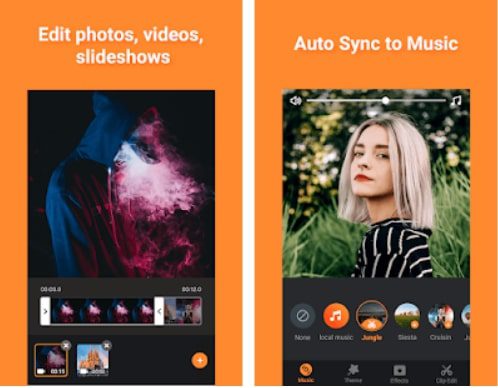 7. Split Video: Long Story Maker
Have you ever wondered how you can quickly split a video for Instagram? Split Video: Long Story Maker app is made for its purpose. This platform allows you to make 15-second long Instagram stories. You can choose one long video and place it in your highlights or stories.
The convenient thing is that the app is compatible with both an iPhone and an iPad. Moreover, there are not any unnecessary watermarks of the app on your edited videos. In addition, you can not only choose a video from your gallery but also use the ability of the app to record videos. This button is located on the main screen of the application.
It is also worth mentioning that the Split Video: Long Story Maker app is compatible not only with Instagram but also with such applications as Facebook, Snapchat, and other social networks. You can immediately share the split video with your friends.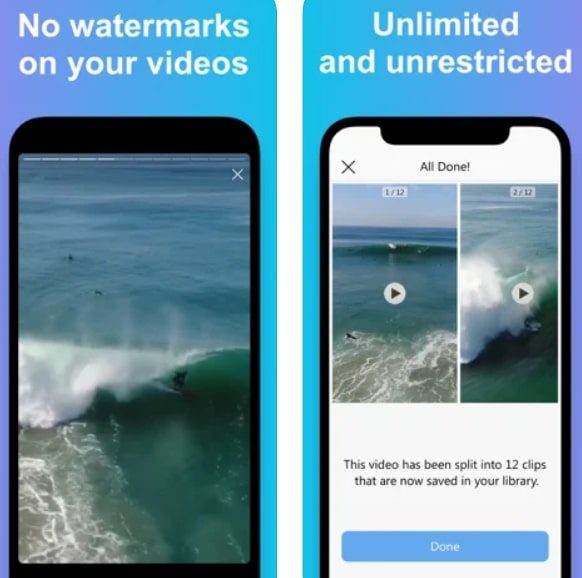 8. Splice – Video Editor & Maker
Do you still need to find the right video splitter? Then Splice – Video Editor & Maker application is what you are looking for. Let's start with its main functions. First of all, the application splits video files into smaller fragments. Here you can freely split a large video, for example by setting a certain time.
Secondly, you can put the individual video segments together to make one big video. Thirdly, you can use various methods to improve your video. So it is possible to apply filters and effects on video. Make your video more colorful and spectacular.
Splice – Video Editor & Maker as well as other applications provide basic processing functions such as crop, trim, cut, and merge. But its distinctive feature is that it has a sophisticated effects package. However, all your creative desires you can easily fulfill. All the controls are intuitive. But of course, after downloading the application you will see a little tutorial.
All in all, you get an application that splits the video perfectly and gives the possibility of great editing. You can create real cinematic effects here. And this is all in one mobile app.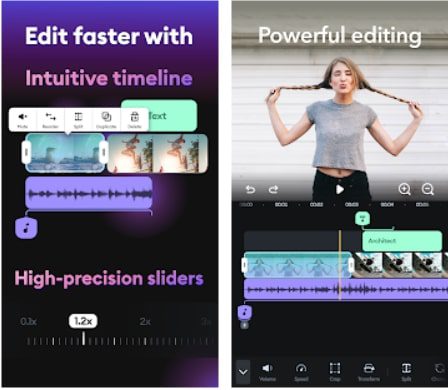 You may also like: 7 Best Clone Yourself Video Apps for Android & iOS
9. VMX Video Editor, Photo Video Maker & Movie Maker
This application is aimed at more advanced users. As there are many interesting and complex ways of video editing. But when it comes to a video splitter, everything is simple. Like other applications, it splits or joins different video objects. What makes it interesting is the things that you can do after you split it.
So for example you can do multiple video layers. This works so that you can overlay another video or photo on one video. You can also create videos by adding photos. Alternatively, you can, at least, add a music track from your collection or from suggestions provided by the app for a more atmospheric effect.
In addition, there are various tools such as chromakey, working with color, presets for transitions, keyframe animations, adding voice and music. You can also use simple editing tools to improve the lighting and add more warmth and saturation.
In addition, you can convert your video to the format you want. So you can download videos in low quality to not take up much space on your device.