Video playback in reverse or reverse is a special effect that can be applied to the entire video or its fragment. It is often used together with speed change. Slow-motion or fast-forward video is found in many movies and professional video clips. But in fact, this effect is easy to apply to any video.
Let's talk about how to reverse a video on regular Android and iOS devices.
1. WeVideo
WeVideo is a web application for editing videos, presentations, reports, and clips. You can use it to edit movies manually or select one of the templates provided by the service. It works on Mac and Windows computer systems, Chromebooks, iOS, and Android devices.
The platform is quite easy to use, you do not need to consult a specialist to work, which makes it accessible to a wide range of people – from private authors, bloggers, and cameramen to employees of the film industry. You can use the program to work, study and create a family archive of videos.
To start working with the application, you need to create your own account. You can do this in just a few minutes, in addition, there is a login function using your Facebook or Google account.
After that, you should add the materials you plan to work on. Facebook instantiates videos, images, and audio from your computer, and you can import them from Facebook or other clouds services such as Google Drive, Dropbox, Box, Picasa, Flickr, and Instagram.
The time it takes to download a video depends on its size. Please note that the service with a free usage model gives you only 5 GB for data storage, so you will not be able to use too large videos.
Pros: Simple interface. Cloud storage for working on multiple devices.
Cons: Watermarks and limited functionality of the free version.
Price: Free, with in-app purchases (upgrade plans start at $4.99 per month).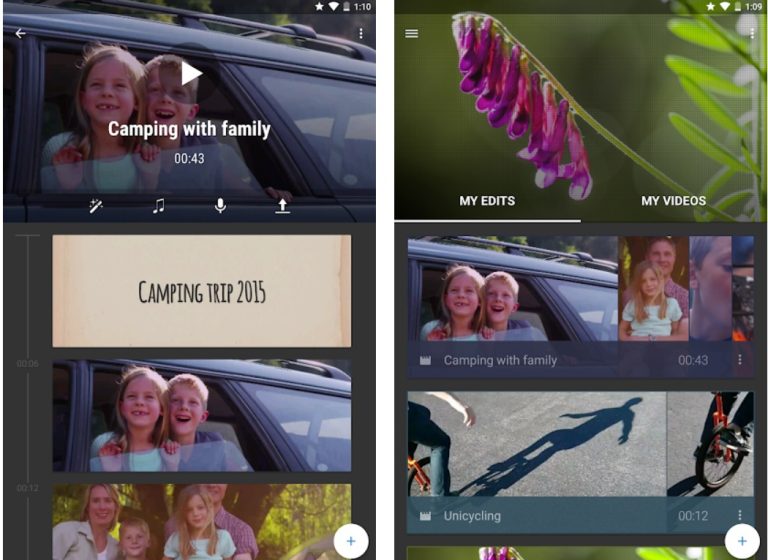 You may also like: 9 Best Apps to Combine Videos and Pictures Together on Android & iOS
2. VivaVideo
VivaVideo is one of the best free editing apps to use in social nets. It suits Android users as well as iOS ones. You can create your own videotape and edit photos on your device with no payment.
Despite the usual video editing tools, you can get video camera lenses to create popular videos with VivaVideo Free video editor, Video collage Maker and slideshow maker can help users create movies in one touch.
Many users strongly recommend the VivaVideo editor as a must-have video editing application. However, there are still a lot of one-star comments. For example, some users complain that VivaVideo Free Video Editor has hidden payments.
In addition, the video processing fails for 5 minutes.
This is one of those simple applications that allow you to edit videos in just a few clicks. This free app includes hundreds of special effects, filters, animated clips, and subtitles to transform video footage into content that you won't be ashamed to share.
VivaVideo offers slow-motion/accelerated motion control, nine customizable lens parameters, a library of background music, and a number of collage templates. Moreover, you can share your videos on the VivaVideo network, which has more than 200 million users.
Pros: Built-in slow motion editor. Lots of interesting features.
Cons: In-app ads can be annoying. Users periodically report crashes.
Price: Free, with ads and in-app purchases.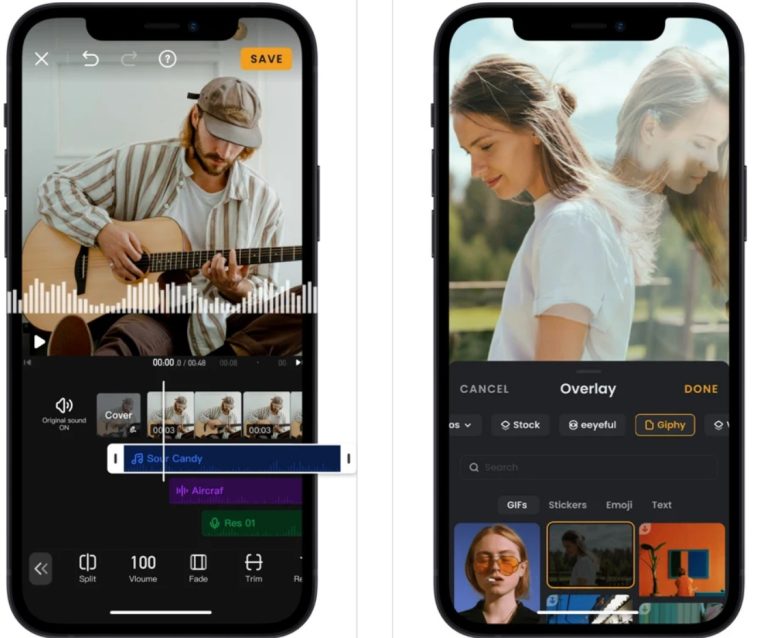 3. Funimate
Funimate is a full-fledged video editor available for Android and iOS, which we can download for free includes ads and in-app purchases, purchases that allow us to unlock all the features available on the platform, in addition to eliminating ads displayed by the platform.
With over 10 million downloads and over a million reviews, Funimate has an average rating of 4.3 stars out of five possible… This application offers us a large number of functions that until now could only be done in a desktop video editor.
Thanks to this application, we can create amazing montages, use a large number of transitions, animations, animate texts, use a large number of filters to create spectacular and unique videos. In addition, it also allows replacing the background to personalize our creations.
In fact, this is one of the most popular video creation apps for TikTok for its simplicity, since you don't need to be an expert in audiovisual editing to bring our ideas to life, no matter how far-fetched they may seem.
Funimate will help you create funny videos that you can share in your nets to impress your subscribers and friends. A few clicks will be enough to add all kinds of FX effects to your recording, such as hearts or glitter, as well as stylized text and sound effects.
You can even overlay your video on a star clip to create the illusion that you are nearby. Ideal for people with a creative approach!
Pros: A large number of different special effects.
Cons: A limit of functions in the free version of the app. Many filters require a Pro subscription.
Price: Free for a beta-version. The cost of a weekly Pro subscription starts at $2.99.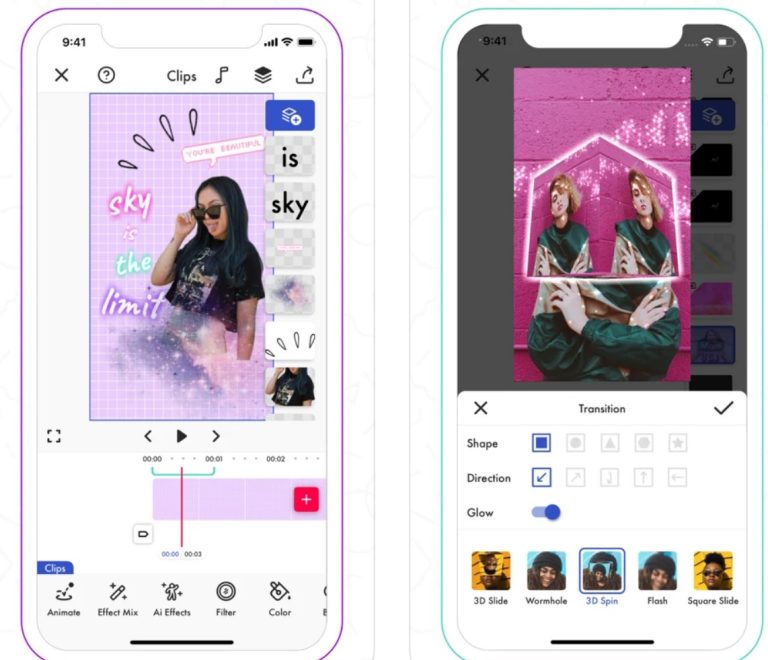 4. FilmoraGo
Wondershare FilmoraGo is a free mobile application for editing and editing video clips. You can download it on Google Play. The main and most important advantage of the editor is its simplicity. The main menu is not overloaded with buttons, so an ordinary user can immediately start creating his first project
It offers a wide range of editing tools that we are used to on desktop computers, including reverse playback, classic transitions, cropping and cropping, flipping, voiceover, sound mixing, picture-in-picture display, color adjustment.
The uniqueness of FilmoraGo lies in a set of template themes that are designed to transform ordinary videos into stylized films. The setup doesn't end there, because FilmoraGo also allows you to add customizable titles and music from its licensed library.
When all the files are selected, it's your turn to create the video. Initially, it consists of images or video clips joined together, which the user has selected. They are arranged in the same order in which they were selected.
To view the recording, you need to click on the play button. The video will start showing on the upper screen, and just below you can see individual fragments and their duration.
Wondershare FilmoraGo is a simple and intuitive application in which every function is useful and important. The editor is designed so that anyone who has no experience in editing can understand it.
This program allows you to join the creative process of creating videos, while not spending hours studying the functionality. And if the user still has questions, FilmoraGo provides elementary lessons on the basic functions of the editor right in the application.
To get acquainted with them, just click on the question icon in the upper right corner of the screen in the main menu.
Pros: Quick and simple – with no extra complications. A good selection of themes.
Cons: Not suitable for complex editing.
Price: Free, with in-app purchases.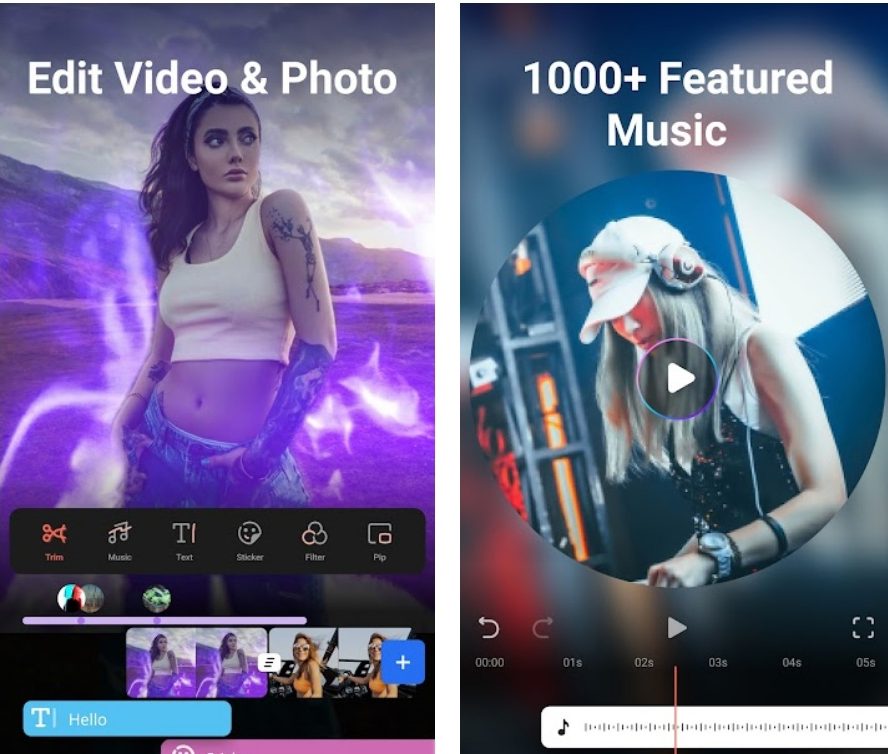 5. VideoShow
A mobile video editing application made for beginners. Video Show offers a wide range of tools, including text overlay, visual and sound effects, GIF files, stickers, multiple audio tracks, photo filters, transitions, real-time duplication.
To enhance your movie-making experience, Video Show has combined more than 50 video themes, more than 30 customized filters, and a library containing hundreds of free licensed music tracks.
This mobile application allows you to compress videos, simple sharing, and square framing specifically for Instagram.
Main functions:
Mixing photos and videotapes
Adding object on the video
A great number of filters
Music adding and usage in layers
Ability to share to any of today's popular social net
Doodles
Enlarging
Pros: Easy use. Export to HD.
Cons: Watermarks and advertising in the free version.
Price: Free.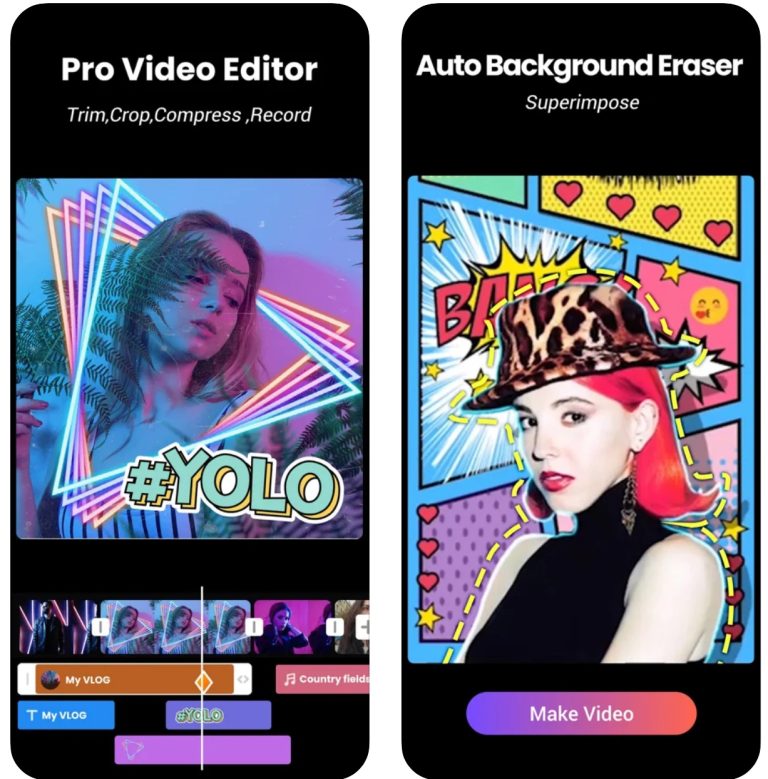 You may also like: 10 Free timelapse apps for Android & iOS
6. KineMaster
The ability to create catchy videos today is not just entertainment for schoolchildren, but real art. It is for these purposes that the developers came up with the KineMaster application – one of the most intuitive and easy-to-use applications for novice YouTube stars.
This program is suitable for users of any level – from beginners to advanced. KineMaster provides the opportunity to use many useful and convenient functions – from video cropping to reverse.
The application also has audio editing functions, video playback speed control, preview, and high-quality export capabilities.
Pros: the program is suitable for all devices and has a large number of functions. It has the function of processing multiple layers of video simultaneously, and also supports multi-layer music.
Cons: The free version is limited and has watermarks.
Price: free. You can purchase the full version of the Pro for $4.99 per month or $39.99 per year.
7. InShot
This is a photo and video editor for Android and iOS smartphones, of which 11 million Google Play users rated at 4.8 points out of 5 possible.
The main functions of this editor are:
blur, crop, rotate/mirror the video sequence. Glue different videos and photos into one work and use more than 55 transitions between sections of the video. Cut out unsuccessful episodes, rewind them at an increased speed, or slow down/freeze individual fragments.
upload files to the editor in popular formats, including MOV, AVI, FLV, 3GP, and others. Videos up to 1080p resolution are supported.
built-in filters – use ready-made solutions or create your own effects by changing brightness, saturation, and contrast.
the reversing and speeding function.
adding music – dilute the video sequence with an mp3 composition or extract a song from the video. Synchronize audio with what is happening on the screen, adjust its volume, attenuation of noise, or speed up recording.
applying text and adhesive stickers – apply inscriptions on photos and videos, use emojis. This function is suitable for adding a corporate watermark.
built-in photo editor – some of the above functions are available when working with photo cards. In addition, images are transformed by changing saturation, brightness, contrast. Frames and support for different resolutions help to emphasize the frame: 1:1, 2:3, 3:4, 4:5, 9:16. The
the finished material is saved on the device or posted on third-party sites: TikTok, WhatsApp, Instagram, YouTube. A separate plus is that the interface is completely in Russian, without the use of machine translation.
Pros:
over 50 filters with regular addition of new solutions;
intuitive interface with preliminary training in the basics of installation;
built-in templates for various social networks (Instagram, TikTok, Youtube and others);
a wide range of tools in the photo and video editor mode, at the level of full-fledged PC software;
manual adjustment of the parameters of the transformed photo or video, including the level of brightness, saturation and other things.
Cons:
individual filters are sold only for money;
when creating a video, it will have a watermark with the name of the software;
interactions with the audio track are limited to several functions;
the basic version is distributed for free, so there is a lot of advertising in the application.
Price: Free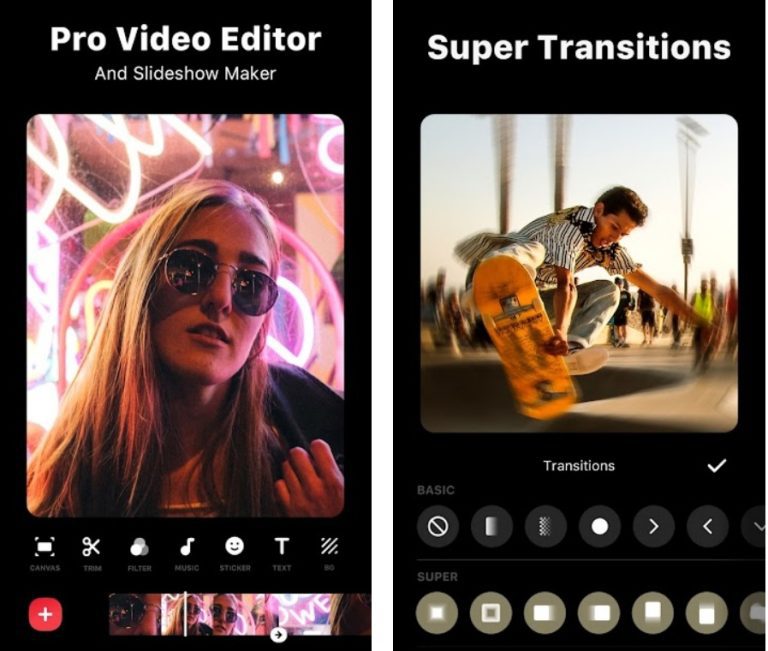 8. Movavi Clips
Movavi Clips is a free mobile application that allows you to create cool videos and easily make video editing: crop, glue, merge, process, add transitions, music, text, stickers.
All the necessary functions of the editor for video processing are clear even to a beginner. There is an opportunity to cut the video up to the frame, there are no restrictions on the time and volume of the video.
Main features:
accurate frame-by-frame editing on a convenient timeline;
video cutting and easy removal of unnecessary clips;
music overlay;
preview function;
fast connection, rearrangement of video pieces in any order, and creation of interesting videos;
creating transitions between videos;
creating a richer picture;
speeding up or slowing down the video;
text insertion – selection of font, size, color, and location in the frame;
adding bright and beautiful stickers to the clip;
duplication of interesting frames and their gluing;
rotate the video to correct an unsuccessful shooting or make a funny video upside down;
the ability to share a video directly from the application in social networks.
Pros:
Easy to use
Playback speed control
The possibility of publishing in social networks
Adding a logo
Possibility of voice-over
Cons:
There is no saving in 4K
Few effects and transitions for
Price: free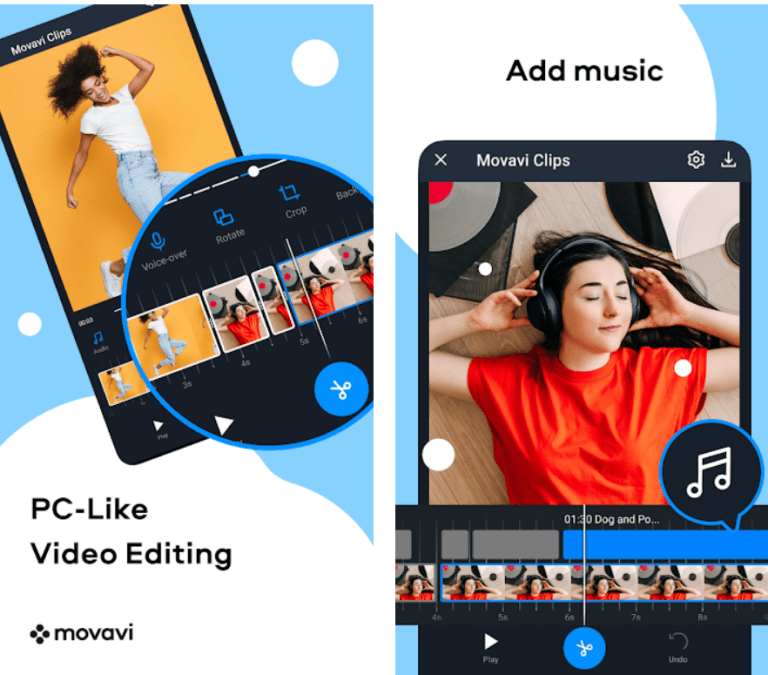 9. Reverse Movie FX
Reverse Movie FX – magic video is a very, very popular video editor that is primarily designed to work with dynamic video and reverse effect. The project will please not just the movement of frames backward, but also the possibility of changing the parameters of the speed of this process.
This ensures smooth movements, full control of the plot and semantic component of the entire idea of the video, as well as the ability to mount to music. You can also just overlay it if the selected track is perfect for what is happening on the screen.
The range of applications of this project is very extensive and diverse.
Pros: This free reverse video maker is easy to use.
Cons: It does not support saving the result in full resolution.
Price: free, except extra-functions in pro-version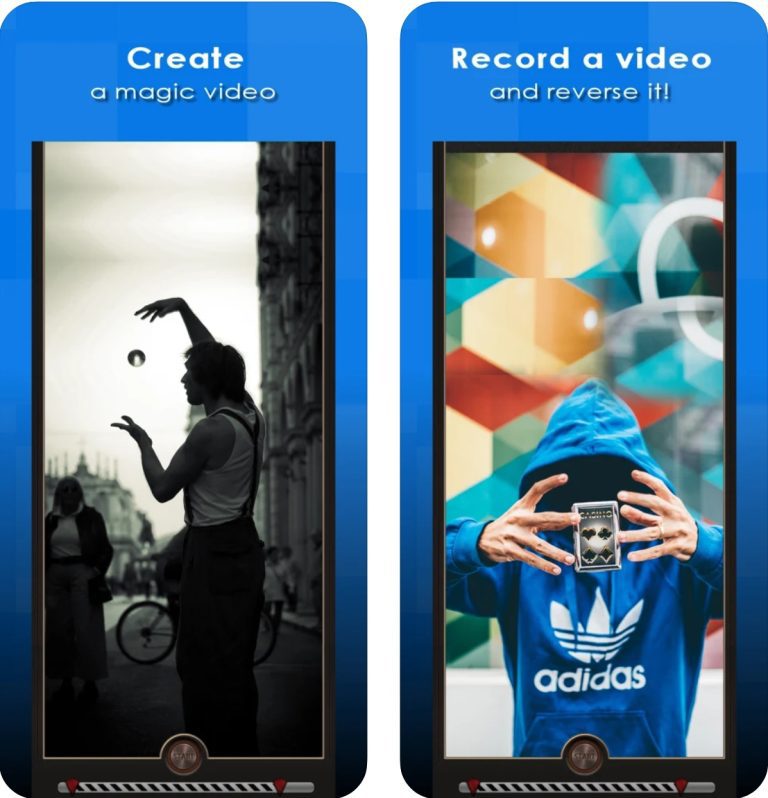 You may also like: Top 10 vintage video apps for Android & iOS
10. Vlog Star
As you can guess from the name, Vlog Star is an application for creating videos for vlogs, short clips from your life. This format is popular on Instagram and other platforms.
Vlog Star doesn't have a lot of possibilities, but there are more than enough of them for this format. You open the captured video on your phone through the app, see the duration of the video and the storyboard.
Here you can crop it, accompany it with music or sound effects, apply one of the many filters, add text, emoticons, or stickers at any stage.
Well, the saved video can be uploaded directly to Insta or YouTube without delay. The program is free, but there was a watermark. If you want to get rid of it, buy the full version or download the hacked one from one of the verified sites.
The latter is relevant for any paid programs at the top.
Pros:
The user-friendly interface is provided;
creating and gluing several videos into one whole vlog with subsequent addition to social networks;
integration with popular Youtube and Free Video Star services;
the imposition of numerous filters and effects designed specifically for the needs of video blogs;
adding a huge number of popular stickers to video recordings;
provided a selection from the built-in, as well as adding your own tracks and sound effects to the video;
more than 500 original stickers to add to a small built-in photo slideshow compiler and editor.
Cons:
It's complex, more likely for a professional use
Requires a powerful gadget
Price: free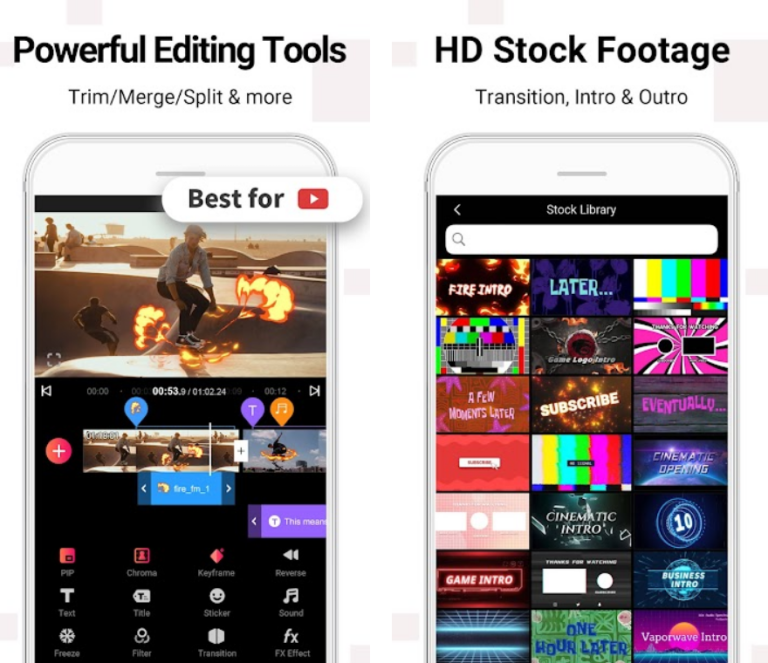 You may also like: 7 Best Clone Yourself Video Apps for Android & iOS
11. PowerDirector
PowerDirector is a universal multifunctional video editor, which is one of the most popular and high-quality products in its category. The program is ideal for both professionals who carry out complex installation ideas, and for beginners who want to take only the first steps in this area.
The video editor we are considering provides the user with an extensive list of a wide variety of features, among which the following should be highlighted:
Create high-quality videos using a variety of built-in tools and the advanced Magic Movie tool.
Support for working with videos in 2K and 4K Ultra HD resolution.
Viewing individual frames of a video clip.
Release of films in MKV format.
Flexible configuration of user hotkeys.
Working with videos in 3D format.
Edit presentations created in Microsoft PowerPoint.
Capture video from connected devices.
Adding captions and captions to videos, as well as much more.
PowerDirector is a full-featured video editor that contains all the necessary options for creating high-quality videos.
Pros and cons.
Undoubtedly, the popularity of this tool is due to the presence of a large number of advantages that distinguish the program from numerous competitors.
The key "strengths" of the utility include:
Wide functionality that allows you to edit almost all the required aspects of the video.
A high level of performance with a fairly modest consumption of system resources.
The presence of a rich library of built-in visual effects.
Support for full-fledged work with video files of any quality.
The ability to upload the created video to various popular sites (for example, YouTube).
The discovery of maximum spaces for creativity.
Price: free