We all need to drink alcohol sometimes in order to relieve stress. Although there are times when things do not go according to plan. In some cases, we do not do exactly what we want to do. In fact, we text our exes or those with whom we should not communicate. Some apps will keep you away from these cases.
In this article, we are going to talk about all the possible advantages of such applications. We recommend visiting this article especially for those who are fond of alcoholic drinks. Here you will always find a way to organize your wine collection. So let's get to the review.
1. Freedom | Block Distractions
The developers of the Freedom application offer their users to protect themselves from themselves. In some cases, it is impossible for each person to avoid a drunken text message to an ex-girlfriend. In such cases, you will find this application very suitable.
Therefore, the main function of the application is to block unwanted apps and sites. That way you can put a restriction on when you want to call or text for example your parents, boss, and toxic partners.
It is important to mention that the application blocks not only calls and texts made through the network, but also WhatsApp, Instagram, and Snapchat.
You will also be able to block some applications in order not to have any access to all of them. For example, apps related to work, your bank, and passport data. Also, users will be able to set a timer that will limit their actions from a certain hour. Such a timer will be useful in case you know the start time of a party or a drinking event.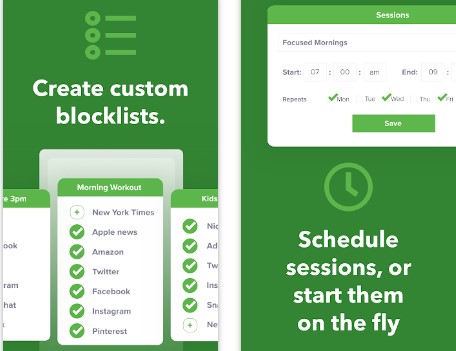 You may also like: 11 Best drinking game apps for Android & iOS
2. Drunk Locker – Protecting you from embarrassment!
This application is designed for those who want to keep their reputation at a proper level. With Drunk Locker, you will be able to limit your ability to use your phone. You will be able to put protection against yourself during parties. First of all, you will be able to block certain applications that are potentially dangerous to you.
Secondly, you can do it in such a way that you will not be able to open them when you are drunk. In concrete terms, the app offers two options. Thanks to the first one, you form in advance a question that you will not be able to answer in a high state. The second is a basic knowledge questionnaire.
It is up to the users to choose the one that suits their needs. In addition, owners of the Drunk Locker app will be able to choose the expected days and specific hours when the app will automatically be blocked. It is obvious that when people are drunk they are sentimental and sensitive, although this is not always a good thing.
Your text messages and unprofitable calls will be blocked. That way you can be at the party in peace. An important aspect of the application is that it blocks not only Phone calls and messages but also any available application on the device. So you will not be able to use the various social networks and messengers.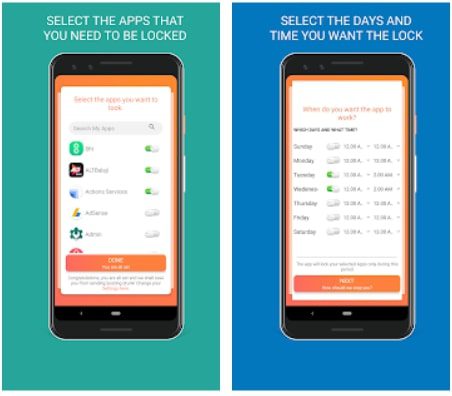 3. Drunk Dial NO! Block Mistakes!
Drunk Dial NO! Block Mistakes! is a useful application. From its name, it is clear that it will protect you from stupid things. And with it, you can easily block contacts for the desired period of time. The important thing is that the amount of contacts is unlimited. So if you want to block all of them it is possible.
You should also be aware that you can restrict access to contacts for up to 48 hours. A useful feature of the application is that not only you can not make a call, but also you can not be reached. Let's imagine a situation where your mother and father call you. Most likely you would not want them to hear your drunken voice and that you are even drinking.
Likewise, you can leave yourself a mini massage in the form of a note. There you can clearly explain to yourself what you probably never need to do today. It is also important to point out that the application is super easy to use. The interface of Drunk Dial No! is a simple list of your forbidden contacts. We should also mention that the application is for a fee and is only available to iPhone owners.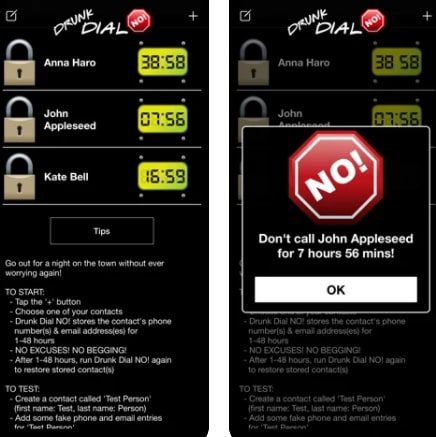 4. Drunk Mode Keyboard
Drunk Mode Keyboard will modify your keyboard. First of all, it is designed to work with your iPhone Messages. First of all, the app works in such a way that it blocks your access to texting certain contacts. It can also personalize the app's keyboard. More specifically, change the color to whatever you would like it to be.
It also allows you to set a gradient. In other words, this feature gives you access to personalize the theme of the app. Secondly, Drunk Mode Keyboard has the function of drawing directly in the messenger. You will be able to share funny doodles with your loved ones.
In addition, users have the ability to create illustrations and apply the text to them. This way you get an interesting way to communicate via messenger. So, install Drunk Mode and prohibit yourself from texting, emailing, leaving comments, and all the other embarrassing types of communication when you are high.


5. Bacco — Drunk Mode (app & text locker)
Bacco – Drunk Mode (app & text locker) is both your friend and savior. We recommend you set up this application in advance for the functions you need. The developers have worked hard to make the application in such a way that it prohibits you to communicate in any way.
First of all, in order to avoid trouble, you can prohibit the use of specific applications, such as Facebook, WhatsApp, Telegram, and many other social networks and messengers, before the party. You can also block any kind of notifications so that you will not be tempted to text potentially dangerous people.
The application works in such a way that even if you decide to go to a messenger and leave a text message you will not succeed. After all, instead of typed text on the keyboard will be displayed asterisks. Moreover, if you want to enter the application, you will have to pass a field sobriety test from the application. This means you will be asked some test questions.
However, if the app considers that you answered incorrectly, it will automatically lock you out for 4 hours. You do not have to worry about accidentally texting someone. You can hardly pass such a test when you are sober.
It is also worth mentioning that you choose the time duration of Drunk Mode yourself. So you set the block for such a period of time that will be convenient for you.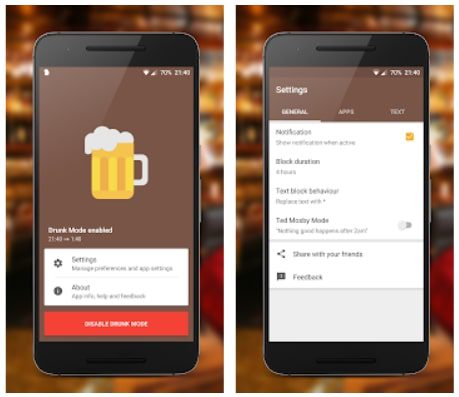 You may also like: 5 Best SMS auto-reply apps for Android & iOS
6. Lock Me Out: App Blocker
This app is not only aimed specifically at people who want to restrict communication with others under the influence of alcohol. It also limits and blocks your usage of various applications. This application is good for those who want to save themselves from the embarrassment in the morning after a party.
Lock Me Out: App Blocker allows you to either partly limit the use of certain applications for a certain period of time, or completely prohibit you from using your smartphone. In the last case, you will see only the locked screen. This way you can motivate yourself firstly to use your phone less.
On the other hand, you can control your actions when you are drunk. The app has an interesting feature. It can lock your phone in specific places. This way you will not even have to think about the fact that you forgot to limit access. Come to your favorite bar and you can be relaxed.
It is important to mention that even though your phone is locked, you are still allowed to make emergency calls. This is what distinguishes Lock Me Out: App Blocker from the apps listed above. You will also get statistics on the use of particular apps. This way you will always be aware of how much time you spend on messengers and social networks.
Combined with the Do Not Disturb mode, restricting the use of apps and disabling notifications, this app goes great to keep you safe at the party.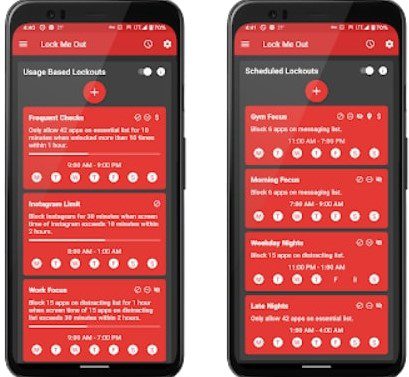 7. AppBlock – Stay Focused
AppBlock- Stay Focused is a program with which you can easily block applications for a while. Let's go straight to the main functions. First of all, it will help block your social networking and messenger accounts according to your location. All you have to do is set the places where your phone will be restricted.
The second is that the app can limit your usage when you connect to certain wifi networks. For example, you are going to hang out at a friend's house and you do not want to be distracted by writing silly texts. Additionally, users of the app can set a timer that gives them access when it expires.
So you can block the entire application for a certain amount of time and not bother with the settings for a long time. What is also interesting is that it is possible to make it work in such a way that if the timer is set you can not use the phone at all. This is useful if you want to be sure that neither you nor anyone else will use the phone.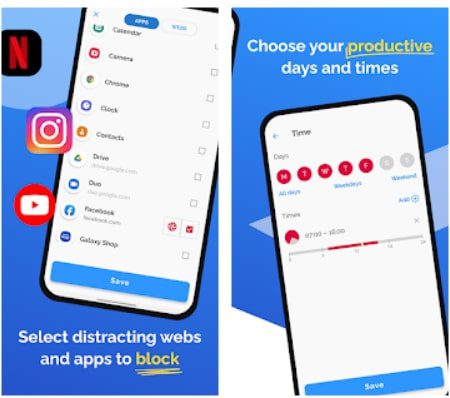 8. Focus To-Do: Focus Timer&Tasks
To organize your life and change your habits a little bit will use this app. It gives you the ability to put a limit on the number of apps that distract you. In addition, you will be able to set a timer so that it can periodically create intervals of time off. You will be able to use this app as a Drunk Mode. You get a wide range of features here.
First of all, the set timer will be displayed on the locked screen. This will help you know the amount of time left. And secondly, the app can be used as a study assistant. After all, it helps you concentrate and get less distracted by social media notifications. As a Drunk Mode, you get an app that will block the apps you need and help you organize your life.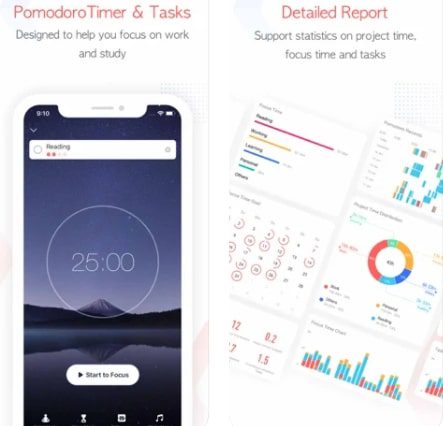 9. Block Apps – Productivity & Digital Wellbeing
Take control of your smartphone and perform according to your schedule with Block Apps – Productivity & Digital Wellbeing. Before you go to a party, set a necessary limit on certain apps. This way you can feel safe and secure. We recommend paying attention to the fact that it is impossible to disable the application limiter.
On the one hand, this is not very convenient. On the other hand, it might be the best solution if you know you have no control when you are drunk. You can also take advantage of some other useful features of the app. These include obtaining weekly statistics on the use of various social networks.
It is interesting that you can analyze your usage for up to 2 years. So you can always see your improvements over the long term. It is also interesting that when you want to go to a blocked application you will get instruction from the developers, which will explain that all is for the sake of good.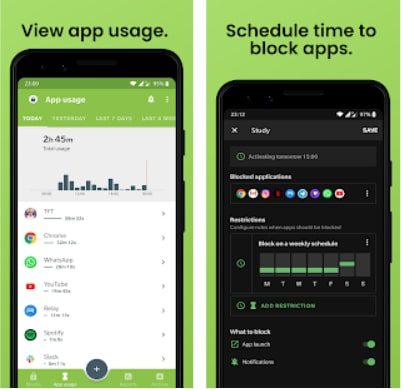 10. SocialX – Limit App Usage & Screen Time Tracker
Have you been looking for an app that has a lot of functionality? So SocialX – Limit App Usage & Screen Time Tracker is just that. The first thing you will find here is a way to limit your use of the phone. In other words, the program offers to put a timer limiter. It will be turned on at a certain time and day.
This way you can easily go for a walk on a Friday night and do not think about the consequences. The app will also block applications on particular occasions. That means you will still have access to some apps. This is important when you want to use let's assume Instagram to post pictures of the hangout.
Secondly, there are a lot of added features. For example, like a sleep tracker. It can definitely help you get your routine in balance. There is also a tracker for all social networks, which is accompanied by a special motivator. This will encourage you to pay more attention to real life, even when you are not partying.

You may also like: 7 Best Cribbage Game Apps for Android & iOS
11. StayOff – Screen Time Tracker + Phone Usage Limit
StayOff – Screen Time Tracker + Phone Usage Limit is another application that monitors your time on your smartphone. But apart from that, it has great features that will suit all lovers of hanging out. First of all, the app has a Drunk Mode which is supposed to stop you from wanting to use your phone.
You can set a time limit or completely block the use of your smartphone. Secondly, you will be able to track the amount of time you spend with each application. In addition, the program will remind you that you are using a messenger or a social network more than the set limit.
Also, you will receive approval from the application in case you are spending less time on the phone and improving in it. This approach can motivate you to text your ex-boyfriends and girlfriends less. Improve your mental state using StayOff – Screen Time Tracker + Phone Usage Limit.