Smile is an essential part of our appearance. Unfortunately, for many people, a smile isn't a crowning glory. A reason for it is the poor condition of people's teeth. There is no doubt that their teeth are far from being like celebrities' teeth.
Nevertheless, it's not a secret that celebrities' photos are retouched a lot before publishing. Do you also want to become the owner of a Hollywood smile? If your answer is affirmative, we would like to suggest some cool tools for perfecting teeth on photos.
Here are the best apps to correct your smile on the photo. After installing them from the App Store or Google Play, they will let you get rid of all the flaws of your teeth.
1. AirBrush: Easy Photo Editor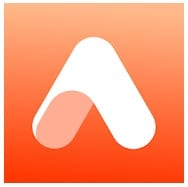 The first app in our review is called AirBrush. It will be helpful for those users who are searching for an app with a teeth-whitening feature.
Well, the app will provide you with a great tool capable of whitening teeth. Be sure that it will meet all your requirements. Only with one tap, your smile will become perfect.
Apart from this, the app supports other features that will be very helpful in editing a selfie photo. Thus, you will be able to remove blemishes and pimples on a photo, reshape some features of the face, smooth your skin, and so on.
One more feature that will improve your photo greatly is the app's pre-loaded photo effects. After applying them, your photo will become even more attractive.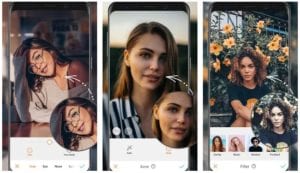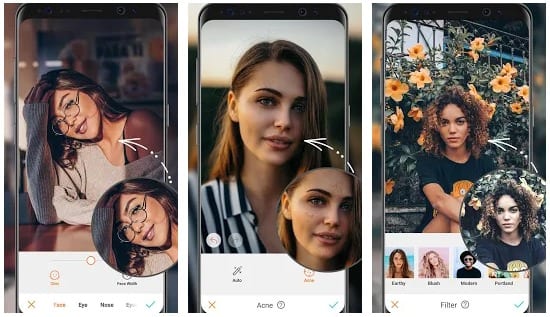 2. BeautyPlus – Easy Photo Editor & Selfie Camera
BeautyPlus is one more app that will be capable of whitening teeth on a photo. Let's review its features in more detail.
To begin with, the app will be so powerful in making your smile great. Right after opening the app, in a few seconds, your teeth will become of white color. Moreover, it will look absolutely natural.
Apart from this, you will have access to other photo editing tools. They will be powerful in perfecting your skin, giving accents to eyes or lips, etc. Also, you will be able to apply virtual makeup directly in the app. Isn't it a miracle?
Do you need everything at once? If you do, try the app's Live Auto-Retouch. In a moment, it will automatically correct all the flaws of your photo, including teeth whitening. Your task is just to enjoy the result.
What else makes the app awesome is various tools to entertain. Thus, you can use its funny stickers and colorful photo effect to perfect yourself on an image.
Besides, a Magic Brush feature is also waiting for you. With the help of it, you will be able to draw on a photo in Glow, Neon, Stars, and so on.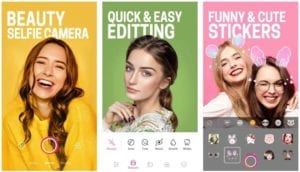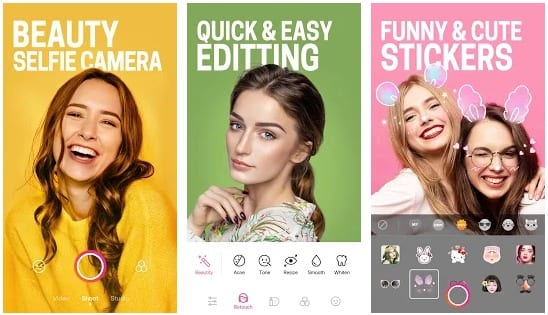 You may also like: Best apps to remove glare from photos
Cool apps that make you look skinny
3. Retouch Me – Body editor & Face tune & Skinny app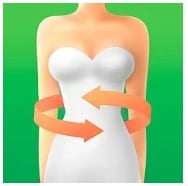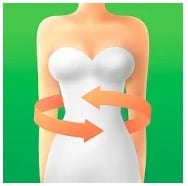 If you need not only teeth whitening feature, this very app exactly is what you've been searching for. Retouch Me can cope with even more complicated features.
To begin with, traditionally, the app will allow you to make your teeth snow-white. Just choose the "Face" section and tap on the "Whiten teeth" option. With it, you will improve your smile a lot.
In addition, the app is powerful enough to smooth your teeth, just like the braces do. To do that, choose the "Replace teeth" option. As a result, you will have two rows of pearls on the photo.
Finally, if you already have braces, the app can remove them from a photo. So you will be able to solve this problem by selecting the "Remove braces" feature.
At the same time, it must be mentioned that you won't be able to perfect your photo by yourself. The app's concept is the following: a user chooses features to be applied to a photo. After that, he sends a request to the app's team of designers. In a few minutes, he receives his ideal photo edited by the team.
Keep in mind that this service is paid. However, we sure that it worth being paid because the guys who work with photos are the professionals. What is more, the app's users feel an extreme admiration for them.
Besides, you will be also able to ask for help in perfecting your face and body on the photo. The full range of options you will find by following links below.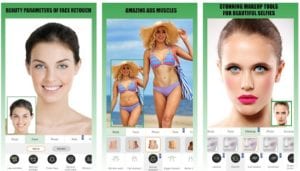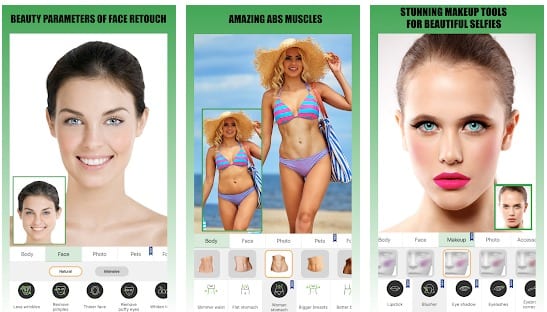 4. Fotogenic : Body & Face tune and Retouch Editor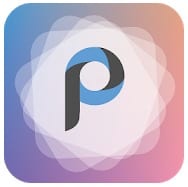 Do you drink too much coffee? That's why your teeth probably have tooth pellicle. To make them absolutely white on the photo, you can also use the Fotogenic app.
The app will let you discover hundreds of capabilities, but let's start with features connected with teeth. Well, it has a very powerful tool that can whiten your teeth at once. So your followers will envy your smile for sure.
If your teeth require more advanced tools, you will be able to use the app's cloning feature. Thus, by cloning particular areas and pasting them to the "damaged" ones, you will make your smile perfect.
Also, the app contains many other features to edit both face and body. Plus, you will have access to various photo effects, color adjustments, masks, brushes, and many others. You will definitely find something dear to your taste.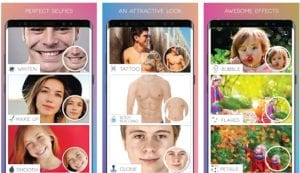 5. Pixlr – Free Photo Editor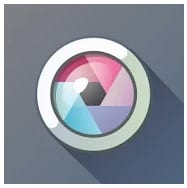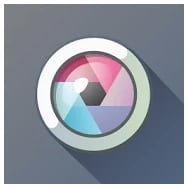 Don't you think that this well-known photo editor app can also cope with this very problem? Does it really have the teeth whitening feature?
That's right. By installing Pixlr, you will get a powerful assistant in any matter. As we are interested in teeth whitening, let's review the feature treating this issue.
Well, the app has a standard tool that is capable of whitening teeth. After using it, your teeth will become much whiter. So we guarantee that you will enjoy the result.
What about other features? To put it shortly, the app has a great set of tools that will be so useful in editing photos. You will be able to perfect yourself as well as the whole photo. To do that, various effects, overlays, adjustments will be available for you.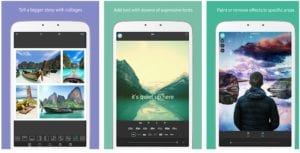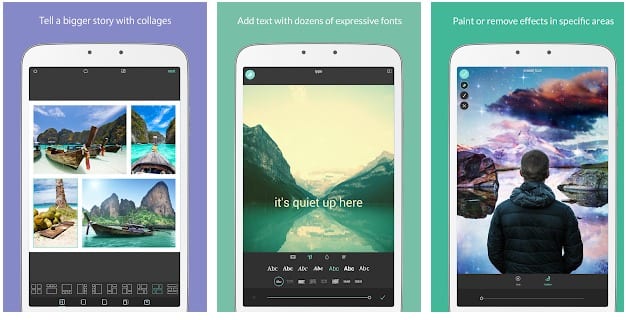 6. Sweet Selfie – Beauty Camera & Best Photo Editor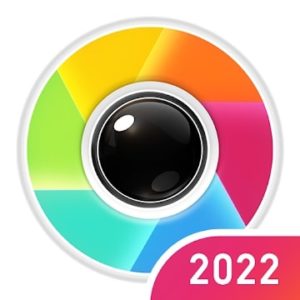 It's not a secret that the Sweet Selfie app specializes in beauty tools. That's what exactly we need!
Well, it includes all the necessary tools in tuning up your face. Teeth are an important part of our appearance. That's why the app will be able to make your smile perfect. After using the app's teeth whitening tool, you will achieve great results for sure.
Additionally, due to the app's tools, you will be able to apply virtual makeup, remove skin flaws, reshape the body, and so on.
Traditionally, you will have dozens of photo effects at your fingertips. We are sure that you will feel yourself a professional while editing photos with the app's efficient tools.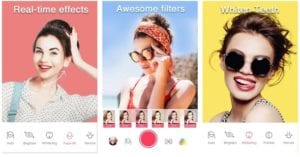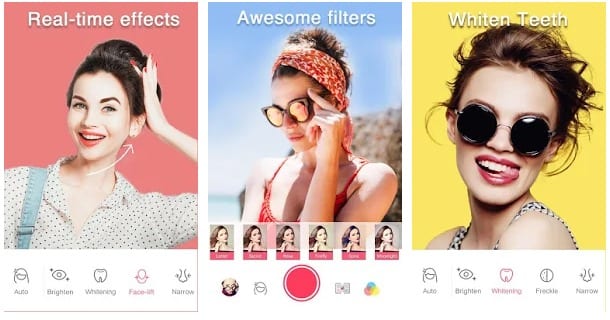 Do you want to diversify your content with cool stickers that will look just like you? Here is the post about the best sticker maker apps for Android & iOS.
7. Photo Editor by BeFunky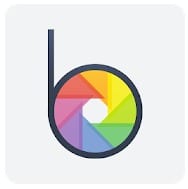 One more similar app is called Photo Editor by BeFunky. It will also become your virtual dentist and help you to whiten teeth.
So with only several steps, you will get your teeth perfectly white. Like in the previous apps, the new color will look very natural and realistic. What is more, you won't be shy about your smile anymore.
As usual, the app will also allow you to fix all the blemishes on a photo. Besides, do not forget about virtual makeup as well. The app has everything necessary for this purpose.
Moreover, the app is famous for its other features. Thus, you will be able to apply various colorful filters, overlays, and stickers. By the way, creating collages and adding text to images will be available as well. Anyway, your photo will become much more stunning.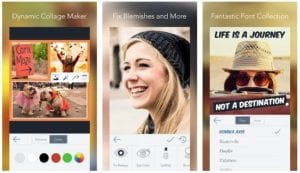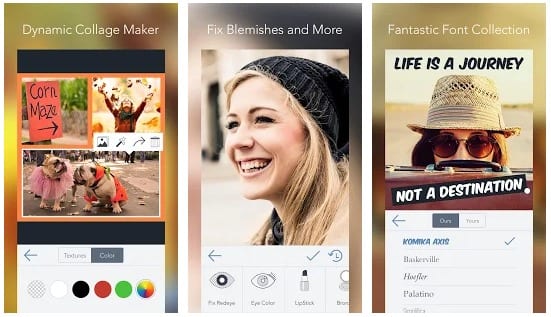 8. Adobe Photoshop Express:Photo Editor Collage Maker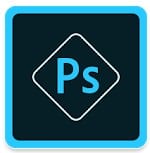 As you know, there is nothing impossible with Adobe Photoshop Express. That's why this wonderful app is also a must-have for you.
After installing the app, you will be able to fix all your flaws, including teeth color. You can whiten teeth on a photo both manually and automatically. As a result, your teeth will look as if you've just visited a dentist.
If you have some problems with your skin, the app will help you as well. Again, in this case, you will be able to correct everything by yourself as well as rely on the app in fixing it. Be sure that it will do its best in making you look like a model.
Apart from this, the app is considered to be one of the best in editing photos. It remains to turn your fantasy on, open the app, and turn your photo into a masterpiece. With its cutting-edge tools and their endless capabilities, it will be so easy to do.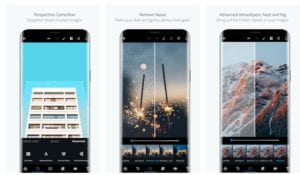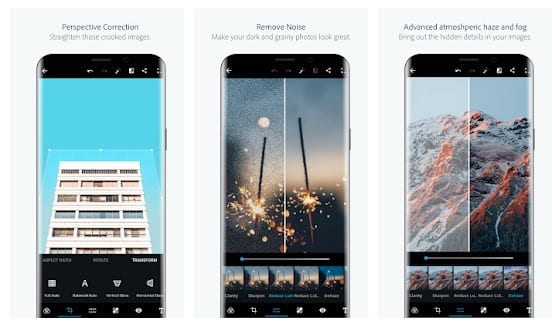 9. Perfect365: One-Tap Makeover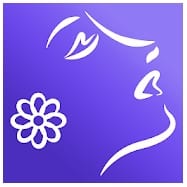 The Perfect365 app is in trend for several years. It has millions of admiring users from all over the world. Well, what is the reason for its popularity?
Let's start with its editing features. To be more precise, with those ones capable of perfecting your smile. The app's set contains a great tool that will make your teeth shine bright by whitening them. Furthermore, you will be able to choose the desired density of the white color.
Also, the app has many features that are frequently used by girls. By saying this, we mean that you will be able to apply virtual makeup on a photo. The app will provide you with 20 makeup and beauty tools (mascara, lipstick, shadows, liners, etc.) to be applied. Moreover, the number of colors will be unlimited.
For your convenience, the app's developers have also pre-loaded hundreds of ready-made looks. So you will have a chance to apply any of them. That sounds really great!
Apart from this, the app has one more distinguishing feature – video tutorials on makeup and fashion by world-known professionals. That's why there is no need to surf YouTube, trying to find worthy fashion tips and advice. You will have everything in one app.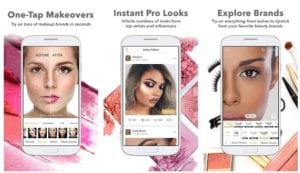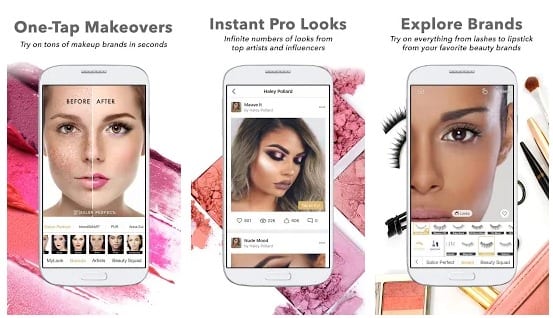 10. Perfect Me – Body Retouch&Face Editor&Selfie Tune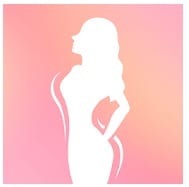 The last but not least app on our list is called Perfect Me. It is also worth being added to the review.
You got it right. The app supports the teeth whitening feature. It will take just several seconds to turn you into the owner of a wonderful smile. This very smile will attract even more followers.
The app has many other features you may also like. To describe briefly, you will have a chance to try yourself in perfecting a skin, applying virtual makeup, reshaping a body, and so on.
Also, the things that will complete your photos perfectly are bright photo effects and funny creative stickers.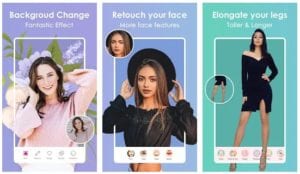 You may also like: 11 Best tattoo design apps for Android & iOS