False notifications are a useful thing when you want to pretend to be important or just to prank a person. The apps in this selection will help you create your own notifications, even though they do not exist at all. Well, getting the right text message, or call is sometimes helpful in order to avoid unpleasant situations.
In this article, we will cover the best applications on this topic. You may also like a selection of the Best Celebrity Prank Calls. This way you can create the illusion that someone famous is calling you. Let's get to the review.
1. Faker – Fake Notifications
Faker – Fake Notifications will help create a false notification, missed call, or SMS. In order to make the app work, you need to follow a couple of simple steps. First, you need to come up with a notification text and create a new fake screen. Then you can show it to the person you want to prank.
In addition, the application provides access to different versions of the wallpaper ios system. So the notifications will look the most realistic. The app also supports Dark Mode. All in all, this is a simple application that helps you create a couple of notifications on your locked screen.
Faker-Fake Notifications also has a subscription that will allow you to make more notifications and set any time. Also, before you save the fake wallpaper, you can see how it would look approximately. It means this app will help you quickly prank your friend.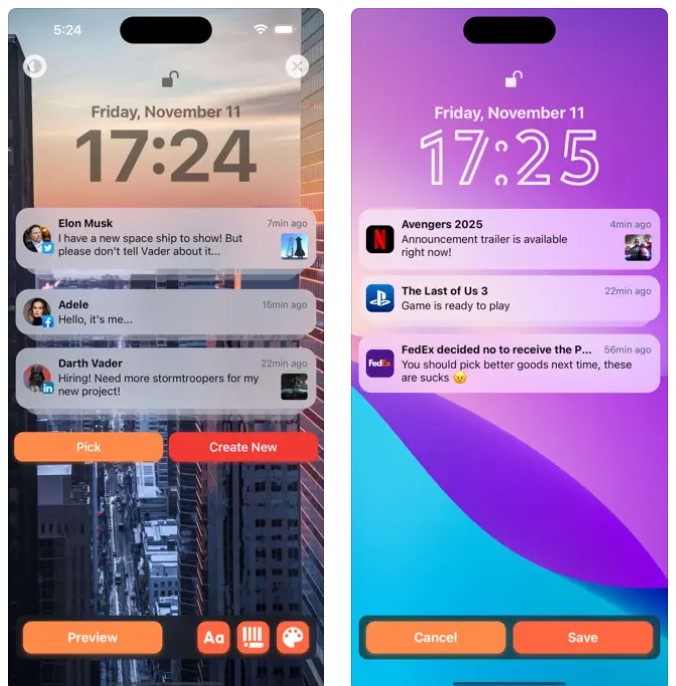 You may also like: 8 Best Male to Female Voice Changer Apps (Android & iOS)
2. Fake Notifications
Meanwhile, this application is designed for more detailed settings of false SMS and notifications. After all, here you will be able to select the applications, the sender, write the text, and even configure the time of receipt of the notification. Moreover, you can repeat the schedule of false notifications on a daily basis or make it a one-time occurrence.
It is also possible to use emojis to write notifications. Everything is done here so that the notifications on your screen look as realistic as possible. The amazing thing is that some users are using this application to cheat on an exam. After all, you can write absolutely any text that will occur to you at the scheduled time.
Moreover, the app is super easy to use. After all, all the settings are at your fingertips. Moreover, the interface of Fake Notifications is designed in light and pleasant colors. Not only is it functional, but it is also comfortable to use. The app lets you choose which apps will send you notifications. It is possible to select all of them at once.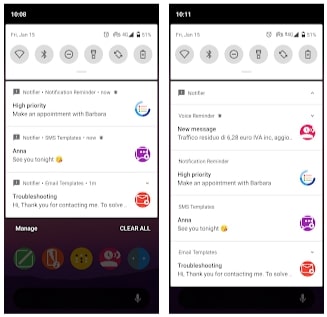 3. Fake All – Call, Chat, Message
As you can see from the name of the application, users are given the ability to create fake calls, texts, and notifications. So, the application Fake All – Call, Chat, Message is a cool and easy way to prank your friends. Some users even use it for prank videos on TikTok. To create a notification, you need to come up with text ideas and save the resulting miracle in the gallery.
The application offers you to use of ready-made backgrounds of various applications. You can also choose your own. You will be able to pretend that someone you know or a celebrity calls you. Also, various apps will send you funny notifications.
You can even set a call or notification schedule. In other words, you can set a time when the notifications will pop up on your phone's screen. Take it from us, the calls and texts here look very realistic.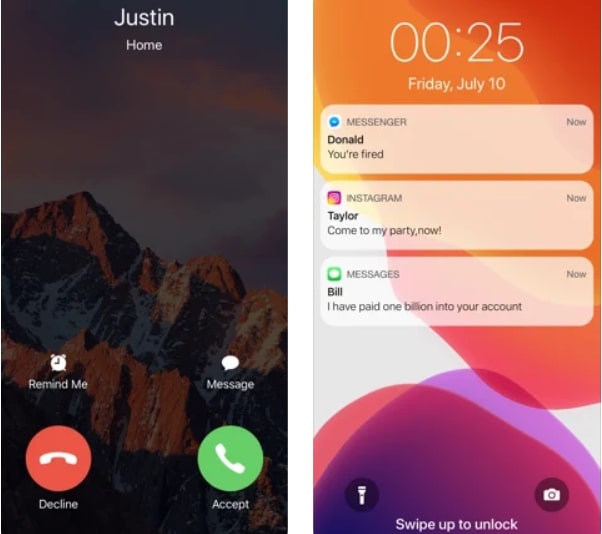 You may also like: 10 Best fake receipt maker apps for Android & iOS
4. Fake Notification Creator
Fake Notification Creator can be used not only for prank calls but also as a convenient excuse to getaway. A well-timed call or text from your boss, wife, or buddy will allow you to avoid an awkward situation or get away from an uncomfortable conversation. After you download the app to your device, open it to see how it works.
The first thing you may notice is that, in contrast to previous apps, it has a stylish interface done in dark colors. In addition, you will be able to customize not only the text and the sender of the text message or notification, but also choose the mode in which it will come. In other words, you can select both silent mode and mode with sound.
Moreover, here you can select the duration of the message and set a timer. This means that the notification will come after a certain amount of time. Fake Notification Creator also has different icons for the applications from which the notifications are coming. All this creates the illusion of reality.
Moreover, you can even take a screenshot and share it with your friends. Just imagine how amazed they will be if a celebrity likes your Instagram post.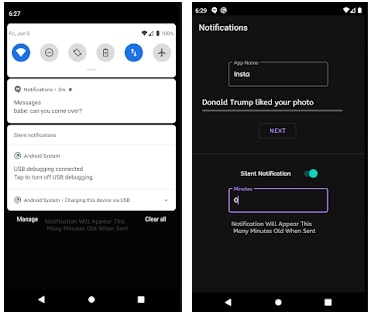 5. Fake Messages Pro
Fake Messages Pro is a super simple iPhone app. You can use it to create fake messages from celebrities, your exes, and family members. Fake Messages Pro app allows you to create high-quality fake messages that are not even different from the original screenshots. All you need to do is set your message partner and enter the desired texts.
The app also has a timer that you can set so that the messages would appear at a specific moment. Later on, all the fake notifications will be shown on the locked screen. This app will probably help you escape from an unpleasant date, prank your friends, and have a good laugh all by yourself.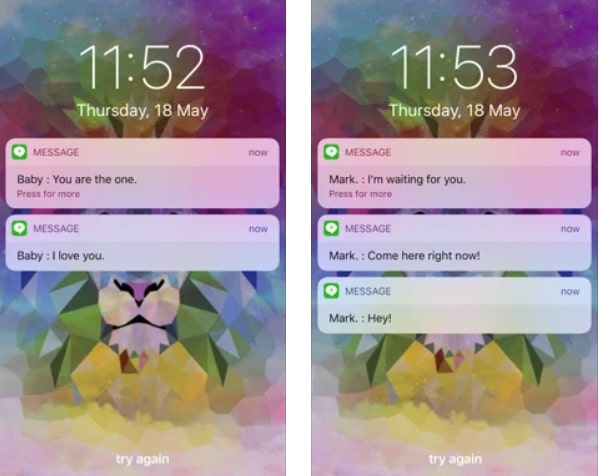 6. Fake Notification
This is an app that has already rescued many users. With its help, you will be able to receive non-existent notifications. Moreover, it will take you less than a minute to write them. First, you need to open the application and check up on its design. After that, you can start writing fake messages and notifications from different apps.
For example, there are icons for Twitter, Instagram, Facebook, Snapchat, Tinder, YouTube, and other popular messengers and entertainment apps. More importantly, you will even be able to attach a photo of the sender. For example, creating a fake notification from Instagram would be great to pretend that a celebrity writes to you.
In addition, a photo of the star right next to the text will surprise your friends even more. You can create as many fake notifications as you want, unlike other apps. Moreover, there is a function of sending notifications at a scheduled time.

7. iFake – Funny Fake Messages Creator
The last application in our selection will surprise you by creating not only false notifications but also non-existent chat messages. iFake – Funny Fake Messages Creator will be able to create a wallpaper for your phone, on which these notifications will be. The application has a special editor for this purpose.
You will be able to use both default and your own lock screen wallpaper. Moreover, users can add both the name and the text of the sender. Also, you can select all the icons of the applications available on the iPhone. The most popular social networks and messengers are collected here.
Also, you can select the time when messages or notifications will be sent, such as yesterday, a minute ago, and so on. Secondly, you can add a text and the sender's text to your chatbox as you do to notifications, or add images to your messages. In general, the iFake – Funny Fake Messages Creator makes everything to make it look as natural as possible.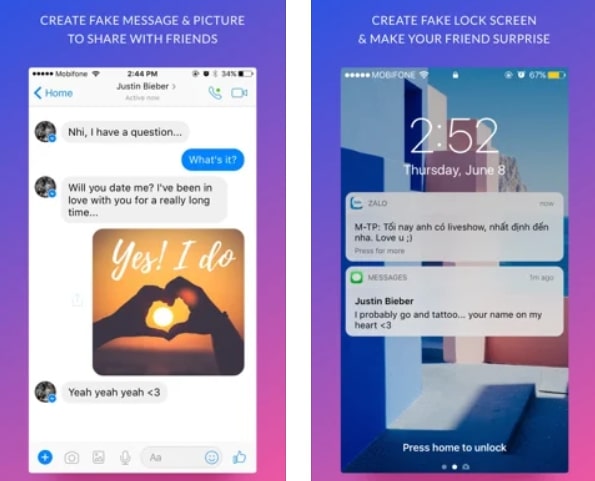 8. Notifications Simulator
Notifications Simulator is an app that will help you schedule a fake message from social networks for yourself.
Have you come across an unpleasant interlocutor or a pesky stranger from whom you want to escape as soon as possible? Create a fake message as an excuse to get out of trouble.
App Features Notifications Simulator:
User-friendly and intuitive functionality of the app.
The app can simulate an incoming or missed call.
The app can simulate incoming messages from social networks and messengers (more than twenty popular messengers and social networks, such as Instagram, TikTok, Telegram, Facebook and many others)
You can schedule multiple fake messages at once
You can attach a photo of the caller

You may also like: 10 Best Lie Detector Test Apps for Android & iOS
9. Fake Notification Maker
Fake Notification Maker – Create a fake message in just a few clicks.
Do you want to play a prank on your family or friends? Do you want to test your soulmate for jealousy? Then the Fake Notification Maker app will help you. Just create a fake notification and watch the reaction of others.
Features of the Fake Notification Maker app:
Create fake notifications and shock others.
You can schedule a schedule for sending notifications, so you can receive multiple messages in a row
The app can create messages on behalf of many social networks and messengers (more than thirty apps, including dating apps)
Notifications are displayed on all screens (lock screen, notification on the home screen, or in the notification bar)