The first video footage even was made by a french man Louis Le Prince in 1888. It was a short silent film. Then the cinematography started to evolve with great tempo. But we still remember those old-fashioned silent movies from the 1920-s and 1930-s. Then a golden Hollywood era came – do you remember those retro films with Timothy Dalton, Merylin Monroe…? And of course, those back-in-the-day home camera footage of the 1980-s and 90-s when people just received the possibility to buy their own filming equipment. So nostalgic!
And sometimes we would like to recreate those special moments from the past with our own videos. Would you like to make a video clip and make it look like a Gold Hollywood Era movie? Or maybe you would like to create a funny theatrical video in 20-s silent film style? Or would you like to shoot a video with light effects and the date on the side just like in the 90s? Using the following apps, you can be as creative as you like.
1. VHS Cam
This filming software will help you to bring the unbreakable spirit of the 80s right back to your smartphone. Actually, this app has been quite popular on the market – such celebrities as Kendall Jenner, Snoop Dogg, Khloe Kardashian, Victoria Beckham, Wiz Khalifa, BTS have been seen to use it. Also, many influential magazines, such as Forbes or Wall Street Journal mentioned it in their articles.
So, all you have to do is to install this app and start filming. When you are filming, you can see that the video is framed into grey borders with indicators or battery level, signs of record and light on them. And the overall video will be recorded with some distortions, just like in the 80s and the date of the footage in the lower corner of the screen.
Probably, for the old-school dudes, this will be a major throwback. The videos are going to look exactly if you would have pulled them out of your old VHS storage after 30 years. Each moment perpetuated on the camera used to be precious, even if that was your school fail soccer game video. Want to relive that feeling once again? It's easy now!
The app simulates the glitches of old videotape recordings. You can control the effect during the footage by shaking your device. All the details are taken care of here – even the sound! It is also going to be that low quality as it used to be on videos in the 80s. By the way, before using the app make sure that the Internet connection you have is good – otherwise, the app may not work as good as it should.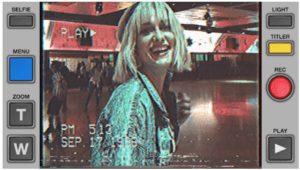 You may also like: 10 Best apps to watch TV shows for free (Android & iOS)
2. Huji Cam
It is not a secret that the filters that bring the 90s footage effect are crazy popular right now – because they are so authentic. It is something special about those times. And here we have an interesting app which will make to recreate the footage just like in 1998 possible.
The effect is different here, obviously. The overall quality is clearer, the lighting is less visible, since in 1998 the style fo filming was different, though, the date sign in the side still was presenting. However, this app works a little bit different from regular apps.
Here is how to run it correctly: install the app then go to the settings of your phone. Find it there and then allow the app to get access to the camera. Then run the Huji again and tap on "resolve problems". Then, next time you will be switching on the app, your camera mode will automatically gain that vintage effect.
The effect is also applicable to photos. Just when you save your photos and videos, be careful, because some users complain about errors and slow work of the app.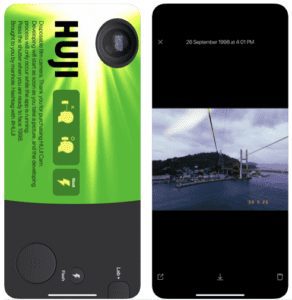 3. 8mm Vintage Camera
Now let's go even further back in time to that era when films were silent and square-framed. An interesting fact about this app is that once it was used by a film director Malik Bendjelloul in one of his films which later he received an Oscar award. Then it gained even more popularity.
It films just like the 20s film vintage camera should film. Be ready to plunge into the atmosphere or roaring 20s. Dust and scratches, retro colors, flickering, light leaks, even frame shakes, all can be instantly added with a single tap of the finger.
And unlike many video editors, this one allows you to film in the effect right during the footage itself; not just film a video in a regular mode and only then layer the effects. Here you can view right away the result you are going to get. What is more, the app can make footage even in 4k quality.
The app provides 8 types of lenses that you can choose from:  Super 8, 16mm, Clear, Flickering Frame, Spotlight, Light Leak, Color Fringing and Classic. You can also play with the effects – yes, it has not only just one vintage effect but many of its variations. Here you will find  1920, Noir, the 60s, 70s, Sakura, XPro, Siena, Pela, Indigo, Tuscan, Two-Color, 2-Strip, and 3-X effects.
Want to create your own silent movie? Just go to the Sound Switch option in the app to add projector sound for extra authenticity or mute the video. The app is acknowledged as one of the best on the market and has gained very high rankings by users.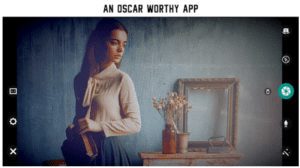 4. Camcorder
Another great app to make vintage videos. Camcoder also allows you to shoot the 80s and 90s styled videos. Millions of users around the world have already evaluated this software. Moreover, if you are someone who hates annoying ads then this is your choice because Camcoder doesn't have any of those.
Here you can upload any video from your gallery to the app and then edit it or shoot a new one with the filter right away. What is more,  you can turn on Front Flash when in dark places while recording a home video in selfie mode. These are basically all the functions of Camcoder. It makes a video of truly high quality. It's perfect to save some precious moments, for example, film the first steps of your child or the first day you got a puppy.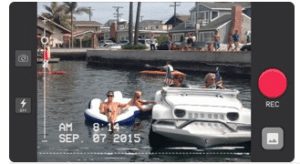 5. Gudak Cam
Ok, let's truly explore the full meaning of a vintage camera. Who said you cannot recreate black and white films as well? With Gudak Cam you can get quite authentic movies with old school vintage charm. The main effect of this app is the "outdated video" look.
This app is pretty special and it works a little bit differently from other apps. Gudak can take 24 shots per film, and if you use up the film, you can charge or re-shoot after 1 hour. And 3 days later, you can check the used film with a picture. In addition to black and white themes, you will find a lot of others – those can be colored as well.
It can happen that the video you filmed looks a little bit dark because of the vintage effects. In this case, you can go to settings and crank up the brightness of the video. The video itself will not lose quality because of that.
Generally, the app is meant to give you the same feeling as you would feel when you print old fashioned photos of your vintage camera. It means you have to wait until all your pictured and filmed shots are ready. A really nice variant for those who make postcards and who just want to connect a special memory with a pic.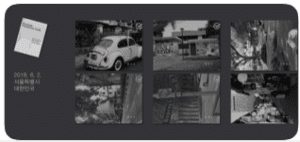 6. CALLA CAM
Now we're moving on to a more multi-functional photo and video-editors. This app allows you to add various effects to your pictures and videos, including the vintage ones. Moreover, here you will find not just a single effect. No, you will find several variations with the ability to try them all and decide which one suits you best.
Actually, this app will be perfect for those you like spontaneous photos. Here you got an interface just like in the 90s and early 00s camera where you can make basics adjustments on the focus. Moreover, the camera will always perpetuate the date on the video, no matter if you are using an effect or not.
After your picture or video is made (or you can choose one from the gallery) you can layer effects and filters on it. By the way, here you can layer not only vintage effects because all the stuff made by this camera is automatically considered to be vintage. So here you can play with styles and textures.
You can also make the basic adjustments like the brightness of colorfulness, which is quite useful for the video footage. Another cool feature that it has – is that you don't necessarily have to pay to get access to all the range of filters. You can choose to watch ads before you use them and thus get access.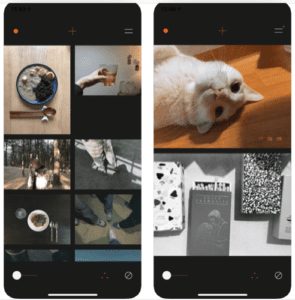 7. Vintage Camera
A great app for those who like polaroid pictures. Basically, this is a retro camera with 8mm and polaroid effects, which look especially impressive on Instagram. Here you will find various vintage camera effects, and, of course, polaroid frames.
You can apply vintage themes to your videos and photos, nostalgically similar to the old polaroid camera or the VHS tape camcorders. Create videos in hipster style. Overall, there are more than 100 vintage camera effects that you can choose from. Apart from those, there are also mirroring effects and classic camera effects.
You can add custom text with cool vintage effects – here you can stay creative with old-school videos and just mix styles together. Also, you can conveniently post photos right from the app for social media posting.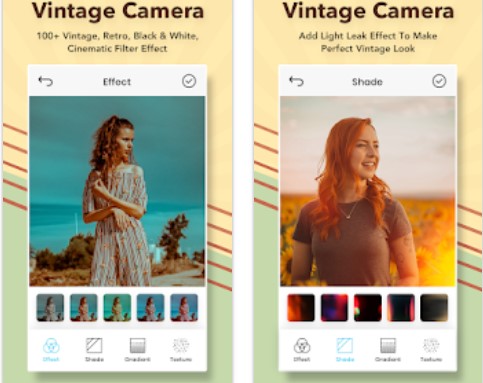 8. VHS Camcorder Camera – Timesta
This is one of the most popular apps that exist for a vintage effect. This app will give you a chance to go as crazy with vintage effects as you like. It is basically a multi-functional tool for creating any type of vintage video.
The app can give a really cool VHS effect by adding the glitter effect so common for the 80s and 90s shootings to your videos. You can change the on-screen date to trick your friends, create flashing cheesy custom titles, mess up the picture by shaking your device, and use the zoom lens feature to emphasize those truly embarrassing moments.
Also, the app itself has a retro interface and it is as if you are clicking on a super nice vintage video camera.
In the retro camera mode, you can take videos that later have an effect of 35mm noise and scratches. Moreover, as the app has the ability to put the date of shooting on the screen – you can alter it at any time. It shouldn't be specifically that date when you made that video.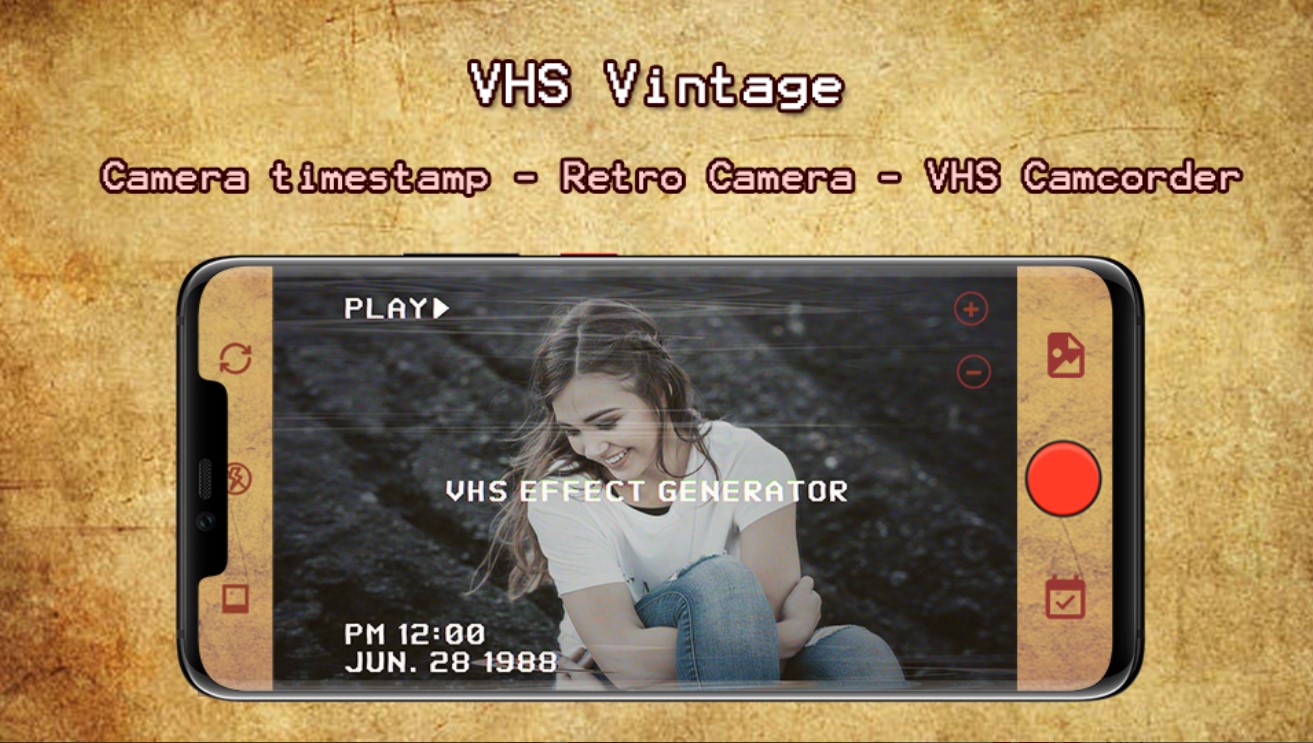 9. KD Pro Disposable Camera
One of the most popular apps in this category. It is supposed to bring you the feeling of like you are actually using a retro camera with all the buttons and indicators on it. Good interface idea, actually. Every detail on the camera mimics a real disposable camera.
Among functions that this app provides, you will discover the possibility of manual or automatic wind with force feedback. When you shoot a video or add a vintage effect, it becomes a little bit grained, just like old-style films. By the way, when you shoot a video, you can have a camera either on the half of the screen or on the full screen for your convenience.
Besides, the app supports all photo orientations so forget about the headache of necessity to crop the photo. The film can be previewed right after it was shot. The focus of the app is quite decent, though it is not automatic and you will have to type on the screen to tell the gadget to concentrate on a certain spot.
If you, for some reason, don't want to apply vintage filters yet, you can turn them down. And by the way, here you can customize the theme of the camera, choosing different colors for it. The date stamp is customizable as well. And, probably, of the most prominent advantages is that RD Pro has no ads. It is a compact, but very sweet vintage camera app.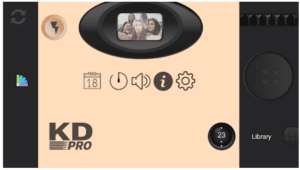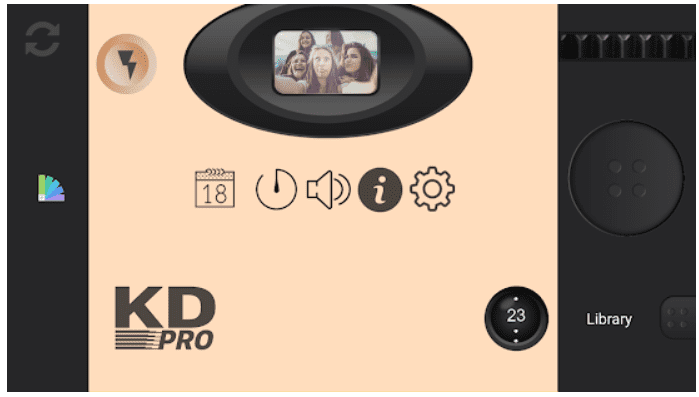 10. Glitchr
Glitchr was released to the market quite recently, but it has already gained a good popularity and users' reviews. If you take a look at all its functions, it is really impressive. Glitchr allows turning any vids into the old-fashioned style films from various eras – from the 1920s to 2000s.
Here you can shoot a retro silent movie in a single tap. Just press the button and current reality suddenly moves decades ago. 8mm Vintage Camera captures the beauty and magic of old school vintage movies right through your viewfinder. Such details of a retro video, like dust and scratches, retro colors, flickering, light leaks, even frame shakes are presented in the app and can be added easily.
You can both record a video in a vintage effect or choose a film from the gallery and layer the filter on it. With all the light effects and date indicators, your videos are going to look like they came straight from the 70s and 80s. However, all the clips maintain their high quality.
In total, Clitchr counts more than 50 different vintage effects. That should be enough to create a realistically looking vintage video. Among interesting effects, you will find a broken VHS effect, old TV glitch effects, and some others. There is a separate section for 1967 themes – that's, obviously, the distinctive feature of the app.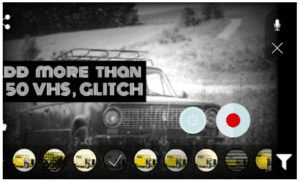 You may also like: 10 Free timelapse apps for Android & iOS