Nowadays, a healthy lifestyle has become extremely popular. Good eating habits and doing sports are an essential part of this trend. As for exercise, more and more people have started to use various apps that have become their personal coaches. Instead of going to a gym, they prefer training at home or outdoors. It remains to open an app with exercises and begin a workout.
Push up is one of the most valuable exercises while training. Being benefited by push-ups, you will definitely sculpt your back, chest, shoulders, and arms.
Fortunately, there are many apps that are specialized in this very type of workout. We have reviewed only the best of them that are presented at this post. Choose the most suitable ones, install them from the App Store or Google Play, and always keep fit.
1. 100 Pushups workout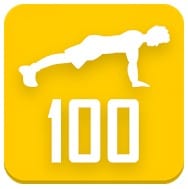 Believe it or not, but maximum in 10 weeks you will be able to do 100 push-ups. And it doesn't depend on if you are a novice or professional. With the help of 100 Pushups workout, even a beginner will realize the target for sure.
To begin with, you will have to pass a test and do as many push-ups as you can. After that, a build-in intellectual system will create your personal plan of workouts. There are 11 available programs of workout that you can change at every time.
Moreover, this app is especially convenient. By saying this, we mean a timer that will keep track of resting time between your sets. By the way, you will be able to set your custom training as well.
One more thing that you will really like is warm-up before workouts and stretching after. No doubts, it is the most proper approach to exercises.
Also, in the app, you will see all the necessary information including fast statistics and the history of your push-ups. The Cloud storage feature will let you transfer your results to any device.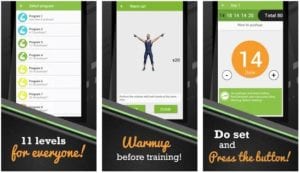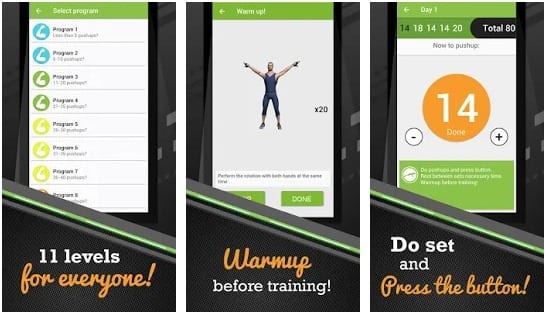 2. Push ups: 100 pushups trainer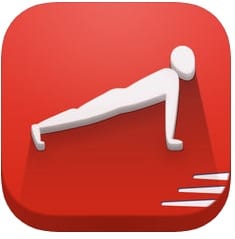 As in the previous app, here it is a goal of 100 push-ups set for you. As the developers claim, you will succeed in it by devoting just 30 minutes a week to this app. That sounds interesting.
So the app will suggest an achievable plan of workouts for 10 weeks. You only have to choose your level (Beginner, Intermediate, Advanced) and start training sessions. By increasing the push-ups gradually, the app will let you reach the goal.
The main distinguishing feature of Push ups: 100 pushups trainer is its audio coach that will tell you exactly how many pushups to do, or when to rest, or when to resume. That's really great.
Additionally, you will have all your favorite music at your fingertips while training. The thing is that the app is compatible with other music apps.
Moreover, it must be mentioned that the app can be synchronized with Apple Health.
As a bonus, you will get dozens of videos about a warmup and stretching that you can follow.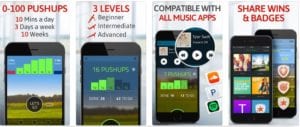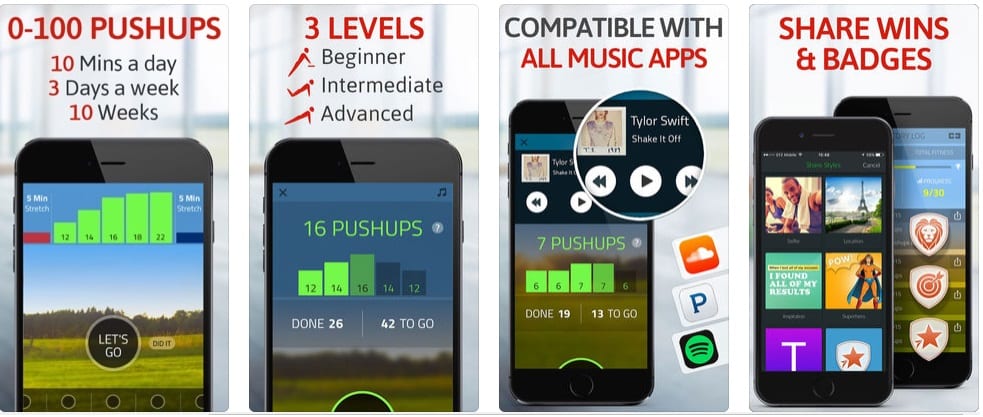 By the way, if 100 pushups seem easy for you to do, install the app's PRO-version with a goal of 200.
3. Push Ups Workout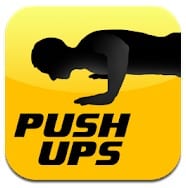 One more brilliant app is called Push Ups Workout. To begin with, here it is possible to use two different modes: Training and Freestyle.
In Training mode, you will have to achieve a plan that the app suggests to you. This plan fully depends on your age and level of physical fitness. It will be divided into 6 parts, that you will gain step by step. Each further part will be based on your previous results. Be sure that the app will create the most suitable plan for you.
As for Freestyle mode, you will be able to do as many push-ups as you want.
Regardless of modes, you will have access to Graphs and Statistics. This feature will show you such information as a history of your push-ups, your personal record, the average number of push-ups, etc. One more advantage of this app is that you will also see calories that you lose during a workout.
Apart from this, you will really like the app's user interface. It has a special built-in sensor that is capable to count numbers of your push-ups. The only thing you will have to do is to touch a screen with your chin or just close to your phone while having a workout. Anyway, if you don't like this feature, you can enter the data manually.
One more nice feature is that the app supports Desktop Widget. To put it shortly, it does everything for your convenience.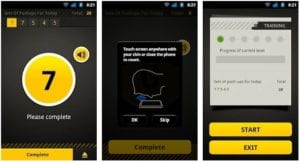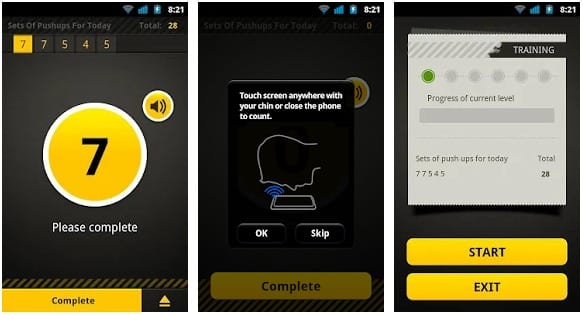 4. XFit Push Ups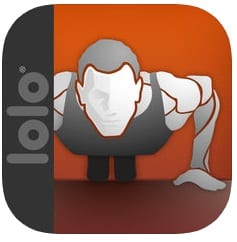 This app is really priceless for iOS-device owners. We can't help admiring XFit Push Ups because of all the features it has.
First of all, you will be able to personalize your own training sessions by adding or deleting exercises that are available at the app. Moreover, it is possible to increase or decrease the intensity at any time. Apart from this, you can choose any of 5 different difficulty levels.
As for workouts, the app suggests 49 various exercises on push-ups. The main distinguishing feature is that for 19 of them the special equipment is needed. For example, it can be a gymnastic ball.
In previous reviews, we have already mentioned that some apps are capable of playing music from others. But this very app moves by leaps and bounds. The thing is that it changes the beat of your music in order to make it perfectly match your movements.
Additionally, while doing push-ups, you will have both audio and video manuals at your fingertips. So you may completely rely on them when checking if your technique right or not.


5. 0-100 Pushups Trainer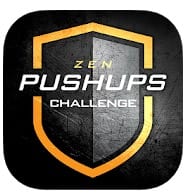 Do you want to have an athletic build in 8 weeks? If you give an affirmative answer, install this app at once and improve your physical fitness.
Well, with the help of 0-100 Pushups Trainer, you will be able to do 100 pushups straight in several weeks. All you have to do is follow the personal plan generated by the app.
As for advantages, this app has a voice assistant as well. During a workout, it will tell you when to start, when to make a pause, when to resume, etc.
Moreover, you will be able to listen to your favorite music through the app. Undoubtedly, it motivates a lot!
As for motivation, you will also get special awards that you can share with your friends via social media.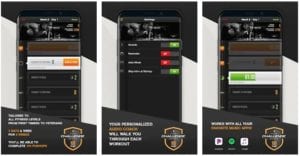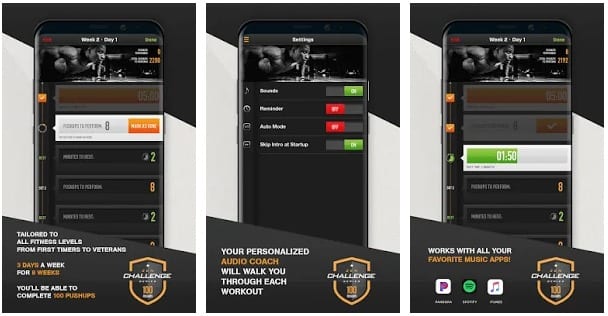 6. 3D Push Ups Home Workout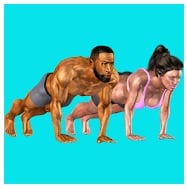 Are you bored with tedious workouts? Then that's exactly what you've been searching for.
The app's developers have created 3D characters that will have workouts with you. In such a genial company you will increase your level of physical fitness much quicker. At the same time, they fulfill a demonstrational role during push-up sets.
As for exercises, you will be able to customize workouts depending on your abilities. Nevertheless, the app will gradually increase the number of push-ups.
Additionally, you can set how long the break should be so that you completely recover.
3D Push Ups Home Workout also offers to users various training challenges. They differ from each other according to your goals or level. Anyway, it will be very helpful to you.
The distinguishing feature of this app is its capability of showing notes created by you. It means that you will be able to write some comments for yourself about an exercise to complete it correctly next time.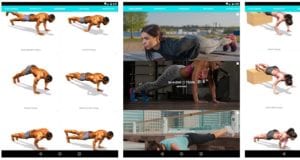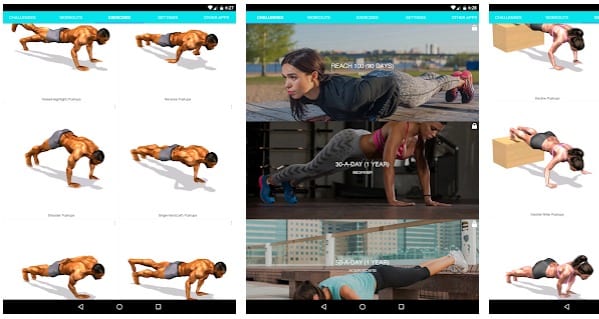 7. Pushups Coach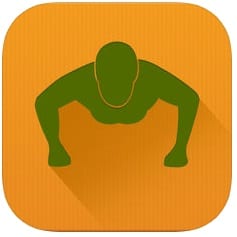 One more app that you will definitely like is called Pushups Coach. By devoting only 30 minutes a week to the app's workouts, you will gradually reach the goal of doing 100 pushups straight.
As in previous apps, Pushups Coach will create a personal plan for you to follow. Your results will be presented graphically, including the information about push-ups number and burnt calories.
You will be suggested ten types of pushups postures completed by text- and picture-manuals.
For your convenience, synchronization with music apps and a Notification feature will be available for you as well.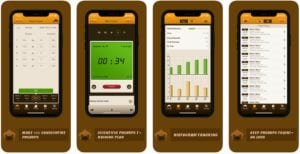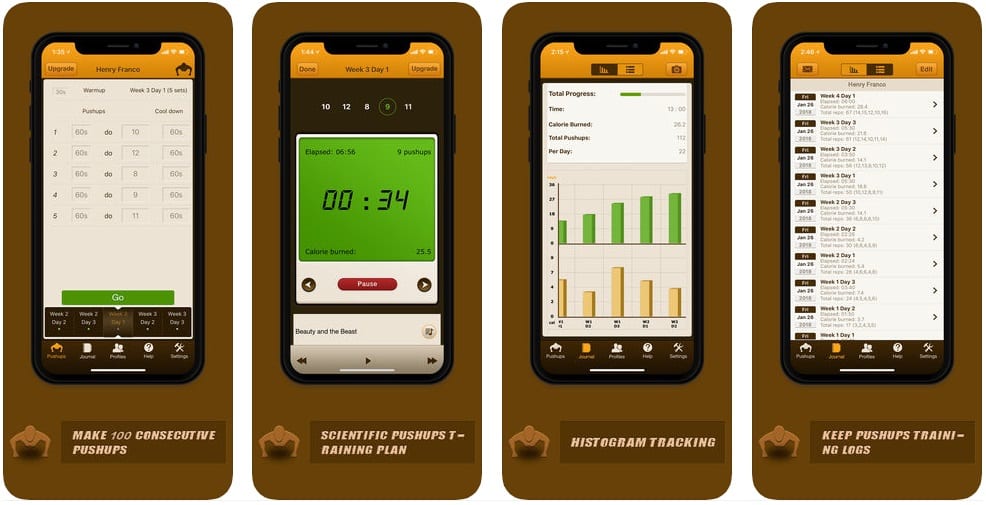 8. Just 6 Weeks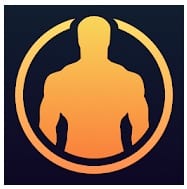 Just 6 Weeks is a top-rated app that has become very popular worldwide. So by using this app, you will be able to do 100 push-ups just in 6 weeks.
As usual, here you will have a personal plan, adjustments of workout intensity, notifications, statistics, etc.
The app's distinguishing feature is that besides push-ups, it has 6 more programs that will make you fit in several weeks. It's really priceless for those who want to get everything at once.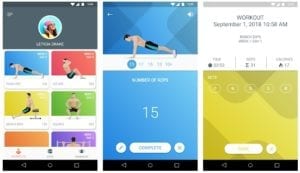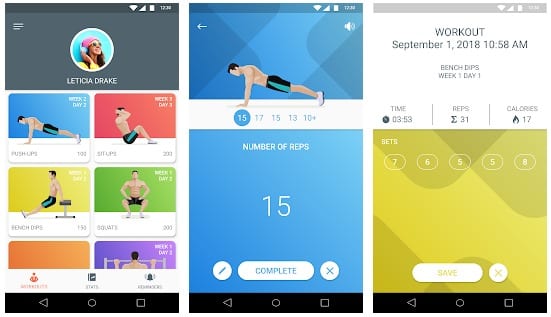 Check also: 11 Great gymnastic apps to help you exercise