Spend 2 minutes in space dodging attacking rockets and asteroids at any moment of your daily routine. You do not need to register, play right from the start screen, or choose settings. Play with or without sound, switch controls from the touch screen to buttons, select one of nine languages.
What is especially noteworthy, the main screen color is black, because it is space, which restores our eyes from excessive fatigue. And the repair station will restore your ship, fly there if the attackers damaged it.
You might also want to play the airplane simulator game apps if you like games about the aircraft.
To control the direction, simply tap on the target point on the screen, or you can slide your finger across the screen, then the ship writes arcs, deceiving the attackers. Note the small red triangles around the edges of the screen. They show where the next enemy will come from. Choose to fix the screen (vertical or horizontal), or the ability to change it right during the game.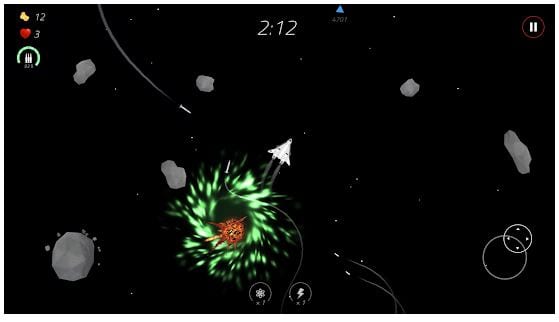 You get gold for the time that you hold out alive. Or fly in the direction indicated by the blue signs to earn a lot of gold at once. Let's see what you can spend it on.
First, you can choose one of thirteen ships with different abilities and weapons. Secondly, there are four surroundings, besides the standard one, where you can fly. Do not limit yourself to the vicinity of the Moon, fly to the Asteroid Field, the Orion's Belt, and other exciting places in the Universe. Well, of course, power-ups, as the best speed and so on.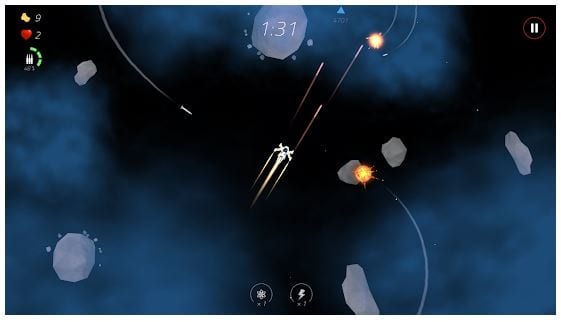 This game is available only for smartphones. If you want to find a game that would be available both for smartphones and PC you should check out these apps. 
The game developer is very lively in answering questions and suggestions from users. The application is very clear and simple, it is a real pleasure to play in it for both adults and children. You only need 2 minutes in space to figure it out. Start your unforgettable stellar adventure in the midst of everyday boredom.