Have you ever suffered from hard drive problems? If your answer is "yes", we have to bring your attention to the magnificent tool – Hard Disk Sentinel Professional.
In your free time, when you don't need to repair your hard disk or do anything else, you can relax and try age regression apps – they are extremely funny!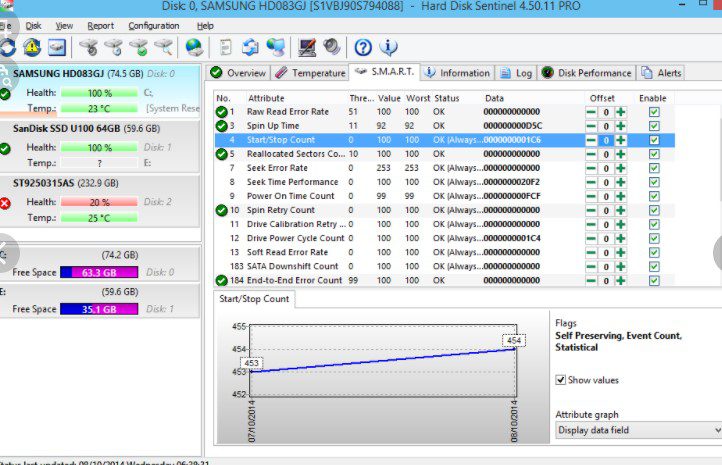 So, what are the key benefits of this software?
Hard Disk Sentinel Professional is a hard disk monitoring program that supports HDD/SSD/SSHD (hybrid) drives. Due to this tool, you can carry out the following tasks:
Quickly find and remove all the hard disk drive issues
Monitor hard disk drive / HDD status, including health, temperature, and all S.M.A.R.T. (Self-Monitoring, Analysis, and Reporting Technology
Apply a great variety of automatic backup methods (f.ex. backup data to a local computer, a LAN server, or a remote server)
Create archives and record CD/DVD media
Remotely monitor the hard disk status via a web browser or mobile phone
Report and display SSD and HDD health and performance failures
Use the most sensitive hard disk health rating system
In addition to the abovementioned points, Hard Disk Sentinel Professional allows you to start hardware hard disk self-tests. This method can be very useful, as it will help to detect and repair all weak areas.
Besides, in this program, you can even adjust the acoustic level of the IDE/S-ATA hard disk.
In case the program finds any failures, the users will receive the notifications. Moreover, there is a unique option that allows you to receive daily emails about the current status.
There is nothing difficult in this software, as it has a quite clear interface. Plus, Hard Disk Sentinel Professional runs in the background, so you will not have to face any difficulties while using this program.
However, the developer also offers very responsive customer support. Therefore, if you have any questions, you can contact customer assistants at any time – they will quickly tackle all your problems!
What is more, in your free time, we recommend exploring the article about empire-building games.
If you worry about your data protection, Hard Disk Sentinel Professional is an excellent solution. We can surely say – you will not regret!