Backgrounds are the smartest and fastest way to update the way a phone looks like. There are so many apps that can help you live up a screen. However, it is challenging to find an app that will not take a lot of time and has great pictures. In this article, we have gathered the top wallpaper apps for your iPhone.
So, there are several ways how to make your wallpaper change. We have collected the most popular ones in this article. Also, if you want to design custom images for your iPhone you can read the article the Best Mirror Collage Apps.
1. Wallpapers & Themes for Me
This is an app, which will let you get hd background images on your phone. The app has more than 12 categories here. All of them make you easily find a theme to build a stylish and harmonious look for the Lock Screen and Home Screen. The app is updated daily with new exclusive pics, therefore you can always replace the wallpaper whenever you need.
In addition, you will be able to preview the picture you like. You will only need to click on the picture and then you will be able to evaluate the way the image will look on the mobile phone. Moreover, the app is present on the SmartWatch, which can be pleasing to the users. In addition, you may track what other users like, as well as what kind of wallpaper they pick.
You will only need to go to the tab Popular. There are also new wallpapers for you to check out that are updated in the New tab. The app will adjust each year's season to you, giving you pictures depending on the particular weather season.
In addition, the application will send you a notification about new content added. Thanks to this, you will always stay informed and at any time you can change the background on your phone.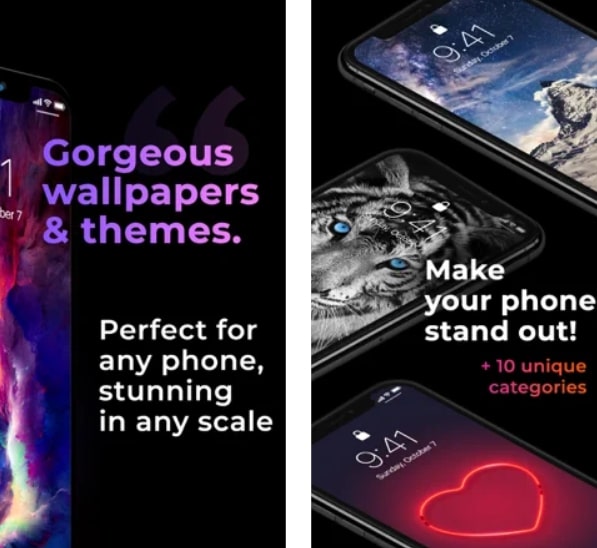 You may also like: 9 Best Background Wallpaper Maker Apps for Android & iOS
2. Splashy: Automatic Wallpapers
Splashy: Automatic Wallpapers is one of the few applications which offers a built-in Shortcut application. What is it for? To change your iPhone screen automatically, of course. You can find in Splashy and other sources how to link these two apps. So, all you should do is pick the right collection from the images you like.
It will run on its own, even when you charge your phone. Therefore, you will not need to fill the memory of your phone with high-quality images. This is probably the app that performs the function better than the others.
In addition, you will see a daily selection of your favorites and popular images on the application's screen. Moreover, all images are divided into categories. You will be able to create your folders and add your favorite images.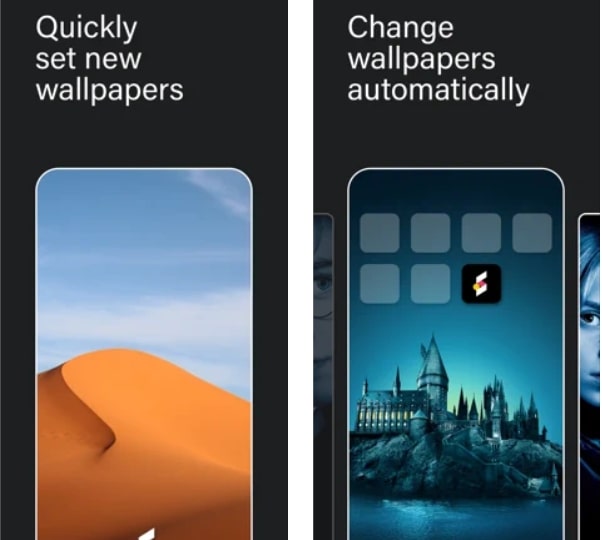 3. Vellum Wallpapers
Only one click is separating you from the opportunity to improve your phone screen dramatically. You will get stylish modern and atmospheric changing wallpapers by using Vellum Wallpapers app. Basically, the app offers fiction extraordinary objects in its wallpaper. Nevertheless, you may still manage to find something different in its collection of thousands of pictures.
In addition, Vellum Wallpapers can blur the image you like with the intensity you need. In addition, every picture is in 4K, so you will always have a striking high-quality background on your phone's screen. Although the application charges a fee, you will be able to get free images every day.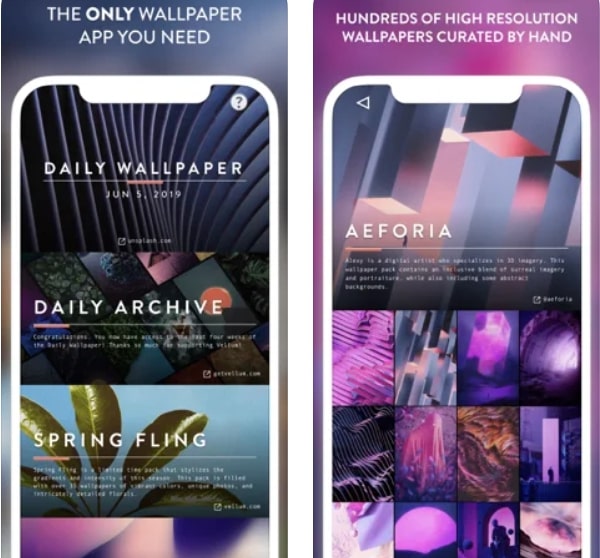 4. Everpix Cool Live Wallpaper 4K
This app is for you when you are seeking high-quality visuals for your phone! It is a perfect app for those who are tired of same-old pics but wish to liven up his or her display! Therefore, the app tries to improve the user experience, which is why the photos are constantly up-to-date, allowing you to find fresh walls to fit your everyday needs.
Besides, there are live wallpapers in the app. The only thing you have to do is to set them and hold a finger on your lock screen or home screen. The image will come to life and display a live image on your gadget.
Also, the app has the ability to preview the artwork. As soon as you click on a photo you like, the app will show you how the image will look on your home screen. Beyond that, this app strives super hard on photo quality, so there are photos even in full 4k quality.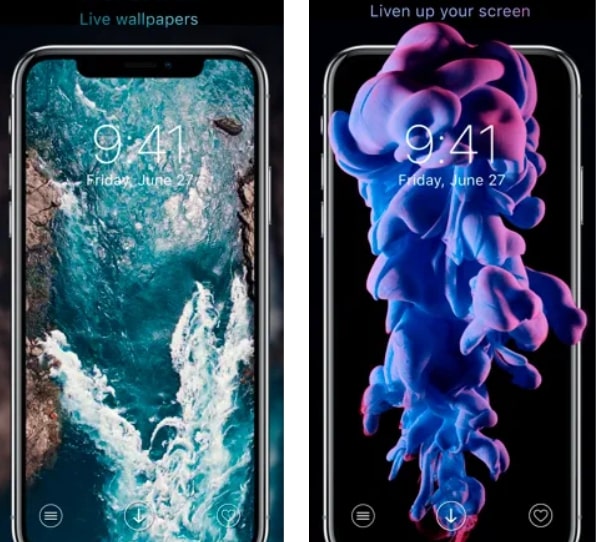 5. Suret: Cool Wallpapers HD 4K
Suret is what will make your iPhone screen brighter. It is a program that offers not unique different backgrounds but also makes it simple. After all, there are so many different photos collected that are divided into different categories, therefore it is not always so easy to find the right one for you.
For this reason, its developers recommend using the search tool by color. That way, you will get an image that matches the palette with the selected one. In addition, the pic you choose can be blurred so that the background would not distract you too much.
In addition, the application strives to keep up with trends, which means you will be receiving more and more trending images from day today. The thing you might enjoy is the ability to take advantage of live wallpapers even on your Apple Watch.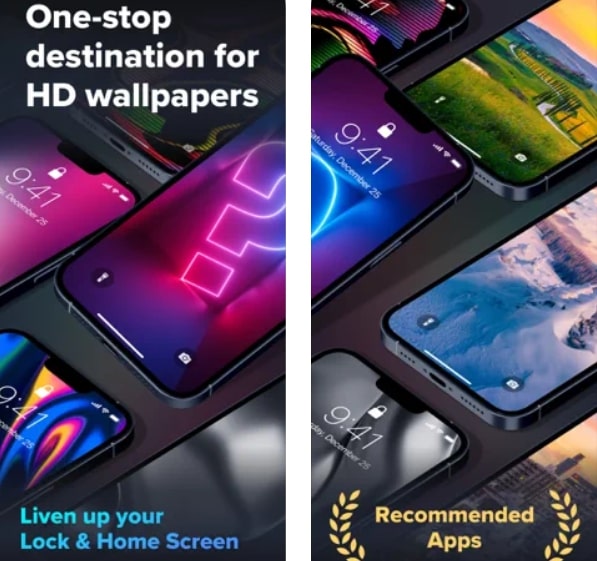 You may also like: 13 Best screensaver apps for Android & iOS
6. Charging Show
This app stands out from the rest, as it is designed to change the wallpaper each time you charge your phone. That way, each time you charge your phone, you will see a fun animation or a cute picture. This app is great, first of all, because it offers lots of colorful backgrounds on diverse themes.
Moreover, all images are organized into handy sections that are convenient to navigate through. Secondly, the app suggests accompanying charging with a sound signal. Thirdly, the app not only offers a unique lock screen but also a custom charging percentage animation.
In addition, you can create your dream animation for the background, using any video from your gallery. As well, the app is frequently updated and you can regularly change the screen animations. Check out this app to decorate your smartphone with an automatic lock screen.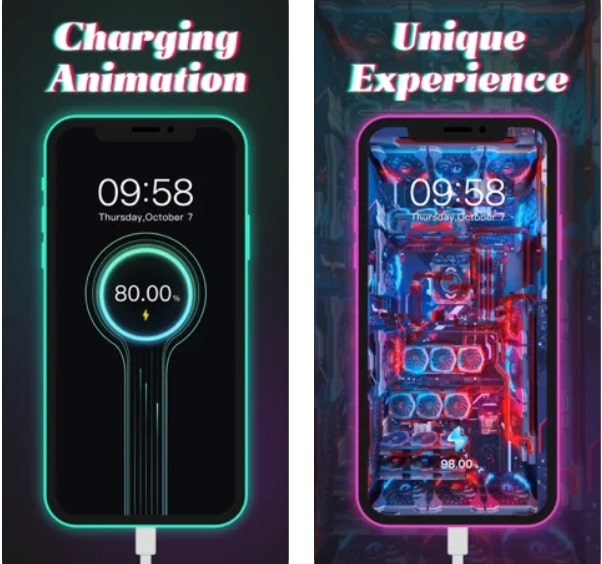 7. Live Wallpapers 3D for iPhone
Check out this app that will alter your iPhone's screen beyond recognition. It will give you picturesque screens that change automatically just by simply tapping your finger on the screen. In addition, all animated images are of excellent quality and suitable for all iPhone models.
Moreover, the pictures are also compatible with the iPad. Also, it is distinguished by a wide range of choice images, there are mountains, rivers, green forests, abstract figures, and much more. It should be noted that they are realistic and made in 3D.
The other thing that makes this application special is the fact that you can buy a paid subscription forever, and it does not cost much. After all, you will get thousands of vibrant images daily.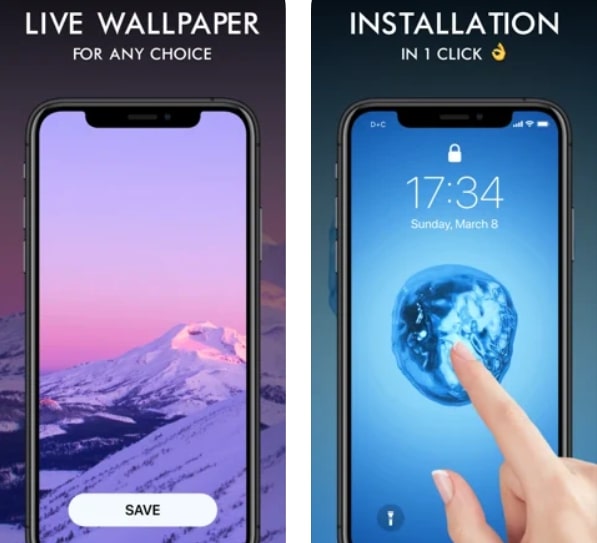 8. Patternator Video Wallpapers
If you have always found standard wallpapers dull and you would like to create your one, then it is urgent to try out this app. Patternator Video Wallpapers impresses users with their creative possibilities. What is so remarkable about this app? First of all, it offers the basic editor functions to create live changing wallpapers.
It works like this: you choose a photo from the gallery and start creating, deciding on the style of your future wallpaper. Secondly, there are plenty of editing tools in the app. For example, you can find Paint Bucket, Color Picker, Crop, and more. And most importantly, there are ready-made templates to guide you through the process of making custom animated images.
Besides, another clear advantage is the ability to save your pictures in different formats, for example, you can download them as a regular JPEG image or as an animated GIF. In addition, you can share the resulting images with your friends via TikTok or Instagram.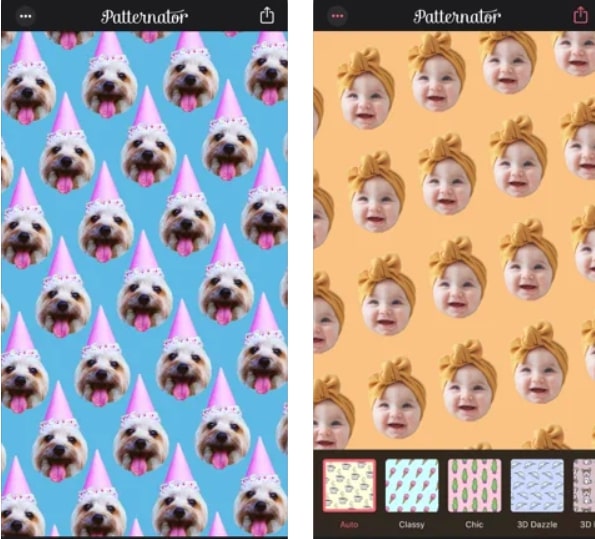 You may also like: 10 Best Split Pic Apps for iPhone
9. Wallpaper Tree: 4K Wallpapers
This app is specially designed for the main iPhone models. Therefore, all the backgrounds you find here will fit your device perfectly. It also differs from other similar programs, it has the option to create your background. To begin with, you get an amazing changing wallpaper that will work with your touch.
Secondly, all images are divided into categories that are automatically updated. Likewise, the app provides daily wallpapers with a motivational message that sets you up for a good day. If you allow the app to receive notifications, you will get a dose of positivity every morning. Thirdly, the app offers a built-in editor to create the masterpiece yourself.
For instance, it offers various tools to help you create a colorful image. It includes everything from fun captions done in different fonts to gorgeous stickers. Even more, for your convenience, there are built-in templates for decorating.