Many athletes consider pull-ups to be the best exercise not only for the back muscles but also for the entire upper body. To get the best results from this exercise, it is advisable to do special programs. They may be different for each level of training. Therefore, applications can make your training easier.
Some of them will teach you how to do proper pull-ups, and others will motivate you to progress. If you can pull up at least two times, you can continue to increase your score with the right app. Besides, if you want to stay in shape and lead a healthy lifestyle, you will be interested in the article Best Yoga At Home Apps.
1. Pull Ups Workout
This is one of the best training programs for pull-ups. It allows you to improve your physical skills and get up to over 35 pull-ups. You will also be able to create a great relief body. So, the app offers six levels of training that will give you the opportunity to significantly increase your strength and improve your figure.
It will not take a lot of time. It is enough from 10 minutes to half an hour for each of the three days a week. Also, you will need a place with a chinning bar and a smartphone with a preloaded application. A very big advantage of this program, in contrast to analogs, is the elaborate physical fitness tests, which should be taken regularly in the training process.
With their help, the current level of the athlete will be determined, the appropriate cycle of exercises will be selected and the progress will be made to the next goal, or more difficult exercises. An interesting feature of the program is the ability to take into account the age and condition of the body as well as the training process based on these indicators.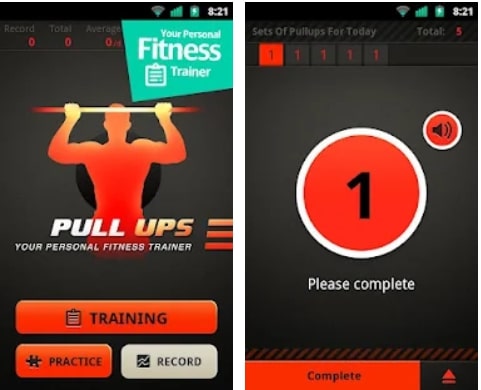 You may also like: 8 Best Gym Companion Apps (Android & iOS)
2. 20 pullups: 0 to 20 pull ups
The app presents 3 activity levels that vary in difficulty. In order to move to the next one, you must perform the previous complex completely. As a result, the program aims to achieve results from 0 to 20 pull-ups or higher. Unlike the previous variations, this is a fairly simple but effective application.
It is interesting that it varies the task depending on the degree of training, which means that it shows how many pull-ups you need to perform exactly. In addition, all workouts will be accompanied by music or a coach who will motivate you. In fact, the app is designed for 20 weeks of training three days a week within a 30-minute workout.
Additionally, there are individual goals that will be rewarded with badges. They also help you concentrate on reaching your goal. As well, great options are the rest timer, which can be adjusted according to the needs and recovery capabilities of the particular person.
In addition, here you will find detailed training statistics that allow you to analyze the improvement of your physical performance.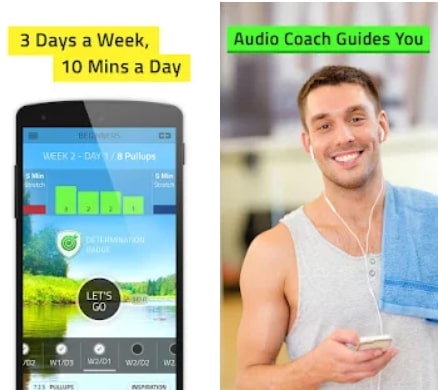 3. 100 Pull Ups Workout
To get the most effective results, you need to do pull-ups according to specific, well-formulated systems, and preferably under the supervision of an experienced specialist, which you can find in the program. After all, there are various training programs, which are also equipped with informative videos.
Thus, you will not be able to do pull-ups alone. In addition, it will offer a productive exercise plan for just a short workout of 7 or 15 minutes a day. In addition, this app will help you monitor your workouts and let you gradually improve your own performance by focusing on a specific program that suits you.
It is interesting that, unlike some similar apps, the program independently sets the time to rest between performing the exercise sets. Also, the app claims that with their workouts you will see results in just one week. Moreover, this result will be accompanied by convenient visual statistics.
Also, the app suggests competing with other users to increase your motivation. If you regularly do pull-ups, you may find yourself on the leaderboard.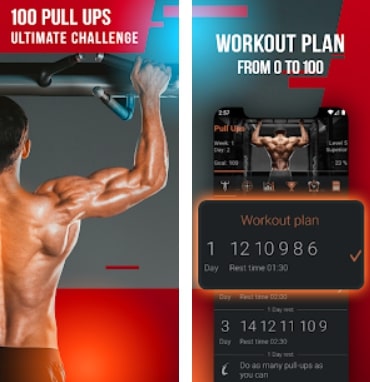 You may also like: 11 Best Mountain Biking Apps for Android & iOS
4. Pullups Coach
This is a simple but great app that will serve as your personal trainer. It offers various sets of pull-ups and gives recommendations on the proper performance of these exercises. This app will help you reach the goal to begin doing push-ups. The app will count the calories you burn during the exercises. This way you will always know the result of your workouts.
Each of your workouts will be displayed in the app as a handy graph. Moreover, your workouts will be accompanied by music. In case you feel that your workout became too easy, you can create a personal training plan by which you can follow your own exercise system. You can also connect the app to your apple watch and work out with it.
You can also send your workout results to your friends and compete with them in pull-ups. In addition, you will not lose your workout results because you can backup your workouts and restore them via Wi-Fi.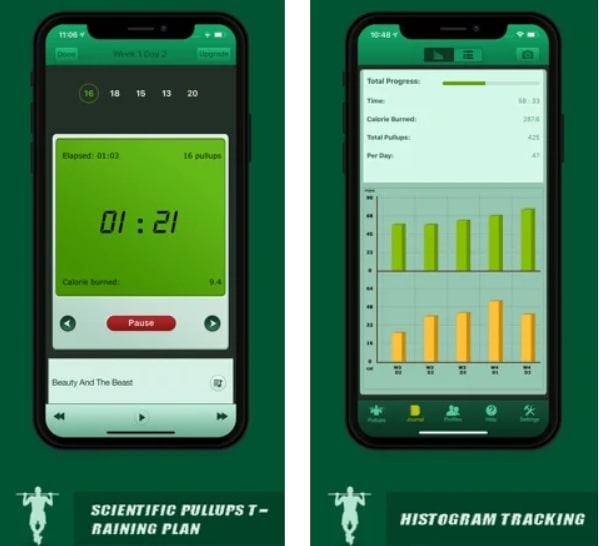 5. Progressive Pull up Trainer
At the beginning of all workouts, the Progressive Pull-up Trainer will ask you how many pull-ups you can perform. After that, you will know your level of fitness. So, by improving your performance you will be able to increase your level. In addition, there is a handy calendar where you can mark the days of training.
Also, here you can read brief information on how to perform pull-ups professionally so they will bring results. It also offers advice on how to overcome challenges with a range of tips. Additionally, there are plenty of goals that you can get awarded medals for.
This app also has a freestyle mode where you can set and break your own records. And, of course, some statistics and notifications will remind you to do pull-ups.


You may also like: 11 Best Pilates Apps for Android & iOS
6. Pull-ups: Grow Stronger
This is a simple app that helps you keep track of your sports progress. In the beginning, the app will find out your level, later you can start training immediately. The application will automatically adjust the time, the number of pull-ups, and approaches. Then you will see a handy graph that will record all your progress.
In addition, you will be able to choose your own level of training and see the system of pull-ups. Moreover, the app is incredibly simple, there is nothing to distract from your workouts. In general, Pull-ups: Grow Stronger is suitable for those who just want to record their progress.