Surfing the Internet every day we see an endless amount of media materials: texts, images, photos, videos, etc. And I often encounter a situation when I like the photo and want to download it to use somewhere later. And what a pity when I see these watermarks which I haven't noticed at the first glance.
In this case, the app for watermark removing does me a big favor. And on the contrary, you can explore the article about Best Apps to Add Grid on Image (Android & iOS) if you're going to process the image or you just want to protect it.
1. Photo Retouch
This app allows using multiple types of adjustments. You can use the «object removal» tool to get rid of big watermarks and you should use the «quick repair» tool for the small ones. Although this app wasn't made just for watermark removal in concrete terms, I can guarantee that the quality of erasing is one of the best.
The watermarks from the videos can be removed as well and the result isn't bad. In addition, you can crop the video, change its speed, remove the original sound from the video, and import new music.
In this app, you also can use «stamp» (the tool is pretty similar to the one in Photoshop) for removing unwanted letters on your photos. The program can help not only with watermarks but also can remove imperfections on your skin.
Adjustments of body shape, shapes of nose, lips, whole face, etc are available too. The app can automatically eliminate your acne, wrinkles, or freckles. You can whiten your skin or change your skin color to the darker one.
I like the «old photo restoration» function. Although I don't have old black-and-white or sepia photos, I was amazed to see the result it gave me when I used a regular photo with black-and-white philter on it. The app made it colorful again, but these new shades of color made the photo look like an old nostalgic photo.
You can use this app for free for a week and then purchase a paid upgrade.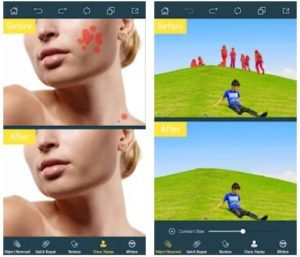 You may also like: 20 Best Age Regression Apps (Photo & Games) for Android & iOS
2. Easy Retouch – Object Removal
That's the time when the name of an app means something. A very simple and pretty useful program that includes only a brush and stamp for removing the objects. In addition… there's nothing else to say, maybe only that you can regulate the size of the brush. «Easy Retouch» is a free app.
But according to consumer reviews sometimes it has problems with photo loading. But I haven't confronted this issue, so maybe that's a problem with a person's phone or wi-fi connection.
Fast removal, easy to use…  Ideal app for the majority of people who will use it maybe twice and who appreciate the simplicity and speed.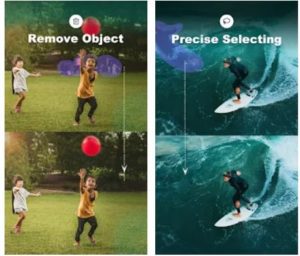 3. TouchRetouch
That is a pretty easy for exploitation but still multitasking app. Each section of the app is accompanied by video tutorials that will help you use this app properly.
For example, the section «remove objects» is followed by the video that shows you what you should do and what you shouldn't do to avoid irritating distortions that we can see quite often using these kinds of applications. I found that tutorial really helpful.
The most important warning from it is that it's wrong to deviate from the edge of the object because some parts of the background will disappear and some pieces of an unwanted object will be left.
Talking about extra functions, you can also replace the background and paste a new one, clone and paste pictures. There's also blemish remover. As it was shown on the video in this section, you can eliminate stains from the fur of your dalmatian and it will become just a regular white dog😅
You can use it for 3 days for free and then you are obliged to buy a subscription.

4. Remove Unwanted Object
Another easy-to-use application without excess functions. Includes only 3 tools: eraser, brush, and lasso.
What about its usage? To use it you need to choose the area which you need to clean up and it will be highlighted in red color. Then you just tap the «process» button and there is your magic — unwanted objects were deleted.
I read users' comments and experienced myself that on every photo you edit red dotted diagonal lines show up. But they disappear after a few times of usage. Or you can load your photo into the app and the second time, you most likely won't see those irritating lines.
This app is fully free. You can remove a sticker, text, logo, or a person anytime without any payment.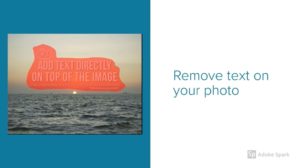 5. Pixelmator
Pixelmator is considered to be an alternative to Photoshop on iPhone. And as users say — not the worst one. It includes a great amount of advanced photo editing tools.
The repair tool and the clone tool will help you to make unwanted objects vanish. Clone tool for duplicating areas can be used for wiping the objects off, or maybe to reduce distortions after the repair tool usage. The progressive app with unending renewals and enhancements definitely can provide first-rate object removing and photo repairing.
You can change the tonal range of skin and the shades of color. Or you can make distortions on your own: bump, twirl, pinch or warp the surface of your photo.
It is also a great painting application. Various kinds of brushes with pencil, ink pen, and aquarelle effects — everything is gathered in one app. The features like pressure, tilt, palm rejection, and acceleration sensitivity allows to make painting as close as possible to the traditional one. But I suppose it will be convenient to draw only using an iPad. The iPhone screen's surface is too small.
Pixelmator is suitable for graphic design too. The well-known system of layers allows you to combine different pictures and elements. You can insert, group, and combine different shapes, use shadows, gradients, and outlines for texts, characters, and layers.
The subscription to this universal program will cost you 5$.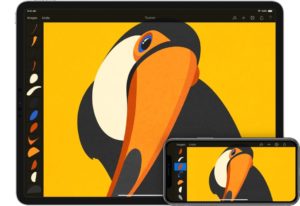 You may also like: 9 Best Night Vision Apps in 2021 (Android & iOS)
6. Pixlr
Pixlr is a multitasking app, which includes some adjustments for color and light, a huge pack of filters, and a pretty rich set of instruments for element vanishing. Here we have blur, smoothing, healing, a «splash» tool, «erasing», and «healing». Pixelating some elements can be very useful as well and maybe sometimes it will make your image even more interesting.
The «Healing» process is very precise. It takes a bit more time than in previous apps, because you need to do a lot of small «touches» or clicks to make an element disappear. Although it takes a bit more time we shouldn't consider it as a disadvantage of Pixlr. Because honestly, this app provides the most diligent object erasing I have ever seen.
Moreover, using a «heal» tool you can not only delete objects, but you also can lighten or darken some areas of your photo.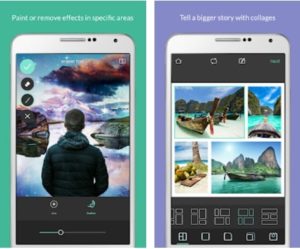 7. Inpaint
Inpaint is a photo restoration program. This software can:
reconstruct old photos
wipe people off the photo (as an example, irritating crowds of tourists on your vacation photos)
remove powerlines and wires
get rid of watermarks, unwanted characters, and logos
Unwanted people, titles, logos, wires,  etc are so crucial things for photo composition… and everything can be vanished by Inpaint. Comments on this app are pretty good as well. The majority of users are pretty satisfied by the simplicity of the application and by the quality of the reached result.
But while using Inpaint I have encountered a tiny flaw. The issue is that every photo uploads into the program upside down, and it happens again while I download an enhanced photo back to my phone. Of course, using some tools in the app I can turn it back.  But it costs me some time and some nerves.
Hope the creators will fix this issue very soon. If you will have it too, don't hesitate to send a message to the Inpaint support group or at least in the App Store commentaries below our app. The more people tell about the problem, the faster it will be eliminated. But I hope you won't encounter this issue at all.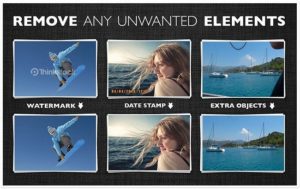 8. Retouch – Remove Objects
You can rapidly make any mark or logo vanish using this app. The way of doing this is as elementary as usual. You need to use a well-known brush and brush off an element you don't want to see. It doesn't leave any damage to your photo and distortions are as small as possible.
People, animals, smudge, spots on clothes, brand logos, cracks on walls, and wires that are supposed to be removed from a landscape, for example. You can remove all these things using a brush of a particular size.
But there is a warning about brush usage: the smaller brush size 'plus' covering evenly the unwanted element gives the highest quality result.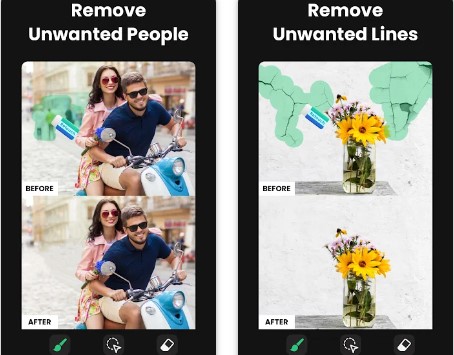 You may also like: 9 Best Red Eye Remover Apps in 2021 for Android & iOS
9. Photo Retouch – AI Remove Unwanted Objects (Teen)
Here we have the biggest amount of tools for erasing in our list:
brush with adjustments of size and offset
lasso
a «target» tool. This one has become my favorite. You just need to touch the unwanted object and the whole thing will be highlighted and ready for erasing. Maybe it won't work smoothly with texts and logos, because the task is too meticulous for a free unpopular program, but I still think the idea is great.
a "mask" tool helps you while using a lasso. After you ran a contour around the shape you need to remove, you should use the mask tool to highlight the objects you don't want to be recognized as a background. So using this tool you will escape the problem when the parts of the main objects appeared in the background.
repairing tool. In my opinion, it works better because it leaves less distortion on the photo.
cleanser simply helps to remove acne. With every touch, you can remove one pimple from the face on your photo.
the stamp tool
the «patch» tool. Pretty similar to stamp, but handier, as for me. Before you paint some area with «stamp», you will see the zoomed area where you can spot how the result will look like. So if the image isn't seamless, you can immediately fix it and get the best possible result.
All tools work great and so on but the biggest paradox of the app is that in the free version after editing your photo you will get it downloaded with the big watermark. The app was partly created for mark removing and it leaves watermarks…
So you can use this app for free with ads, watermarks, and some restrictions or purchase the «VIP» package for 3$ per month.