Have you ever wanted to know how much your lifestyle affects the climate? It is a daunting task to calculate your carbon footprint at 100%, taking into account the variety of life activities and daily choices of products and services. After all, you could potentially be harming the environment without even knowing it.
This is why there are eco-friendly apps like the ones we will talk about today. In addition, all those who fight for eco-friendliness will like the article Best Second Hand Sale Apps, where you could give an old thing a new life.
1. Carbon footprint & CO2 tracker
With this app, you will learn more about your carbon emissions and carbon footprint from your daily lifestyle. This app uses GPS, which you can use to track your movements. The app will calculate your trips and automatically track your vehicle emissions. Also, the app provides information about your CO2 emissions.
It will motivate you to make good food and travel choices with your carbon footprint in mind. Moreover, the app is very easy to use. You only need to answer a few questions about your lifestyle, and then the app will give you information about your basic carbon footprint. You can set a goal with which you can reduce your emissions by up to 8%.
The CO2 emission information will be provided as a percentage and you can always see which type of vehicle you are emitting more CO2. Also at the end of the month, you can get a report of your CO2 emissions to your email, with which you can reduce your CO2 emissions.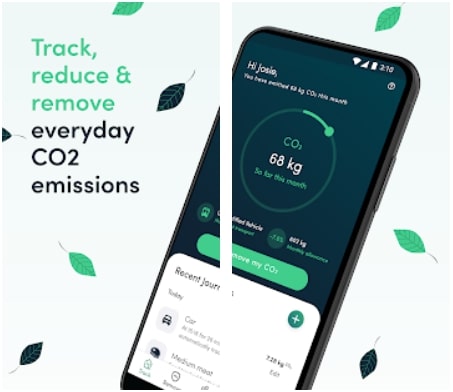 You may also like: 9 Best Recycling Apps for USA (Android & iOS)
2. Earth Now
This application is a unique development of NASA. So, every user can track climate change virtually online. The data comes from Earth Science satellites.
Moreover, it is possible to study maps of air temperature, carbon dioxide, carbon monoxide, ozone, and water vapor. In addition, you can see the latest events affecting the situation. In general, you will be able to track what is happening to the planet and how various emissions are affecting it.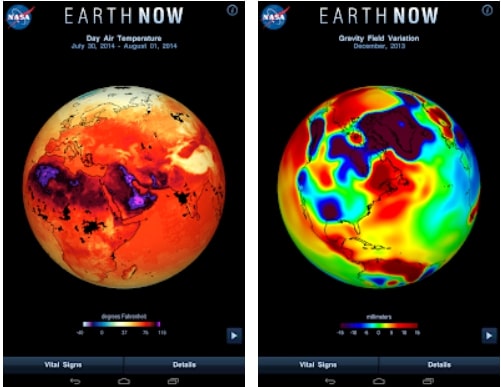 3. The Planet App: Reduce carbon, stop climate change
If you are new to environmental issues, this app is sure to be a great help. The Planet App will teach you how to lead a more eco-friendly lifestyle by giving you various tips and new information. For example, the app will offer you to reduce your carbon footprint with a special system of points and levels.
Enter the app daily to earn rewards, and meet goals. It will also, first of all, offer you to take a quiz that will determine the impact you have on the environment. Furthermore, you will find out which category of life activity is emitting more carbon footprint. What do you think could be a vehicle or food waste?
The app will also offer you a special plan that you can follow to improve your performance each week. Likewise, the app will help you develop healthy habits. You can also stop caring that your city could be a potential threat to your life. After all, this app will check nearby stores, parks, and air quality.


4. Joro: Carbon Footprint Tracker
Track the environmental impact of your purchases. This app will be able to track your carbon footprint. So, you will be able to link your card to make all your purchases appear in the app. It will also help you choose products without a carbon footprint. In addition, you will be able to view the results of other users' emissions in the app.
So, you will see a handy graph that will reflect your purchases for certain categories. You can also use this app to improve your diet. After all, there are plenty of ideas here for cooking tasty, healthy, and most importantly, emission-free food.
It will also provide you with advanced information on reducing your carbon footprint, such as keeping this element in the ground. Moreover, this app offers to challenge you to adopt new habits, such as eating more vegetarian food, sorting garbage, using your car less, and so on.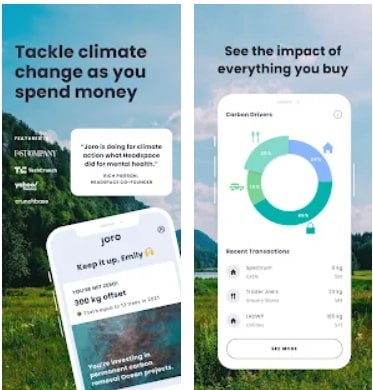 5. Klima — Live carbon neutral
With this app, you can calculate your carbon footprint and neutralize CO2e emissions into the atmosphere. You will be required to answer a few questions when you log into the app to find out how much CO2e you emit each year. You can also support world-class climate projects in the app that capture CO2e and neutralize your footprint with a monthly subscription.
Thanks to this you can choose projects for planting trees, solar energy, or social impact. You can constantly monitor how your impact on the climate is growing in real-time. The Klima app will provide a pleasant interface and tips to reduce the overall damage you create.
The app will also count down how much you reduce your footprint, which will reduce the cost of your monthly subscription. By funding science-based climate projects, you can help eliminate CO2e emissions around the world.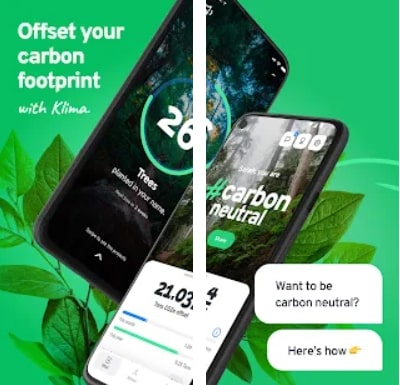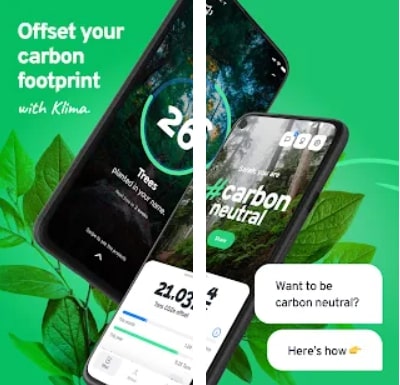 You may also like: 11 Best Apps to Prevent Food Waste for Android & iOS
6. Carbon Donut: act on climate
Even a small effort can change the planet. During this month, users of this app have collectively been able to reduce the ozone footprint by 4,690 kg. And this is all thanks to the tips and goals on the app.
You can also calculate your ozone footprint by simply taking a quiz of several questions that include the type of home you live in, the transportation you use, your gas and electricity consumption, and the way you travel and eat. You can change your habits in all these categories, thanks to the app's tips, which you will find in the sections dedicated to the different areas of life.
In addition, here you will immediately see the result. For example, if you rent tools, you will save 19 kg of CO2. Moreover, you will not feel lonely here. After all, by completing daily tasks, you can see how other users contribute to the common cause.
Also, there are various bonus coins that you can get by doing eco-friendly actions and passing the test of knowledge about ecology. All in all, this app is already a whole community filled with a lot of useful knowledge about our world.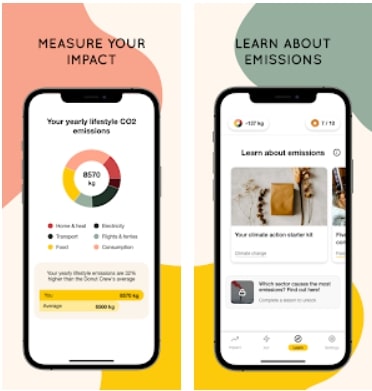 7. Carbn: Cut Carbon Footprint
Helping nature is easy. The Carbn app will show you how. You can use it to build your first 10 eco-friendly habits. In addition, you will find out how negatively or positively you are impacting the environment. In addition, you can calculate your level of ozone emissions. All the calculations are based on your lifestyle and other factors.
Also, the app is designed to be competitive. This is where you can compete against other users and your friends. Carbn will give you points that will put you on the leaderboard with which you can positively impact the state. The app is also good for tracking your progress, so you can motivate yourself and build green habits.
By the way, the app adjusts to the state in which you live, so you can also learn about the environmental condition of the area you live in. Maybe it is time for you to leave or build new habits.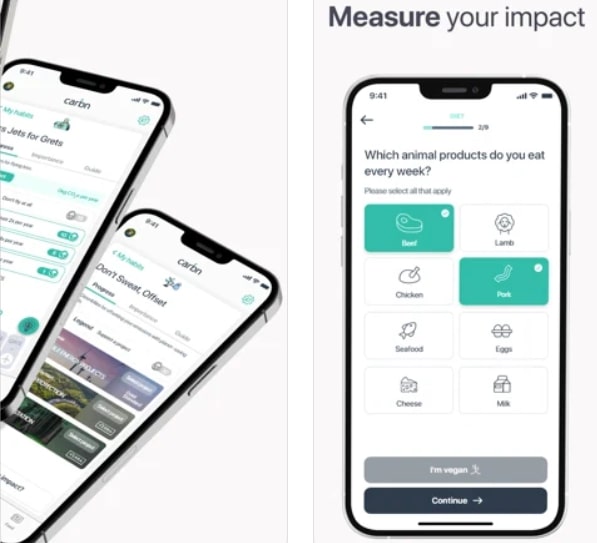 8. Greenly
This app calculates your carbon footprint using your bank card. The app will calculate the carbon emissions produced with your bank card. Every purchase you make will be analyzed automatically and counted the CO2 released and avoided. The app has a points system, it will work as motivation.
The more points you accumulate, the more CO2 you have prevented. Also, Greenly offers several of its carbon cleaning projects with EcoAct. Also, the platform will provide access to the ozone layer and emissions data that is produced monthly.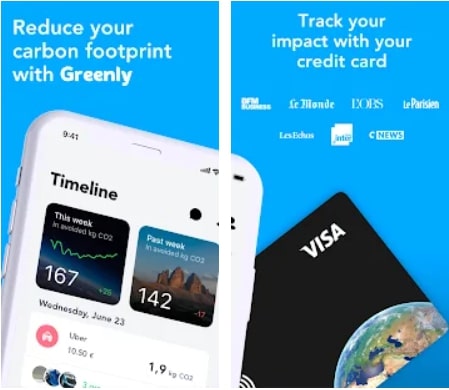 You may also like: 8 Best Used Car Buying Apps in 2022 (Android & iOS)
9. Pawprint – Your Carbon Tracker
Indeed, together we can influence climate change – this is the main idea of this app. It is true because this app offers to involve the entire work team in the fight against the ozone footprint. If you are a store or company owner, you will be surprised by the impact that just one little app can have.
First of all, you can set collective goals or competitions. Secondly, there is a big quiz that covers different areas of your life. For example, in the house section you will be asked about the type of house, the number of rooms and tenants, the way of heating, and so on.
In general, all the tests are quite detailed, so the app will accurately calculate your emissions and impact on the environment. Also, based on the results of the survey, the app will offer you alternatives for all your non-environmental habits. In addition, the app is quite visual, giving examples of the environmental impact and expressing it all as a percentage.
It is also worth considering that it supports various environmental programs in which you can participate just sitting at home. After all, you can always donate some money to charity.