There are many photo editing apps on the market. However, only a few of them have the useful function of erasing the background. To fulfill all your creative ideas, you no longer need sophisticated programs. All you need is a smartphone in your hand. In this article, we are going to focus on these applications and all their features.
You can use background removal applications to make creative collages, cut a part of an image, and much more. In addition, all lovers of photography will undoubtedly be interested to see this article, which is a review of apps that apply a 3D effect to photos. Let's get to the review.
1. Adobe Photoshop Mix – Cut-out, Combine, Create
Adobe Photoshop is the best-known and most used editor for creating and modifying images and creating 3D graphics. It is usually associated with something difficult to master. However, everything is much easier than it seems in the app created specifically for iOS and Android platforms.
Indeed, Photoshop's developers have done everything to simplify user life. Everyone can find here a super useful function of removing the background according to your needs. There are many useful functions. You can remove parts or the whole image, merge fragments, adjust the contrast, add a filter, and much more.
What is important to note is that you do not need to know any special terms to perform these actions. Indeed, the developers have worked on the intuitiveness of the control. They wanted to ease an understanding of the use of certain functions of the Adobe Photoshop Mix. So an important aspect is a fact that the quality of the image is not preserved.
Users can not be afraid that they will have to sacrifice the photo's quality after making changes. That is why Adobe Photoshop is great for professional use. Or for those interested in an app that removes not only the background but also gives you more control and expands your limits.

You may also like: 9 Best Apps to Combine Videos and Pictures Together on Android & iOS
2. Picsart
One of the most popular photo editing applications is Picsart. It has gained the love of its users for its modern approach. Not only is it super user-friendly with its numerous functions, but it also has a beautiful design that keeps your attention focused on improving the image.
First and foremost, removing the background of an image is done here in the easiest way possible. Whether Picsart identifies the object and removes the excess on its own, which of course is convenient and does not take much time. Alternatively, it is possible to remove the background by yourself using the eraser tool.
On the second, you will have unlimited possibilities to express creativity. In fact, it is not only possible to remove the background, but also add a new one. It is also able to impose some kind of fashionable filters, which are regularly updated.
There you can blur the background, change the color of objects and pick up a suitable one. So for instance you can add glitter to your image and make it more saturated, without making it look unnatural.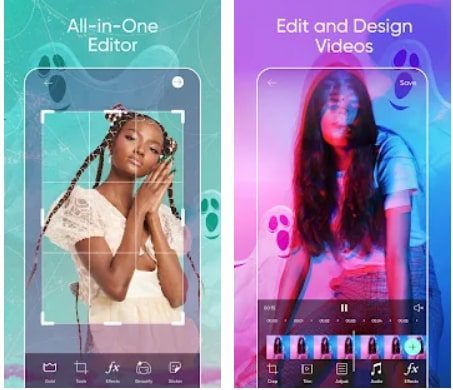 3. Remove.bg
This application is the easiest tool to remove the background of an image. So, Remove.bg will be useful for those whose only task is to get rid of unnecessary things in the image. The mechanism of the application is as follows. First, the user selects a photo from the gallery, and the Remove.bg starts to process it.
After a couple of seconds, you get the picture. You can set a background for the resulting image if you want. It can be selected in the application itself or you can add your own.
We should note that the app does not degrade the quality of the image. In other words, all photo processing preserves the pixels. Remove.bg is a great alternative to complex photo editors.
This app tries not to delete important objects, preserving integrity. Likewise, the user can change the background by selecting the effect of interest, such as blur. Moving around the app is not difficult. There are only three main tabs such as background, delete and close. It is narrowly focused, but does a great job.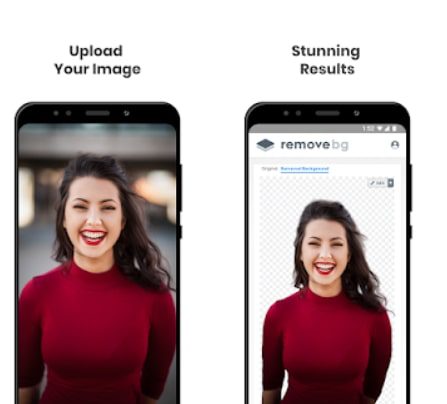 4. Background Changer – Photo
Background Changer is very similar to the above application in its functionality and principle. It also removes the background using artificial intelligence, which decides which part of the image is unnecessary. Furthermore, it works in the same way as everyone's beloved, Adobe Photoshop, but does not require any knowledge.
All you have to do is touch the image and click the button. After removing the background, you can add a new background you fancy among the ones offered by the Background Changer, for example, add some specific color. In addition, you can add super bright stickers to the resulting image.
There is an abundance of them. So there will definitely be something for your taste. It is also possible to add any text with the font style you like. For professionals, there is a special feature that allows you to add a special studio background to the image. It also offers features like resizing photos, changing the contrast, brightness, graininess, creating your own stickers.
After the resulting creation can be sent to all available social networks, which can be cropped according to the standards. For example, make it 1080 x 1080 pixels, like on Instagram.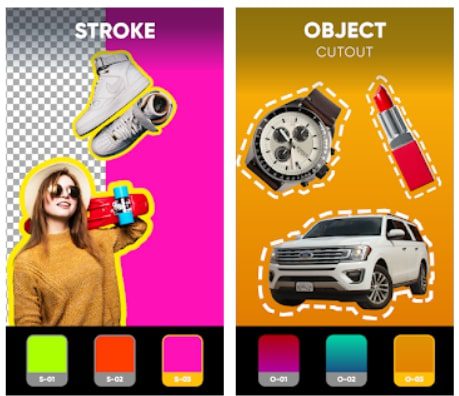 You may also like: 7 Best Photo Frame Apps for Android & iOS
5. Makaron
It will not take much time to eliminate the background. All you have to do is click on the Makaron app. Users from all over the world use it to modify their images and try to make them unique. After all, this is where you can not only change the background of your photo but also apply an effect, as well as make a gif.
How does Makaron work? In the beginning, the user uploads a photo to the editor. Then the algorithm reads the person in the picture and marks what should be removed. It marks every object that comes into its field of vision and names it.
So you can remove any passerby who is spoiling your photo. Then you can change the lightness, style, contrast of the image in any way you want. In addition, the app has such a useful feature as heal. It helps you select a fragment of the image and apply it to the desired location.
This way, you can always adjust the backgrounds that are difficult to remove and make the image look more natural. To make your face look better the developers have added an auto-improve button, especially for your face.
So the machine will recognize your eyes, nose, and lips. In turn, you are free to modify them. For example, you can improve your skin color, make your teeth a little whiter, and so on.
6. Background Eraser
Background Eraser has gathered incredible positive feedback from its users. There's a reason for that. First of all, it is incredibly easy to operate. If you make a mistake, you can always go back to the previous action. Alternatively, you can point at a certain color and it will disappear completely from the whole image.
For the second, the app works well with JPG and PNG files. And thirdly there are almost no ads, which makes a lot of users feel great. After all, sometimes it is so hard to focus on one thing at a time. Plus, Background Eraser does not change the quality of the picture, which is another plus.
After removing the background from your photo, you can always overlay the object on a different background. All you have to do is to hold the photo and choose the size you want. You will also be able to adjust the degree of background removal. Whether you want to remove it completely or leave barely visible shapes.
The app is great for getting rid of backgrounds. It does the entire job for you. But in case you have trouble recognizing objects, it is possible to do it yourself. Many users have noted that with the eraser tool it is possible to remove almost everything. And it is much easier than the well-known Photoshop.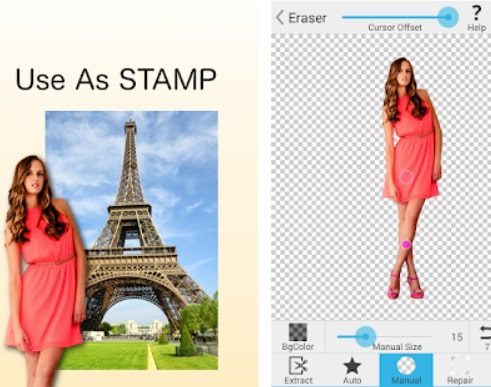 7. Photo Editor BG Eraser MagiCut
Are you tired of seeing your photos filled with unwanted people and cluttering up your images? Photo Editor BG Eraser MagiCut will fix that. Using this software, you can change the background by removing it altogether or by removing some extraneous objects.
The app has an auto-cut feature. This means that it will detect the subject itself, then select it and cut out unnecessary irrelevant objects. In addition, all users of the app will be able to take advantage of decent photo editor functionality.
Luckily, there is an auto image enhancement feature. This means that when you upload selfies, you will be able to make your skin smoother, make it healthier, and get rid of any redness. In addition, you will be able to impose an interesting effect. For example, make out of yourself a mosaic portrait or a funny cartoon character.
Such an effect as blur gives your picture spectacular and highlights the main things. In addition, you can add any text you want to the image. Otherwise, you can improve the quality of an old photo. All of these things together will help you get a quality image taken.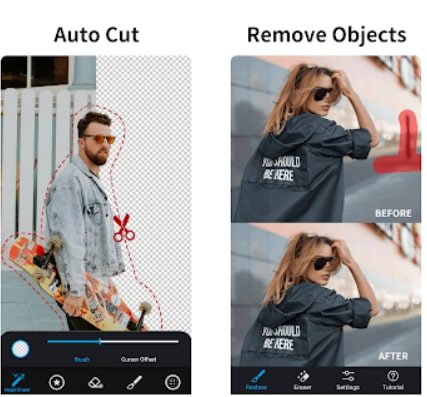 8. PhotoRoom
PhotoRoom claims to be an app designed to help anyone who sells content of any sort. It focuses more on creating covers for your online stores, business cards, ID photos, and licenses. Many users find this application to be a sales assistant for eBay. After all, this way the product looks better and immediately attracts attention.
Its method of operation is quite simple. The app automatically removes the background itself. After that, it is up to the user to decide what to do. For example, you can put a certain object on a white or transparent background. Then you can add a special sticker, such as your logo.
For documents, the principle of work is approximately the same. Except that it has in addition to the auto-enhancement of the image. Moreover, you will also be able to create the necessary collages, joining a variety of photos together. If you wish, you can move the resulting objects by forming a composition of them.
PhotoRoom Pro is a subscription that will allow you to remove the logo of the app and add new ways to remove the backgrounds. It will also give you access to a variety of template backgrounds.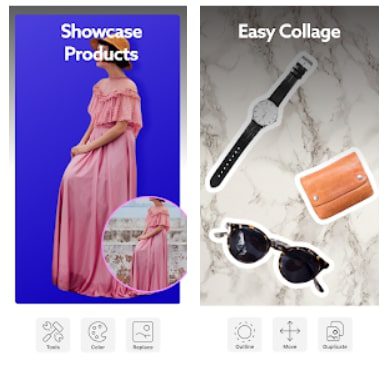 You may also like: 11 Best Apps to Create Video Memes on Android & iOS
9. Apowersoft Background Eraser
In order to remove the background and do it correctly, you need a special application. Using Apowersoft Background Eraser you will get a pretty good tool. Let's move on to the main functions. First of all, the application automatically removes the background in seconds. In case you want to delete a specific object, you will use the eraser.
Then you will be able to replace the original background with the necessary one. In addition, Apowersoft Background Eraser offers you various photo effects to productively remove the background. For example, you can try to improve the quality of photos or vice versa to make them more blurry here.
As for the photo, you will be able to take pictures of your documents without going to the photo salon. Here you can not only adjust the size of the standard photo but also use retouching. Users are free to crop images to many different sizes, such as 1024×768, 1200×600, and others.