More and more people nowadays are interested in Japan, its cartoons, and mangas. Children are watching anime because of its extraordinary appearance, lovely characters, and fascinating plot. Thus, many people are trying to replicate the design of the characters or come up with their designs.
This way, one thing became quite popular among diverse categories of people. It is a chibi character. What is it? It is a Japanese slang word that describes something short and small. That is most commonly used in drawings of cute little characters with small bodies and large heads.
So what should help people to learn how to draw them or for better professionals to draw them already in different programs? There are lots of applications for these particular purposes. In this article, the best of them will be shown and explained.
And if you do not want to draw but want to know how you would look if you were in a cartoon check out the Free apps to cartoon yourself.
1. Draw Anime Chibi Tutorials
First of all, this app is totally free. This feature is one of the crucial characteristics which attract people to download this app. You don't need to spend your money, just use it.
This app provides you with 35 diverse tutorials for anyone. That means more opportunities are given to find your preferable one personally and learn how to draw it in no time with clear explanations and examples. It includes videos about how to draw chibis and clothing. A wide variety of choices is one more advantage of the app.
A simple and understandable interface makes users feel comforted and relaxed. You don't need to learn or watch videos consisting of instructions on how to use this app. Directly after downloading, you can start your learning journey, which undoubtedly will be successful.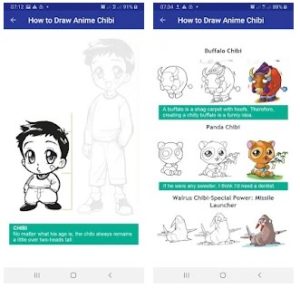 You may also like: 7 Best Origami Apps
2. How to draw
Then the first question is how to start drawing chibis? You should first learn how to draw, some basics. And what can easily help you become skilled enough for drawing existing ones or creating your own is a specifically designed app for these needs.
The "How to draw" application teaches you online all the basics, providing the tutorials and offering unlimited access to them, so you can watch and try them as many times as your soul desires. Also, it is at no charge, so you're free in your actions and steps to reach your ability condition.
The tutorials are divided and sorted into small categories, which will easily navigate you within the app. This way, no instructions are needed, the interface itself is overly simple. You will understand how to use the application in no time.
Teachings are not only available on your telephone or Ipad screen. You are able to use paper and a pencil to create your artwork as well. The app lets you learn how to draw on them to be diversified and skilled enough to copy others' or draw your own chibis.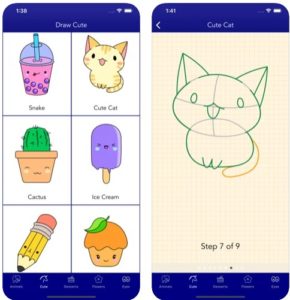 3. How to Draw Chibi Girls
This app has different levels for any type of drawer. Whether you're a beginner or an advanced artist, the application will still match your goals of improving yourself and your skills.
The only things you should do are download the app, pick a paper and pencil, and follow the instructions you are provided.
The process of learning is totally under your control. You can quickly turn it off while having no free time for your hobbies. And turn it on any time, you want to improve your drawing skills and abilities.
4. JUMP PAINT by MediBang
An ultimate app for creating illustrations also incorporating the chibis' drawings, and putting them into specifically designed columns is now available at both platforms: Google Play and App Store.
The columns are of different sizes, starting with the small ones that are able to include only one part of a chibi or the settings. In contrast, others may embrace all its components, including the surroundings and other objects.
This app provides you with the opportunity to use it whenever and wherever you wish. It may be during the break at your university or while sitting with your friends in a cafe. The conversations may be considered boring by you, so the best way to change your spirit is to start watching tutorials and get distracted from reality.
Jump Paint includes 90 free brushes, which means you don't need to spend your time and money buying the real brushes, which are often costly. The diversity of available brushes gives artists more space for enhancing their skills and further developing them.
Furthermore, not only are brushes free. Also, there are 800 different types of backgrounds and free tones, already existing images of buildings, places, food, and other things. Thus, if there is no suitable tone for your artwork, you can quickly add your own ones.
There are also some other features distinguishing this app from plenty of others, like an automatic synchronization if the device suddenly turns off or crashes. This way, no one of your unfinished artworks will be lost, causing your headaches and problems with the nervous system.
5. Draw Anime – Manga Tutorials
This app provides you with free video tutorials on drawing anime, humans, animals, and chibis. That means it enables you to improve yourself, your skills in drawing whenever you want; there are no restrictions of time, no frames. You can watch them and draw even all day long.
One benefit it has is an opportunity to share the tutorials or your progress with your friends or relatives on any social networks, whatever you prefer the most. The videos will be sent in a few seconds or minutes what makes the app also quick enough.
Furthermore, the app is totally free without any in-app purchases. That stands the application out among many similar ones. Your wallet will be safe, and your money will be undisturbed.
This way, the application helps you improve your skills in drawing chibis and your overall drawing abilities like parts of the body, animals, and diverse characters. It will boost your capabilities and show you the immensity of your skills.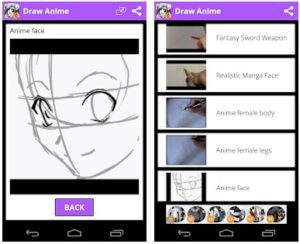 6. Drawely – How To Draw Cute Girls and Coloring Book
Have you ever thought about drawing celebrities in a cute way?
Reflecting on the small versions of their original appearance is one of the most exciting things in copying and then changing their appearance into a more preferable way for you. There is a list of video tutorials in the app, including celebrities like Taylor Swift, Selena Gomez, and others.
The app offers you more than 1000 characters that you can choose and learn to draw. The tutorials themselves are very easy to follow and remember; it is pretty simple. By the way, the vivid images and bright colors used are visually attractive and motivate you to stay in the app and learn.
You can easily save your completed work if you draw it digitally. Then it is available to share your drawings and your efforts with whoever you want to.
The coloring function is also provided in the application. There are tons of coloring options, tutorials, variety. It is up to you to decide whether you want to learn how to apply colors to your drawings, enriching your drawing process, or you are thinking of leaving it black-and-white.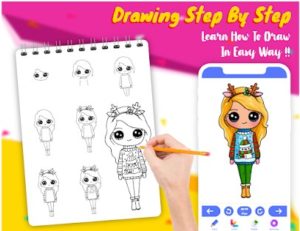 You may also like: 9 Best CAD drawing apps
7. MediBang Paint – Make Art !
Firstly, this app is totally free and lightweight, meaning your phone's, Ipad's, or computer's storage won't be affected too much. It is available for downloading almost on every device, having access to Cloud. That means you can easily transfer your works or tutorials from one platform to another.
It comprises lots of creative tools for beginners or professional drawers. The access to over 100 free brushes, a considerable amount of types of materials used like a pencil, watercolors, and others, ready-made backgrounds, and a wide choice of tones and textures to diversify your artworks.
Therefore, the app allows you to use various book fonts to make your drawings or comics more professional and easily perceived. You can add dialogs to your pictures, creating specially designed bubbles for your characters' speeches or thoughts, including the actual appearance or chibi versions.
One advantage that makes this app unique and stands it out from a wide variety of others is an opportunity to work simultaneously with your friends, colleagues, or other people in one common file, which should be shared among the users. No need to finish and then send it for changes; it could be more time-saving.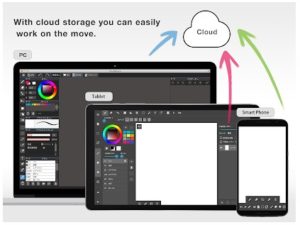 8.Draw 3D – Full Version
This app provides you with an opportunity to play it and draw offline. No need to have an Internet connection; just turn it on and enjoy. There are more than 100 objects you can watch tutorials about or create yours based on the existing ones.
The images can be zoomed: enlarging unclear parts of the image for you or making them smaller if the object itself is too large, that you want to see the overall view on it.
And if you want to try yourself and improve your skills in creating chibis looking real because of the presence of lighting and shading on your work, then this app is one of the best choices for you. Simply download it and develop yourself.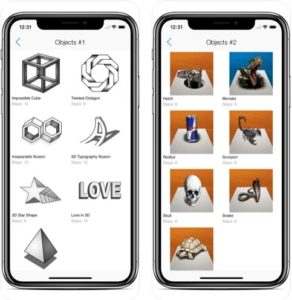 9. How to Draw Anime
Do you want to learn to draw chibi and anime characters? And what about the coloring part? Then you obviously should download this app, particularly for these specific purposes.
This app has the largest number of available characters and images alongside the video tutorials to teach you how to basically copy the drawings and some details, including the thick and thin lines while tracing the pictures. All of this information will be included in tutorials.
Each type of person, from beginners to professional artists, has a chance to improve their skills and enhance their existing abilities and knowledge, broadening their mind and becoming more diversified in styles of drawing too. Or maybe only create your own specific recognizable style, making you stand out among other artists.
Recently the app was updated, comprising a new option – coloring book. It's no longer necessary to download separate apps for diverse functions. Exactly this app involves all you need in its entirety.
One more thing, this application is designed in that way when you can use it both on your phone or tablet. The interface is constructed in the most suitable way to the users' convenience and comfort. The interface is pretty simple and includes all you need on its home page, saving your time spent on searchings.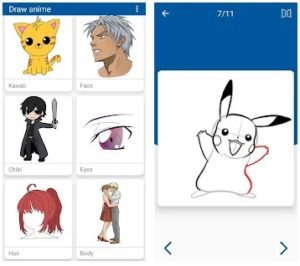 10. Clip Studio Paint
The app offers you a 3-month free trial. You can try it by yourself, use it for a while, and then decide whether it worths purchasing the app or it is better to delete it.
First of all, there is a wide variety of brushes (over 3000) made by professional drawers worldwide. It means their quality is going to be on a high level. Also, you can easily use your finger as a tool for drawing digitally. Tapping with your finger on a specific brush type and use it easily. Zooming the image and making lines thicker is also possible.
All these options will definitely help you improve yourself, diversify your drawings and create something unique. If you want to draw chibis, it will undoubtedly build a strong foundation under your working process. The app also provides some available tutorials, which makes it complete and consists of all you need for further development.
The following advantages this app provides you are coloring the images with a large number of tools and sharing your artwork with your friends, relatives, or other important people. No matter where you are, just turn on your phone or computer and send whatever you desire.
You also have a chance to transfer your materials from one device to another, shifting them as you want at any time.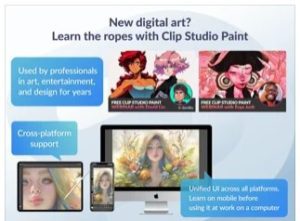 11. How to Draw Anime
This app will be suitable for every category of people starting from beginners and ending with professional artists monetizing their sphere of work.
The application contains a comprehensive range of options where everybody will find something preferable for them very quickly.
There is a drawing library that incorporates all the templates, frames, cards, patterns, and other valuable resources. They may be helpful after learning how to use them.
Learning how to draw animals, humans, anime, and chibis will definitely help you not only in improving yourself but also in developing your personal level and among your other hobbies. Choosing multiple layers for many attempts of using and trying to do your best in the drawing. So if you don't want to spoil your artwork, use multiple layers.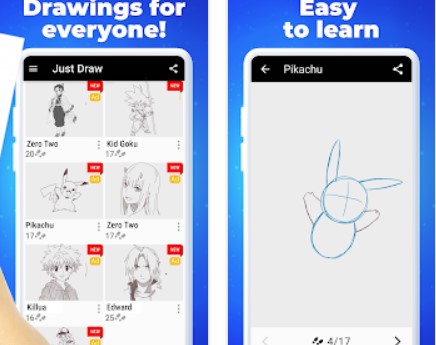 You may also like: 8 Best 3D design apps