Making art is the best way to spend time productively. These days, probably everything is made of paper. After all, this product is widely known, and there are so many areas for its usage. Today we will talk about the creation of different paper figures with only your own hands. For some people, this hobby is considered challenging for the lack of detailed and clear instructions.
We have collected the best applications related to origami to simplify your creative tasks in this article. This way, your art will reach another level. In addition, we offer you to engage in the art by mastering an unusual way of drawing, which you can find in the article Best Chibi Drawing Apps.
1. How to Make Origami
There is nothing easier than making paper figures with this wonderful app. It provides clear, step-by-step guides on how to make great paper art. In addition, the instructions are accompanied by both plain graphics and three-dimensional animation, which reduces the chance of mistakes. To make it easy to navigate, all origami is categorized, like animals, birds, flowers, furniture, and so on.
In addition, this app is easy to use thanks to the presence of instructions and videos. So, you can go straight to any step, and if you get confused, go back to the beginning of the instructions. It seems to be an ordinary application with a simple interface, but it has everything you need. It is worth mentioning the variety of figures and the possibilities of their assembling.
Moreover, this application is great for beginners. You can start to make origami from basic things. There is everything from frogs and dogs, to all kinds of reptiles and planes. And most importantly, it can all be assembled from a piece of plain white paper.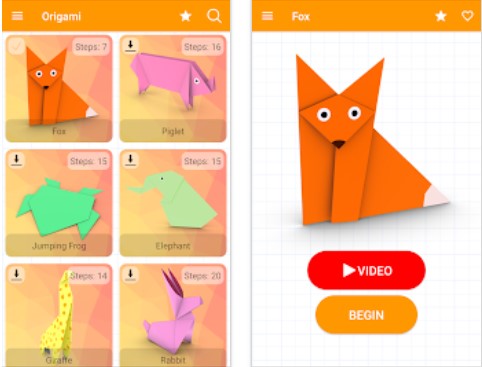 You may also like: 11 Best Apps to Create Video Memes
2. Paper Fold
And this is a popular game on the Internet space from the category of puzzles. With this application you can playfully explore how to fold figures virtually, using only your phone. A sheet of paper will appear on the display of your smartphone, and each action is explained in great detail.
It is possible to return one or two steps, if something is not going well, you can get hints and open new levels. The game aims to make origami to get a certain picture. To check whether you can pass all levels of the game just download the app.
A combination of logical thinking and a sharp eye will help solve numerous puzzles of varying complexity. Moreover, this game is quite addictive and relaxing, so it will be fun to play for both children and adults.
In addition, it is worth noting how unique Paper Fold is. All this is formed from the amusing music, bright and peculiar animation, and graphics. If you love origami but want to try something new, this app is for you. Just a few clicks separate you from the beautiful illustration, which you can save and show to your friends.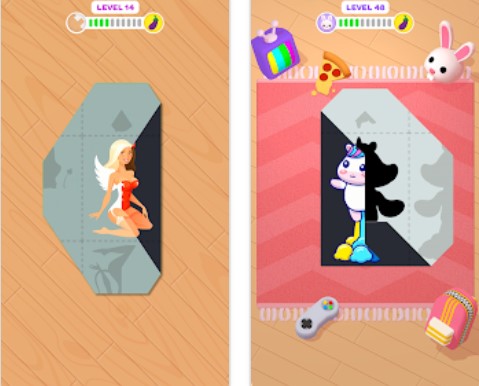 3. Origami – Simple Paper Folding Instructions
Such art as origami requires diligence and concentration, so to simplify the task you can use this origami app. It contains a huge number of master classes for folding paper figures, with detailed descriptions and a demonstration of each step. And the most interesting thing is that this app offers you a wide range of categories, which are sometimes updated on special events.
So you will get a portion of some fresh paper spiders and bats for Halloween, as well as a Santa Claus and a snowman for Christmas. And the other great thing about this app is the ability to use it offline. All schemes will be conveniently saved in the memory of the app.
In addition, users note that the assembling of even the most complex figures is the most understandable due to the clear and large images of the schemes available for each figure. Besides, some of them are accompanied by videos.
Also, you can save an origami in a special folder that you want to create in the future. All favorite schemes are conveniently located in one category. You just need to click the button at the bottom of the screen.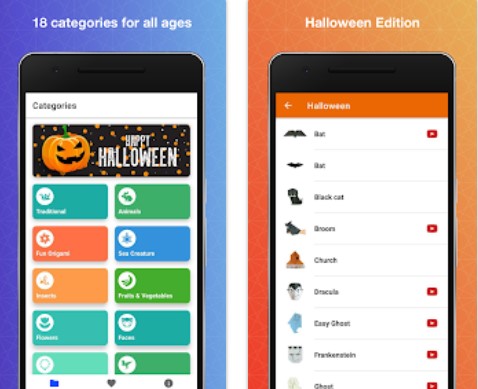 You may also like: 11 Cool Dream Vision Board Apps
4. Origami Weapons Instructions
To feel like a samurai or a warrior it is not necessary to involve dangerous weapons, you can make one for yourself out of paper. Thanks to this app, you will find many exciting instructions that are suitable for both children and adults.
In addition, it is worth noting that there are not only various claws, knives, and kunai, but also many realistic-looking models, such as Mini Uzi, UMP, Winchester, and so on. There are also bows and arrows, katanas, and shurikens. And it can all be made by anyone, even those who are new to origami because here, users are always accompanied by detailed instructions.
At the same time, the figures are ideal for beginners and the pro. Making these figures does not require anything more than sheets of paper and a small amount of your time. Moreover, you will always be able to move through the steps with the help of arrows. In addition, the scheme of origami can be shared among all your friends.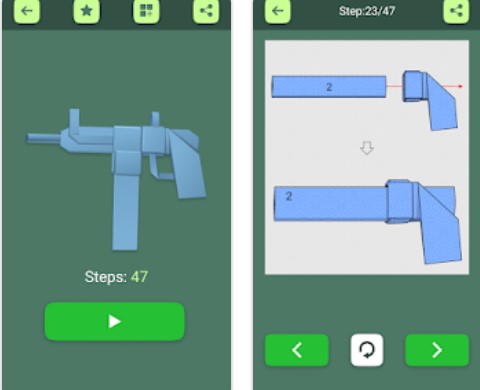 5. Skilled Origami
If you are already a pro in origami and you want something unexplored brand new, then switch on to more complex shapes. And Skilled Origami will help you do it.
There are figures of dinosaurs, human teeth, and such unusual shapes as a space invader, alien ship and so much more. Thus, the app will offer you a file with ready-made origami schemes that you can print or share with friends. All figures are presented in one large section. All you have to do is to fold the paper to get an interesting art object.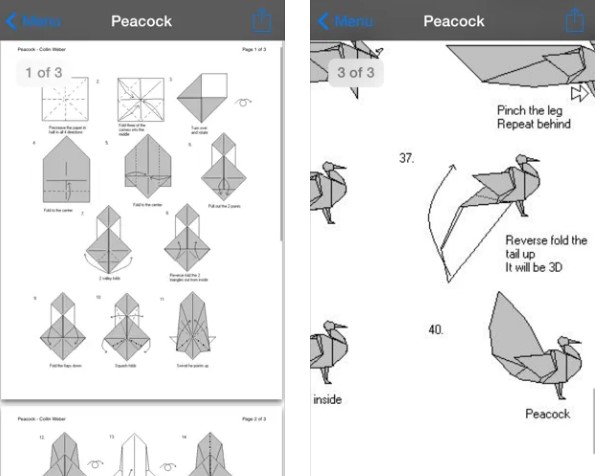 6. Origami – Fold & Learn
This is one of the most enjoyable applications for folding paper into shapes. It has its unique figure presentation and interfaces design. After downloading the app you will be greeted with schemes of origami. You can choose any you like and bring them to life.
In contrast to other similar applications, it offers you small explanatory instruction symbols that are most often used in origami folding art. In addition, each figure will be accompanied by a brief description containing the necessary materials and the number of steps in which you can get a figure.
With the help of this application, you can easily find out how to make different objects out of paper around you.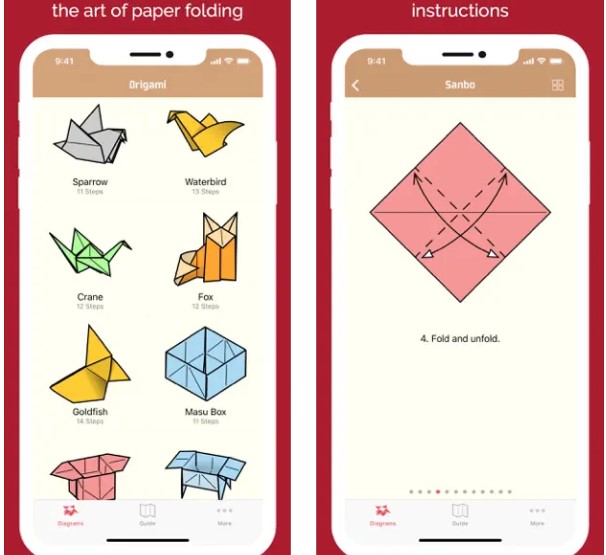 You may also like: 11 Best Endless Runner Games
7. Animated Origami Instructions
It may be the app that will help you spend your time usefully and create beautiful things with your own hands. Of course, the program provides a variety of different figures for folding. And the main thing is that all of them are animated in detail. With this program, you get the opportunity to learn how to fold basic forms of origami and understand the basic techniques of folding.
And most importantly, it is incredibly easy to navigate, because all the figures are presented in a handy list. Also, you will be surrounded by a pleasant interface in the form of squared paper. This app is perfect for children and their parents. The application has both simple and easy schemes, as well as more complex ones for more skilled origami enthusiasts.
Each figure is divided into several steps that are easy to repeat. After you start folding a blank sheet, you will get a finished figure at the end. In addition, you will be able to fold animals, birds, cubes, and cars. Also, it is worth mentioning that the application is quite compact and takes up little memory on your device.