What are greeting cards? They can be identified as specially designed pieces of paper made for writing wishes for one or another person. It could be either for a birthday or for Christmas and any other holidays existing so far. Greeting cards can be presented alongside the present and oral congratulations as well.
However, in the modern world, where all things have their own digital relatives, greeting cards also have different apps providing wishes and specifically designed digital postcards. It carries the same meaning and functions as the real one does.
It consists of words, particular frames designed individually for every occasion, even a variety of them per holiday, which means you have a wide choice of designs, so you could easily find the best one more suitable for the type of person you're going to send it to.
In addition, you can congratulate your friend in a super original way using emojis. Read more in Best Emoji Translator Apps & Websites.
1. justWink
If you're far from your friends or relatives while they're making a birthday party and sending invitations to all the people they know, you can easily congratulate them by sending an online greeting card. It will help you stay in touch and not behave arrogantly in front of your close person.
Don't want to spend extra money to deliver your postcard to the right person? Suppose you're going to send it immediately. In that case, the easiest thing you can do is just to open an app, choose the preferable design, write your own message on the card, add your signature and send it most conveniently for you via messages or social networks.
This way, precisely in this app, you have an opportunity to add your personal signature to the greeting card to make it more sincere. It will show the person who'll get it that you're caring about him or her even though you can't be participating in real.
One more crucial thing that should be added is a wide variety of choices whether to send the greeting card by e-mail, message, social network, or any other virtual communication ways. The only thing you should do is select the right card, design and compose it, then tap on saving and sending buttons and finally choose the way.
By the way, in this app, you have a chance to download your own photos to design the card in a most appropriate for you and your friends or relatives way; more suitable for them with vivid or maybe even ridiculous images, which would bring a smile on their faces and be a reason of their high mood.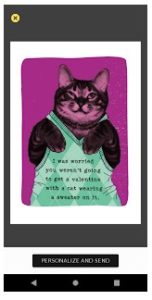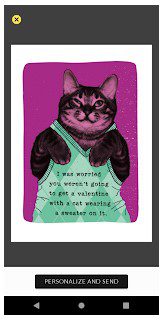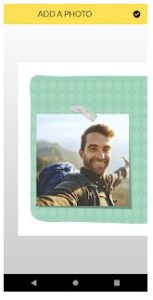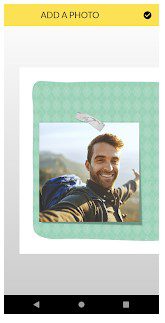 You may also like:  15 Best happy birthday frame apps
2. Handwrytten
If you want to put your soul into the words or even just design your messages specifically with a unique font and style of writing, Handwrytten is one of the best options for this function.
You can easily write the message, then choose the font you like and save it. Or there is also an opportunity to write it by yourself in your own handwriting. That will create a bond between you and your recipient and transmit your genuine feelings and wishes.
Furthermore, the app offers a variety of ready cards designs that will help you save your time and energy by creating your own one and show a more holistic image of what you really want to convey.
The only minus is that the postages aren't free and cost 3.50 dollars per one. However, it is way cheaper than sending the real ones, which creates a benefit for you and your well-being as well. You don't need to think about the more comfortable way of delivering your greeting card; it can be easily done with one click via messengers or social nets.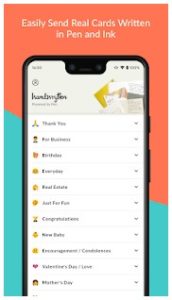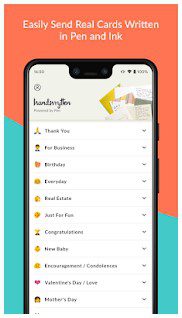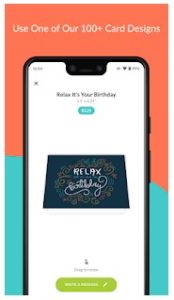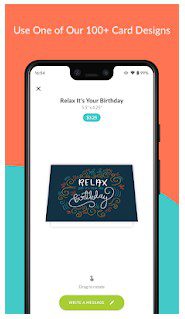 3. Invitation maker & Card design by Greetings Island
This app provides you with a myriad of ready-made cards' designs sorted by the occasion names and the parties' headings such as "Birthday party," "Baby Shower," "Christmas," and so forth. Firstly, you don't need to spend your time creating the cards by yourself, contemplating the most appropriate form, colors, and other things.
Secondly, it is time-consuming to make it by yourself, changing the location of the objects, writings, frames, and other details. This app will help you to come up with the perfectly constructed designs and structures of the cards.
Furthermore, sorting the cards not in a chaotic way but neat and accurate will also play a role of an option saving your precious time on more valuable things like choosing a present or discussing the attires suitable for this party.
By the way, the app has a lot of advantages other the others for the same purposes. The important thing here is that it is totally free and even doesn't have ads. This will help you leave your wallet closed and help you not distract by motion video ads.
Moreover, the program offers more than 5000 card designs, broadening your choice and making it easier to find precisely the best one for the occasion. You will never be left without any greeting card available for you.
And the last thing, it has no watermarks on its designs, which will make people think that it is created entirely by you.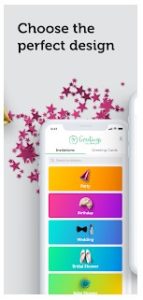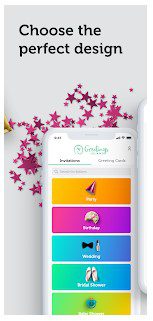 4. TouchNote
Creating meaningful, vivid, colorful cards is getting easier with this app for any occasions existing and still not in the world. Downloading your personal photos, using emojis and unique stickers are also available on this platform. Afterward, you can send them quickly to anyone across the globe, no matter who this person is.
First of all, TouchNote provides you with a variety of unique artworks used for the cards' designs. That makes it more specific and unforgettable compared to others. Because of the wide range of photos and styles available, you can easily match your preference with the presented ones.
One more thing that distinguishes this app from the plenty of similar ones is an opportunity to use unconventional and extraordinary stickers, which will help you enhance the message put into a greeting card and support your thoughts and warm wishes.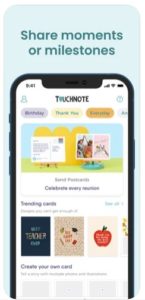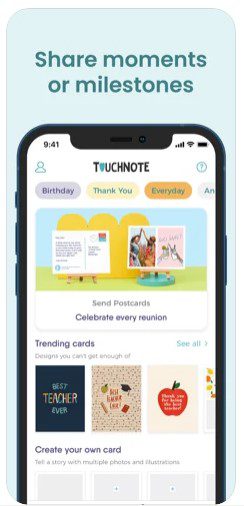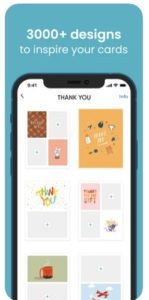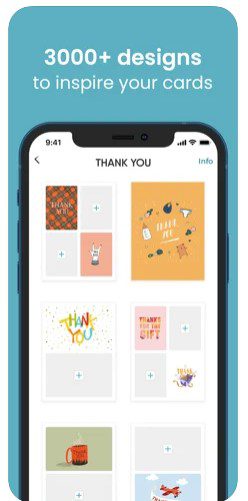 5. CardSnacks
This app offers you an opportunity to send e-cards for any occasion with no time spent creating them because of plenty of ready-made designs to choose from, no money spent because of no taxes paid for delivering it, or paying for the postcard itself. It has become easier to send it only by one click in any convenient way for you.
The critical feature differentiating this app from a myriad of others is access to voice and video recording, which can be eventually put into the greeting card alongside the photos and messages. It will make the card look more sincere and honest to the person we send our card to.
You can also use whatever music you want to make your wish sound better and more creative, putting your soul into the message and making the reader and the viewer experience all the things you went through while making the card.
The app is free but has a limited number of cards available for sending every month. If you plan on sending them more often than twice or three times a month, it's better to become a premium member, which costs 2.99 dollars per month and will provide you with no restrictions, with an unlimited number of greeting cards.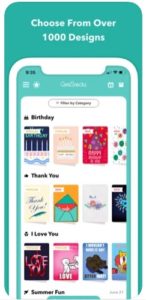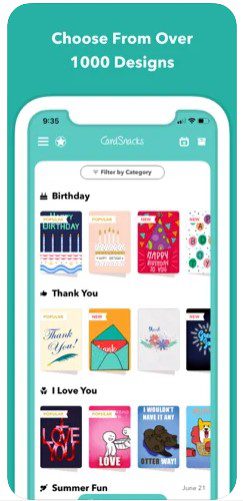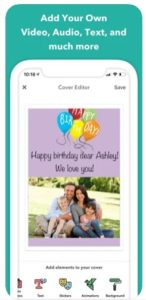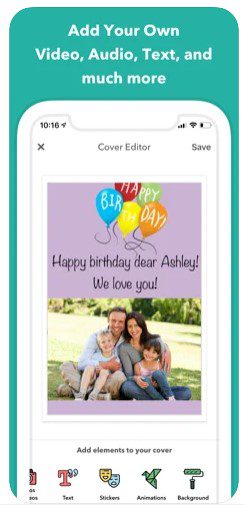 6. Ink
Ink is ranked as the best image quality apps related to Digital photography Review. It means that the images used in your greeting cards will never be processed into pixels and will remain the same even after a few transmissions of them from one place to another, from one person to another.
You can use this app not only for creating, structuring, and sending greeting cards to your family or friends but also to yourself. Collecting all the photos in particularly designed ways will help you use them as your family album photos in the future.
If you want to use a frame or specific design offered by one brand, you can easily purchase it online only with 2 dollars cost for each card. Other options in the app are totally free.
If you want to send the greeting card to a person who is not living with you in the same country, it will take some time to receive the letter from you. The card to be delivered to the USA and Canada will take from 5 to 7 days maximum, and for overall globe delivery, it will last from one to three weeks.
By the way, there is also an option of turning your notifications on to be informed when your card will be hosted and received by your recipient.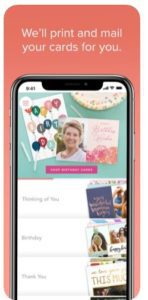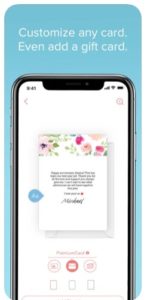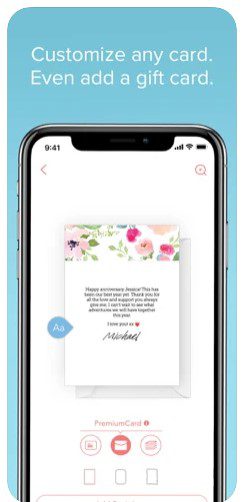 You may also like: 10 Best Birthday Cake Apps to Add a Name on Cake
7. Greeting Cards and Gifts by Felt LLC
Undoubtedly, this app is one of the best existing for greeting cards creating and sending online via any offered options. Personally, this one gives you an opportunity to use every messenger and social network, which is more convenient for you.
This way, all the cards are sent quickly within 24 hours from Monday to Friday. That means you don't need to wait some days before your treasure will be delivered to the recipient. Only one day after, your relative or friend can already see your sincere wishes and unique designs used for framing the greeting card.
You can add a bouquet of flowers and sweets to support your greeting card as well, representing all of the items as a whole surprise to your close person. It will bring joy and happiness to him or her seeing your passion for making this person smile.
By the way, you can choose several recipients in case you need to congratulate your friend and his or her partner with a baby born. For these purposes, you can use one greeting card for both of them because the occasion is one, so there is no need to create two different designs with several messages.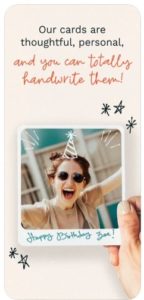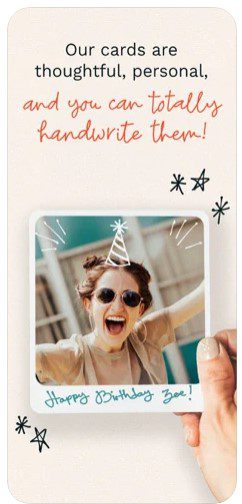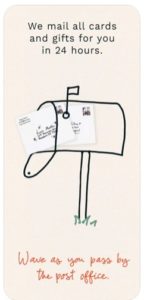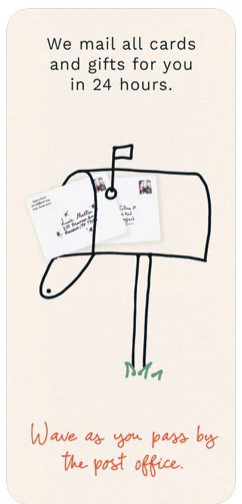 8. Greeting Cards & Wishes
This app is created totally for free. All the images, videos, access to any of the ready-made cards are available without paying for it. You can create the designs or use one of the more than 40 000 presented in the list at the app and add your own messages and videos or audio recordings here to make your wishes more unique and unforgettable.
One of the vital benefits of this program is that you can put the important dates into your calendar, scheduling it like that you can get a notification about the upcoming event not to forget about sending a greeting card to them. Or you can create a greeting card and customize it to be automatically forwarded to a recipient.
By the way, you can easily connect your phone book and social media contacts to make the app quicker to save the information about birthdays or any other occasions, where greeting cards are an essential part of congratulations and telling your wishes.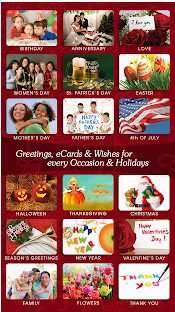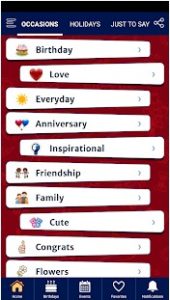 9. Appygraph
This app provides you with two options for choosing the design of your greeting cards.
Firstly, it is a free collection which you can use without paying for it. No money spent, no effort put. Isn't it the best choice for you?
Secondly, you can purchase the cards and get premium collections of unique and fashionable designs. It will distinguish and highlight your congratulations among others and will make a person remember you.
"Fantastic card designs" – it has a true value for every device and its holder. It takes only 2 minutes to send your greeting card to anyone you want; you don't need to spend time waiting for its delivery, it's quick and immediate.
You can easily download any images directly from your phone and use them on your greeting card. Also, the app provides you with more than 40 types of fonts, which makes your design soulful and sincere.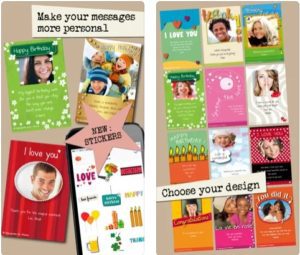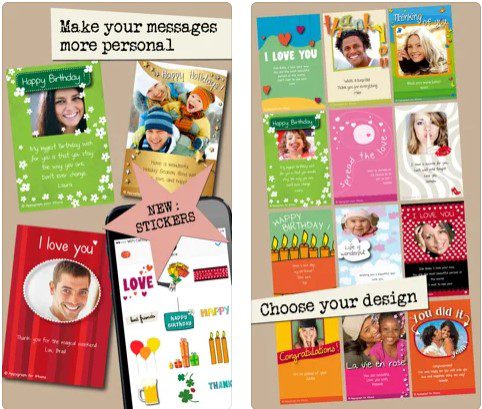 10.  Invitation Maker
One of the best apps for making cards and sharing your personal photos is definitely this app. You can easily take a picture, then download it for placing on the card and write a personal message describing your feelings or whatever comes to your mind.
For sending the greeting card, you need to choose from a range of available templates,  from more than 1000 different styled ones, and send it quickly to whoever you want. It could be your friend or any other person.
There are several photo effects you are allowed to use. For creating a certain feeling, just click on the right effect. Want to have a photo with little sparkling stars? Tap on exactly this effect and save it in your gallery or send it to your close people.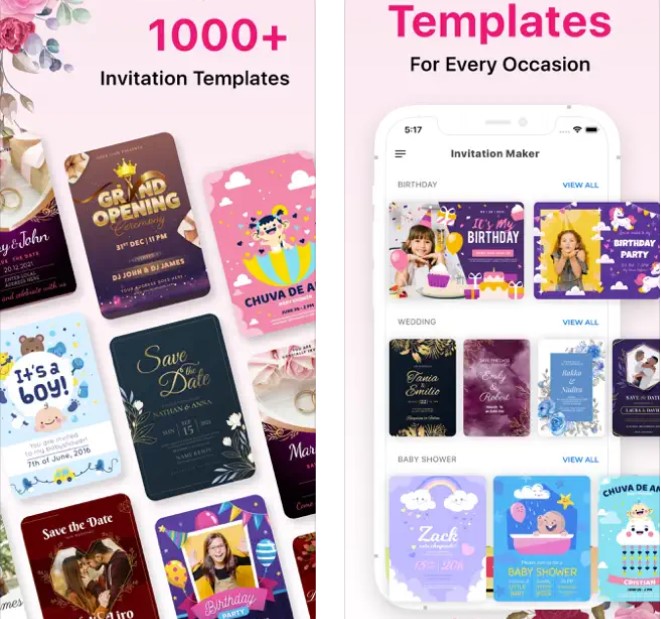 11. Greeting Cards Apps
This app offers you a simple interface with pretty clear buttons to tap on. If you want to choose an image for your greeting card or a ready-made design, not time and energy-consuming, you can easily type the occasion's name like "Birthday," "Christmas," or whatever else.
It will bring you dozens of templates to choose from. You'll definitely find the most appropriate and appealing one for the event and for the person, you're going to send it to.
Furthermore, the program allows you to create your own design in a blank space. It's up to you to choose the right words and personal or downloaded photos from the Internet.
By the way, this app can send notifications for upcoming events, which makes you always remember the dates and the occasions. You'll never miss an important date being immersed in your work or studies. Just put the dates into your calendar, and then the program will do all for you.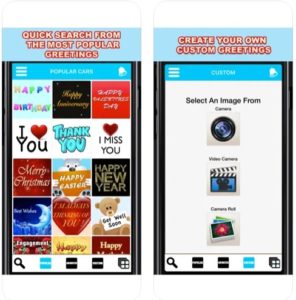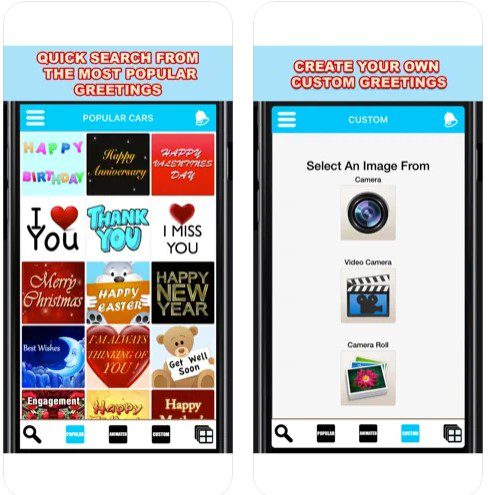 You may also like: 10 Best Countdown Apps