Mehndi is an ancient technique of body painting. To create Mehndi images a natural henna dye is used, which is extracted from the leaves of the Lawsonia tree. It makes the painting not only aesthetically appealing but also harmless to the body. If you prefer a way of decorating your body that is health-friendly and does not damage the skin, then Mehndi is exactly for you.
In this article, we will present to you the applications that will help to create a unique design. Moreover, if you are a tattoo lover, you might also be interested in the article Best Tattoo Design Apps. There you will be able to choose a new body adornment in the form of a tattoo.
1. Mehndi Designs (offline)
This application is a cool way to express yourself. Mehndi Designs allows you to draw incredibly beautiful henna designs on yourself. After all, all the sketches in this application have deep meaning, so they will become not only a fantastic decoration but also a powerful protective amulet.
Here you will be able to meet 4 styles of Mehndi, such as Arabic and Asian, Indian and North African. You will be able to choose the most actual and interesting Mehndi tattoo designs. In addition, you will be able to use the application without an Internet connection. Also, there are step-by-step video instructions on how to create a drawing.
It will help you to draw Mehndi without any special artistic skills. In addition, there are sketches for both hands and feet. Here you can see how exactly your future Mehndi should look like. There is also a handy search that will help you make a choice. After all, all sketches are divided into special categories, such as floral, Indian, glitter, Arabic, and others.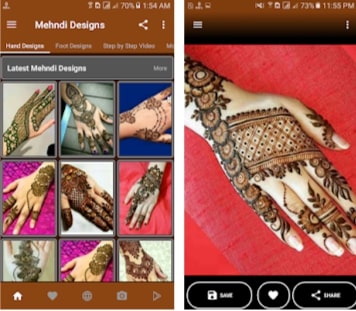 You may also like: 9 Best apps to watch Indian movies on Android & iOS
2. INKHUNTER – try tattoo designsPiano by JoyTunes
InkHunter is not really an app designed specifically for Mehndi. However, it supersedes all other tattoo design apps. After all, it has the ability to allow you to see any tattoo on any part of your body. Moreover, you will be able to see your future tattoo in real-time through augmented reality. There are also some interesting Indian Mehndi designs.
If you do not know how a tattoo might look like on you and want to imagine this app is for you. It is an app that can even help some tattoo artists to give their clients a better idea of what to expect. There is also the ability to upload your own design or try out designs from the app gallery.
In addition, you can not only take a photo of your future Mehndi but also view it from all angles. Also, you will be able to slightly modify the future Mehndi or tattoo using the editor. For example, it is possible to change the color, shape, or size. And once you have done it, the app offers to share the photo with your friends or to save it in your gallery.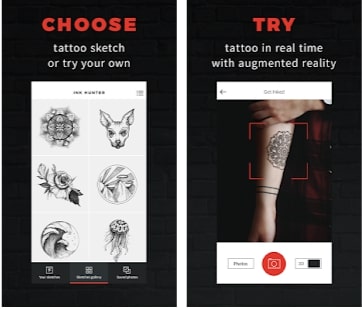 You may also like: 9 Best facial hair apps for Android & iOS
3. K4 Henna – Mehndi Designs & Video Tutorials
It is quite difficult to choose a Mehndi. After all, there are a huge number of different designs. The K4 Henna app will help you to choose. First of all, you will find interesting Mehndi designs here. Secondly, the app can even help you draw them with video tutorials. Also, you will be able to view a huge number of different sketches.
Users can also quickly share, save, and set as wallpaper their favorite sketches. The app is also easy to navigate. There are sections to help put sketches into convenient categories, such as My Collection and Likes. Also, you can find the most popular and the latest user-liked sketches here. Also, you can edit any image you like.
The app has an incredibly easy search function. Here you can find the sketch, the tutorial, and various tips. It all depends on the Mehendi you want. There are Arabic, Indian, Bridal, For Beginner, and other categories of sketches and designs.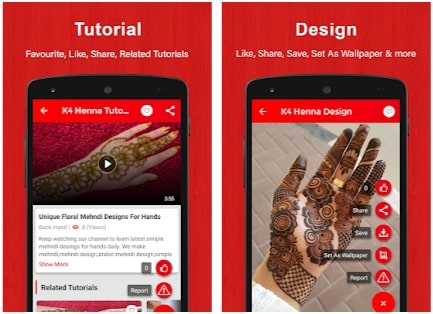 4. Mehndi Latest Design
To create an original drawing, an experienced master requires more than one hour of work. Each line and pattern is made with precision and accuracy. However, you can try to create an interesting drawing yourself having only this application at hand. Mehndi Latest Design will offer you beautiful sketches and ideas for Mehndi you can only imagine.
Obviously, you will also find some useful tips to help you keep your Mehndi for as long time as possible. In fact, the drawing usually lasts on the body for up to two weeks. However, thanks to the tips in this app, you will enjoy your Mehndi for a much longer period.
In addition, there are both online and offline sketches. This means you can search for the right Mehndi even without access to the Internet. In addition, you can add your preferred sketches to the Favorite section, just like in other similar apps.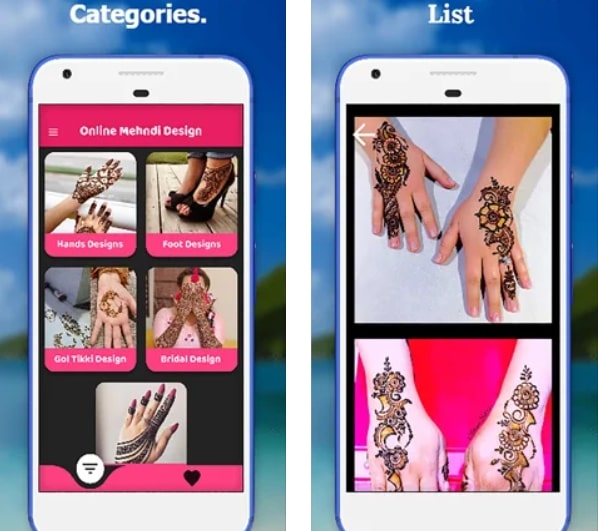 You may also like: 6 Best body swap apps for Android & iOS
5. Latest Mehndi Design 2022
If there is an app for finding inspiration, without a doubt, it is Latest Mehndi Design 2022. Anyone who wants to find ideas for cool Mehndi will definitely find this app a good fit. After all, it has the best Mehndi designs you can ever imagine.
All you have to do is search for them here. To do that, there is a handy search option. In addition, you can filter your search based on your needs or tastes. Of course, all the ideas you find can be saved and you can refer to them at any time. For this purpose, it has a section called Favorite.
Another advantage of the app is that you can zoom in on the images of the sketches to get a better look at them. After all, all of the images are of incredibly good quality here.
Since there is a huge number of designs collected there, you can find Mehndi on any part of the body. There are even wedding and celebration sketches available. This app will definitely help you get immersed in the Indian theme.