Tired of the same old, boring birthday invites? You've got to the right place.
Hosting a birthday bash can be a lot of work, but creating an ideal invitation doesn't have to be! We've curated the best apps to make birthday invites for Android & iOS to help you make the most eye-catching invites easily. From playful to elegant templates, these apps offer endless options for you to explore.
These apps let you make invites for all kinds of events, and most of them cover greeting cards as well. Whatever your party theme is, this app will help you design stylish invites for it. Let's dive in!
1. Invitation Maker Card Design
This app is an absolute game-changer when it comes to crafting the perfect invitations for any occasion. Whether you're someone who thous parties all the time or just need to design an invitation for an upcoming birthday, this app is there to help.
With a plethora of free templates available for everything from birthdays to baby showers, you can easily find the one to match your event. And the best part? Customizing these cards is an absolute breeze! With just a few taps, you can modify everything from the font size and color to the bg and layout.
And if you're feeling extra creative, you can even start from scratch and create your invitation from scratch. Above that, you can save the cards in HQ without spending a dime and send these right to printing if needed. You can also pick the format to easily send paperless invitations. It's super convenient and eco-friendly.
The app is incredibly easy to navigate. You don't need any skills to assemble stunning invites with this one, for sure. It's ideal for those who want to save time and hassle without compromising on style.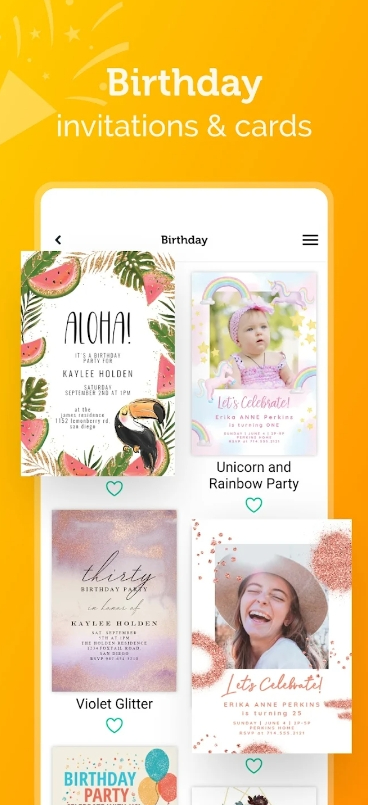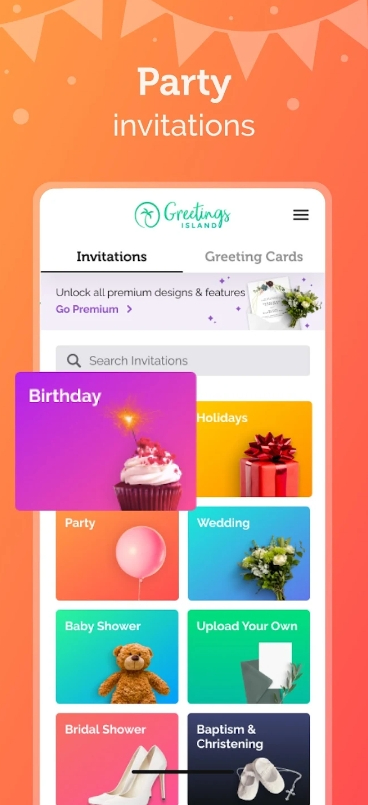 You may also like: 15 Best Happy Birthday Frame Apps
2. Invitation maker & Card Design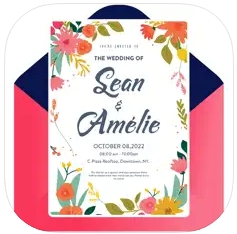 Tired of searching for the perfect card for your birthday bash? Make sure to give this app a try, then. Say goodbye to the hassle of trying to make a card that looks even semiprofessional: this app lets you make a full-on masterpiece. And the best part is, you don't need any special skills to use it at all.
You can use it to make e-cards and paperless invites for any event under the sun. And the process is so simple that even those with zero design experience can assemble a stunning card in no time! The cool thing about this app is the HD pics that let you add more liveliness to your card during the editing phase.
You'll get to alter the aspect ratio, change the size of the pic, and even rotate it if required. This gives you complete control over the pic and ensures that your card looks exactly how you want it to.
The app also covers a vast scope of other tools that make designing a breeze. You can add text, and filters, and alter the colors to match your theme. Plus, there are tons of stickers for you to try, and most of them are free.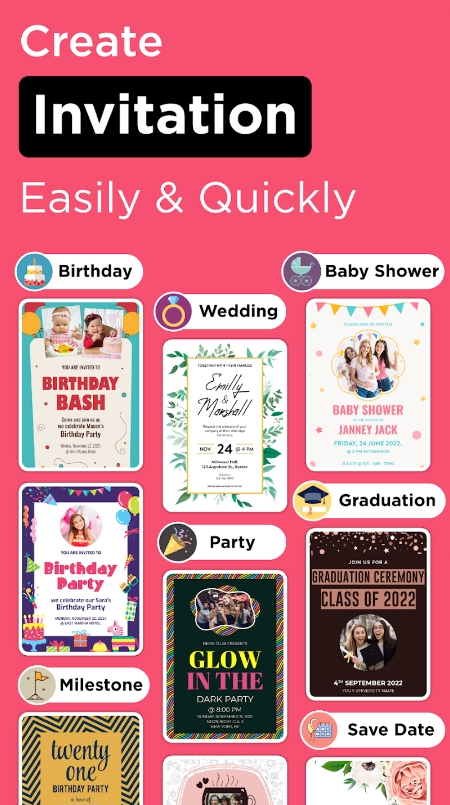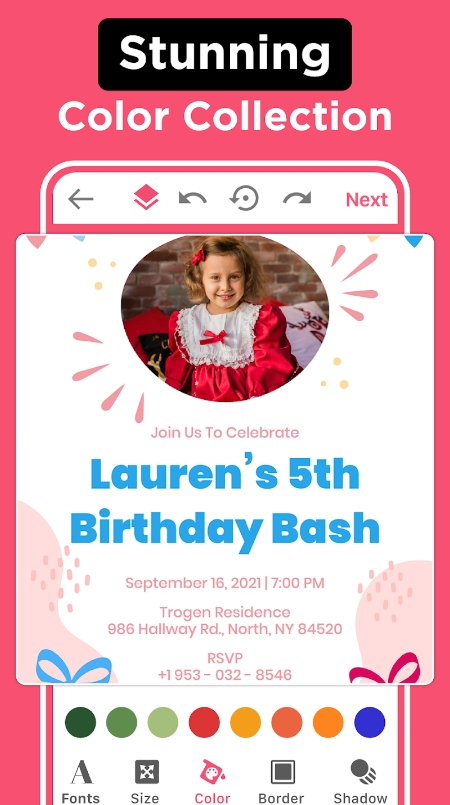 3. Invitation Maker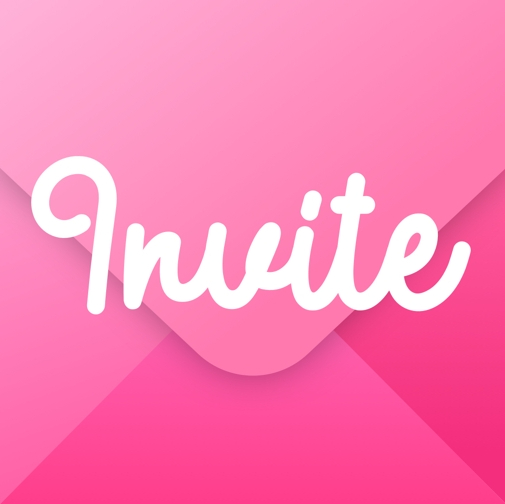 This app is here to help you design an invite with little to no effort. You won't need to spend hours to get nice results, and the designing skills are not required at all. Even if you haven't designed a single thing in your life, you'll be able to do a great job here.
It's the ideal solution for those looking for an easy, fast, and creative way to invite their friends to any event or occasion. Whether you're arranging a birthday bash or need a greeting card, the opportunities are endless. And the best part? You can load your own pics, vids, and audio to make the invite stand out (and add a little character to it).
This app puts total creative control in your hands as you'll get to change the fonts and every little detail about the project in general. And with a one-click sharing tool, you can get your invites out to your guest list in no time. But the real cherry on top? The app sends you immediate notifications when friends reply to your invite, making planning and organization a breeze.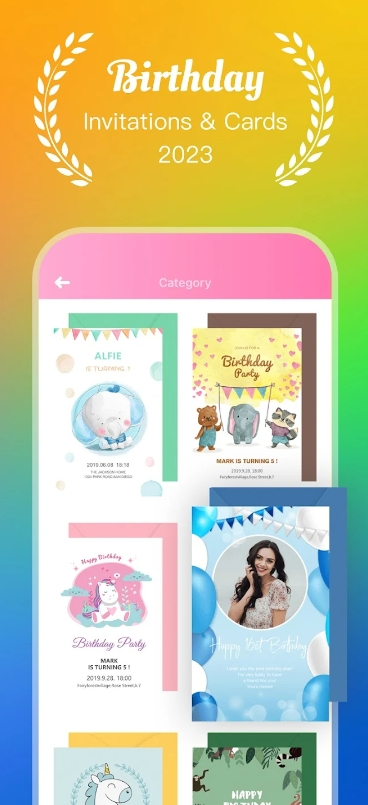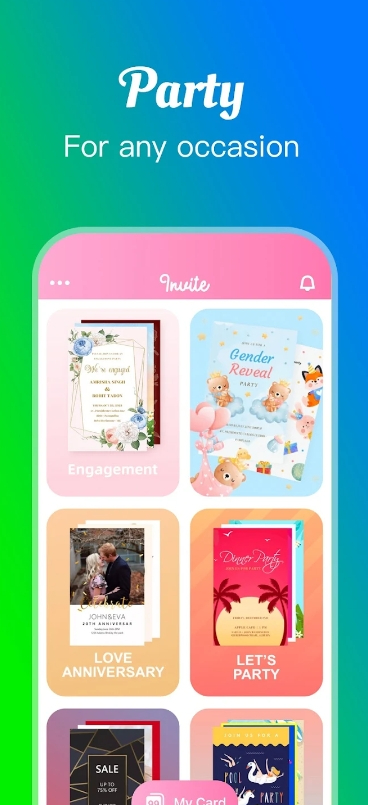 4. Birthday Invitation Maker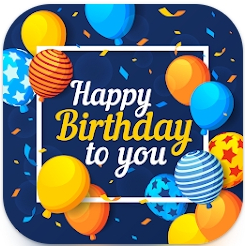 This app is a blast for anyone planning a birthday party. You'll get to make cards easily, and the fact that everything can be done on a single screen makes the process way more efficient. The full-view canvas is a game-changer, allowing you to see the design in its entirety without having to constantly scroll back and forth.
The app covers an impressive selection of card templates for you to try. Hereby, you'll get to modify every little detail to make the cards fully personalized. You'll even get to use custom pics if needed. There's a vast collection of HQ images to use as well, so you're all the way covered.
You'll enjoy the ability to choose a background: you may rather go for one of the app's options or load your own one. The stickers and quotes are a cute touch and really add to the overall aesthetic of the card.
The same goes for the font style, color, and size. You can even add your own signature to any card, making it feel like a true work of art. Once you're satisfied with your creation, the app lets you save the card to your SD card in HQ.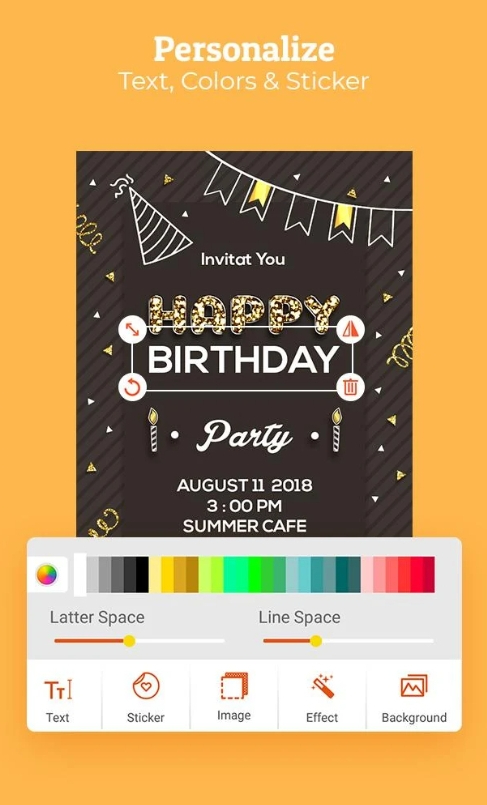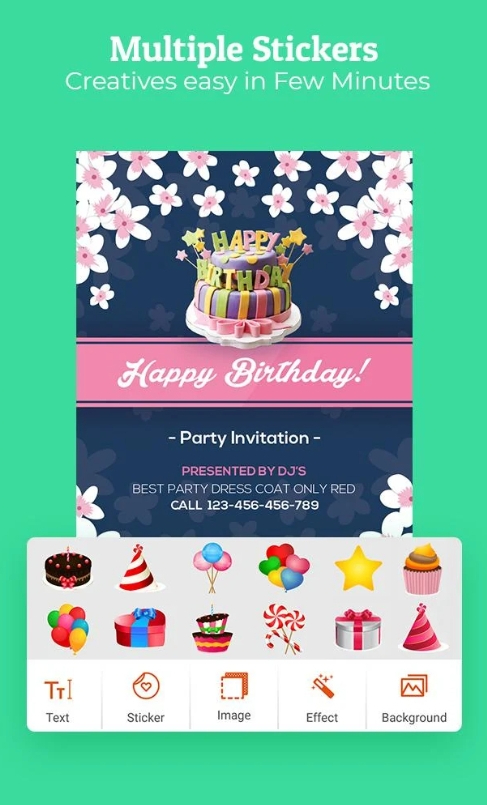 5. Invitation Maker: Card Creator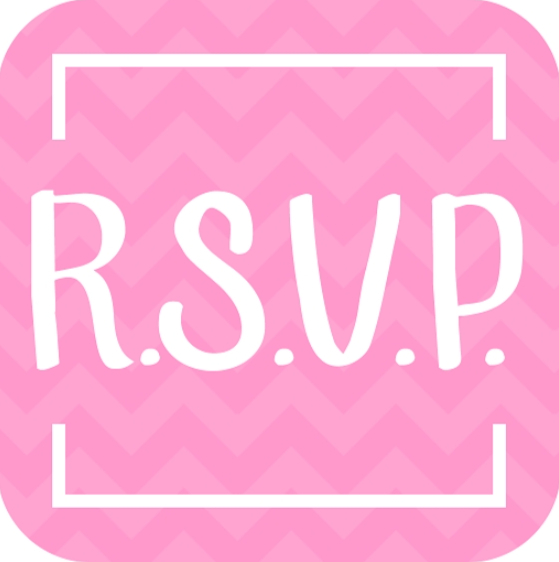 On the hunt for a stress-free way to create stunning invitations? You've just found one. This app completely takes the hassle out of invitation-making, letting you design custom cards for any occasion right from your phone. You won't need any special skills to use it and there are no hidden fees as well.
The app is all about simplicity. Instead of being bogged down by complicated design sites, it gives you all the tools you need to make a beautiful card in just a few simple taps. From birthdays to graduations, you can tailor-make the invitation to fit the theme of your event.
But don't let the simplicity fool you: there are tons of fun options to play with! With 50+ templates, fonts, and custom overlays, you can add your own personal flair to each design. The app also boasts an extensive lib of design elements to enhance the appearance of your card.
And for those of us who are constantly on the go, the app is an absolute lifesaver. You no longer have to worry about getting invitations out on time or missing important dates and deadlines. Everything can be shared in just a few taps – easy-peasy!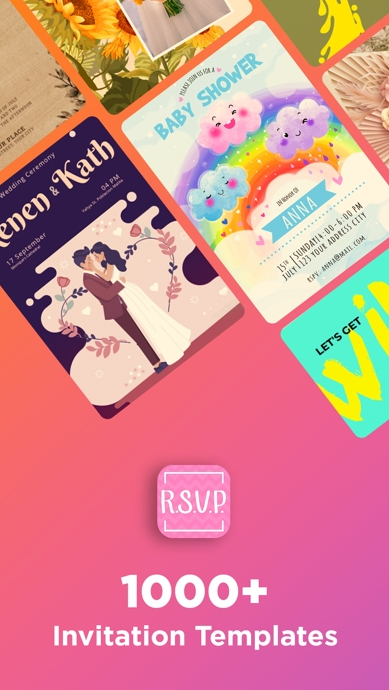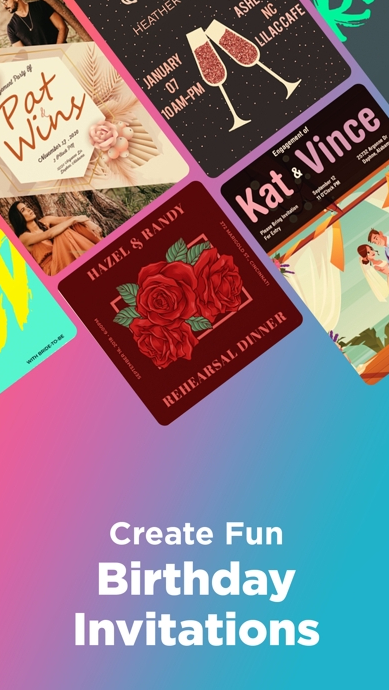 Check also: 10 Best Birthday Cake Apps to Add a Name on Cake
6. Invito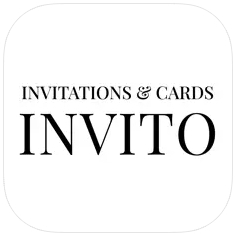 This app offers an easy yet creative way to make digital invites or greeting cards. It offers a vast scope of stylish templates that are both aesthetically pleasing and fully customizable. Whether you're making a wedding invite, a birthday one, or just a greeting card, this app has got you covered.
One of the coolest aspects of the app is the ability to add your own pics to the cards. You can assemble a truly one-of-a-kind invitation that your visitors won't be able to resist sharing on their social media. The same goes for wording: you can write whatever you need and modify the font style and all that.
But it's not just about making pretty invites. The app lets you manage your event, which is incredibly handy. That's the kind of tool you didn't know you needed until you try it. You'll get to collect RSVPs, build and share wish lists, cope with registers, and more. This makes the app an all-in-one solution for planning and managing any kind of event.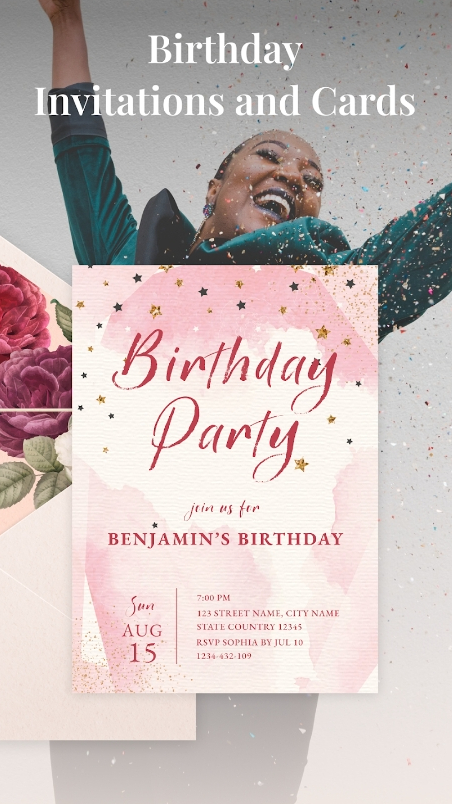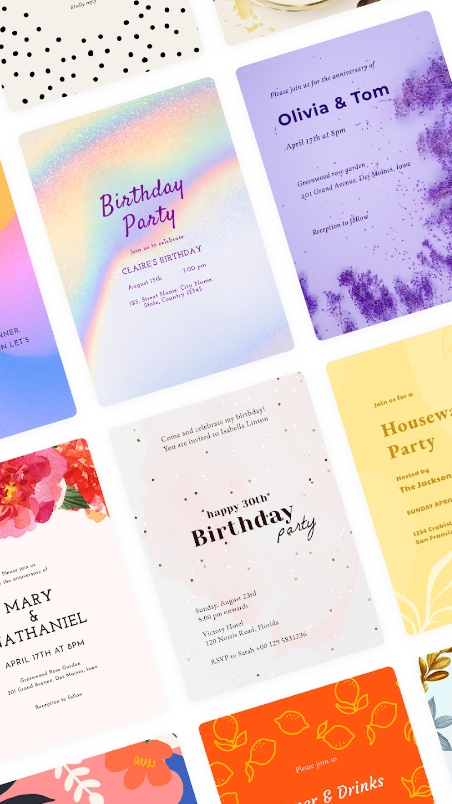 7. Invitation Maker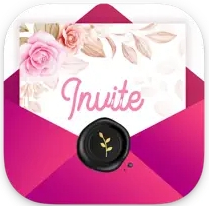 Here's an app to assemble cute invites in a hassle-free way. This app is a treasure trove of card templates that can be personalized in a million different ways to suit your style and occasion. And the best part? It's totally free!
The app is extremely easy to use. All you need is to skim through the cards and pick one that catches your eye. From there, the intuitive editing tools let you add pics, text, and other elements to make the card truly yours.
There's a vast scope of shades and fonts you can try here. The variety of stickers is impressive as well. You can find one to match the theme of practically any party. All of these are categorized, and there's a search bar for easy navigation.
Once you are done designing, you can save it at the gallery or instantly share it with your mates. You can even posit it on socials if needed: no watermarks, no quality loss. Give it a try and let your creativity run wild!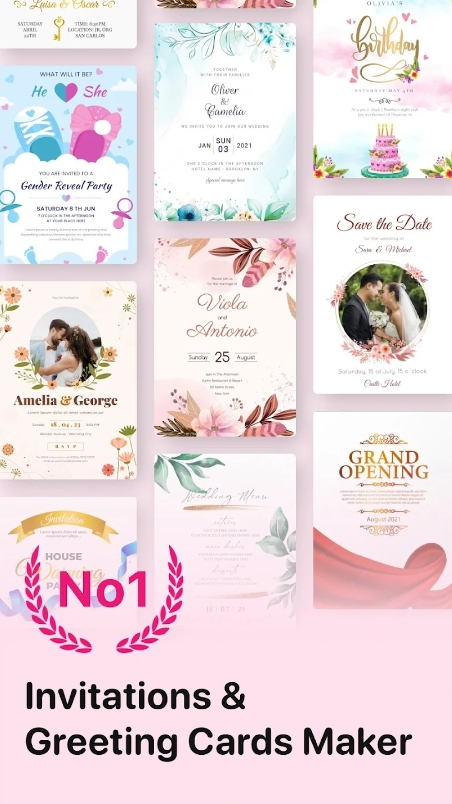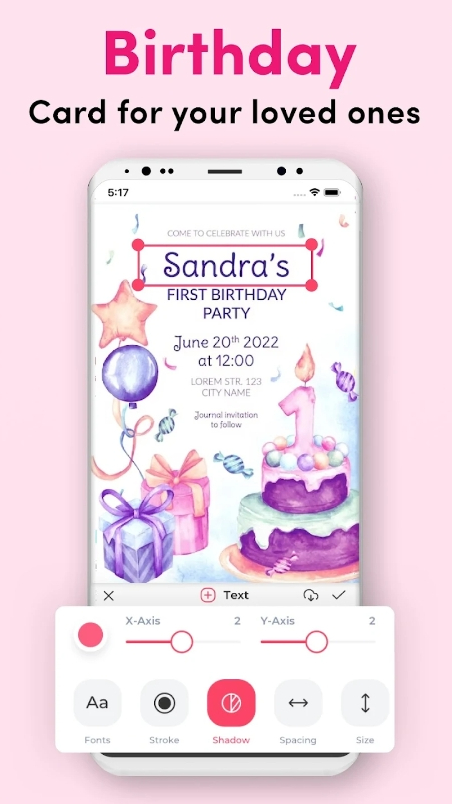 8. Invitation Maker, Card Design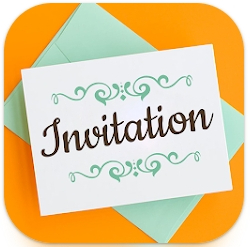 Have a party coming but don't want to make a generic invitation card? Yeah, we've all been there. Most cards fail to capture the essence of your party, and this app is here to change that. It lets you dive into the world of designing invitations, even if you've never done it before.
The layout of this one is incredibly user-friendly, making it seamless to turn even the wildest of ideas into reality. The app covers tons of templates of multiple themes, letting you personalize the card and tailor it to the aesthetic. And you'll get to make all that without breaking a sweat.
Plus, the app covers a lib of HQ pic you can use for your cards for free. The aspect ratio tool helps you adjust the size and rotation of pics if required. The app also has pre-saved titles applied according to the image category, making the process more straightforward.
You'll get to customize the wording, of course, just as any other details about the invite. And let's not forget about the various overlays and tons of HD stickers available to add extra effects to your final touch.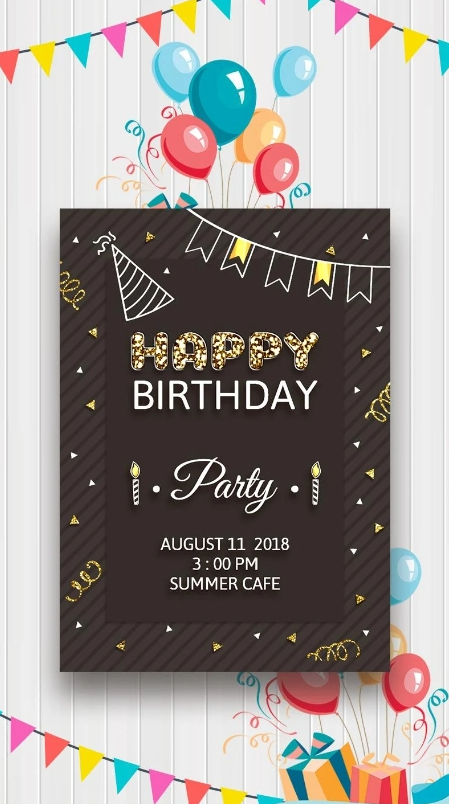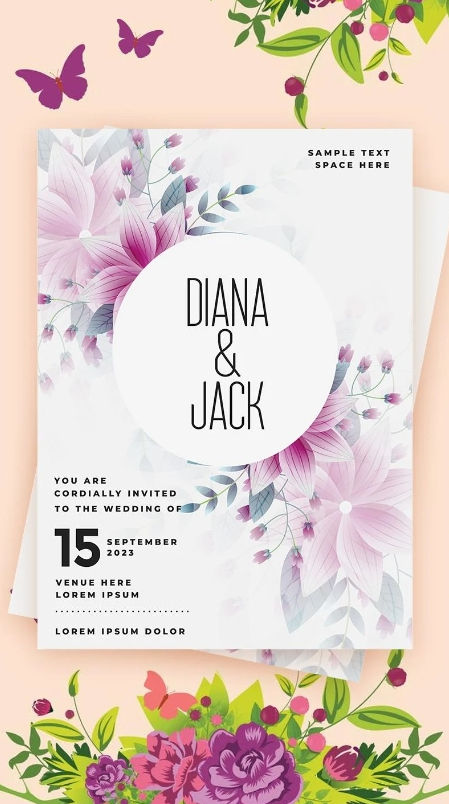 9. Digital Invitation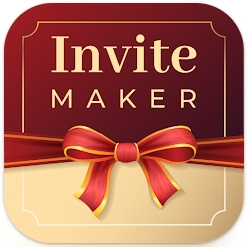 This app revolutionizes the creation of invites for any special occasion. Its seamless user experience and a vast array of design options make it a must-have for those seeking to craft professional, top-quality invitations. It covers a vast lib of templates for you to try, and you'll surely find one for any event needed.
To get more specific, there are over 5K temples you can customize entirely and add all kinds of personal touches. For example, you can alter the colors, fonts, pics, and more to make your invitation more unique.
You'll get to add your own pics, which is great if you want to make a truly one-of-a-kind invite. One of the best things about this app is how easy it is to share your cards. You can send them via email, socials, or messaging apps directly from the app, making it a breeze to invite all your pals with just a few clicks.
Plus, the HQ printing ensures that your invitations will look great when printed on any printer. You won't have to pay to save the invite in HQ, so no worries here.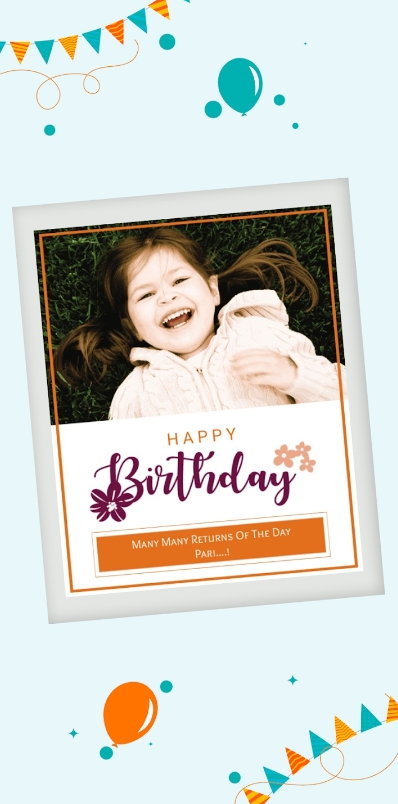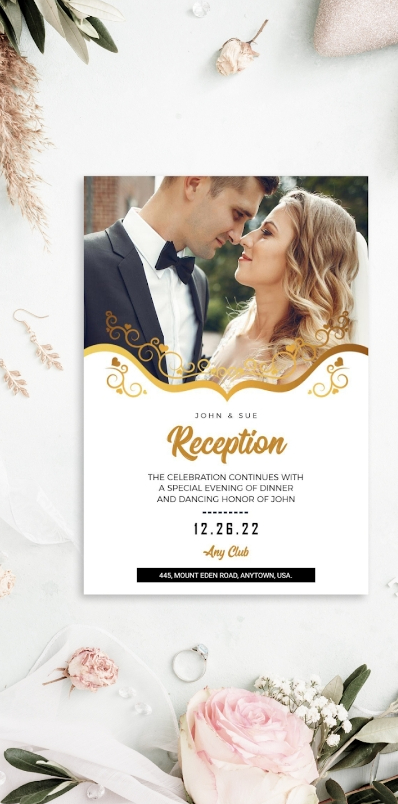 10. Evite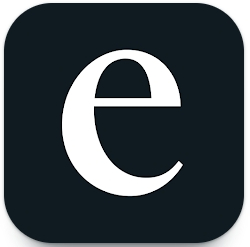 If you're someone who loves throwing parties or attending them (who doesn't?), then this app is an absolute must-have. First of all, the variety of free invites is incredible. You can straight up pick one, alter the event details, and you're ready to go. It literally takes a few secs to get done, and you'll get a stunning invite ready to get sent.
Whether you're planning a small get-together or a big event, there are options for every occasion. And with the keyword search bar, you can easily find the one that fits your theme. All the templates are fully flexible. You'll get to change the wording, alter the color theme, and all that.
And the best part? You can modify the cards by loading your own pics, and there's a huge lib of HQ ones you can use for free, too.
Sending invites is a breeze, too. You can do it via email, or any other messenger needed. And once these are sent, you can track RSVPs in real-time and see who's viewed them already. You can even send updates and reminders to everyone (or those who haven't responded yet).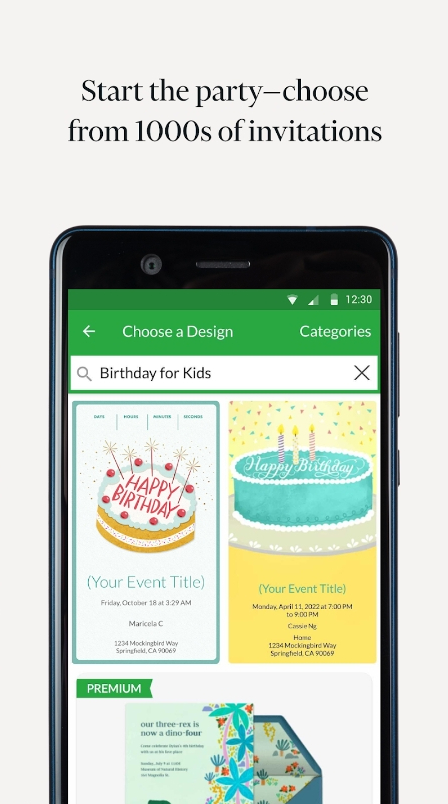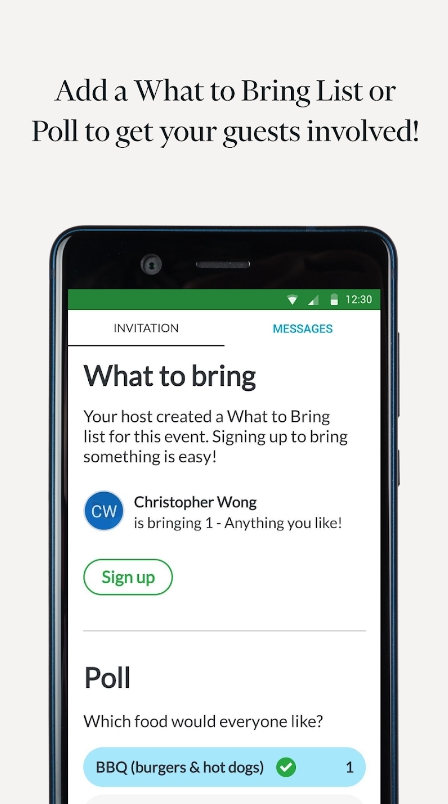 You may also check: 9 Best Label Maker Apps
11. Punchbowl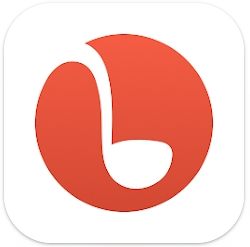 To wrap up, there's a simple app that lets you make birthday invites easily. With thousands of templates to try, all with the look and feel of paper, you'll find the ideal invite to match your party's theme. There are templates for kids and adults, and the search bar makes the app easy to navigate.
Sooth to say, the kid's pack is a dream come true for any parent planning a kids' party. The app is pretty flexible, and you'll get to personalize the invites with minimal effort. With touch-friendly controls, you can quickly add party details and even import pics from your cam roll. And speaking of guests, you can easily build your guest list by importing contacts.
Sending invitations is a cinch with the ability to send them via email or SMS. You'll get to manage your invites after sending them. The app lets you track RSVPs in real-time, add more guests, and even follow up with those who haven't responded. And if you need to communicate with your guests, you can chat with them one-on-one or broadcast announcements to your entire list.