If your occupation is connected with the sea, you definitely know how tides influence your activity. To stay aware of this natural phenomenon and plan your day, you should consider numerous complicated factors from the gravitational pull of the moon to the centrifugal force due to the Earth's spin. As you can see, it's not a good idea to determine the time of upcoming tides by yourself.
How to this in a proper way? Obtain a handy tool that you can keep with you wherever you are. By it, we mean installing one of the apps with tide charts.
We have chosen the best tide table charts available on the App Store or Google Play. Whether you are a fisherman, sailor, surfer, or another professional that conquers the sea, such a tool is a must-have for you.
1. Tides Near Me – Free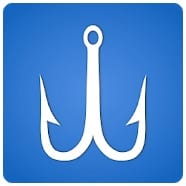 Our post starts with an awesome tool called Tides Near Me. Just check out how many positive reviews it has on both platforms.
The way the app works is so simple. With the help of a GPS signal, it will identify your location. By receiving data from stations nearby, the tool will update its tables with information on the last and next tides and currents near you. The predictions cover up to 7 days. That's why you will stay aware of your activity for a week.
Plus, you will be provided with access to the time the sun or moon rises as well as sets. It makes the forecast even more accurate.
As for the locations the app deals with, there are above 500 of them! They are situated in the US, UK (England, Scotland, Wales, Northern Ireland), Ireland, Australia, New Zealand, and India. So it covers quite a large area.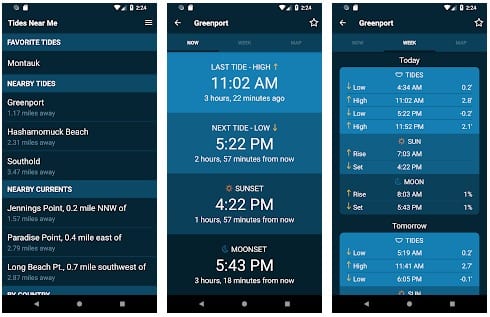 2. My Tide Times – Tide Tables, Forecasts & Tides!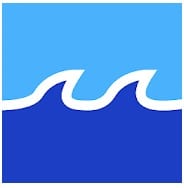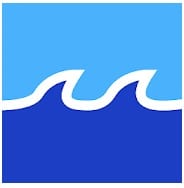 Here is the next app that is considered to be a leader in this category. Its name is My Tide Times.
Again, the app will take into account the information from tidal stations. It collaborates with more than 9 000 stations from 30 countries (Southern and North America, Europe, and Oceania). As you open the app, it finds the nearest one to show the 1-week forecast of tides in this or that location. By the way, in some locations, a user can receive 30-day predictions. That's amazing.
Talking about predictions, it includes data on tides and, in some cases, on currents. Apart from this, viewing the moon phase, moon/sun rise and set time will also be possible. Moreover, the app is capable of providing you with information on wind speed wherever you are.
It is a great advantage that charts with predictions can be downloaded easily on your phone. It means that it won't be a big problem when you lost an Internet connection.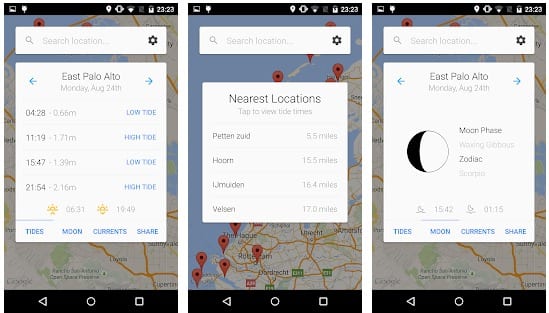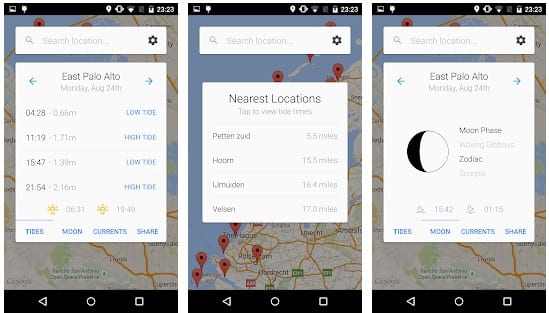 3. Tide Clock Free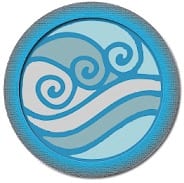 Tide Clock Free is an excellent alternative to the apps above. What are its features?
By analyzing the data of various tidal stations, it will show you the exact time of the upcoming tides. As for the forecast, you will be able to find out tide time for the next month. In addition, every user can add multiple tidal stations for monitoring. As a result, it will be so easy to switch between locations.
Let's review the app's distinguishing features as well. Well, the app can be used offline but for some time after initial installing. Secondly, it supports several measuring units. Finally, both monthly and daily tide times tables are so easy-to-read. That's why the tool worth being tried.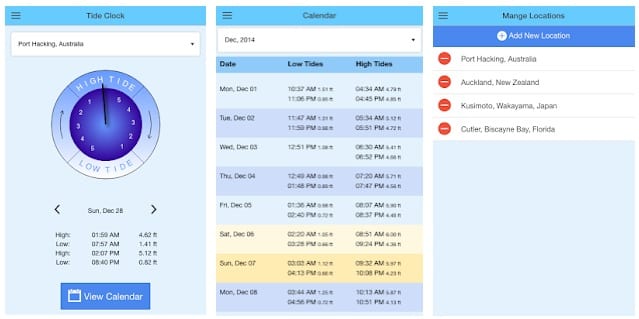 4. i-Boating:Marine Navigation Maps & Nautical Charts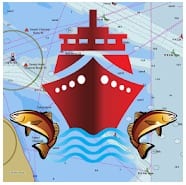 If you are a sailor, we want you to pay special attention to this very app. Apart from the tide time tables, it contains so many interesting things to discover.
However, let's start with the feature you are interested in the most. Thus, the i-Boating app will let you track tides and currents by viewing them on a map. Viewing predictions on these parameters will also be available. If you find this option appealing, the app is what you need.
As for the other features, the app is so appreciated for its navigation in oceans, seas, and lakes. You got it right! GPS will guide you as if you were driving a car. Voice Prompts will be the thing that will help while auto-following. Additionally, you will be provided with all the information required via Coastal, Approaches, Harbour & Inland Electronic Marine Charts. Trust us that this app worth being installed for sure.
For your convenience, the app is capable of importing or exporting routes, recording, and sharing them. Marine Navigation has never been so easy.
Also, if you are especially interested in fishing or trolling, the app is what you've been searching for. The fact is that the tool contains HD 1ft/3ft depth contour maps for anglers both in fresh- and saltwater.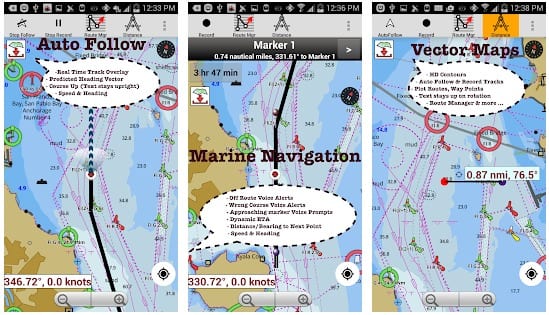 When it comes to packing a bag for a trip, one can lose sight of something necessary in it. To avoid it, we advise installing one of the best packing list apps for Android & iOS.
5. Tide Charts – Free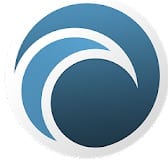 Are you in search of a simple tool with no-frills? If you are, installing the Tide Charts app will be a good idea for you.
Like the apps above, this one collects information from tidal stations and transforms it into visual charts with tide times. In case you need to monitor several stations, add them to stay aware of forecasts in every location you are interested in.
Apart from predictions on tide times, the app includes weather forecasts, lunar data (phase, rise, set), and radar information on currents. That's why nothing can scotch your plan.
What if there won't be an internet connection? It's not a problem with this app. It works perfectly even offline.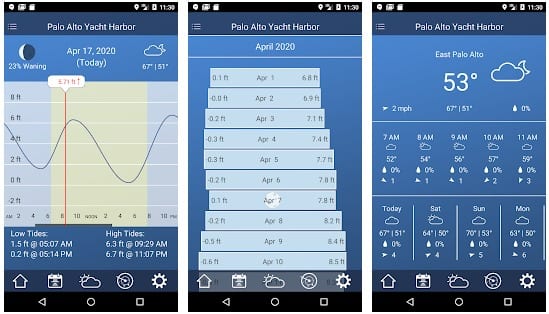 6. NAUTIDE: tides, wind, waves, solunar, marine +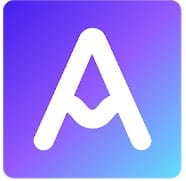 If you need to monitor numerous coastal/open water weather parameters, we highly recommend you to install the app called NAUTIDE. So let's talk about the features in detail.
First of all, the app will provide you with comprehensive data on tides, including predictions on the tidal coefficient, high and low tides, their height, and so on. That sounds cool.
Apart from this, you will be able to find out the height and direction of the swell, wave period, etc. We guess it will be especially priceless for surfers.
Are you fond of fishing? Here is a feature for you. The thing is that the app is capable of considering solunar periods. It allows users to find out the best time for fishing. As a result, you will be provided with hourly as well as month fish activity. That's a brilliant feature, isn't it?
Besides, you will be able to track many other weather parameters: wind (speed, gust, force), cloud cover, visibility, humidity, dew point, and so on. Finally, viewing both air and water temperature will also be possible.
We can't imagine tide time apps without data on sun/moon rise and set. Of course, this application includes astronomical data on these parameters.
One more feature that makes the app fantastic is a barometer indicator. It analyzes data received and transforms it into charts with hourly pressure predictions. Apart from this, the fishing barometer is also supported here. That's why we and thousands of users worldwide suppose that the app is a real treasure.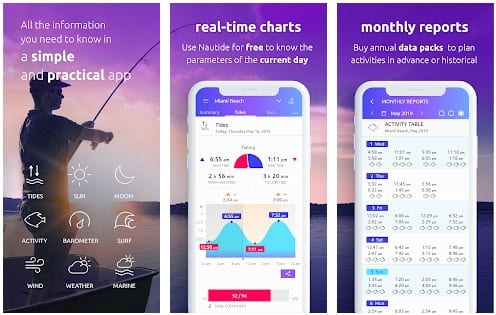 7. Fishing Points: GPS, Tides & Fishing Forecast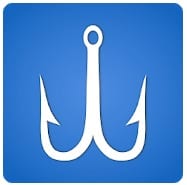 When it comes to talking about fishing, we can't help mentioning the app called Fishing Points. Moreover, it includes tide time tables.
Well, with predictions of this very tool, you will always stay aware of tide times. All the data will be automatically updated and transformed into tables with hourly forecasts.
Apart from this, the app contains weather forecasts for both coast and sea. It includes extensive data on temperature, wind, currents, waves. Talking about solunar forecasts, you will be provided with access to sun/moon rise and set times, their positions, moon phases, etc. Finally, in case of severe weather conditions, the app will send you alerts. That's why you may rest assured.
As for the features for fishermen, the app is a storehouse of knowledge. The thing is that it includes fish activity predictions as well as forecasts on feeding times (both major and minor).
What is more, it can be used as a fishing log. To be more precise, you will be able to save fishing locations as well as record trolling paths and trotlines. GPS maps will be the thing that will help you in this matter. These routes and fishing points can be easily shared via social media, email, or messengers. If you need to import them as a kmz or gpx file, the app meets your requirements as well. We guess that everything is possible with this application.
Besides, you will be provided with a digital kit with a compass and a measure distance tool. Lastly, when the internet connection is lost, the app's user can benefit from offline mode.
Apart from this, recording every fish you catch will also be available for you. You can save its weight, height, and even upload a photo. We find this feature quite convenient.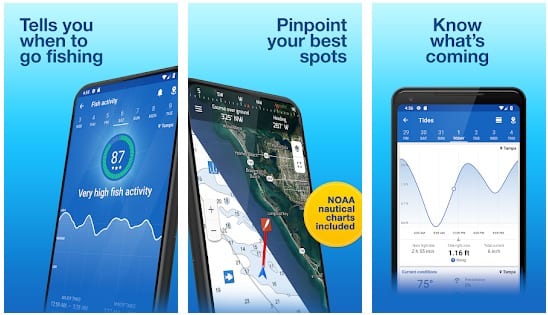 You may also like: 9 Best Hurricane Tracker Apps for Android & iOS