The weather has always been an unpredictable thing. Although we cannot predict the future, however, we have smartphones that can come to the rescue when we face all kinds of situations. Therefore, apps are great to save us whenever we want to go for a walk or sail across the ocean.
Today we have picked the most powerful ones. In addition, we want to draw your attention to the selection of Best Home Screen Weather Widget Apps, thanks to which it will be even more comfortable to check what is happening outside your home.
1. Windy.app – wind & weather
This service visualizes the latest weather forecasts. It is multifunctional, so it is used by people whose activities are related to the air and water, such as pilots, yachters, fishermen, cyclists, and anyone who is even slightly interested in the weather. In addition, you can personalize the program so that it adapts exactly to your interests.
An amazing feature is that depending on your geolocation, you have a chat room with users that can give advice or just give more details when it comes to the local weather. Also, it provides photos from places close to your location. The positive thing to note is that it is a fast, intuitive, and easy-to-navigate app. And most of all, it is one of the best weather forecasts available.
It also has airflow tracking. In addition, it is useful for tracking storms, and potential hurricanes, and planning sailing with the most up-to-date weather forecast. In addition, there are other useful indicators such as the direction, gust, and wind speed.
And you also get a sort of your meteorological station. In addition, the program uses neural networks to calculate local forecasts. Plus, it shows information from more than 15 sources and allows you to conveniently compare data.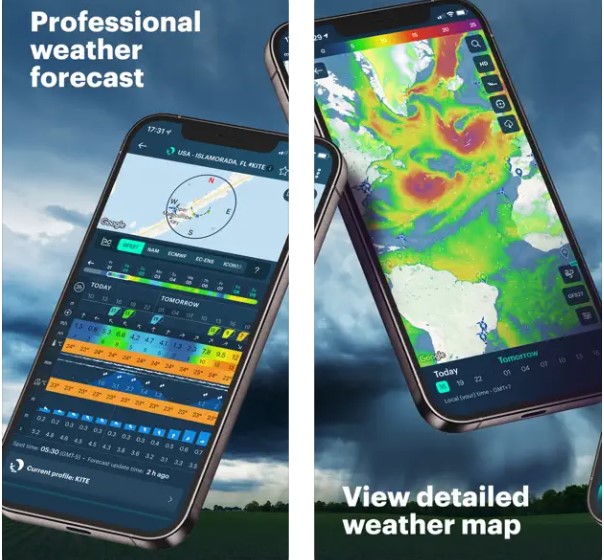 You may also like: 9 Best Hurricane Tracker Apps
2. Clime: NOAA Weather Radar Live
This is a program that combines radar, weather forecast, and many useful resources. The app provides basic information for a day, two weeks, month, and year. It displays cloud conditions, sunshine, and rainfall in the form of pictures and text, the temperature is given as actual and felt.
There is also wind direction and strength, atmospheric pressure, percent humidity, and the percentage chance of rain is also given. Like other resources, there are not only temperature forecasts, but also lightning and rain forecasts. In addition, you can watch for a minute-by-minute forecast of rainfall. Also, there is satellite data on fire danger zones.
And there are interactive widgets for the main menu. Also, you can display the data on your watch or download the app to your tablet. There is information about road visibility. And all the data can be customized. Also, there is an easy location search and world map view. And you can set degrees in both Celsius and Fahrenheit.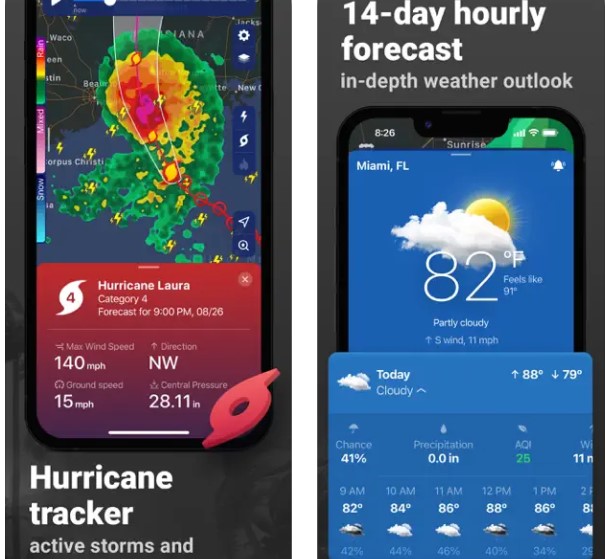 3. Weather – The Weather Channel
This is one of the most accurate and popular programs in this segment. It is great for determining the weather for every hour, for 15 days, and on the weekend. In addition, it lets you know the real and feels temperature, wind speed, and UV light intensity. You can also know weather information from anywhere in the world to keep track of the weather in different cities.
In addition, it is perfectly optimized for your diverse devices. There are also handy widgets that can fit on any home screen. It will alert the user of the weather getting worse, thanks to customizable notifications. Besides, there are specific data on the type of visibility, moon phases, humidity, UV index, dew point, the daylight length. In addition, there are hourly data.
Moreover, iPhone users do not even need to download the application, because all data from this service is provided in the standard Weather application. So, we can conclude that this is an option for those who are looking for simplicity and efficiency.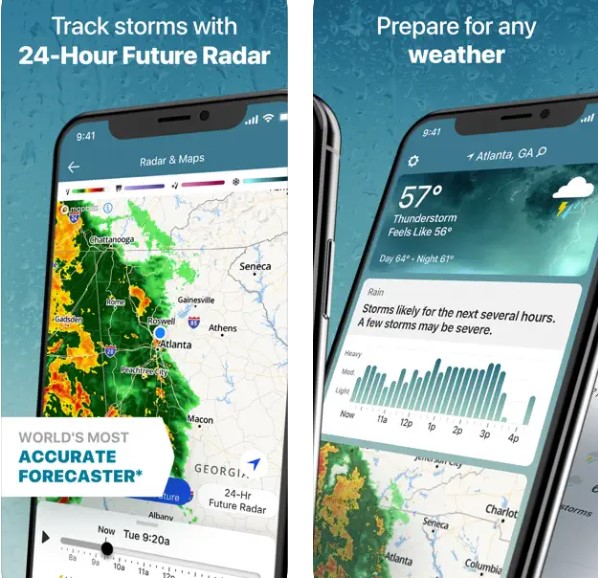 4. AccuWeather: Weather Alerts
This program updates weather reports in real-time. Not only does it show you an accurate weather forecast for the day, but it also sends you notifications about upcoming extreme weather conditions. You will see weekly, daily, and hourly weather forecasts. In addition, it helps you choose what clothes to wear, sometimes suggest you take an umbrella and remind you to change the tires on your car.
The program will also give accurate air temperature, thanks to advanced built-in technology. At the same time, the weather radar will warn about precipitation, wind strength, and humidity levels. In addition, AccuWeather has a built-in map that allows you to monitor the weather in real-time in your region, country, or an entire continent. The service provides country maps that are updated in real-time.
This feature is valuable when you decide to travel. It will also tell you the intensity of the UV light if you are going on a beach. As well as there are sunrise and sunset times.
Also, the app has customizable notifications that will pop up informing you of the day's summary or at any convenient time. In addition, the app offers nice widgets for your gadgets on the home screen. Plus, you can also open the app on your Watch.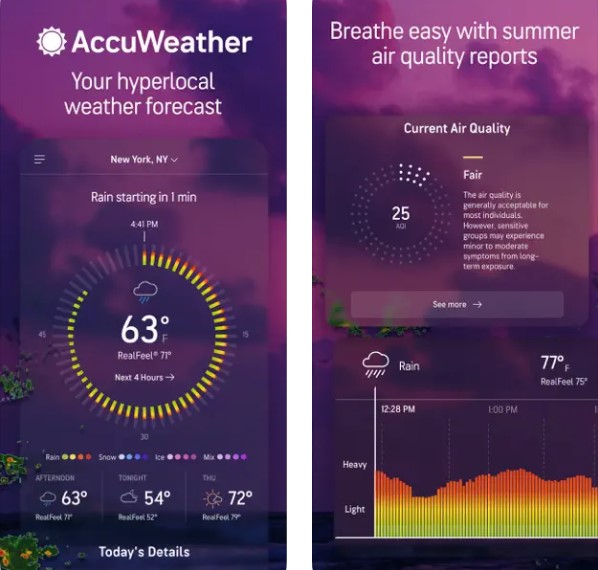 You may also like: 9 Free Outfit Planning Apps (Put Outfits Together)
5. WindHub: sailing weather
If you want to have a nice water activity, you will need to check the weather and wind conditions. Thanks to this program, the data will be presented in one comfortable application. First of all, all information is displayed on one screen. There is both a calendar with dates and temperatures. There is also wind movement and atmospheric pressure.
In addition, you can put a point on the map and so you get the data specified in your area. The animation map shows the coming rainfall, temperature, movement of clouds, and wind strength. Those who are on the coast of the sea or ocean will be able to see information about the strength of waves and streams.
In addition, this app can be used even in poor internet connection conditions. Also, the app has widgets for the home screen. The widgets deserve special praise, as they beautifully visualize the weather changes.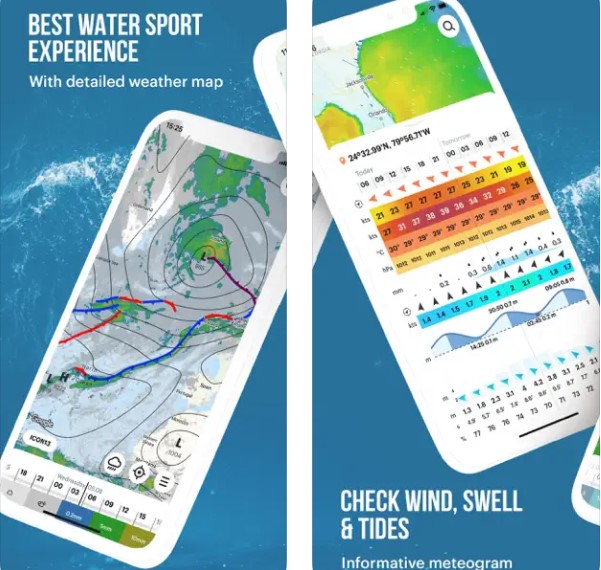 6. Windy.com
This is another super large-scale project that will tell you more about air flows. It also offers a high level of area details, which is helpful during travel planning. As well, the high resolution and the most accurate forecasts available on the Internet make this app a basic attribute of everyday life.
Here you can conveniently monitor wind direction, cloud cover, air temperature, rainfall, atmospheric pressure, and other weather indicators in real-time. In addition, it is possible to set weather alerts for the region you specify and your GPS location. This app has established itself well in sports and outdoor activities.
After all, wind, rain, clouds, air, and water temperature data are collected here and you can easily navigate between them. In addition, the program has versions for all devices, including watches, on which the weather data is displayed in an even more convenient format.
Also, there is a scale on which the time and temperature are displayed. You can also get the most accurate forecast for a day, two days, and much more.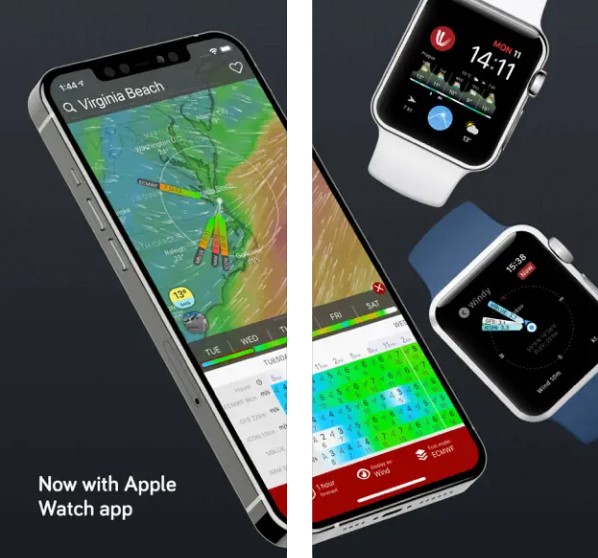 You may also like: 9 Best Car Dock Apps for Drivers
7. Weather Underground: Local Map
This is a fascinating project which is a community of enthusiasts around the world who are willing to share real-time data from more than 180,000 weather stations. This approach makes the forecasts as detailed, accurate, and unique as possible. After all, the data is taken not only from meteorologists but also from ordinary eyewitnesses.
In addition to the usually detailed forecast, there is an astronomical one. That is, you can find out the sunrise and sunset. Also, there are data on the moon phases, which give you an overview of the day's duration. There is also information on the length of visible light, the time of sea, and astronomical twilight.
And most importantly, there are wind speeds and movement available. In addition, it has configurable widgets on your smartphone screen that show you the data you are looking for. It also supports day and night modes. Moreover, there are special report data for sports lovers.