If you like both experiments and fun, this very post is what you've been searching for. The thing is that modern apps are capable of changing your face beyond recognition. Nine times out of ten, the results are screamingly funny, making the whole company burst into laughter.
We have chosen the best funny faces apps available on the App Store or Google Play. They differ from each other in their features and functioning principles, so at first, you should become familiar with each of the app. To do this, you have our post at your fingertips.
Nevertheless, no matter which app you will install. We guarantee that each of the apps will be a great way to have a splendid time with your friends.
1. FaceApp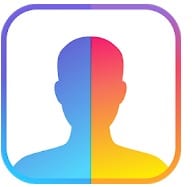 To begin with, let's review the app that is popular worldwide. Though FaceApp is considered to be one of the most powerful photo editor apps, it will be meet your requirements as well.
Well, let's start with the features that will make your face funny. First of all, it will be the Age changing. With only several taps, you will be able to turn yourself into a young, mature, or elderly person. That's why you will be able to renew your youth or check what you will look like in 40-50 years.
Then goes changing a gender. Thus, the app turns its male users into women and vice versa. That seems impossible, but the app perfectly copes with even these difficulties.
Also, it must be mentioned that in both cases, your new look will be absolutely realistic.
Apart from this, the app includes an AI system that is capable of choosing hairstyles and colors that will suit you the best. As for men, the app has a nice collection of beards and mustaches that can be also applied to your photo. Though these features are so amusing, you will be agreeably surprised by the app's choices. Who knows, maybe the app will make you change your style in real life.
One more feature that you will like is the ability to add a tattoo to a photo. We are sure that you will also like the result.
As for the basic features that the app contains, it will allow you to make your selfie perfect. By making your smile broader, adjusting the lighting, and replacing a background, you can easily turn your photo into a masterpiece.
Moreover, if you are a Premium user, the app will provide you with tools for applying makeup (both natural and evening). Besides, you will have access to the app's colorful filters that are so appreciated by users.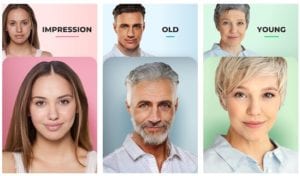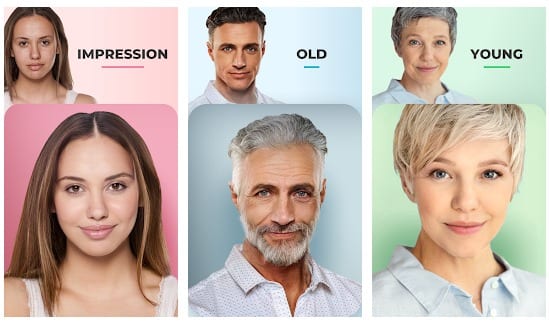 2. Reface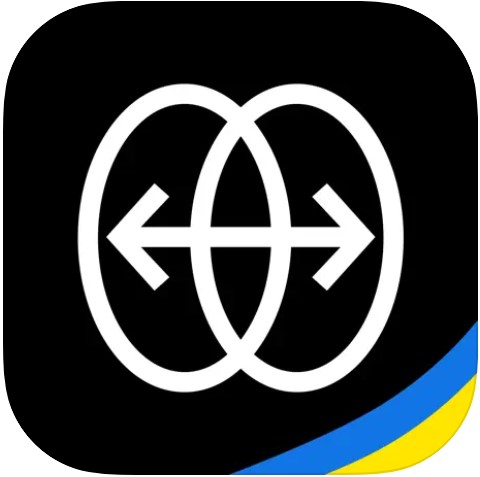 You have probably used face-swapping apps. After all, you can have some fun using them.
If you want to have fun with your friends, Reface is the app that must be installed on your device.
Right after opening the app, you will be able to use any of the suggested features. By the way, you cannot imagine how wide the choice will be. You can apply different faces, or combine faces and make them do the things you want.
There are also many categories to make it easy to navigate. For example, there are sections for fans of anime, cartoons, memes, and so much more.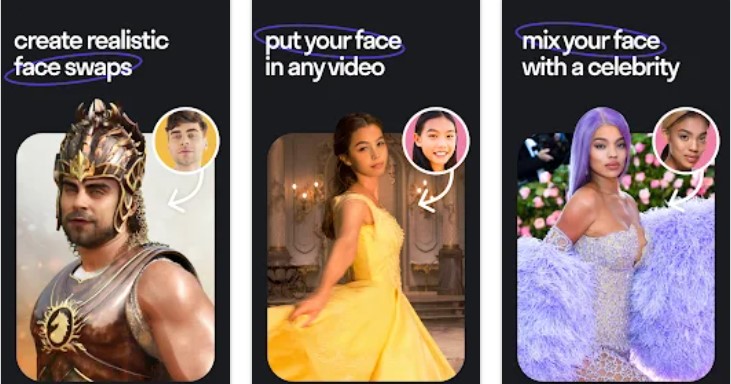 You may also like: Dancing apps with your picture
3. Banuba – Live Face Filters & Funny Video Effects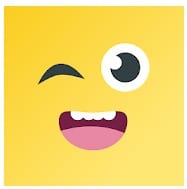 One more app with built-in amazing masks is called Banuba. By installing it, you will also enjoy so much fun.
The app will provide you with access to many masks of various themes. It can be movie characters, celebrities, animals, and so on.
If we compare this very app with the previous one, it's obvious that Banuba has fewer masks. Nevertheless, they are so appealing, that you will like them at first sight.
One more advantage is that the app is capable of taking both photos and videos. This feature will make your content even more attractive.
Apart from this, after applying some of the masks, you will look just like the character of an animated movie. That's really a miracle!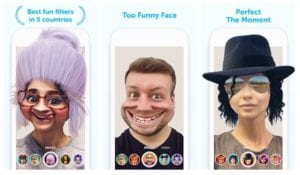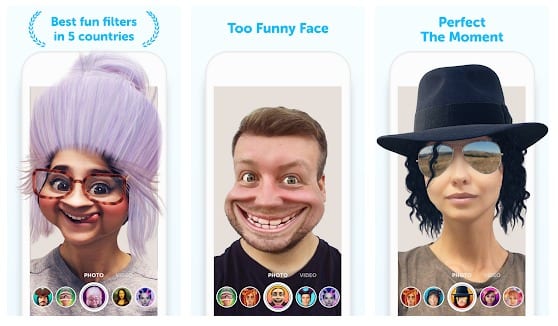 If you want to make your selfie to be drawn by a cartoonist, install one of the apps to cartoon yourself on Android & iOS.
4. MixBooth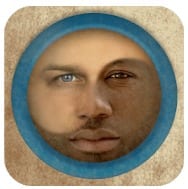 Now let's talk about one of the best apps of the PiVi & Co. Like any other app of this developer, MixBooth will also be so entertaining.
The app's concept is quite interesting. You will have to upload photos of two people. On the base of these portraits, the app will generate a portrait of a creature that will have facial characteristics inherited from this or that person. Keep in mind that the more unlike they are, the more ridiculous the result is.
After that, you will have an opportunity to share the photo via social media from the app directly. Make your friends rack their brains guessing whom you mixed.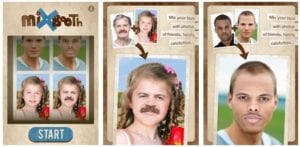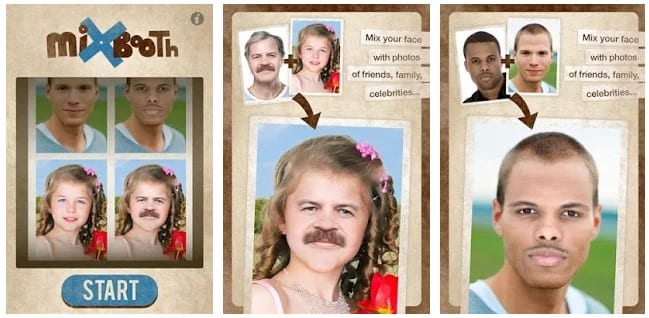 5. UglyBooth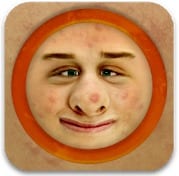 One more app from this developer is called UglyBooth. Because of its features, we can't help adding it to this list.
To begin with, you need to load a photo from your phone gallery or take an instant photo with the app's camera. After that, it will take only a few seconds to make you or your friend hideous on a photo.
The thing is that the app will add some imperfections to your photo by enlarging a nose and making a face full of pimples. There is more to come. You (or your friend) will also become an owner of small crossed eyes. Fortunately, it will be only on the photo but not in real life.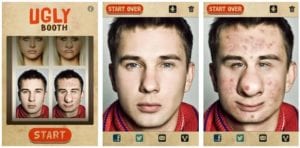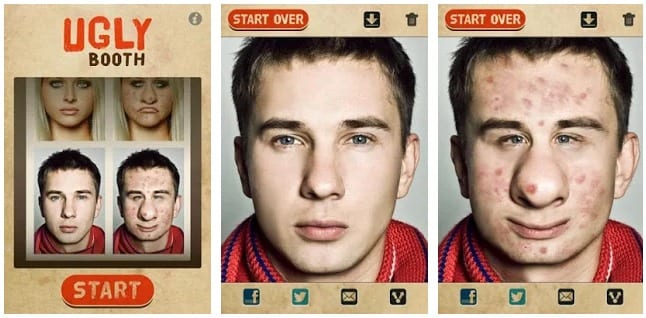 6. Robotify – Be a ROBOT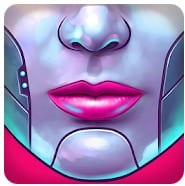 There are many assumptions that cutting-edge machines are going to enslave the human in the future. If you want to make yourself similar to robots on a photo, here is the app for you to install. It is called Robotify.
These predictions are just guesses, so now it's high time to have fun by turning yourself into a robot on a photo.
The app contains dozens of templates. Each of them has one of the elements like a robot has. As a result, you will be able to add glossy finishes, piston-powered protrusions, and so on. But that's not half of the story.
By it, we mean that the app also supports recording videos. Moreover, you will be able to adjust sound and animation effects to impress your friends for sure. What is more, your virtual power will brighten your mood for 100%.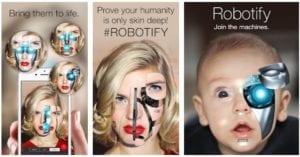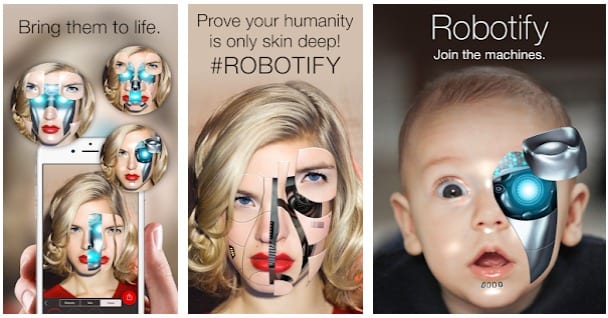 7. Face Lab – Funny animal face changer, old face app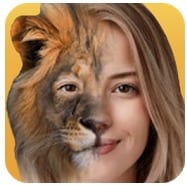 One of the most amazing funny face apps from Google Play is called Face Lab. We highly recommend you to install this app that can surely make your day.
Well, let's review the app's features. First of all, it is powerful enough to turn a person from a photo into any animal available. Besides, you will be able not only to choose an animal but also to adjust the degree to which you want to look like a human and an animal.
When it comes to using the Time mirror feature, you will be admired as well. The app will generate a precise copy of yours but in the vale of years. The result will be realistic, which is so important. Furthermore, you will be able to create a collage comparing two photos (now and in the future) at the same time.
One more feature that will make you excited is called Past Life. With this app, you will be able to see how would your photo look approximately 100 years ago. Clothes, accessories, hairstyles, background… Everything will look like in those epochs.
Finally, one more thing that makes the app outstanding is Celebrity Look Like. The app will scan your face, analyze facial characteristics, and find the celebrity you look like. Moreover, this connection will be shown step-by-step.
All these things will make your content amazing. And of course, you will smile cheerfully while using this app.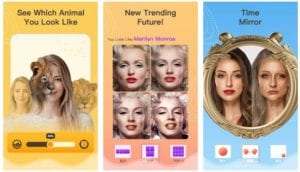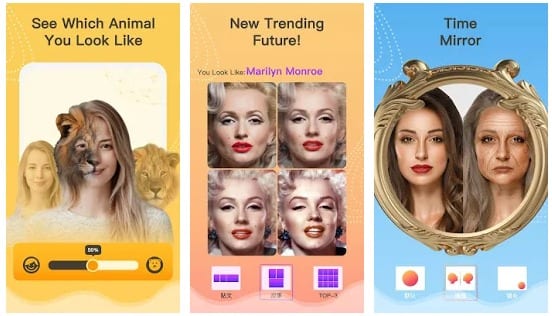 8. YouCam Fun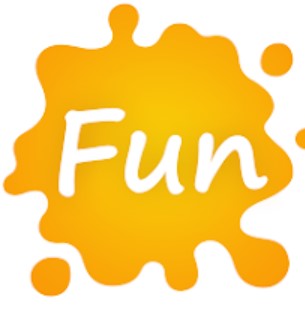 As an alternative to the App Store, we offer you to install YouCam Fun. It is also full of joy.
Well, like in the previous app, you will be able to see yourself when you are elderly. Also, the app will find a celebrity that will be so similar to you. Finally, you will have a chance to find out what would your photo look like many years ago.
What about distinguishing features? To begin with, the app contains different filters and stickers that you can apply to the photo.
One more feature that you will find awesome is a photo with filters in real-time to make sure everything looks great on you.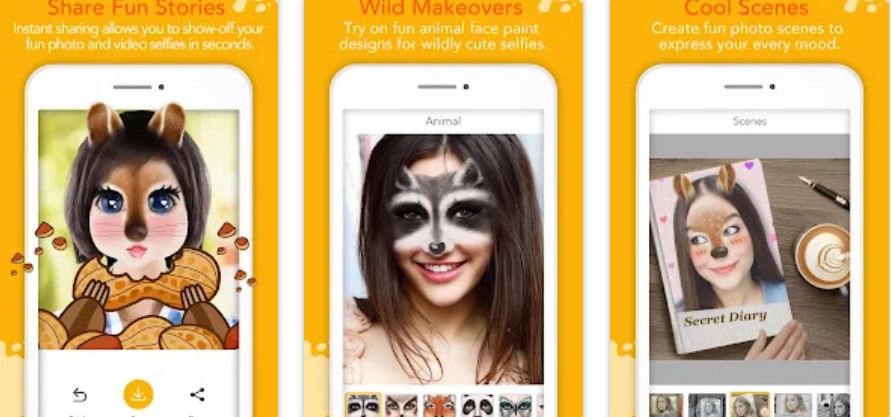 9. Face Changer 2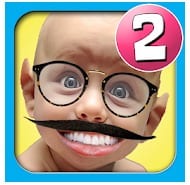 The Face Changer 2 app will be appropriate for those who are searching all-in-one app. However, it will be available only for Android device users.
The app comes with a bunch of cool features that will make you laugh.
Let's start with Face swapping. As you know, it is so popular nowadays. Swapping faces with your friend or any other person will be side-splitting.
When it comes to using the Morph Faces feature, you will be able to reshape your face. The choice of options is so wide. Thus, the app is capable of making your face alien, fat, skinny, monster and so on. You can't imagine how funny it will be.
Moreover, you will have unlimited access to the app's great gallery of face parts. You can choose everything from there (crazy eyes, noses, hats, hairdos, scars), apply them to a person on a photo to turn him or her into the unreal creature of the imagination.
The thing that perfectly completes the gallery is more than 600 stickers. The choice is great. So you will definitely find something appropriate.
Can you imagine the thing that will make a photo even more absurd? Well, turn your fantasy on and choose the craziest background ever. Let it be the reason for a hearty chuckle.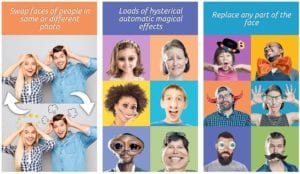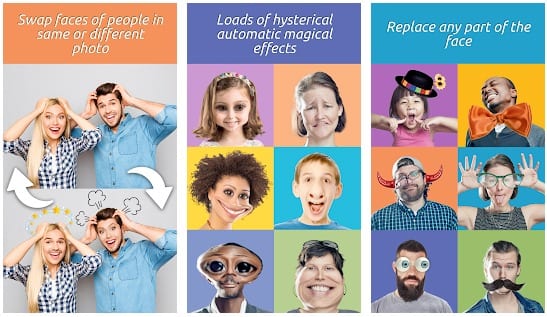 10. Face Swap Live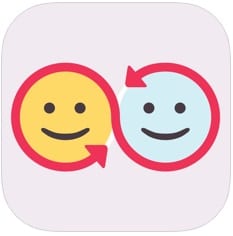 Here is a similar app for iOS gadgets. Its name is Face Swap Live.
The app will allow you to exchange faces with your friends in real-time. After that, you can take a live photo as well as video. There is no doubt that this content makes you and your followers laugh.
Apart from this, there is no friend required. Thus, you will be able to swap faces with anyone, even with celebrities. To do this, you can use the built-in search and find any world-known person you wish. Alternatively, uploading a photo from a phone gallery will be also available.
Plus, you will have a chance to use the app's masks and stickers. They will make your photo even funnier.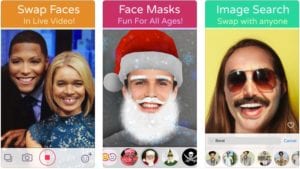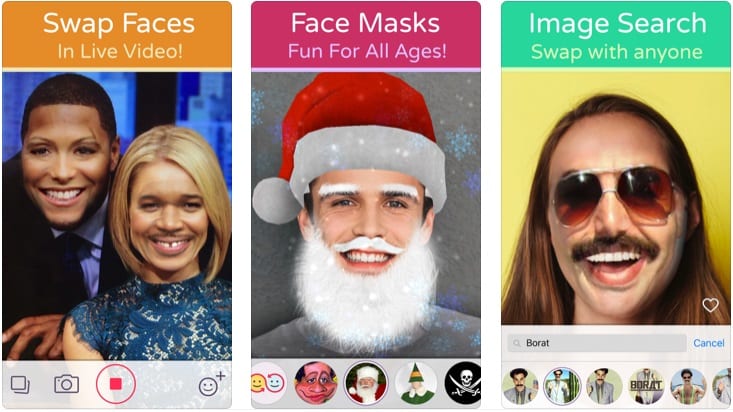 11. Photo Warp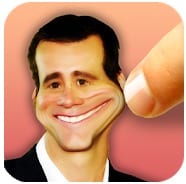 Do you need something more from Google Play? Then the Photo Warp app is a must-have for you.
Believe it or not, but warping a person on a photo will be so funny. Move your finger in any direction of a screen to distort, stretch, making parts of a body smaller or bigger. It will make you laugh so much.
For your convenience, zooming a photo in and out will be available.
One more thing that you will like is that the app is powerful enough to animate your warps into GIFs.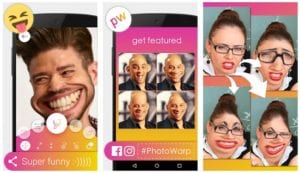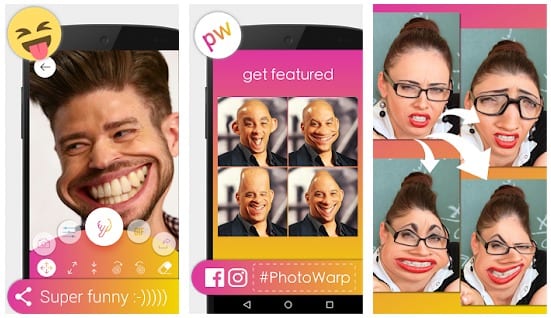 12. Face Distortion – Screw Up Your Face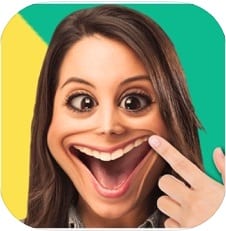 The last but not least app is from the App Store. It is called Face Distortion.
The way it works is the same. We mean that you will be able to absolutely distort your face by warping a photo. The total mess up will be the reason for helpless laughter.
To make a photo funnier, the app's collection of stickers is something that worth being used as well.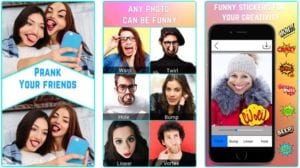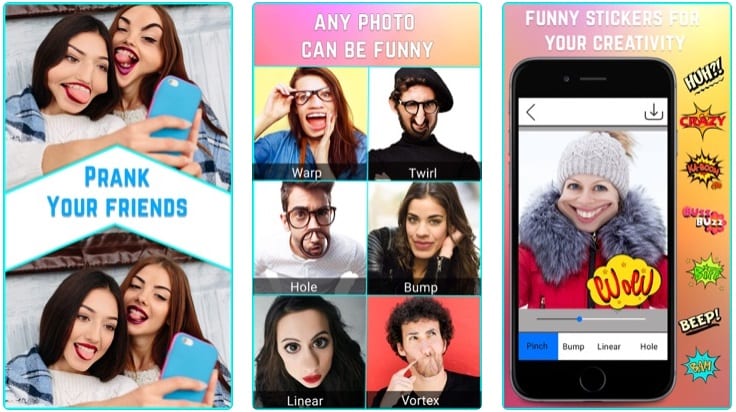 You may also like: 6 Best body swap apps for Android & iOS