What are the best idle games for the iPhone? Well, let's figure out at first what this is all about. The hint is given by the name of the genre itself. This is where you tap on the screen, get a small reward and repeat the process, making it more efficient and profitable. In addition, many of these games work automatically, even when you do not play them.
These idle games have even managed to adapt large-scale RPGs for those who can devote only a few minutes a day to games. We have compiled for you a selection of idle games that deserve your attention. In the meantime, for those who like different fantastic and captivating games we recommend taking a look at the selection of the Best MMORPG Games.
1. Cell to Singularity — Evolution Never Ends
Cell to Singularity is great for those who are playing idle games for the first time. This tapper is about evolution and it shows the basic mechanism and principle of the majority of such games. There is endless pumping and convenient auto-tapping and restart for the sake of progress.
The developers are not escaped from the collection of game currency in your absence. Also, of course, there are various boosters, which you can purchase, even for real money. Well, one good thing about Cell to Singularity is that you can play it comfortably avoiding investing your own money.
That means you will not have to donate money to improve your character, so you will feel comfortable playing the game. However, the beauty of the clicker is more than that. Perhaps no other game shows the process of evolution in such an informative and entertaining way.
The developers showed the whole chain of development of life on Earth from the formation of our planet with the first unicellular organisms to the birth of man. And even the most insignificant element of this chain has its own special characteristic.
In addition, for all creatures, there is a simulated environment where they can be observed. This unique Idle is suitable for all lovers of zoology. After all, here you will be able to see the evolution of all possible animals.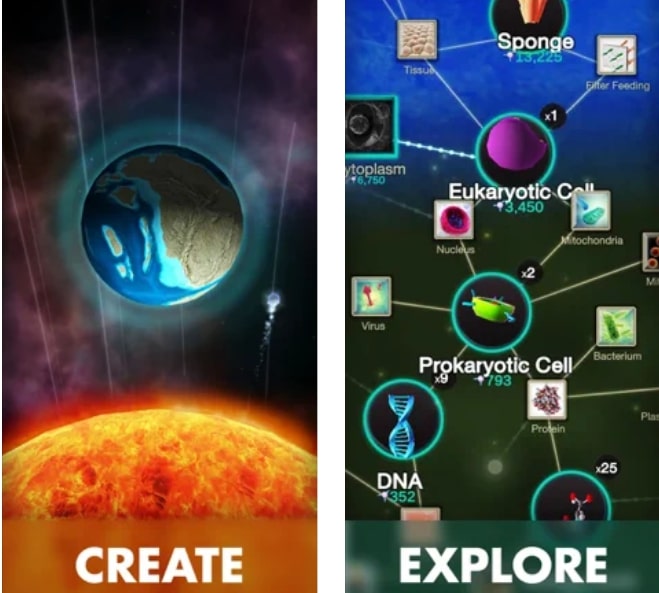 You may also like: 14 Best Medieval Games for Android & iOS
2. Clicker Heroes
Clicker Heroes is a classic of the idle game genre. It sends us on an endless sweep of locations from all sorts of evil. However, it does it in such a way that you want to return again and again. There you will have to mine gold, unlock new heroes, increase your damage, pump up your skills, and collect rubies.
In addition to this, you have to fight. You can defeat evil bosses. This will allow you to improve your strength. After you can repeat everything from the beginning to earn new achievements along with new features that the application offers. This is an excellent background tapper also because there are a great variety of different monster characters.
So you will be able to choose a character according to your tastes. In addition, there are also a lot of interesting maps where the battles will take place. This application is similar to the good old games. And also, you can play this game with your friends.
And later you can even compete on the leaderboard. Check out who will get the higher places. The latest update allows you to fight in clans. You can help its development by simply fighting with your friends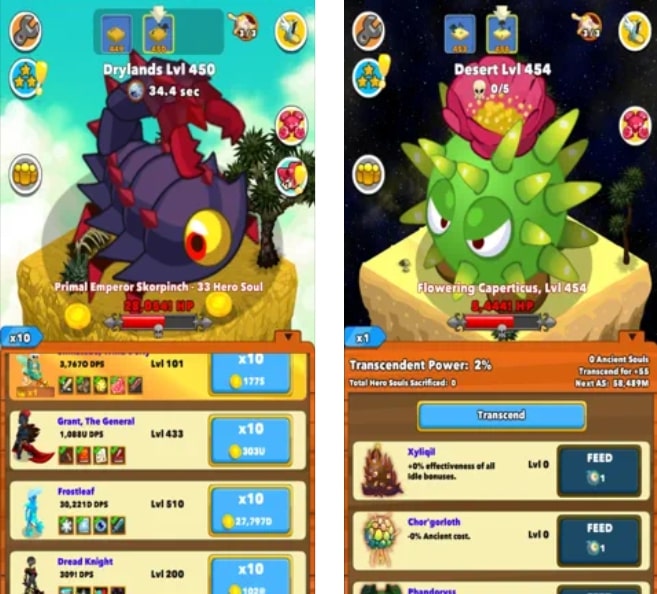 3. Realm Grinder
Realm Grinder was released in 2015 on the browser site Kongregate. Over the past two years, the development has not stopped, and its popularity has been growing. That is why the developers thought of a mobile app. So, Realm Grinder is a very large-scale idle that surprises with new features even after six months of active gambling.
The game, first of all, attracts with its variety of choices. In the beginning, you are given a personal kingdom and a choice of ruling path. So you can take "good", designed for active play with clicks and spells, or "evil" which is passive and with an emphasis on construction. Later the universal neutral will open.
Each is subdivided into three choices of races: elves, humans, and angels on the light side, and demons, undead, and goblins on the dark side. Depending on the chosen race, the appearance, the set of spells, and the buildings to construct your kingdom change. In addition, it is filled with various medieval attributes.
Three races are given for each playthrough style initially, and each has its own gameplay along with rewards and fun achievements. However, the real heat begins when the mercenaries come into play, allowing you to combine spells and upgrades from different races.
In addition, Realm Grinder also captivates with its classic graphics. Users have noted that they spend hours in the game just tapping on the screen to see how much they can develop their kingdom. Also, it is worth mentioning that you can play this game in the absence of an Internet connection.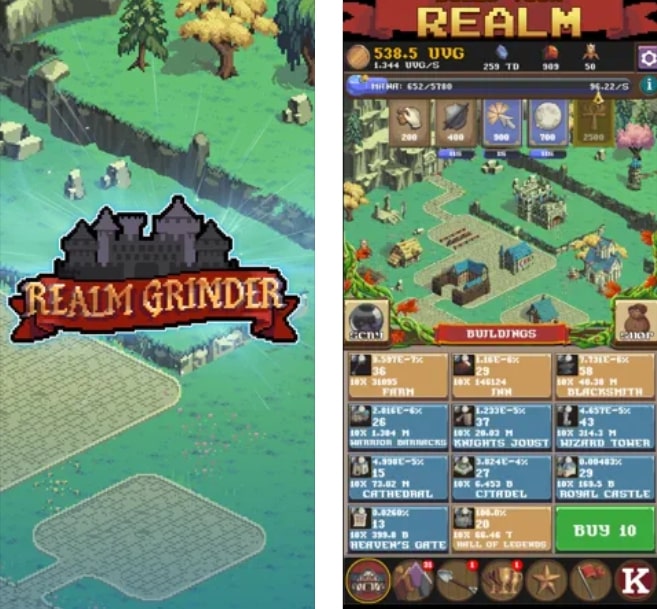 4. SpongeBob's Idle Adventures
SpongeBob's Idle Adventures is a standby game based on the popular Nickelodeon franchise, SpongeBob SquarePants. So you will be able to visit familiar locations, only in an alternate reality. According to the plot of the game, Patrick broke the time machine, and all of the heroes are scattered to different realities.
From now on we need to help Bob and his friends to come back to their original reality. Also, all characters vary in their level of rarity. Their level of production depends on this. The gameplay will be vertical, and the only thing we have to do is tap on buildings to collect different currencies.
This way you will be able to assign managers to manage Krusty Crab, Chum Bucket, and other iconic Bikini Bottom locations. In addition, the alternate universes feature brand new versions of the characters you know and love.
So if you are a fan of this cartoon series, you will definitely be able to enthrall yourself for a couple of hours. And of course, the whole game will be accompanied by familiar sound effects. You will enjoy clicking on all these sea buildings.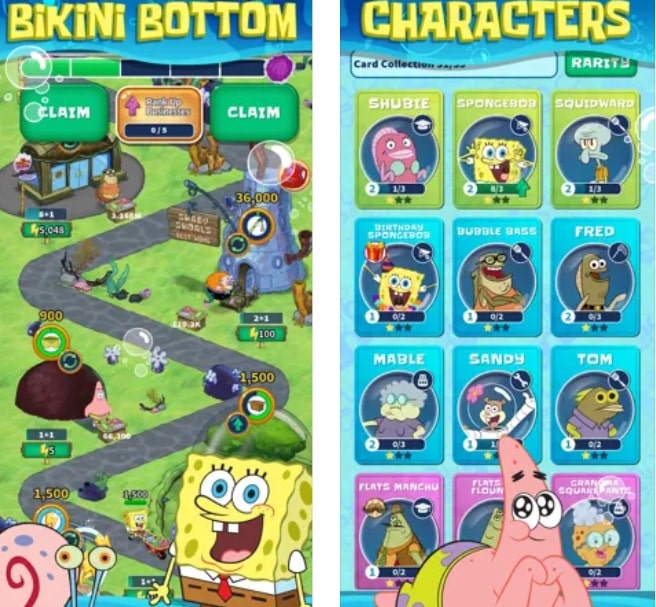 5. Universal Paperclips
There are almost no graphics in Universal Paperclips. Because the basis of this clicker is pure text. However, this does not prevent it from ranking among the best projects of recent years. So you will be able to play as artificial intelligence, whose job is just to rivet staples.
To do it faster, you earn money and improve your production until you become a leader in the stationery industry. The main highlight of Universal Paperclips this Idle game is based on a mental experiment called "Paperclip maximizer." It assumes that a universal AI, even with the most harmless initial target, can sooner or later completely destroy humanity.
In fact, at some point during the game, this happens. The AI will work until all the matter of the universe is recycled into staples. Universal Paperclips is a tapper in which the player can watch the paperclip-making process for hours.
Numbers and indicators will run across the screen. As production progresses, the gameplay becomes more complex with new ways to create stationery accessories.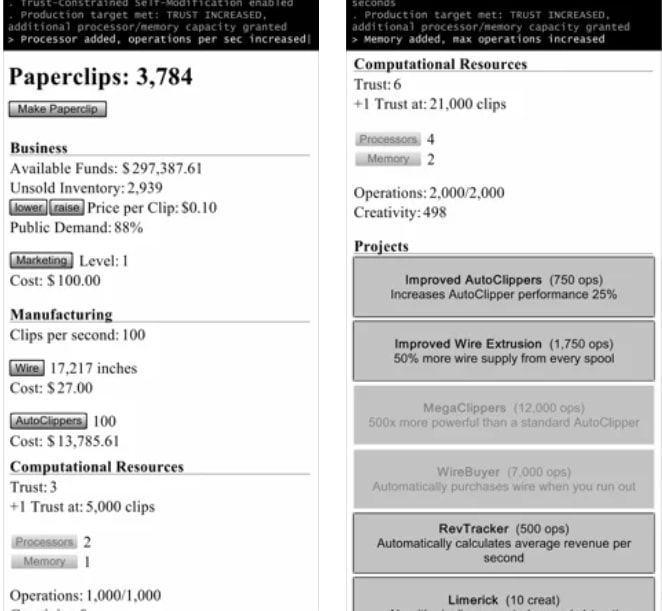 You may also like: 7 Best Clue Game Apps for Android & iOS
6. SPACEPLAN
SPACEPLAN is a kind of ironic reference to A Space Odyssey. This application is made in a nice minimalistic style. In addition, it is full of electronic music. It is also a great option for those who have never touched an idle tapping game before. SPACEPLAN has its own unique storyline.
So the player finds himself on an unknown satellite moving around a mysterious planet. You need to create and launch into orbit probes and devices made of potatoes, using tapping and time. Also, you need to solve the mysteries of the galaxy or simply pass the evening in the game.
This is the best text-based sci-fi clicker that will occupy your mind. It is interesting and the fact that the game is passed in just a couple of days. That is why you will not spend a lot of time, but you will spend it with pleasure. You have hardly seen something like this before.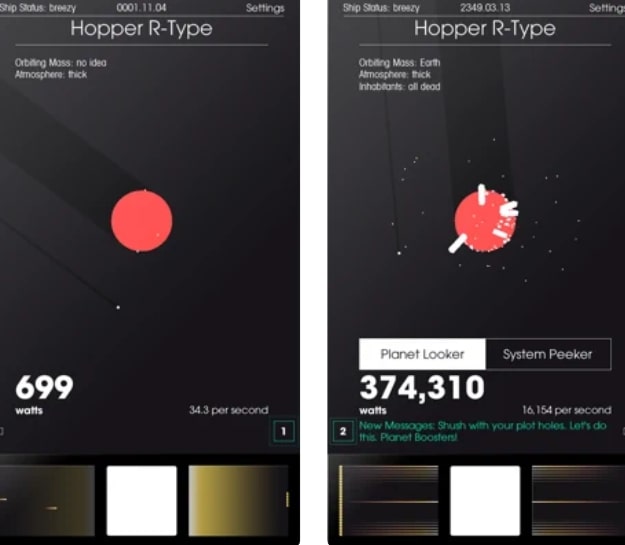 7. Steampunk Idle Spinner
The task of the game is to assemble a constantly working mechanism consisting of gears. The more complicated the mechanism is, the more money you will earn. In the beginning, you spin the gears by yourself, but after a certain amount of time, you can slightly automate the process.
This comes with increasing the level. However, once in a while you get to the point where you do not have time to turn in an item and pick up the coins. So you need to be more careful so you do not lose so many points. All you need to do is to listen to the assistant, who will help you to build the mechanism and collect coins.
The assistant here acts like an old professor. Also, you will need to improve the mechanism to get more money. The funny thing is that you will be making money by improving the machine, which is also making money in this game.
The game has fun, simple graphics that are accompanied by a catchy tune to which you build your car. You will be surprised at how huge a machine you can make. Pretty soon it will no longer fit on your smartphone screen.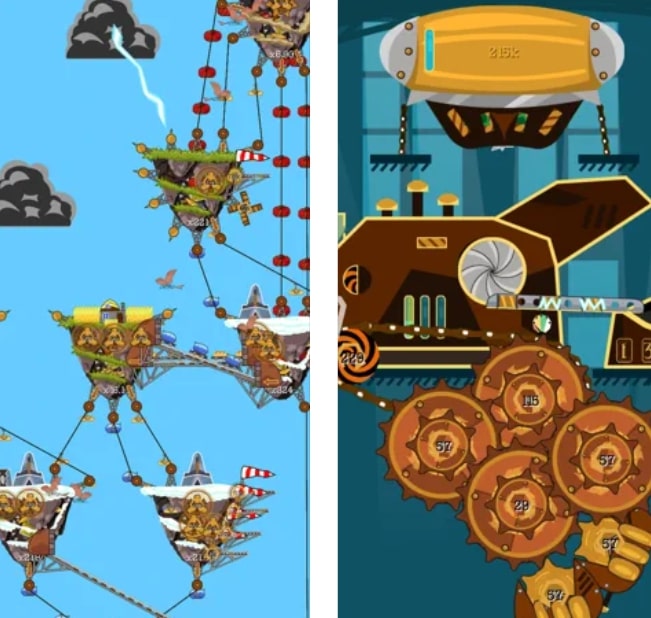 8. Cats & Soup
Cats & Soup is a cozy app with furry chefs. The main goal of the player is to help the cats make soup, which they then sell. With the money earned, you can improve the home of the cats, buy another kitten worker or upgrade the workplace. There are many breeds of cats in the game, each with a unique skill in cooking.
For example, some kittens are masters at slicing carrots, while others are quick to peel potatoes. Each cat also has a happiness scale, which can be filled by feeding the cook with fish. The happier the cat, the better it cooks. In addition, cats love to be photographed. If you take a picture at the right moment, the player will get coins.
Cats do not stop working, despite the weather conditions or time of the day. Besides photos and food, the cats are happy with new clothes and accessories that can be found in chests. The chests are opened after watching commercials or for gems, which the player gets for completing achievements.
This game about cats making soup is sure to please you because of the cool gathering of cats and food. In addition, the app has incredibly cute graphics.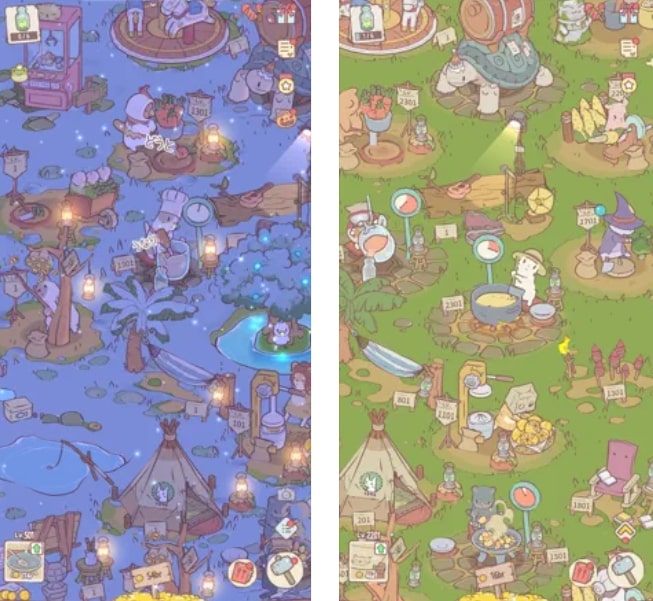 9. Idle Stonks Tycoon
Stonks Guy will help you become an ambitious entrepreneur. So, Idle Stonks Tycoon is the perfect economic simulator that will allow you to become a real boss. You will have to create a real empire and expand it in order to earn more money. You have to become a real investor by investing in different organizations in this game.
It is also possible to buy different companies. And later, you can just click on the buildings and take the profit. You will quickly become a real rich man in this idle game. The more you earn, the more opportunities you open up. You will be able to unlock new business opportunities.
Just complete various missions and you will become a cool investor. As you have property, just like in real life, you will pay taxes. There is a penalty for non-payment. Idle Stonks Tycoon is a cool rapid development simulator that will help you pass the time by tapping on the screen.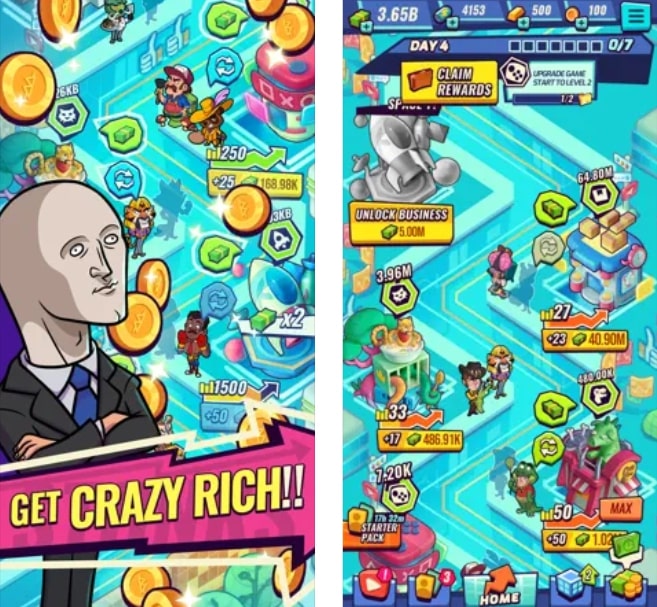 10. Idle Construction 3D
Idle Construction 3D allows you to become a real builder. This app contains a whole collection of different buildings for construction, from legendary buildings such as the Empire State building to ordinary residential buildings. All you have to do is tap the screen to build. At first, you will have few construction workers, but soon your buildings will be able to give you profits.
This is why developing buildings and completing missions are very important in this game. For example, as an enterpriser, you will be able to rent out buildings and later receive rents from them. You can add different decorations at your disposal to make your buildings look even better. It is also worth mentioning that you will be given bonuses every time you enter the game.
Do not forget to spin the wheel and get bonuses. This is ideal entertainment for those who dream or have dreamed of becoming a builder. The unique possibility of creating your own construction company, to build the greatest structures is right in one app. Operating this game is incredibly simple.
You will occasionally have to click on various buildings and machines to start them up. In addition, the developers have taken care of the unique style of the game and the excellent graphics.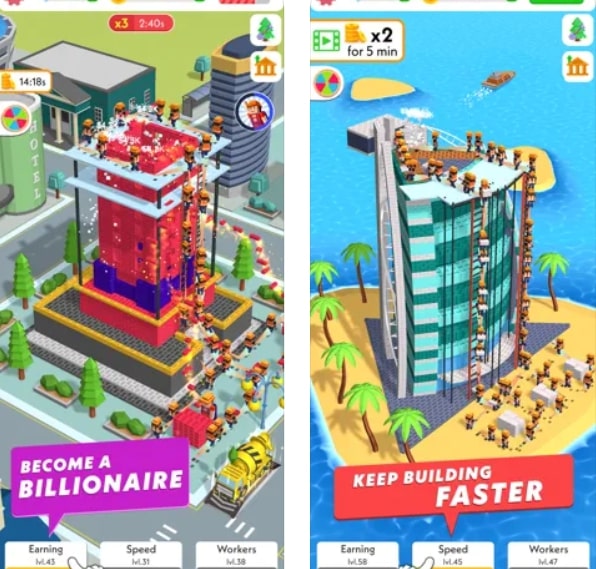 You may also like: 15 Best Match 3 Puzzle Games for Android & iOS
11. Isle Builder: Click to Survive
In this simulation game, you will meet a hero who finds himself on a deserted island. You will be helping the hero to survive. Isle Builder: Click to Survive is an application in which you will have to search for minerals, do construction and survive in wild conditions.
This game is similar to all the survival games you have played before. In order to survive, you have to find all the possible products and resources to build. Later you can even explore new lands, discovering the most colorful places on the island. Since this is an Idle game the control is incredibly simple and clear.
You just have to keep tapping the screen. The amazing thing is that the game gives you a certain choice, a strategy for survival. Your character will only be able to survive thanks to you. Then you will be able to create your own small home from the existing items.