A person is able to cope with all addictions without the constant supervision of a therapist. The main thing here is to gain confidence and a special application may help you with this. Such an illness can also be treated at home without rehab. It is important for those who quit drugs and alcohol to understand that they are not alone.
There are others who are already trying the same thing and are experiencing the same difficult feelings. So, our apps for counting down the days without bad habits can help you. In addition, we suggest you get on the path of a healthy state of the body with the help of a selection of the Best Workout Timer Apps.
1. Sober Time – Sober Day Counter
Do you have a drinking problem or want to quit drugs? Then you need to install the Sober Time – Sober Day app on your smartphone. It is a unique application that has many interesting features. First of all, there is a huge community of people just like you. In other words, people who are struggling with bad habits. That way, you can stay motivated.
There are thousands of users sharing their experiences and successes, which can be the key to your recovery. Secondly, there is a counter, not only for the number of sober days, but moreover, a counter for the amount of money you might spend on alcohol, cigarettes, and drugs.
In addition, this is a great app if you are just looking for a tool that would allow you to limit your alcoholic beverage consumption in order not to go over the line of binge drinking. These clean counters have a nice design, which in addition can be displayed on your phone's home screen as a widget.
Moreover, the clean counter keeps track of not only the days but also the hours and seconds of sobriety. So, it will help you overcome the habits by setting your own goals. The app will also give you rewards for days without bad habits.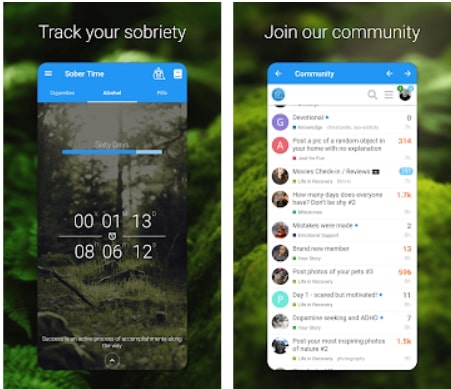 You may also like: 7 Best Walk Reminder Apps for Android & iOS
2. I Am Sober
This application allows you to keep track of the time that has passed since your last alcohol intake. The app also has a collection of information on the subject of alcohol addiction control. This app will allow you to see your progress. In addition, you will get to see the reasons why you are staying sober on the home screen.
For example, there is a counter for money and time you might have spent on alcohol. Also, you can add various photos that illustrate that a healthy lifestyle or staying energetic, for example, is more important than habits. In addition, once you have chosen a clean start time, the app will immediately count down days.
Moreover, if you relapsed, the app can give you a little encouragement. Here you can read comments from other users, how they cope and what they are going through. Also, there are plenty of helpful tips for dealing with all kinds of addictions. The app will be with you every step of the way. It will help you build a kind of sobriety plan.
This app is also great for fighting against any kind of addiction. This is where you will be able to set up several trackers at the same time. Also, this app has a total analysis that will show you how much money you have saved and how many calories you could have consumed. After all, bad habits negatively affect your health and your budget.


3. Sobriety Counter – Stop Drinking
This app is a useful assistant to help you quit drinking once and for all. With its help, you will be able to keep track of the amount of alcohol you drink and the money you may have spent on drinking. In addition, you can set specific goals to achieve them, as well as play puzzle games.
You will see all the important information on fighting bad habits and statistics on the main screen of the app. Although this app is similar to the previous ones, there is an additional feature that can add a trusted person. You can upload a photo of a loved one to the app and attach a phone number to it.
This way, an addicted person in a difficult life situation can immediately ask for psychological support. In addition, here you can monitor your health, in particular, to monitor blood alcohol, physical health, the state of sleep, and brain cells. Moreover, the application has different modes, for example, for those who want to give up bad habits gradually.
For example, you can set the amount of alcohol you can drink in a week. So you can set your own goals for which the app will encourage you by giving rewards. Here you can also set what makes you feel negative and provokes you to consume alcohol.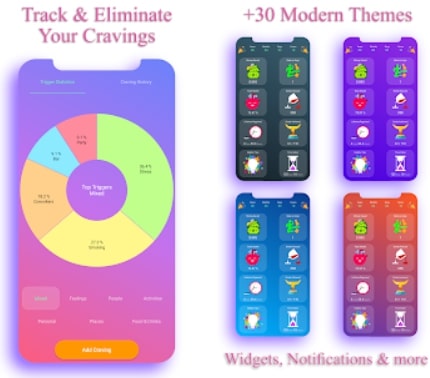 You may also like: 10 Free Body Fat Calculator Apps for Android & iOS
4. Quitzilla: Sobriety Counter & Bad Habits
This is a functional tracker that you can use not only to eliminate alcohol problems but also to get rid of any other bad habits. The app allows you to get rid of habits that degrade your quality of life. And you can also customize the interface here. The first time you enter the program, you have to choose the addiction you want to get rid of.
You are even offered a list of the most common bad habits, such as smoking, alcohol, social media, procrastination, and others. If the list does not include what you want to get rid of you can always add a habit and customize the app according to your needs.
Also, there is a section that shows the amount of time without bad habits, as well as the nearest important date, such as 3 days, a week, a month, a year without addiction.
The developers of this application claim that it is much easier to fight if you can visualize the goal of staying sober for a certain period of time, for example, the app shows the percentage of the habit in your life.
You can also keep track of the amount of money or time you have saved during the period of refusal from addiction. By the way, there is a calendar where you can reset the timer.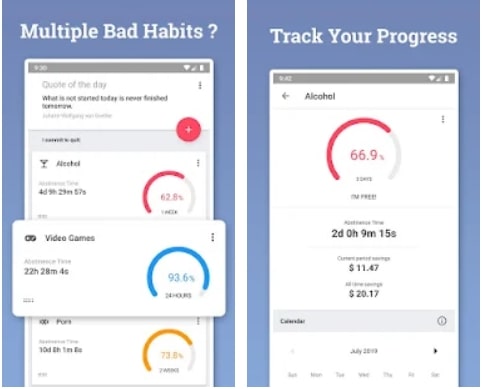 5. Sober One — Quit Casually
All you need to get rid of addiction is a handy app. Sober One is an app that will help you approach your addictions in a smart way. In fact, with a built-in calendar, you can better examine your habits and addictions. You can mark the days when you have drunk alcohol and how you have been affected. There is a special place to record your feelings and body conditions.
For analyzing your addictions, there is a special diary that will analyze your condition. In addition, there is a collection of various articles with useful tips. Also, the app offers helpful tasks that will motivate you to stop smoking, drinking alcohol, and doing drugs. In addition, there are special tests that are designed to analyze your condition.
All the data you have recorded is analyzed. And based on your condition you will receive personalized advice every day. There is a group chat for support, which consists of psychologists and people with addictions just like you.
Moreover, users note that all of the tips are scientific but presented in an accessible way. In general, this app not only counts down the days but also greatly motivates to progress.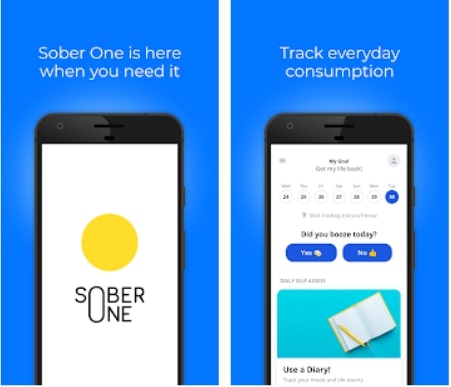 6. SoberApp – Alcohol Calculator
Sometimes we need to struggle with addiction not only by counting down the days without alcohol but also by studying what we drink. This is a program for keeping track of alcohol consumption, recording what you drink, and calculating the alcohol content in your blood.
This app will help you better manage your drinking habits and possibly change your attitude toward alcohol. In addition, there is an option to record the cost of drinking.
So, the app works as follows. You enter some of your data, such as gender and weight, and then choose a drink. It is interesting that there are more than 3 thousand alcoholic drinks in the app's database.
Then SoberApp – Alcohol Calculator calculates the approximate blood alcohol content and indicates the time after which you can drive. This way you can better control the percentage of alcohol you drink and keep your addiction under control.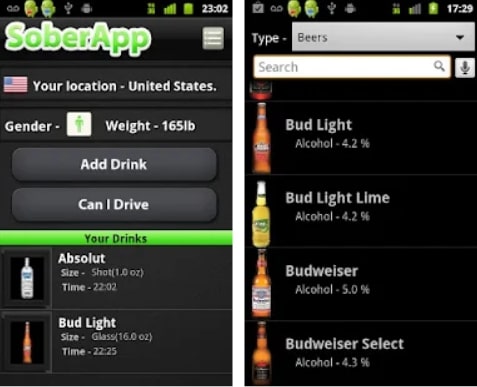 You may also like: 13 Best Eye Exercise Apps (Android & iOS)
7. Coach.me – Habit Tracking & Building
The last app on our list is also an addiction counselor. In the beginning, you set yourself a goal to which you aspire. For example, the app has the following goals: staying in shape, improving relationships and happiness, getting rid of addictions, and so on. All in all, this app is another tool that allows you to set goals and keep track of them.
The app is a calendar in which you will enter all the information you need to get a detailed report on your progress and calculate the day until you completely give up alcohol. In addition, there is a great community with which you can communicate and motivate yourself more.
In addition, this app will be able to bring control under your life, it can also help you achieve everything you have ever dreamed about. The app allows you to set goals and track health improvements, including motivational quotes, tips for quitting smoking, tests, as well as articles about the harms of alcohol, which will allow you to give up your addiction.