Match 3 puzzle games are one of the best tools for both getting joy and training one's brain. These games make people think about the perfect ways to match the colors or the shapes of the objects to collect them into one line of similar items and turn to the next more complicated level.
It's pretty simple from the starting point, and getting more difficulties in every subsequent level makes people want to pass all of them right after each other. It brings a feeling of success and self-improvement. To achieve the finishing point, one should clearly try hard and do its best.
1. Ticket to Earth
A game incorporates alien inhabitants and the distant planet from Earth. The idea is to match similar tiles to help your team enhance their abilities and skills.
The action takes place on the battlefield, where after each of the steps and decisions, the overall situation turns positively or negatively for your teammates.
This game combines both the RPG genre and puzzle games, transforming it into something unique unusual. You've never played something like this before. It is a Sci-Fi application with brain-training elements in it. You should definitely think first and elaborate your own winning plan with all your future steps.
A sea of extraordinary characters is designed with passion in diverse ways, representing their multi-development and preparedness for the actual fight. Collected skills during the period of matching the tiles can be a strong foundation for your team not to fail but to win its opponents.
You need to purchase it only once without any further in-app purchases. It costs only 4.99 dollars and allows you to use it with all the updates, tactics, and additional skills to succeed in the game. More than 120 missions for completion are provided to diversify the content and make it more joyful for the players.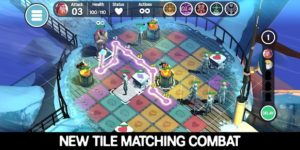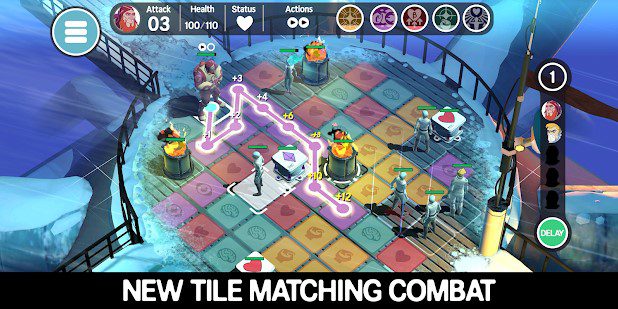 You may also like: 5 Best Blokus Game Apps for Android & iOS
2. MARVEL Puzzle Quest
By exceeding the expectations of almost every user, this game introduces a miraculous world full of superheroes and villains who desire to take control of the citizens by establishing an organization called H.A.M.M.E.R.
To prevent it from happening and coming true, you should play a Match 3 puzzle game and defeat the city from savage villains. By matching the similar tiles, you are able to gain new skills and enhance your team of superheroes. The new abilities could be either Professor X's mind control or any other fantastic and supernatural skills.
This game provides daily challenges with more opportunities to improve the team and gain rewards for the future. Beat the crew of the villains and save the city from danger. There are also specifically designed unique tails which can bring you an extraordinary skill, existing only in one example.
You can form alliances with your friends worldwide and go to a battle together as a team. That means you can play with your friends wherever they are.
The choice of superheroes and villains is entirely up to you. Decide and select whoever you prefer and like the most from both sides and start your game. The locations should also be chosen furtherly, which means this game entirely fits your expectations and preferences. That will bring more joy and excitement during the playing.
The game is completely free and requires no purchases to start it. It has some in-app purchases such as unique skills or proceeding to another level through the game's help.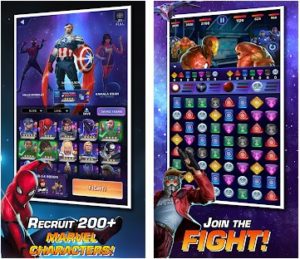 3. Aggretsuko
This game introduces a story of a red panda Retsuko working at the office of the Accounting Department of Carrier Man Trading Corporation.
Her bosses command her too much and put lots of tasks on her shoulders. It wasn't her dream to be stuck in a position like this, she wanted to be an incredible career woman, but the reality doesn't fit the expectations.
One day, Retsuko's bosses assigned her to come up with the office's new design ideas. And it was a great opportunity for her to change whatever she disliked the most and substitute it with her loved ones. This way, she started to create a unique design incorporating all her needs.
To help her in this issue, the users must pass subsequent levels of match-three puzzle games and gain stars for Retsuko to use in her designs. Every star collected is used for a particular design element as a new desk, computer, or whatever else. Without her help, she wouldn't be able to reach her goal.
More scores you will have in your passed levels, more stars, and opportunities you'll introduce to Retsuko. Don't take it easy but do your best to help her. You can use any character for the game, having unique skills and abilities. You decide by yourself who is more suitable to be chosen for this particular game to succeed.
The game also contains 1-minute Japan video animations revealing the plot and giving you more details about the overall situation or the ordinary life of Retsuko. It is both fascinating and joyful, especially considering that the game is totally free so that you don't need to spend your money to get acquainted with it and enjoy it.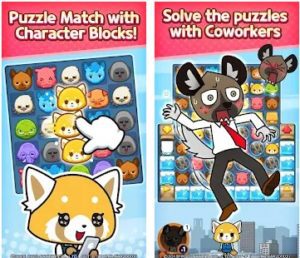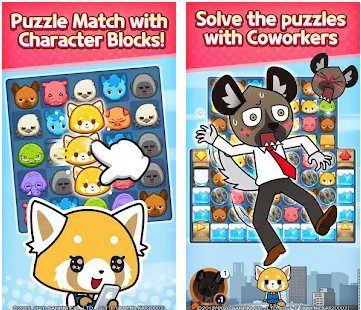 4. Triple Town
"Triple Town" is an addictive game full of multiple match-three puzzle games levels, enabling you to create your own unique city. With every passed level, you gain tools to grow your city. And the more it grows, the more points you get as a boss of this country.
The question is how much you could reach for the game to be eventually stopped and passed.
Match three or more pieces of grasses to create a bush and then combine the bushes to turn them into trees, etc. The more you play, the game proceeds to its most challenging levels. Only by improving yourself could you be able to pass these levels and reach the very end.
By the way, you'll face various obstacles on your way. They will block your turns and prevent you from succeeding. You should deceive the giant bears in order to be able to go further and create more and more buildings for your city.
The game itself has a limited number of turns, meaning you should either think of the ways to reach your goal in several steps or wait for a bit for them to get refreshed and appear once again. "Triple Town" is totally free, but you should pay a fixed amount of money or use the coins earned during the game to gain extra turns. It's up to you.
However, if you like the game and desire to support the game developers, you can subscribe to Unlimited Turns for a year and help the game creators make a living and furtherly develop the game.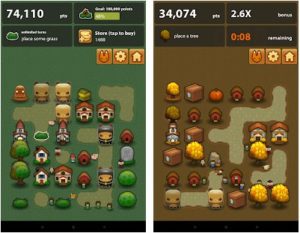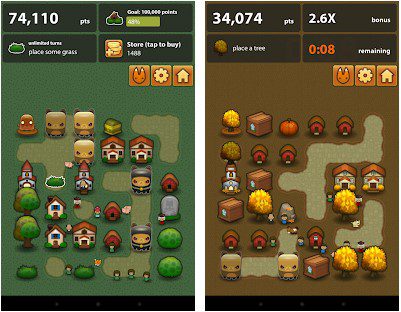 5. Evergarden
A world is full of mystery and hidden secrets that should be revealed during your way of passing the several levels of this game. Go through a forest and wander there to find out the new levels with more challenges and various obstacles. Help the forest to be back to life from its current appearance.
You'll be provided with your own compass and guide reflecting an alien creature called Fen. It will help you reveal the new levels on a vast forest territory and not get lost. Fen will also guide you during the games if you turn out of ideas and further steps for passing the level.
Both functions of bringing joy and excitement combined with the training of your brain are offered, so this game introduces a perfect tool of usefulness and having fun. Unconsciously by deciding between two or more ways to succeed, you make your brain work actively and come up with the new steps not seen before.
By the way, the game is completely free, so download it now and try it by yourself. No need to think about your wallet, the time spent on this game is worth it.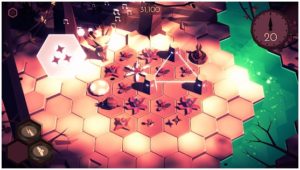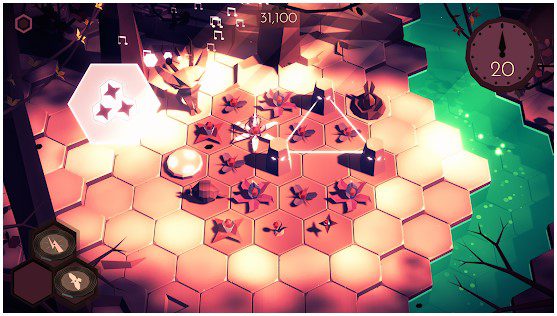 You may also like: 11 Best Spot The Difference Games for Android & iOS
6. Two dots
Two brave dots have enough courage to leave their permanent place of living and go through Arctic desserts, long and flourishing valleys, and many other uncommon places for the users to even imagine.
Accompany them and see by yourself the beauty of these places by passing the levels and opening more and more fascinating views.
Connect the dots in the games and use the bombs to help you pass the level faster with fewer used turns. Exactly 3700 introduced funny levels to experience and succeed. An attractive game is full of unique designs, where you should connect the dots with all the passion and concentration you have.
The relaxing game with funny sounds after every successful completion is offered to you. Choose your own pace in order not to turn nervous and stressed but to enjoy the process and relax completely.
This type of game invisibly trains your brain and makes it think faster and long-termed (not only for one step but for the chain of connected subsequent steps).
Bind your downloaded game to Facebook and find your friends playing this game too. Fight their scores and stand out in your surrounding with the unbelievably high score reached.
By the way, this game is free and downloaded easily by clicking on the button "Download" in the market.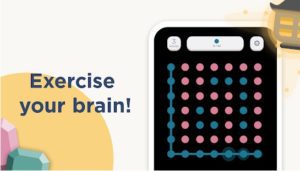 7. Candy Crush Friends Saga
This game introduces improved graphics, exciting game modes, and lots of friends who will help you complete hundreds of levels. The action takes place in the Candy Kingdom. Your marvelous friends will help you find the missing candies and pass the levels with their exceptional skills.
Match the similar candies in a row and gain rewards and collectible outfits. The more candies you'll collect, the more powerful you'll become on a battlefield. Fight the blockers and other obstacles and reach the point of passing the level with your new abilities and skills. Enhance them and turn yourself into a better version of the former one.
Hundreds of provided matching levels. You can collect the candies and friends with exclusive skills vital to you to pass the levels along the way. Put new friends in the sticker book and dress them up in different costumes. Watch their winning dances after all the completions of the levels.
This game is totally free for downloading but has some in-app purchases like a number of turns or cues. The app also is easily synchronized between various devices. You don't need every time to start playing from the very beginning. Just log in and continue your game from the last passed level from anywhere whenever you want.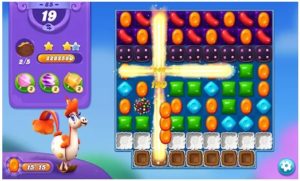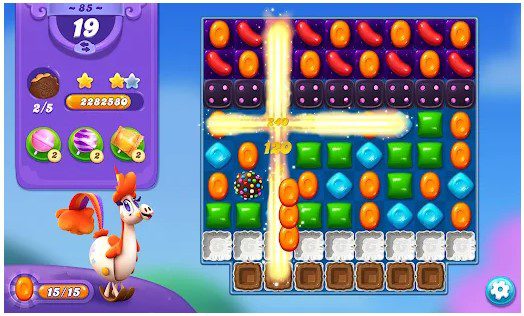 8. Bejeweled Blitz
Enjoy one-minute matches of connecting three or more similar items, creating rows or figures of identical objects. Upgrade yourself with the gained skills and pass the levels faster than before. Every consequent level is different from the former one: more complexity and challenges.
Use special bombs and blasters to clear the row of any figures. Save the number of your turns and go ahead to pass all the existing levels at once. Though it is impossible, it is worth trying. Maybe you'll be the first person to achieve this point.
You can challenge other players of this game by looking at the leaderboards and fighting their scores. This will make them want to get acquainted with such an excellent player. You'll gain new friends and learn from them something new and unexplored before: uncommon tactics and thoughtful steps.
Rare gems offered in this game will help you beat your previous scores and be a perfect tool if you can't come up with a new step during your turn. Just use them and enhance your skills or gain new ones to pass the level and proceed to the next one with new obstacles. It makes your brain work actively, generating new options to take.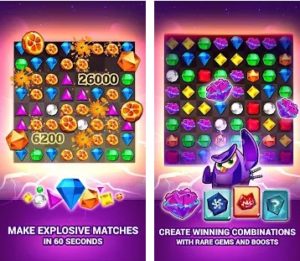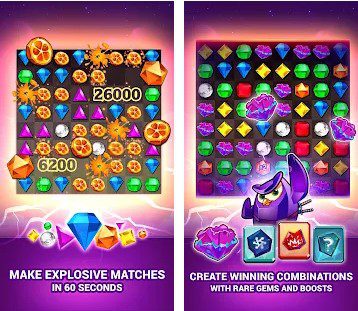 9. Ruya
Reach the point of understanding the art of combining various mysterious characters from Ruya's dreams. Explore fascinating landscapes and views surrounding you. Gorgeous valleys with a sea of flowers of vivid colors respond to your expectations and even exceed them.
The game incorporates the visual and the mysterious sounds supporting the idea of being stuck in someone's dream, which doesn't reflect reality. The music helps you concentrate and somehow relax and get over the bad things that happened to you. Put aside the harsh reality and problems and calm down with this game.
Already 64 presented levels introduced to the game's users. Challenge yourself and proceed with all of them, taking into account that every next level is way more complicated than the previous one. This way, you should actually do your best to finish the game successfully.
The game supports easy synchronization in the Cloud. That means all the data will be safely stored and opened on any of your devices you prefer more. No need to start the game from the very beginning; just continue it from the stopped point and don't lose time.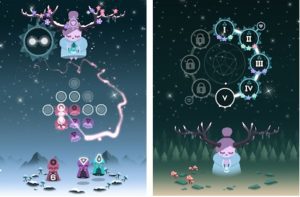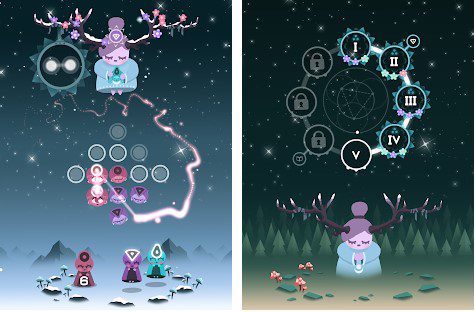 You may also like: 14 Best Medieval Games for Android & iOS
10. Tiny Bubbles
Pop tiny bubbles by collecting them into a row of similar objects, mix the bubbles, solve the puzzles and eventually get the rewards after completions.
Fill the bubbles with tinted air making them of a particular color and pushing them towards each other. That will help you to speed up the game process and finish it faster.
Create your own strategy and tactics for succeeding and turning to the next level. The faster you shift between the levels, the more bonuses, and coins you get. Each of the stories has personal mysteries and obstacles you should reveal and overcome in order to complete it.
Each of the 170 puzzles requires a unique way of solving. You can't repeat the steps you've already tried somewhere – it won't work.
The visual of this game is created in a way that looks very similar to natural. It transmits the feeling that you're playing with the actual water bubbles. This makes you more familiar with the game and helps you calm down and get out of the nervous state of a hundred percent victory.
You can choose the mode from the three presented ones: would you like to play in a puzzle, arcade, or infinite mode. Each one of them indicates different purposes which are suitable for one or another person more than others.
Only you will be able to help the tiny water creatures that accidentally got into the bubbles. Stay away from the evil jellyfish and prickly sea urchins. Save the creatures and get rid of the villains. It's up to you to decide whether to help them or not.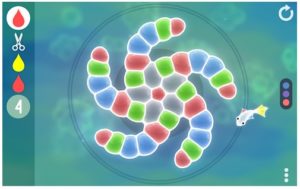 11. Tropicats
Tropicats is one of the cutest match-three puzzle games. With your new friends accompanying you in your journey, you can pass the levels of these puzzle games and decorate an island for them. Perfect way of relaxing and enjoying at the same time new adventures in unexplored space.
Help the tropicats rebuild their place of inhabitance and decorate their desired paradise island; With their support, you can reveal the mystery of the Great Cat. And remember that everything depends on you. Only your ability to mix the fruits and collect them into similar rows can help the cats to save their home and make it flourish.
Fight with other players and win them, eventually getting a reward and additional points for missions' completion. Unlock new solar levels together and go further in your unbelievable adventure.
The app is totally free, only including in-app purchases like passing to the next level without completing the previous one, rewards, and additional episodes and levels. You'll never get bored because of the fascinating plot and unique creatures accompanying you along all the way.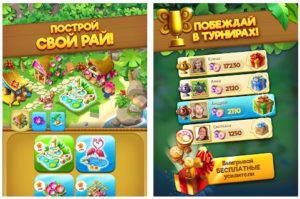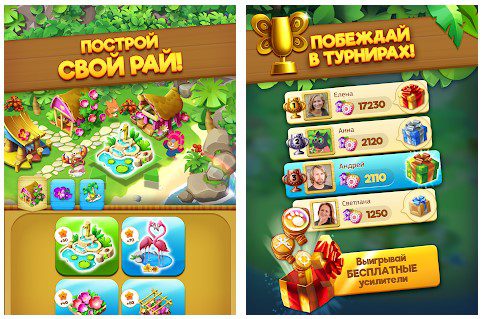 12. Gardenscapes
Play this game to help restore the beautiful garden and return it to its former state. Pass the levels and get the rewards you can furtherly use for decorating the garden and making its view even more fascinating than before.
Reveal the secrets the citizens and the garden is hiding, come to the point of understanding what is going on in this mysterious world and why the situation has become so terrible that it needs additional help. Pass hundreds of unique match-three levels and finally solve this issue.
There are dozens of unique characters you can be friends with. Get acquainted with them, help them in their mission and receive support from them, making the process of playing more straightforward.
The app also provides you with its own unique in-game social network, which means you can chat with your friends even without being distracted from the game and without exiting it. If you need to pass the level but have no idea how to do it, you have an opportunity to easily connect to your friends and ask for advice from them.
By the way, the game is almost free excepting in-app purchases, which you can make or not to make. It's totally up to you to decide.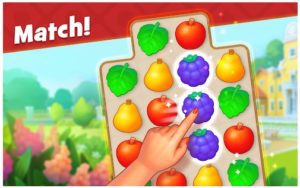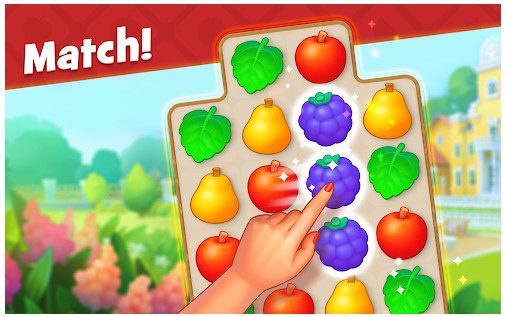 13. Candy Crush Saga
A legendary puzzle game loved by millions of people of different age spans. It makes you crave more coins, levels, and hours spent on the levels' passing.
Collect the similar candies in one row and clear them up with additional boosters and bombs. That will help you not to use your turns but to save them for the future.
Thousands of levels, which are getting more and more complicated as far as you go, are involved in this particular game. It offers you many ways to earn rewards: completing levels, missions, or beating your records. Check daily messages not to miss important notifications of an extraordinary opportunity.
Play it with friends to find out who can get the highest score possible. Stand out between your acquaintances and boost with your achievements.
This game is free but has optional payment plans like in-app purchases and monthly subscriptions to get unlimited access to any of the levels and rewards accordingly. You can turn off the payment feature in your game's settings as long as you understand that you don't need it anymore.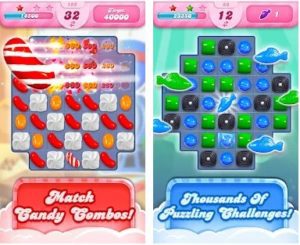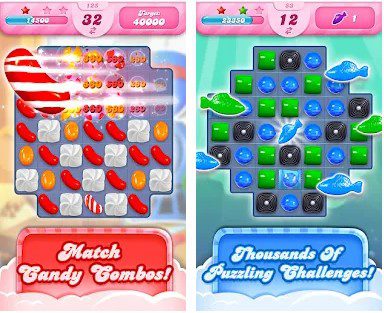 14. Mermaid – treasure match-3
The fascinating plot and unique characters provided to its users to continue playing this game until the very end. The missions and levels are pretty simple from the start but are getting complicated with every next one. You should really try hard to complete all of the levels.
Plan out and drop fish of various colors and tints to collect a row of similar ones to be explored. You have a limited number of turns, so your every step should be thoughtful and planned before. If you play without turning your brain on and activating it to help you, you'll just run out of turns to continue playing, and the level will be over.
Earn achievements and additional stars to use on your personal enhancement and improvement. Level up your capabilities to pass the level faster than the former ones. More efficiency will be put into your actions if you concentrate entirely on successful and fast completion of the level.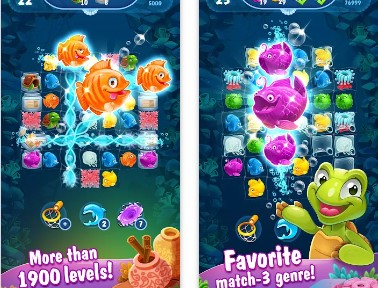 You may also like: 10 Best 5 Second Rule Game Apps for Android & iOS
15. Cookie Jam
The game is full of tasty cookies, and candies matchings—both joyful and positive affect your appetite. Blast through dessert islands and complete missions that are given individually to you. Help Panda Chef to crush the candies and cookies before they get crushed into Cookie Jam.
Match, mix, connect and destroy the cookies to create rows of similar candies to be exploded at once. Play thousands of levels and achieve mastery in all of them to get a professional status in this game. Enlarge your score and beat your records to be considered a master player.
Now it's your time to help the Chef to complete the order he got. Match three or more similar objects and successfully complete the mission to get a reward and go on.
With its fascinating plot and unique characters, this game got the reward of one of the best match-three puzzle games existing in the market. It's up to you to decide whether download it or not, but one more advantage of this game is that it is fully free and has only a minimum number of optional in-app purchases.