Stairs are a necessary part of most homes or buildings, yet their design and construction can still pose a challenge. Fortunately, in today's world, there is an app for just about everything, and we're about to tell you about it.
We've rounded up the top stair calculator apps for Android & iOS you could try. These are here to help make the process a lot easier (and dare we say, enjoyable?), and they are absolute gems for handymen and contractors alike.
Whether you're a pro or simply someone trying to renovate a home, these apps can help. The apps will take your measurements, figure out the optimal rise and run, and even provide 3D graphics. Isn't it wonderful? Let's get into it!
RedX Stairs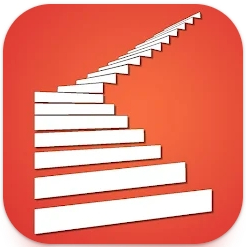 Have you ever found yourself struggling to measure and design a staircase from scratch? Fear not, this app is here to save the day (and your precious time)! Whether you're a pro contractor or simply seeking to make your dream home, this app covers a set of tools to help you with that.
This app will help you to construct stunning and functional staircases with ease. This app truly is the ultimate solution for stair dimensions and structure.
It boasts an array of calculators, catering to all types of designs, from the standard stair builder to specialized options such as spiral and winder ones. Not to mention, it covers multiple measurements, leaving no room for confusion or miscalculation.
One of the app's standout tools is the ability to generate interactive to-scale stair plans with extreme accuracy. Gone are the days of painstakingly measuring and redrawing, as now, you can conveniently print, share, save to pics, or save the stair plan on the app for later use. For the common builder, the app generates a plan and stringer dimensions inputting the total rise, and stringer details.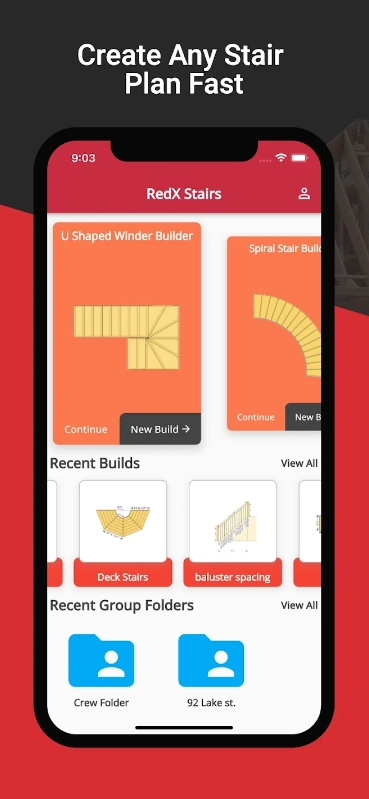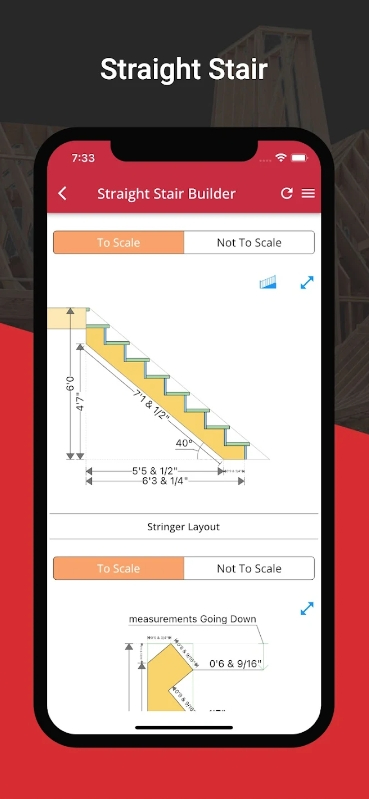 You may also like: 11 Best Tile Calculator Apps for Walls and Floors
Stairs-X Lite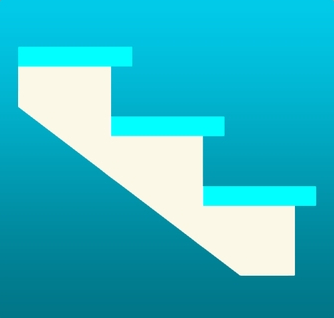 If you're in the business of building stairs, you know that precise sizes and complex drawings are essential. Sure, you could bust out the pencil and paper like a caveman, but why bother when you've got this app?
This little gem is like having an architect, engineer, and calc all in one convenient place! It lets you make detailed and accurate stair plans on the fly. And we're talking all types of stairs: straight, curved, spiral, you name it!
What's really nifty is that you can view your plans from multiple angles, and you can even switch units to stick to the ones you're comfortable using. No more squinting at illegible blueprints, folks!
You can also share your plans with others in the field, send emails and even work offline if you're in a no Wi-Fi zone. And if you're just starting out, don't worry, the app has a ton of tools that make it easy to learn and use. The app is free, and the ads are minimal. There are no hidden fees, so you're not risking anything.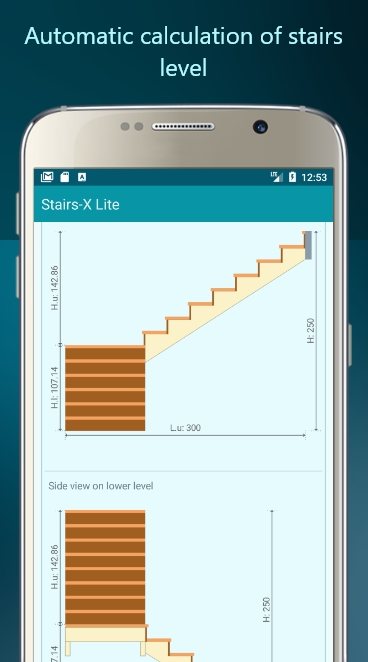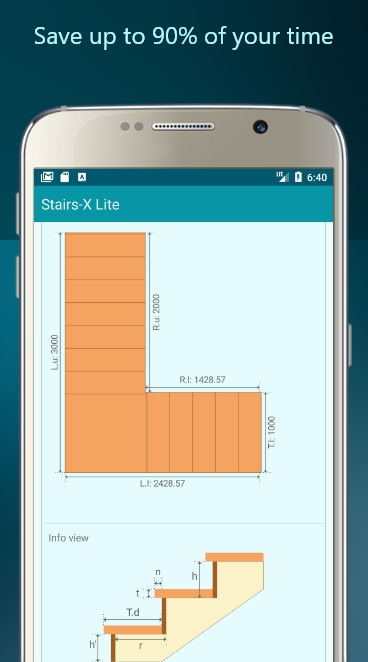 Classic Stair Calculator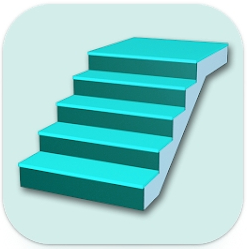 Tired of constantly measuring, calculating, and recalculating when building stairs for your construction projects? This app is ideal for pros and occasional builders alike. No matter the type of stairs you need to construct: whether it be concrete, wood, or iron, his app is here to make your life easier.
But it's not just the ability to calculate simple stairs. The app also adjusts for semicircular ones, those on stringer or bowstring, and even spiral or helical ones! No more struggling to figure out the perfect angle or trying to wrap your head around semicircular or bowed stringer stairs.
Plus, with both imperial and metric units, you won't have to worry about constantly converting sizes. You can fully cater the app to your needs for the smoothest exp possible.
What sets it apart is its friendly UI. You don't need to be a seasoned engineer or handyman to use it: simply input your sizes and watch as the app does all the hard work for you. Overall, it is a must-have for anyone involved in stair construction.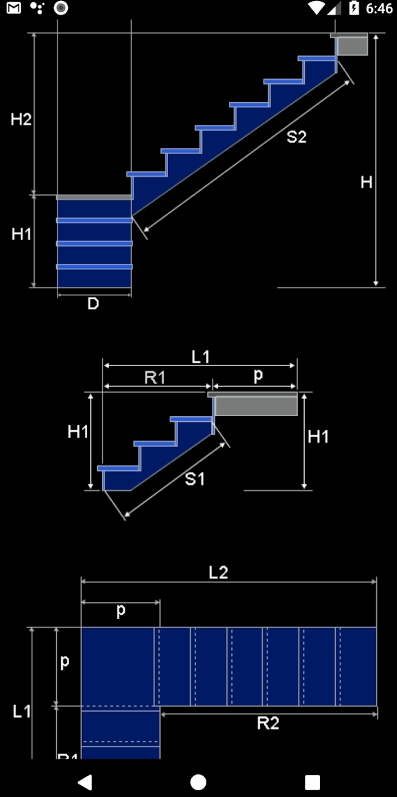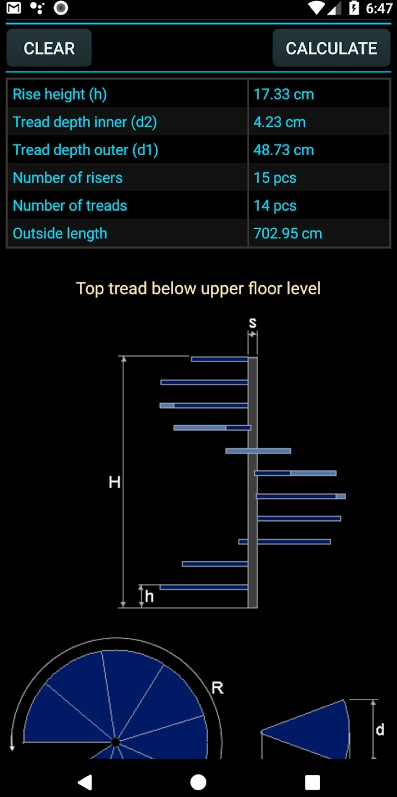 Stair Stringer Calculator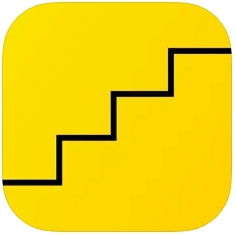 Planning to make stairs but don't know where to start? Don't get past this app. This handy tool will determine all the sizes you need for a successful construction project.
One of the best aspects of this one is its flexibility in input parameters. Whether you know the run or total run of your stairs, the app will do the math. As a result, it will give you the largest and smallest number of step sets to fit your space.
You can even use the app with different units for each input, making it even more convenient to use. You can easily switch between imperial and metric as needed. The result can be easily copied to your clipboard to be shared or used later.
But what really sets it apart is its friendly UI and copy-to-clipboard tool. No more scribbling down awkward sizes on a scrap of paper or typing them out by hand.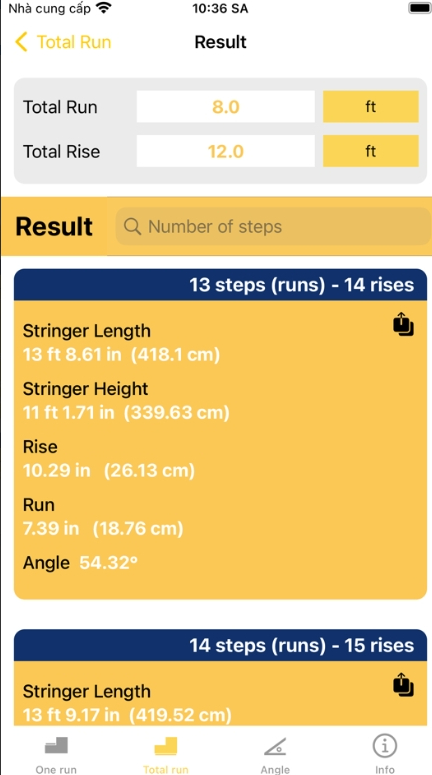 CMM Stair Rail Calculator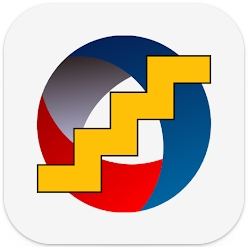 If you're in the market for a stair rail calc that's easy to use, accurate, and comes with some great tools, give a try to this app. This is a powerful resource that generates essential info with just a few clicks.
Gone are the days when you need to bust out a pencil and paper to figure out your sizes. The app utilizes convenient diagrams that make it incredibly easy to input your heights, ensuring accuracy every step of the way.
The app is simply ideal for those on the go! You can easily share your results via text, email, or copy them to your clipboard. Thus, you can take the sizes with you whether you're on a job site or meeting with a contractor. Oh, and did we mention it's completely free!? Yep, you heard that right.
Not only is this app user-friendly, but it's backed by years of exp and expertise from CMM, a national leader in industrial automation equipment for fence and rail manufacturing. Their proprietary software is in use on thousands of automated routing machines across the country.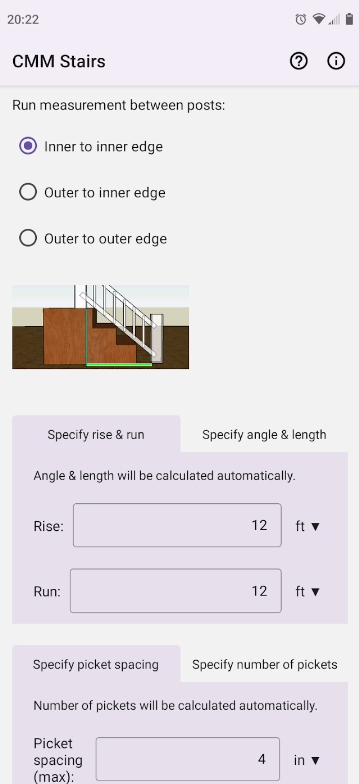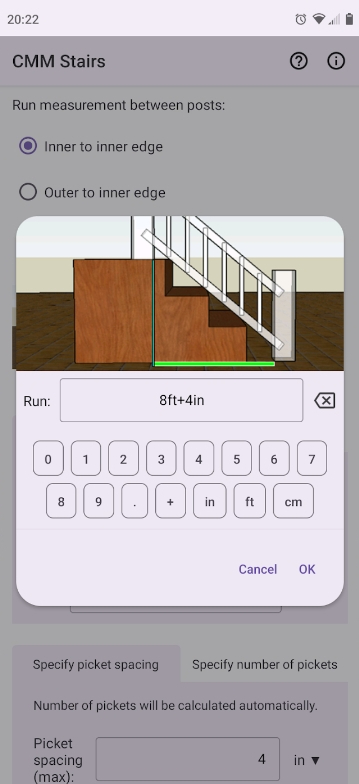 Check also: 11 Best Home Inventory Apps
StairCalc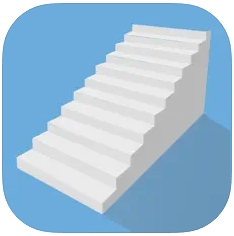 If you're the kind of person who struggles to remember complex data entry steps when trying to enter staircase sizes, you have to try this app. With its easy-to-use UI, this app lets you start entering data in any field without worrying about the order of the steps. Plus, if you ever feel lost, just double-tap on the buttons for helpful guides and tips.
But it isn't just for measuring stairs. The app also covers tools for decking and flooring setouts, material estimating, and costing. You can even estimate the number and size of step risers, the steep incline, and the stairwell opening for your needs.
And let's not forget about the timber setout, which lets you determine and print lists of stout positions with options for equally spaced, max spacing, or fixed spacing. It also has a concrete estimator if needed. You can calculate quantities end even estimate the total volume and cost, including waste.
And finally, the app makes unit conversions a breeze. It works with lengths, areas, and volumes, so no worries here.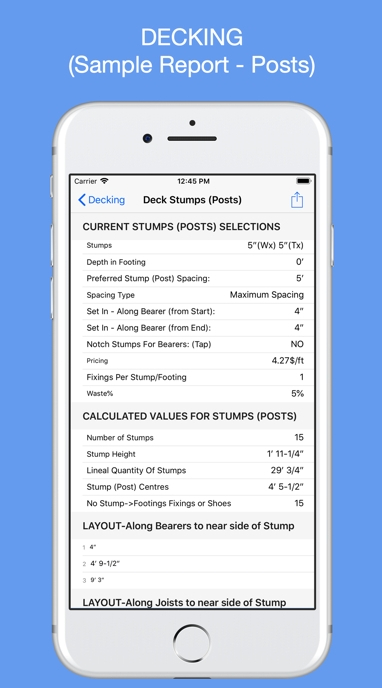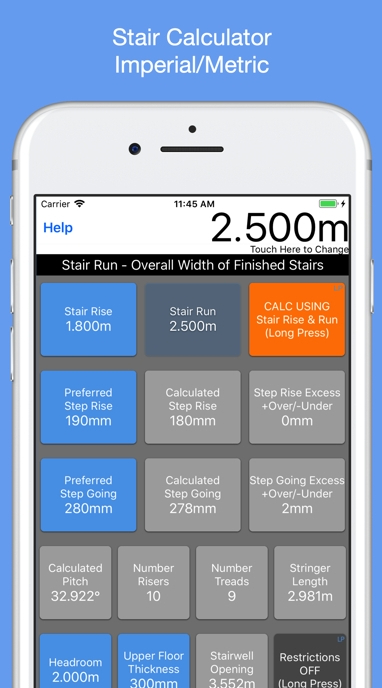 Stairs-X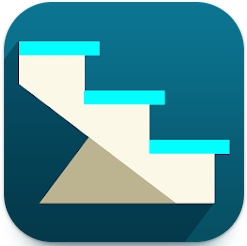 Struggling with complex staircase estimates and designs? This app can help! It makes calculating and constructing standard and advanced stairs a breeze.
Not only can you input both imperial and metric units, but you can also estimate using inch fractions for streamlined precision. And the best part? Your drawings are displayed in real-time from multiple views, so you could get a clear pic of everything.
But the app isn't just easy to use – it's also super flexible. Whether you need to make a spiral staircase, wood one, or whatever else, you can do it here. And with support for tablets, making your dream staircase has never been easier.
Another perk is that it lets you pick units depending on your prefs. The app also lets you send projects via email in PDF, for easy sharing and future reference. With detailed drawings and the ability to change the stairs' direction to the right or left, the possibilities are endless. Yep, it's not free, but functionality is worth it.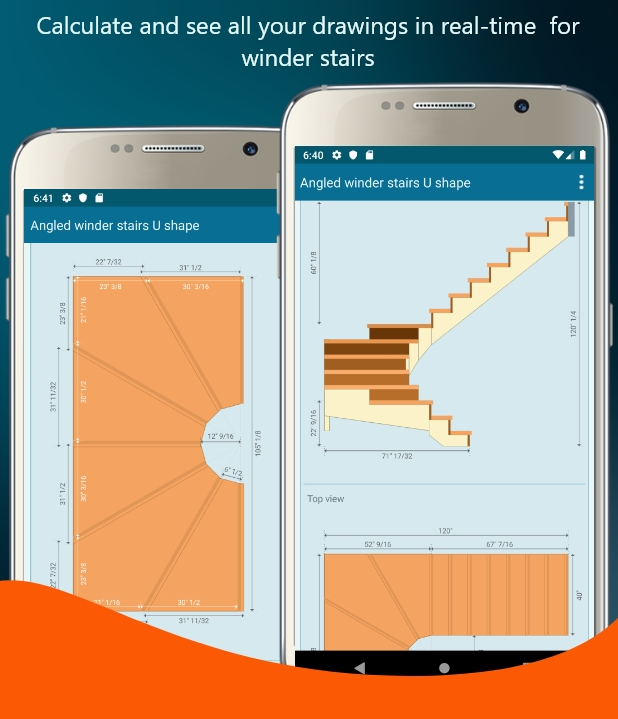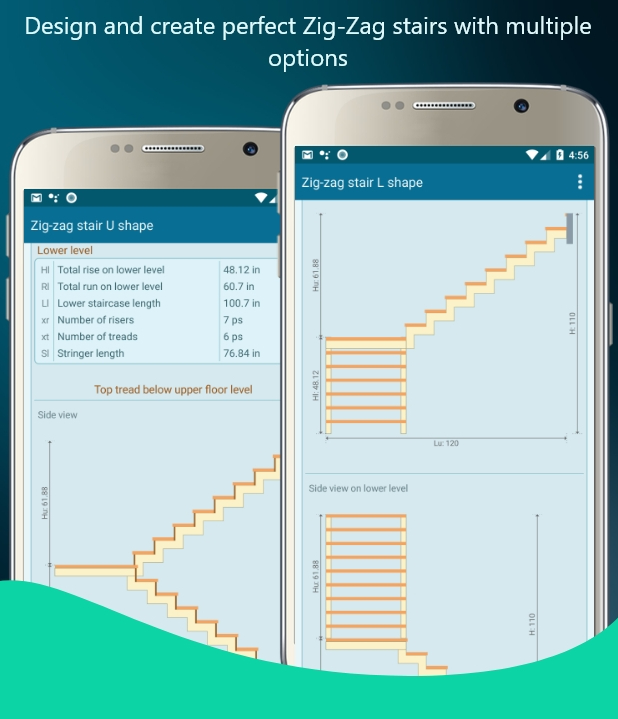 Stair Stringer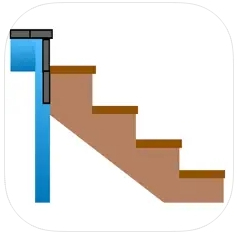 This app is here to help you construct your dream staircase with ease. It calcs all the pesky sizes you need to build your stair stringer, making the whole process a breeze.
The best part about this one is how adjustable it is. With easy-to-adjust parameters, you can fine-tune the sizes to perfectly fit your prefs and needs. Plus, you won't have to spend hours crunching numbers and scribbling out calculations on your own, the app does it all for you!
Another perk of this app is how it provides a vast scope of measurements. It does everything from angle to depth, and even the number of steps required. With all this info at your fingertips, you'll be able to confidently build a sturdy staircase in no time!
To top it all off, the app makes it easy to share results with your contractors or DIY buddies. Simply email or text the results as needed, and you'll be all set. It's not free, but it's a one-time fee, not a monthly sub-pack.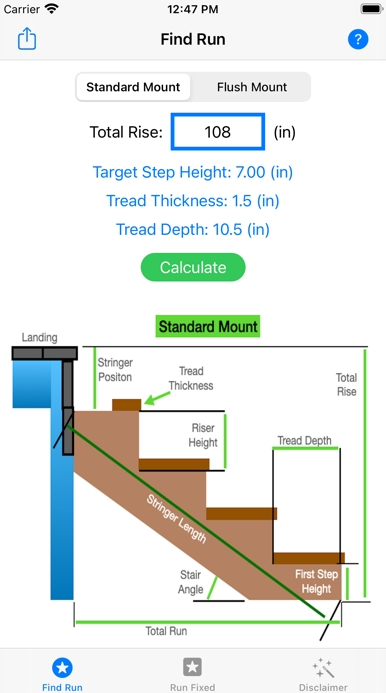 RCC Stair Calculator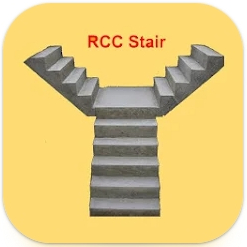 This app takes away the guesswork involved in building a staircase. It's a treat for pro workers, engineers, builders, or even handymen wanting to simplify their stair-building process.
It lets you n easily input desired sizes and receive fast, precise results in three diverse categories. These are layout, concrete, and steel quantity. This app has no limitations on the number of steps, making it versatile for any type of staircase.
No matter what type of material you're planning to use, this app will help. This app is not just accurate, but highly functional as well. You have the option to вуеукьшту both cement, sand, and aggregates as well as the necessary steel bar for your slab.
With all of these tools, the app makes stair-building easier and more efficient than ever before. If you're concerned about usability, this app is incredibly intuitive and user-friendly. Simply input the sizes and you're ready to go. No longer will you have to agonize over complex calculations or spend hours trying to figure out the ideal layout.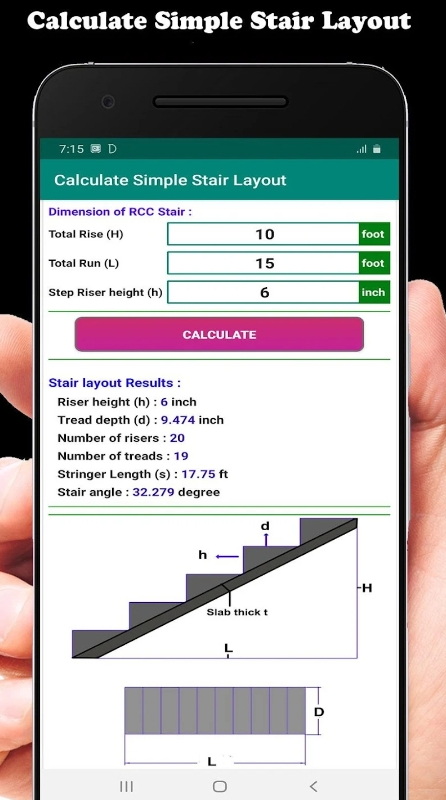 You may also check: 11 Best Floor Plan Apps
Simple Stair Calculator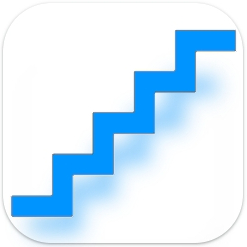 Lastly, there's an app to help you build a staircase from scratch. It's made for seasoned contractors or amateur working on their dream homes. It comes with a comprehensive set of tools to assist you on your journey.
The main goal of this one is to help you build stylish yet functional staircases with minimal effort. It is able to do various estimations, and it caters to all kinds o designs, too. You can use it for basic, spiral, and winder stairs and the results will be equally great.
No need to worry about measurements, as the app covers multiple units, eliminating confusion and potential errors. One of the standout aspects of this one is the ability to generate interactive to-scale plans with utmost precision.
Say goodbye to the hassle of manual sizing and sketching, as now you can share the results and use them s you want. The app is free, and the UI is so simple, even your grandma could use it.