Planning the construction of the house is always not easy. It is not enough to build a beautiful building from the outside, but also you need to make it look cozy from the inside. Every detail counts, including windows, doors, ceilings, walls… By the way, what about floors? It seems insignificant at first sight, but in fact, it is one of the key moments. For non-professionals, it can be quite tricky to build the right kind of floor construction for a house.
Moreover, even if you are a professional worker you cannot be 100% sure that your project is going to be constructed awesome at the end. There are a lot of aspects, which require precision and ability to model the building even if it's not there yet. But everybody out there, chill out, nowadays you can model basically anything with the modern software, including floors. The apps from this list will make you able to try every kind of a floor for your house in virtual reality helping you to make this uneasy decision. And then you see how easy it became with these apps!
1. Floor Plan Creator
Great app which will help you to model the floors of the building in 3D mode. Here you can switch between 2D and 3D modes – for a better understanding of construction. Use the map to add corrections, notes, and measurements and then switch to 3D to check if your planning is correct.
The app doesn't require any specific knowledge of 3D modeling. Basically, every worker out there can just open and use it. You can also add furniture to the house to see how the eventual model looks like. It is actually quite useful since during the construction we simply forget about additional stuff and have a lack of space as the result.
You can even not to calculate everything yourself – the app can do it automatically – calculate the space measurements for room, walls and level area. Want to feel like a real engineer? Well, the app supports the mode that includes S-Pen and mouse.
There is also a user-defined dimension line to show and modify distances and sizes. When you want to see how the eventual model of your house looks like, you can take a 3D tour around the building. All the made sketches you can import as images in PDF with print to scale, DXF, SVG. This software supports metric and imperial units.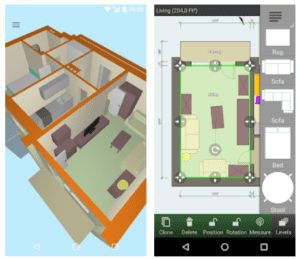 You may also like: 10 Best base building games for Android
2. Grapholite Diagrams
For those who prefer the old school lifestyle, this app. Grapholite Diagrams will be a good option. With the help of it, you can draw flow charts, floor plans, network layouts, UML, sketches and illustrations on the graph paper. This will surely add more atmosphere and authenticity to the planning of your future house.
This is a perfect diagrams designer using which you can depict basically any graph, including business graphs and technical drawings. Does it sound a little bit complicated and now you think that this app is meant to be used only by professionals? Not at all. Grapholine Diagrams provide options both for beginners, allowing them to create easy sketches and pros, allowing to make difficult calculations and project drawings.
This app is multi-functional with a number of excellent tools: a rich set of built-in themes and styles, sophisticated connection auto-routing algorithms, dynamic snap grid, and integrated spline editor. The unique "sketch" mode allows the single-click styling of any figure and it feels the same as if you were drawing by hand.
Hundreds of ready-to-use stencils on the toolbox allow you to make complex drawings expressing all your thoughts and ambitions on the paper. By the way, those stencils can be easily dragged to canvas. Most of these are not just static images, but elaborate objects with plenty of properties setting up their appearance and behavior in the designer.
And it is also necessary to mention more details about the possibilities that this app provides considering the floors panning. For example, windows and doors will automatically connect to walls in floor plans. What is more, when you create shapes, they support the automatic layout of children and collapsing or expanding of the hierarchy levels in org charts and mind maps.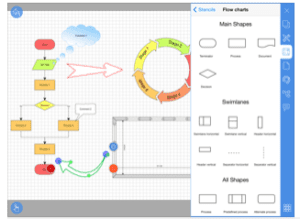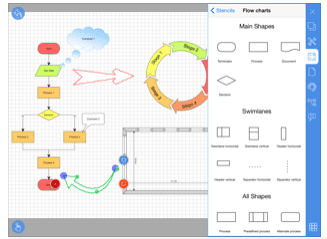 3. MagicPlan
Constructing and projecting your own house is always exciting. And it is even better when you got an app which was specifically made to sketch the floors of different buildings. It is like a small world, completely dedicated to this subject.
Creating floor plans is extremely easy with MagicPlan – you just need to scan a room with your device and then the app will recreate the 3D model of it with a 2D sketch. What is more, MagicPlan can automatically recognize and catch windows and door thus adding them to the sketch.
The app also helps you to measure the height of the ceiling – just switch to the 3D model and make all the necessary adjustments. When the model of the house is more or less done, you can play with objects, switch them from place to place, resize them and see which combination fits best.
There are separate sections for doors, windows, walls, plumbing, appliances and so on. Now you can fully get into the deep work with each aspect of your floor planning. The app was approved by more than 17 million users and gained a reputation as one of the main apps for floor planning. The only disadvantage is that the subscription to the app costs $9.99 per month and to download a one-floor project you will need to pay $2.99.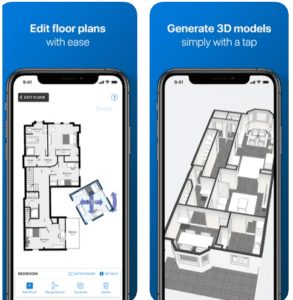 4. Home Design 3D
There is one thing that we can claim has been the truth already for ages – people will never stop building. It is in human nature to create something, especially if that something belongs to you. Good thing there are so many apps on the market which let us express ourselves even in this sphere.
This is a complete 3D app to model the house of your dreams. It is easy and quick to use. Unlike the previous apps, this one is really easier in usage, since it doesn't require any kind of measurements or sketching. It has more of an entertaining purpose. But it is still useful in the floor planning.
You can create, design the house you want, add furniture and see how it looks inside and out, in other words – decorate the house in the way you like. More than 35 people have chosen this app – this is a sign that you should definitely take a closer look at it.
The app gives you the possibility to design your floor plan in 2D and 3D mode. You can draw your plot, rooms, dividers. You can even adjust the thickness of the walls, change their height and create corners. However, keep in mind that you cannot save your current projects until you go to the upgraded version.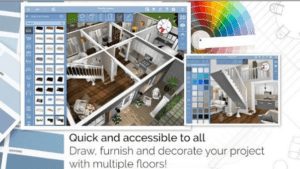 5. Planner 5D
This one is more suitable for interior floor design. Still, when you are planning your house, each detail makes sense. This software has more than 3000 items of internal interior – so you can find one that you like. Or, maybe, you would like to create a realistic-looking image of the interior of your room? With Planner 5D you can do that in no time.
Here you can create design both in 2D and 3D formats. To make a whole house is also possible – just start with the floor plan and then, end with finishing details (if you are patient enough to make the full detailed model of the house). The app is already used by more than 2 million people.
Furniture, appliances, decor, household items, landscape features and more – these all you can discover in Planner 5D. If you would like to immediately perpetuate the project that you've just made, just choose an option "Snapshot". Moreover, you are able to switch between Metric and Imperial systems of measurement, for better convenience.
One more advantage of this app compared to the previous ones is that here you can easily download the projects to your smartphone and edit them offline. The app can synchronize with multiple platforms that is also a plus. It includes no adds and the number of projects that you can create here is unlimited.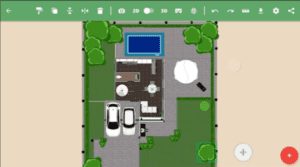 6. Houzz – Home Design & Remodel
Ok, so here you might actually ask, what is this app doing here – because it seems from the first sight that this is mainly an interior design software. But it has to offer much more function than simply interior design – it is suitable for building, remodeling or decorating as well.
The app includes more than 19 million interior resolution photos which will help you to determine how exactly you would like to decorate your rooms. Actually not only interior but exterior as well. All the ideas and pictures provided are sorted by location, type of the room, size style and so on, so it is easy to orientate yourself in this app.
Another cool feature here is that when you like a certain photo you can just switch to the Sketch function and draw immediately on the picture you see. Add your pwn marks, replan the construction, take important notes. What is more, unlike other apps, this one allows you to shop online for the furniture and decoration items right from the app.
All the reviews the products that you see are verified. Moreover, there are sale seasons where you can save up to 75% of the original price. By the way, when you are shopping for a certain item and you are not sure, if it's going to fit into your room or not, you can use  View in My Room 3D feature and use the camera on your gadget to make a fitting.
In case you want to include professional help in your project while planning the floors – well, you can definitely do this using this app. Connect with over 2.4 million active home improvement professionals, including architects, general contractors, interior decorators, repair professionals and more.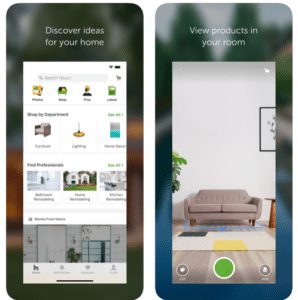 7. Roomle
Another great app to model your house in 3D mode. Let's put all the cards on the table right away by telling that the main distinctive feature of it – augmented reality.
Nice, right? Now you can not just model the house of your dream and stare at the picture, but you don't even have to spend time on construction – just take on the glasses and go walking around your new dwelling. The logical question after such information that you might have is how complex is this app in usage. But, surprisingly, it is easy. The whole element of augmented reality is built on the 3D modeling by the principle of which Roomle actually runs.
Additionally to the possibility of drawing floorplans with your fingers, it is now possible to measure and draw rooms. After you scanned the room, the app will create a floorplan of it which you can furnish later. Obviously, you are free to choose any kind of furniture you like. Make a match according to color, size – anything is possible.
Another useful feature – in case you are working together with someone on your house plan then you can always share your latest updates via social messengers. The offline usage is possible as well. In general, Roomle feels more like a game where, nevertheless, you can come up with serious projects and have fun during all the measurements.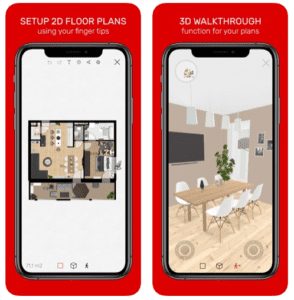 8. Room Planner: Design for IKEA
For sure you know about this famous furniture wholesaler named IKEA. It's a Swedish company, which suggests its customers nice and more or less qualitative furniture for affordable prices. The virtue of IKEA has always been its ready set of furnished rooms. In other words, when you are walking through a store, you are basically walking through a well-furnished and decorated house, thus, you don't even need to think about how to find the best solutions choosing from all those items and what goes with what.
And this remains the main idea of this app as well. Here you can set up the construction of your house, whether it already exists or not and start choosing the furniture for it. From the giant collection of items, you could do that, probably, for ages. Enrich your habitation with the furniture from world-famous brands.
You can adjust colors and materials, space and plan of the room. There is a possibility for users to switch between 2d sketch mode and 3D 1st person view mode. In the first case, you can make measurements, looking at the room plan on the map. The latter allows you to feel like you are already in the room and get a feeling of how your finished work would be like.
The only aspect, here you can't really start planning from scratch. You have to use already made templates. But you will probably find some interesting ideas among them since they all were created by the leading pros of the industry. It is also worth mentioning, that even though it is an IKEA app in the first place, here you are able to choose from various furniture brands.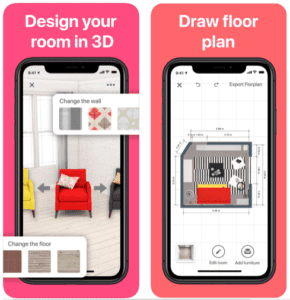 9. AR Plan 3D
Another floor planning app for those who love innovations. AR Plan 3D works with the augmented reality option as well. The app is perfect to conduct the quick measurements and it will probably be suitable for those who don't like the long routine of calculating every inch.
Just imagine how unusual would it look – you can layer the virtual measurements on the real-world picture. Well, that's how it works now. You basically just need to open your camera and the app does all the job for you. You can measure the heights of rooms, walls, and perimeters in general. You can measure doors and windows too.
Floor square, walls square and other values can be measured in no time so you could buy necessary construction and decoration materials for design. What is more, the app has two modes of floor planner. The first one is the classical floor planner where you can create a side view floor plan. The second mode, as always, the 3D mode.
This software allows you to store all the projects that you've made, which not all the apps in this list can suggest. It is multi-functional in the sense that you can just walk around your house and make quick measurements effortlessly or you can go deeper into the plan and sketch everything on paper, adding calculations and other important notes.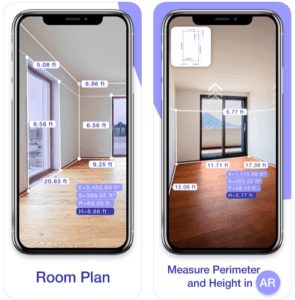 10. RoomSketcher
The last two apps are going to be not so famous but still productive tools to make floor measurements and house planning. This particular app called RoomSketcher has been on the market for a while now and as you can see, has failed a little bit to catch up with others in terms of graphics and function. Though it is still good for serving the basic tasks.
First of all, it is useful to draw manually the plan for your rooms and house in general. There are two types of measurements – metric and feet, so people living on both sides of the ocean could find something that works for them.
Then – you can recreate your sketch into a 3D plan of a room. By a single tap, you can add windows and doors to different spots. Check, if the stairs that you are planning to install in the middle of the hall are going to fit. You can also play with the materials, trying various combinations: wooden floors, tile, paint and many more.
The set of materials for decoration is quite decent here so you at least can do a general sketch for your house, even if it's not 100% precise. If you want you can continue your planning with furnishing the rooms. The only disadvantage is that you can't be overly creative here and come up with super complex projects – the non-standard lining just doesn't work here. But how many people are building something like this? Probably, not many.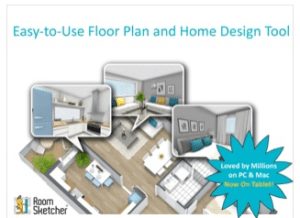 11. FloorplanFinder
Good app to finish this list. Being completely honest, this app can't really compete with the ones mentioned above, but it is here for a reason, right? Well, first of all, it allows you to come up with the most diverse plans for your floors – there are more than 15 million options for them.
The reason why this app is the last one on our list is that it is not really suitable for real-life planing – it is more a game app, which allows you to express your creativity and maybe visualize the house of your dreams. But of course, you can do measurements here, maybe not so precise though. Pan, zoom and navigate through your floor plans.
The app could be a great addition if you are looking for inspiration for planning your house. From its simple and easy sketches, you could go to more serious projects, feeling more confident. However, the reviews tell us that the interface is not really user-friendly – maybe developers will fix their mistake soon.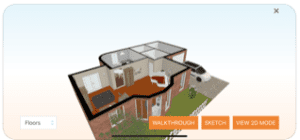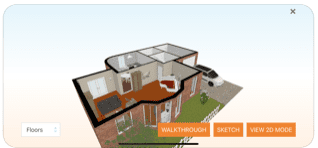 You may also like: 10 Free timelapse apps for Android & iOS