Sudoku occurred approximately in the year 1892, French puzzle setters began experimenting with removing numbers from magic squares (a math square consisting of 9 cells and filled with numbers).  The original name of the sudoku game is Number Place and that makes sense – all the game deals with numbers and combinations.
You may ask, if the game was invented by French people, then why does it have the Japanese name? Well, in 1984 the game was introduced in Japan. Its population liked the game so much and it became so widespread that "Sudoku" was registered as an official trademark in that country. And in 1997, the popularity of the game could spread far outside from Japanese borders, when it was developed into a computer program.
There are several kinds of Sudoku – Mini Sudoku, Killer Sudoku, Alphabetical Sudoku, Hyper Sudoku, Twin Sudoku, and other variants, but these are the most popular ones. The cognitive scientist, Jeremy Grabbe, found that Sudoku involved an area of cognition called working memory. A subsequent experiment by Grabbe showed that routine Sudoku playing could improve working memory in older people.
Fun fact – there was an accident in the Australian court in 2008 when it was revealed that jurors were playing Sudoku instead of listening to the evidence. So are you already excited to play this game? Can you imagine what a fine choice do the modern app provides for playing it? Explore this list and choose the one you like more.
1. Sudoku.com
It doesn't matter if you are a beginner or a professional Sudoku player – this app will be suitable for everyone. It is one of the most popular apps in the category of board games. This game is a great way to train your brain and have fun at the same time.
Now you are able to take your favorite game with you no matter where you go. You will see that playing Sudoku in the app is as convenient as playing it on paper.
If you want just to have a good time and chill, or you are playing for the first time you can choose an easier level. The abundance of different hints, auto-check, and highlighted duplicates will be more prominent as your level gets easier. Or if you want to challenge yourself and see how good you are as a player – you can switch all the hints down.
The app has several interesting features. For example, everyday new challenges are held and if you pass them successfully you get a reward. And after each game, you have a possibility to review all your mistakes and wrong movements – the app will provide an analysis to you.
For the gaming app, the interface always plays an essential role. Here everything looks very neat and organized, and, what is more significant, the themes are customizable. Just choose one with which you feel more comfortable playing.
When you enter the app you can see the button "start playing". After you press that button the app will suggest to you to choose the level of difficulty. Or, you can go to the daily challenge. The only dubious moment is that the system of the game sometimes works in a weird way – you can accidentally press numbers or you get only 3 tries to put the number on a cell correctly.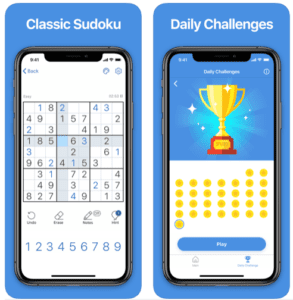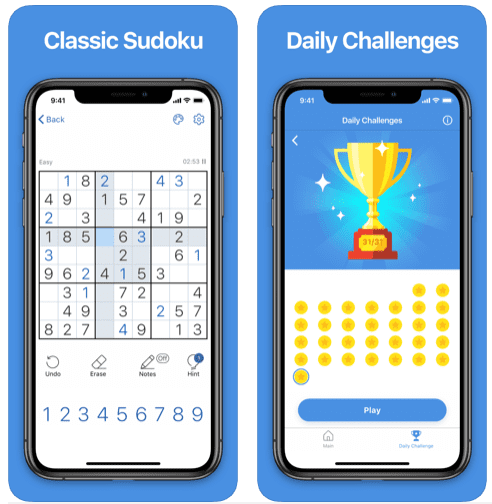 You may also like: 21 Best Free offline Android games
2. ▻Sudoku
The same game, but the app is completely different. Here it is way more multi-functional. To make the gaming process fun and captivating even of such a serious game as Sudoku, here the intricate graphics and animations are used.
So if you appreciate the apps which do not only serve their purpose but also include a lot of decorations, bonuses and additions then this one is your choice.
In this app, the system of a game is organized in such a way, that your score is built according to the value of each number multiplied, by the multiplier that decreases over time and the value of each block, row, column multiplied. When you play the app for the first time the app will provide detailed instructions on how to play so even if you are the beginner you won't get lost.
You can get hints if you want, you can choose different levels of difficulty, you can take notes just like on the paper during the game. At the end of each round, you will see who got the best score and your statistics on the previous games.
The interface of the app looks very brightly and if you don't like that animated-colorful style of the apps, this one may not be the best choice for you.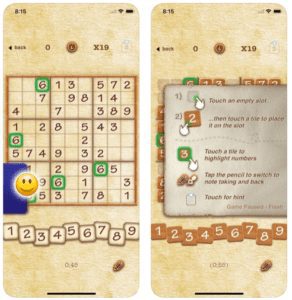 3. ⋆Sudoku
This app has been on the market for a long time now but it still remains a good software to play Sudoku. The developers were trying to make the app as much user-friendly as possible and that makes sense – Sudoku is the quite elaborate game itself, and there is no need to overcomplicate it with intricate app interface.
It also includes one of the most famous Sudoku learning system in the world. If you are a beginner, you will be receiving hints with each puzzle you make. The instructions are easy to understand and unique for every puzzle with helpful animations, and colorful visuals. By the way, here you actually get the full explanations of each action and each consequence so you understand the whole gaming process without being left guessing.
This feature will help you learn all the techniques you need to solve Sudoku puzzles whether you're a complete novice playing your first game, all the way to the expert difficulty. When you first enter the game you can choose the level of difficulty. But even though it includes several levels, the overall app is more suitable for beginners – learning systems and abundance of explanations will make the game understandable for everyone and will allow enjoying the process.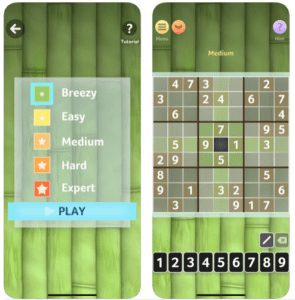 4. Sudoku ◆
Well, this app really differs from the previous ones and it truly includes lots of functions and options. Its main advantage is its customizable, intricate-looking design. However, all this abundance of color and design features doesn't distract your attention from the core of the app – the game itself.
The Sudoku game represented here will become a challenge for your logic abilities. Just switch off the hints and try your best. Test your puzzle-solving skills and rank up from easy to expert level. And even you are playing and then get interrupted during the game you can always come back to the app and continue playing from where you left.
But still, the main virtue here is design and its customization. For instance, you can choose between the round and square cells for a game. Actually, the whole customization set includes more than 90 different combinations. For beginners, there is a simple game control and lots of instructions. If you feel like you need help, you can choose an option Move Suggest or Quick Mode.
There is a stats page that allows you to track your progress over time. If you are more of a kind of competitive person, you can complete games in order to collect the stars then see, which player has a bigger number of them. During the game, all the numbers are highlighted by different colors and it just looks more fun.
Again, the core of this app is its interface. However, there may be some problems hiding behind all that attractiveness – some users complain that the hints don't work correctly. Moreover, winning here may seem too easy for experienced players.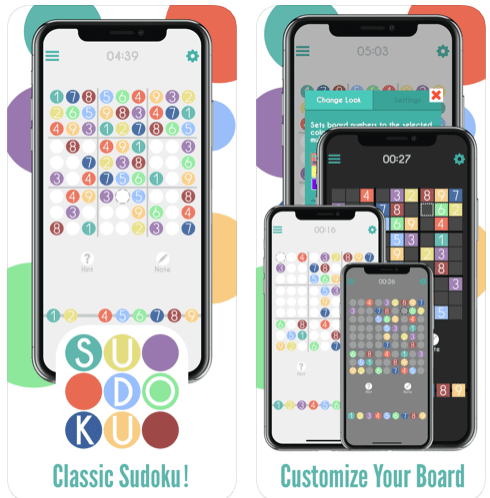 5. Sudoku ′
Another app the core of which the game itself, not a design. So if you are looking for an app of this kind, this is your choice. It gives you full integration into the gaming process. It doesn't matter if you are a beginner or a pro, with these 6 levels of difficulty ranked form easy to diabolical and unlimited grids on or offline you will train your skills of playing Sudoku.
It has literally no distracting factors: no lengthy intros or slow animations which make you wait. Maybe because of that the app doesn't occupy that much of your phone's memory space. What is more important, for those who get annoyed each time they accidentally press the wrong number – here the squares and buttons with numbers are so large that even the fattest fingers won't miss at.
Another distinctive feature of this app is that it allows you to put your own music to the background and nothing else. Besides, here you will find the undo/redo function, 10 concurrent grids, automatic and manual notes making, customizable input and display settings.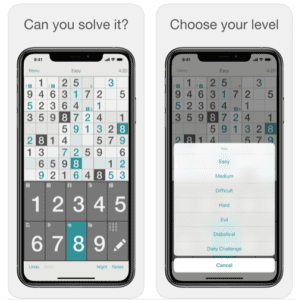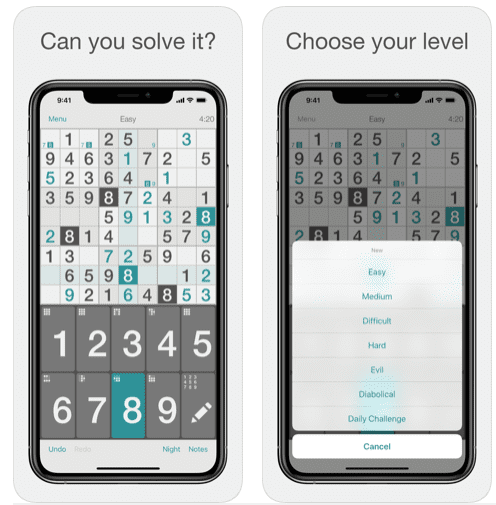 6. ∙Sudoku
It is actually interesting how diverse you can make apps for such a plain game as Sudoku. This way, everyone can find something he/she likes. For example, this app is also meant to play Sudoku game but the interface of it differs dramatically from the previous one.
As you can see from the screenshots, the main feature of this app is the ability of a user to choose the individual background for a game. There are more than 70 different background options – something to choose from. Seriously, who not enjoy your favorite game on a pleasant background? The app itself includes 4 levels of difficulty: Easy, Medium, Hard and Expert.
And again, for those who appreciate the competition, there is a Game Center which tracks the statistics from the players all around the world – you can just access it and compare your results to others. Who knows, maybe you're going to become the best one out there.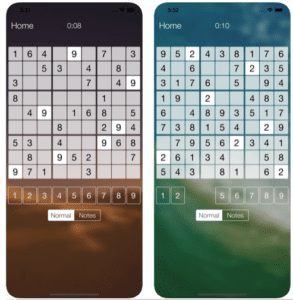 7. Andoku Sudoku 2
This app belongs to that category in which there is not so much attention is given to the design elements, but it still guarantees you the full plunge to the game – the details of the process are crafted thoroughly. Everyone here will find a suitable level for him/her.
In total, the app has 8 levels of difficulty and 10000 variations of challenges. Here you will find such types of Sudoku as Standard Sudoku, X Sudoku, Hyper Sudoku, Percent Sudoku, Colorful Sudoku, Puzzle Sudoku and many more.
In case you are playing and then receive an unexpected call or something else comes up the game always makes an autosaving so you can continue your round anytime. If you want, you can take notes using a pencil in the app.
What is convenient, you can rotate the screen of your smartphone and the game will adjust to it since it has two modes – vertical and horizontal. By the way, this app is supported both by smartphones and tablets.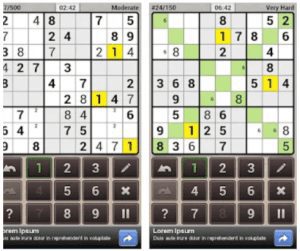 8. 🙂 Sudoku +
Well, at the first look you might say that this app can't be called prominent in terms of interface design, but it sure would be the leader concerning the functionality. 17 difficulty levels that you can play without any limitations, diversity of Sudoku games will surely capture your attention for hours.
For the beginners, there is a multi-hint system that will help to make the first steps to the game. When the player is not sure which technique he/she should use, there is an option to see the graphical instruction about it and see how it applies to the current board.
The whole system of training is aiming to help the beginners to avoid the frustration of first tries (and probably, fails) so their interest in Sudoku wouldn't fade away. Another interesting feature of this app is that it allows playing not only with the boards and tables represented in the app.
When you see, for example, a Sudoku game printed somewhere, like in a newspaper, you can take a picture of in in the app and then play it there as well. Thus, you can have an unlimited upgrade for your app. You might claim that in this case all the hints and tips from the app wouldn't work.
But here goes another interesting function of this app – there is an option called Solver which deals even with various Sudokus collected from other external sources. For those who care about the design, there are six different theme colors and you can change them any time.
The interface of the app is optimized in such a way that you need fewer taps for the gaming process. As always, you will get a digital pencil to make marks during the game. You can save one game whenever you want and leave to try another level and then come back to it at any time.
The game clock function compares your results to other players'. What is more, here you can choose digit styles, including Kanji and Hanzi. The app includes a lot of other customizable functions and options that you will discover when you use it.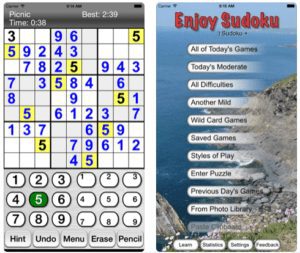 You may also like: Best offline card games
9. Sudoku Quest Color Soduku Game
This app would catch the attention not only of those who love to play Sudoku but of a wider audience in general. One glimpse at it is enough to understand that this is not the standard app to play this game and that developers have really put some thoughts into its interface.
Basically, it is the same sudoku game, but with an accent on animation and colorful design. So if you like having fun and still have a thing for serious games like Sudoku then this would be your choice. It is like a compromise between a strategy game and a board game.
This is actually a quest where you need to explore mysterious islands to unite a shattered kingdom. There is an antagonist in an image of evil soccer whom you need to defeat by becoming the Sudoku champion. It sounds like an interesting motivation for Sudoku and it is definitely a fresh look to a game.
There are 11 variations of Sudoku and more than 2000 levels – it meant you can try new variations forever. Each time you retry you get a new puzzle. The game would be interesting for beginners and pros, only in case you don't like any distraction from the pure Sudoku you wouldn't choose this app.
Evil Sudoku, Squiggly Sudoku, Killer (Samurai) Overlapping Sudoku – all those kinds of the game you will find in this app. Another useful function is called the magic eye and it helps you to concentrate better on the game. But don't worry that if this is a non-standard Sudoku game it is going to be lacking the features which regular Sudoku apps provide.
Here you are still able to get the hints, take notes with a digital pencil, save your progress automatically and track your statistics and compare it to other players around the world. What is more, the game includes a network element, so your friends can join as well so you will be comparing your results together in the mutual table.
10. Sudoku Killer
Ok, well, maybe compared to the previous app this one might look quite basic, but at the same time, it is still good and doesn't include any distracting function. Actually, people are divider into two categories when it comes to playing the Sudoku – the ones are looking for additional accessories and features to have more fun and others simply want to concentrate on the game without any "showing off".
But as you can see from the name of this particular app, this is not a regular Sudoku. In addition to traditional rules where you have to fill the board with numbers, you have to make each outlined region sum to a specific value as well. The grid begins blank, but these rules give you all the information you need to solve the puzzle.
The distinctive feature of this kind of Sudoku which is called Killer Sudoku is that it requires taking lots of notes during the game. For these aims here you got a dedicated note keypad and the ability to select multiple squares makes entering notes fast.
A multi-square note entry really helps you to save a lot of time during the game. Here you even got a small built-in calculator. Considering the design, this app won't bring you much of diversity – there are only 2 themes to choose from. But its players rank this app high because of the excellent gameplay it has.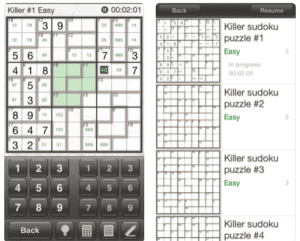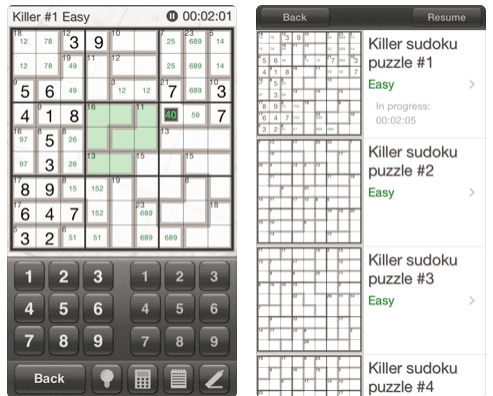 11. KillSud
Now let's see what Google Play has to offer us in this category of Killer Sudoku games. Well, in terms of functionality it is a quite decent app – here you can solve more than 4000 different Sudoku combinations.
All the traditional rules are applied, but here also you have additional aspects: the sum of all numbers in a cage must match the small number printed in its corner and no number appears more than once in a cage. That can be more challenging for beginners but experienced players will appreciate it.
Considering the interface, the app looks even more simple than the previous one, so don't look for any exotic and intricate design features here. Well, the app has been on the market for a long time already and it least it's proven its functionality.
Here you also will find a calculator that helps to deal with elaborate sums. The game has an autosave mode and undo/redo function. The only flaw here is that the calculator is not very convenient in usage. In general, this app is the same as for iOS, maybe a little bit weaker because of its age.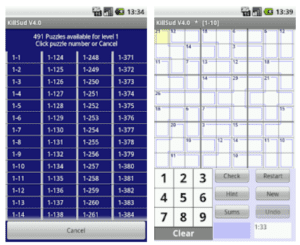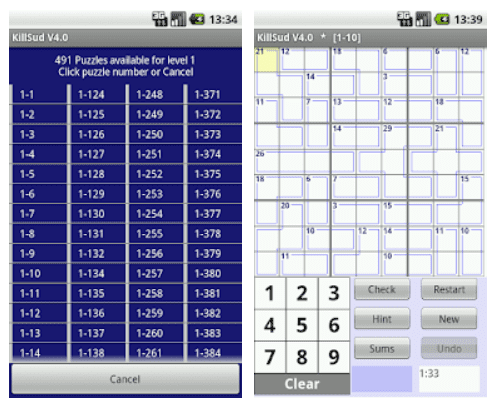 You may also like: Best farm game apps
12. Sudoku Magic
Here goes another gem for those who don't like play Sudoku in an ordinary way. Sudoku Magic is one of the most popular apps in this category and recommended by numerous respected media.
The main feature of it is that it allows you to capture any Sudoku puzzle – from a newspaper, a magazine, even from your computer screen- just by taking a photo with your camera.
Basically, this is how Sudoku Magic works. It can adjust to any picture of a Sudoku Board that you photographed and then convert it into a digital format so you can play it as it has always been there. Sudoku Magic also provides a unique playing interface to create, play and solve an unlimited number of Sudokus.
What is more, the app can divide your captured Sudokus into different difficulty level and thus you can create your own game gallery of Sudoku. When you add new puzzles you can even tag them so, later on, you remember where they came from.
But if you would prefer not to add new puzzles to the game, you can proceed with those which are already in the app – and they are not bad at all. Moreover, the app always generates new boards so you have plenty of choices. Also, all the standard functions as autosave, taking notes, hints are presented here.
And of course, the interface. Developers sure put an effort into it. There are some cool animations in the app supporting the overall atmosphere. So if you are looking for a little bit exotic Sudoku experience, this is a good option.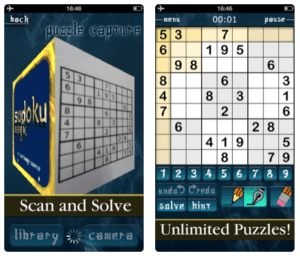 13. Sudoku II
A really nice Sudoku game for Android that allows you to play the classic version of this game. Well, not only classic, there is a number of options: Sudoku, X-Sudoku, %-Sudoku, Squiggly Sudoku, Squiggly x-Sudoku, Squiggly %-Sudoku.
The app has 3 levels of difficulty which are organized in a standard way (easy, medium, hard). Overall here you got more than 3500 Sudoku puzzles. The interface of an app also looks really nice, it differs from those apps where developers simply didn't pay any attention to it.
Each time you will need to choose a number a wheel with that appears on the screen. Thus, you're avoiding accidentally pressing the wrong buttons. The only thing that may bring some discomfort, is that the wheel actually blocks the numbers in squares.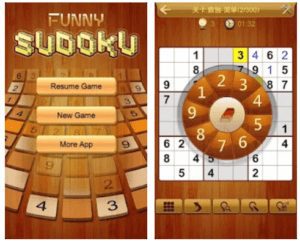 14. Sudoku Epic
Another Sudoku app is extremely popular and let's explore why. It seems like not only the game interface and design play a significant role in a Sudoku app's popularity but also the diversity of Sudoku games that it includes.
Here you have such options as Regular 9×9 puzzles, 6×6 mini, Wordoku (also known as Letter Sudoku), Killer Sudoku and daily Sudoku challenges.
You can switch from game to game to train your logic and math abilities. For the beginners it may seem probably too much so this app would be suitable for those who already have some experience with this game.
The graphical part of the app is more than decent, the bright colors compile the theme but they don't distract your attention from the game at the same time. The notes are taken here automatically so you won't even need to do it yourself. The buttons with the numbers are big enough to press and generally, all the numbers or letters are highlighted by the bright colors which make it easier for our brain to identify and remember them.
Also, other versions of Sudoku, apart from the classic one, are interesting to play. Killer Sudoku is an exciting mix of sodoku and kakuro. Wordoku is played with letters instead of numbers, and the puzzles contain words that function as hints.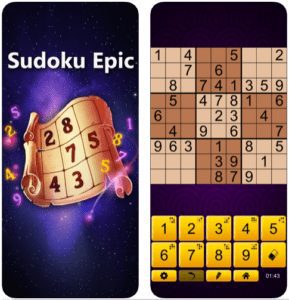 15. Sudoku Solver
Let's make this list more diverse by observing all kinds of Sudoku apps. Those can be not only games but also general apps that help you to solve difficult puzzles or simply to understand the game and get some skills. Sudoku Solver belongs to this category.
It is logical that an app like this is supposed to have an easy to understand user interface (since it's meant to explain things). So, here you can quickly take a shot of Sudoku which you found maybe in a newspaper, in a leaflet, book – doesn't matter – and with the camera in the ap add it to Sudoku Solver.
The app will edit the file quickly and then will turn it into a digital Sudoku version. After that, you can choose whether you want to solve this puzzle yourself or should the app do that for you. The app can also give you hints during the game.
Or you can choose the app to solve the whole puzzle at once. Maybe, you just make a presentation about Sudoku and you need a ready example just to present its solution. Or maybe that was a Sudoku that you couldn't solve for a long time – see if the app can do that for you.
A possible drawback of the app: users complain that hints often do not work.
16. Sudoku
In case you are already a Sudoku pro and have played many apps that exist on the market, then here is something new for you. This is a completely new Sudoku app that includes more than 36000 new puzzles, an application for SD and newly updated instructions which will teach the newbies how to solve even the most complicated tasks.
This app belongs to the category of those apps which includes multiple versions of this board game at once: Standard Sudoku, X-Sudoku, Hyper Sudoku, Percent Sudoku, Color Sudoku, Dart-Sudoku, Wheel Sudoku and even more.
Moreover, the app has a new intuitive interface of hints and game highlights. It also allows you to take notes in a new, compact way. The whole design if the app is nothing special but more than enough to support the authenticity of the game.
If you want to learn how to play, you can choose the function where you get the full Sudoku strategy tutorial. Follow the steps and understand the principles of the game. By the way, the gameplay here is performed in such a way that you really feel like playing a regular paper Sudoku though you're playing on the screen of your smartphone.
Another advantage here is that the app doesn't occupy much of your phone's memory space, so you can install it even if you have a pretty lean volume of it. Besides, it doesn't consume much of the battery charge which is definitely a plus – you can play for many hours, for instance, when you are on the road without fear that your phone is going to die.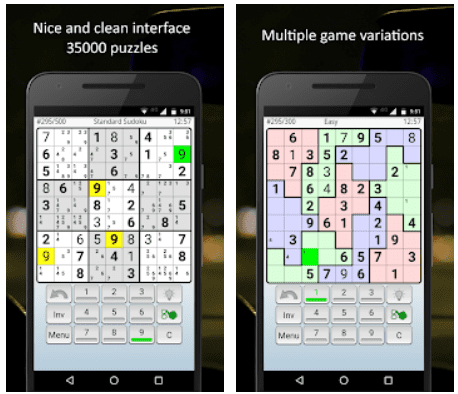 17. Conceptis Sudoku
Wow, this one app is a real full Sudoku pack. If you are a true fan of this game ad would like to have every detail possible available in the game then this is your perfect app. It has an abundance of features and options which will make your playing experience incredible.
Maybe one of the reasons why Conceptis Sudoku is made in that way is because it was made by a Japanese developer – and from the intro, you might have found out that initially the game Sudoku became popular in that particular country.
Conceptos Sudoku has such a version of the game as Diagonal Sudoku, Irregular Sudoku, OddEven Sudoku, Mega Sudoku and Moster Sudoku (however, the last one is only available for iPad). There are truly fresh versions of this game that you've probably never heard of.
For more fun, Conceptis Sudoku includes a Weekly Bonus section providing an extra free puzzle each week. In the Classic Sudoku section, the game is divided into more than 120 variations. The levels of difficulty also vary from extremely easy to extremely hard ones.
The good thing is that the app is constantly updated with the new content thus, it never gets old and boring. Here you have the ability to concurrently play and save multiple puzzles. All the necessary functions are included in the app hints, highlights, taking notes for hard puzzles, locking numbers on the keypad, highlighting excluded cells.
The design of the app is also very versatile. Unlike the apps, which allow you only to choose either the overwhelmingly colorful or animated interface or a too plain and boring one, this Conceptos Sudoku leaves you the compromise. You can continue on playing with a simple interface design that has a few bleak colors of you prefer calm themes.
But if you want, you can change the background of the app with your own pictures. There are almost no animations here, but it is maybe even better since that way the app could be overloaded with different features.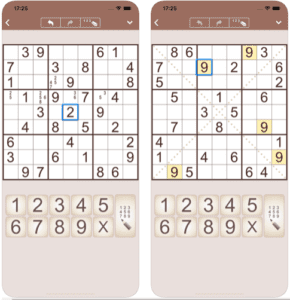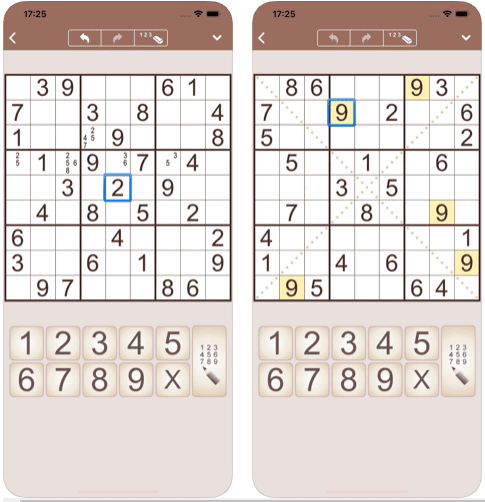 18. HandWrite Sudoku
For that part of the audience here who are old school and prefer to play Sudoku on paper – we found a perfect app for you. Here you will feel like you are playing not on the screen of your gadget but on the newspaper spread or other paper.
The app claims to be the most authentic and original app in the Sudoku games apps industry. What you need to do here is just to highlight the cell where you want to put your number and then draw a number with your finger. An additional benefit of playing Sudoku this way is that it also develops your left and right cerebral work.
However, the interface is quite lean. If only you don't have a strong desire to play Sudoku in the written form, you will not discover any impressive here.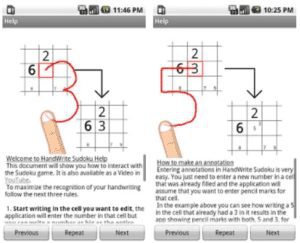 19. Sudoku
This Sudoku app immediately captures your attention with its elegant and stylish design. Who said that the outer look of this game should always be plain and serious? You will notice how your productivity will increase as you play in such a cool authentic design of the app.
As you can see, the main distinctive feature of this app is its minimalistic design. You will be surprised, how different the game may seem without any extra accessories and effects, which you actually don't need. Now you got a chance to look at your favorite game at a fresh angle.
Apart from that, all the main functions of the Sudoku app can be found here. Hints for beginners, intuitive interface which will tell you right combinations by highlighting the numbers, customization, intuitive gameplay. The autosave function is here as well. You can switch off the app any time and then return starting right from the moment you left.
Another cool possibility that this app gives you – you can switch themes right during the game. Also, there is a counting of the digits remained. There are some animations in the app but they look organic and don't distract your attention from the process.
The only negative aspect is that the animation of numbers doesn't always work correctly. Also, it may happen that if you update the fonts, they can lose their shape and get pixelized so you will have to reinstall the app. But in general – this app looks like a gasp of fresh air among other Sudoku games – mainly because of the design.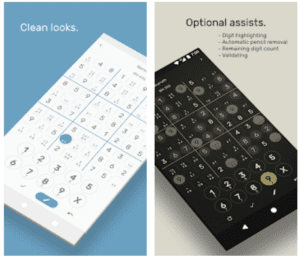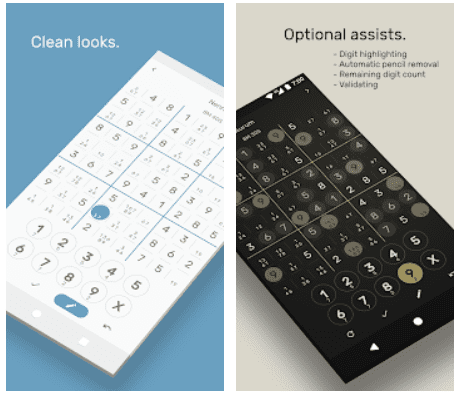 20. Extreme Difficult Sudoku 2500
If you are a real Sudoku pro and you feel like you need more challenges in your life then this is a perfect app for you. But seriously, there is always a moment when after practicing something for a very long time it becomes really hard to find something difficult to accomplish and thus, you get deprived of the opportunity to grow.
This Sudoku is not for beginners for sure. There are actually five categories to choose from: Normal, Cross, Jigsaw, Cross Jigsaw and Inequality. Each has more than 500 puzzles to choose from. Well, the choice is not so wide as in other Sudoku game apps, but because of the enhanced difficulty it is dubious they will take you the same time for salvation.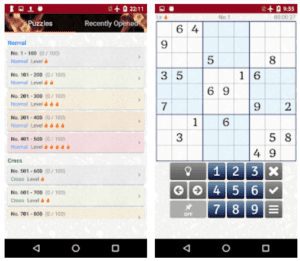 21. Sudoku
The last app on our list, which is also pretty nice, except there is nothing distinctive about it. But if you would download it and play – you would definitely enjoy it. This is a classic Sudoku game app with a simplified interface, intuitive interface and several levels of difficulty to choose from.
Once again, all the standard functions are available here: the possibility to choose the complexity of the game – easy for newbies and perplexing for experienced players. You will get a digital pencil to take notes during the game. If you feel like you're stuck you can turn to the option "reveal the grid" when you need it and open the number you need.
The interface design is nothing special here, though it is still customizable. You can alter the colors of it if you wish. Numbers got dimmed on the keyboard once they have been placed nine times on the game board. The autosaving function is here as well.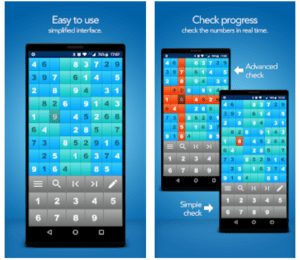 You may also like: 10 Best guessing game apps for Android & iOS