Services that offer subscriptions are gradually replacing cinemas. As we know, it is much more convenient to pick up a great movie or series at home from the comfort of your own home. So paying relatively little so much money you get quality speed and convenience.
Today we gathered a list of movie apps with free trial period. And we also recommend reading the article Free Movie Apps in which you will find a bunch of options to check out movies without paying.
1. Vudu – Movies & TV
This is a cool service that provides its users with a giant stream of TV shows and movies. The free content on Vudu can be used with most Internet-connected devices that own an account. Another cool feature is that users can sign up through their Walmart account, which you have probably already completed purchases with.
Even though this is a for-pay service, there is plenty of high-quality free content. Allegedly there are more than 10,000 movies and TV shows available at this moment. And as a subscriber, you can be the first to get the original content of the original service. In addition, it is available to rent and buy films. That makes the service more affordable from the financial side.
And to familiarize you with the service offerings the service provides a one-week trial period. Also, it is worth noting that the application has comfortable navigation. You can quickly find out about popular and lately released movies by switching between tabs here.
There are also many filters allowing you to apply limitations on genres and some parameters. In addition, there is a mode that permits you to find movies to watch with children.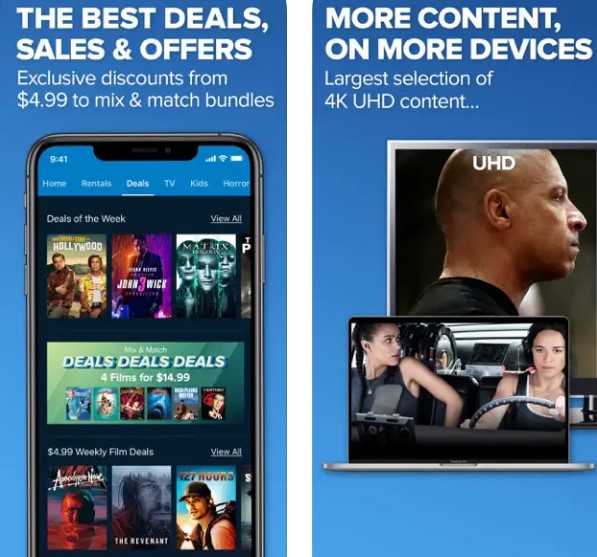 You may also like: 9 Best apps to watch Indian movies
2. Amazon Prime Video
Amazon is the most extensive base of movies and shows of any streaming service that offers a one-week trial subscription. This service has some exceptional content, but it includes a great selection of beloved classic movies and shows. Subscribing to the service gives you access to Amazon's products as well as other TV channels, movies, and series.
There is a list of movies and TV series that you can check out for free. A nice perk will be the option to rent or buy movies and TV series. In addition, it will suit fans of Bollywood, as the database of Indian films is updated quickly. Also, this service has a flexible system of adjusting subtitles. In addition to the standard design, you can create and save at least three more variants of your own.
While watching a TV show or movie, you can access brief information about the actors in the frame and learn a random fact about the film. Access to this feature is located in the left corner of the screen.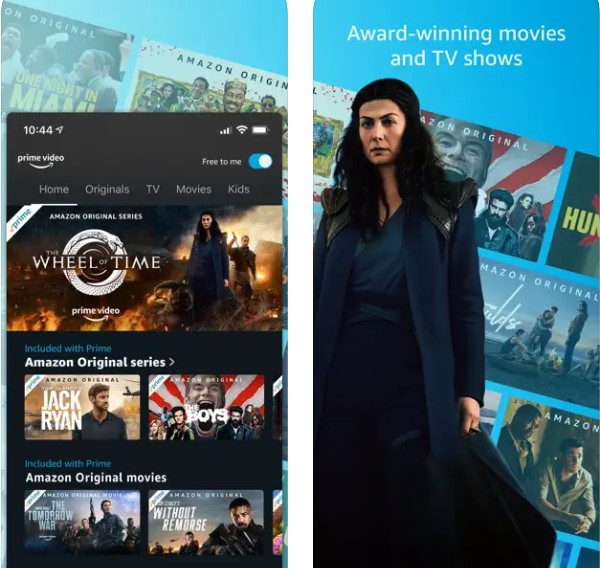 3. IMDb: Movies & TV Shows
This is a terrific streaming service for those who like to spend an evening in front of a good movie. IMDb is a program that allows users to be among the first to know the latest news about movies, series, and actors. Also, you can rate the works you have seen, leave reviews or make a list of projects you want to rate soon.
Hence, after launching the application, you will see beneath each movie the IMDb rating compiled by users. Additionally, there are several helper tabs where the latest news, recommended movies, trailers, posters, a highlight of the month, TV series, and a star section are collected. There is also a news blog that broadcasts events of awards and festivals.
To search for a movie within the app, you can either use the search or visit the Movies tab, where you will find the top world classics. In addition, there are selected popular genres with high ratings. Besides, the service prompts you to look at content, interesting facts, plots, releases, and current movies in the cinema.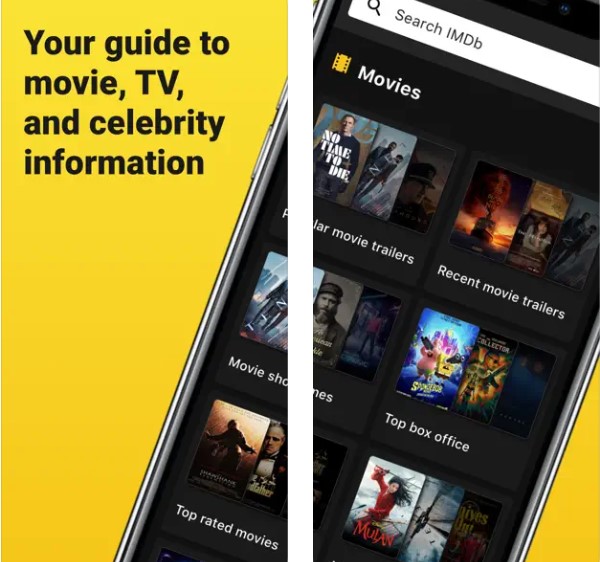 4. Hulu: Stream shows & movies
The Hulu app has tried to implement everything and bring all functions together. The app is developed with a beautiful interface to search for the right movie for you. You can easily get any movie or talk show. The app gives you ratings to find the right movie for you. And you can also set filters and search for movie genres that interest you.
In addition, you can save movies and discover them offline, without connecting to a network. Likewise, whenever you stop watching a TV show, you will be able to continue watching it when you stopped. It offers a massive archive of shows that have run on ABC, FOX, and NBC. The service will give you a trial period so you can see how the app works.
The app is completely ad-free and free of other annoying things that can interrupt yours from shows. In addition, the Hulu service provides you with television. You will be able to get your favorite TV channels in real-time. In addition, the app is compatible with multiple devices, and you can stream them on multiple devices simultaneously, depending on your subscription plan.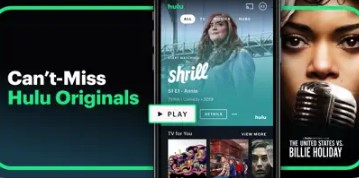 5. YouTube TV: Live TV & more
This is a video hosting service through which you can get dozens of local, entertainment, family, and other channels. Thus, YouTube TV is a full-featured television with a vast archive. The distinctive feature of this service is also its versatility. It is possible to enjoy it through dozens of different apps and devices and nearly all kinds of smart TVs.
All major channels such as NBC, CN, ABC, CBS, and FOX are included in the subscription. There are more than 80 channels in total. Thus, you may have your favorite movies without a cable box. In addition, the service provides sports broadcasts and news. A distinctive feature is the ability to connect to a subscription of up to 6 people. Besides, the interface is familiar and easy to navigate.


6. HBO Max: Stream TV & Movies
The HBO app offers you a vast choice of popular movies and shows that you have wanted for a long time. The app welcomes you with a pleasant interface that will not burden your eyes. HBO will provide you with complete instructions in the form of a slideshow on how the app works and some of its benefits. One thing to note is that the app has a trial period.
You will be able to experience the software for seven days and appreciate how effective the subscription will be for you in the future. Also, the program gives you the ability to watch movies and shows offline. This means you get to download the episodes you want and take a look on them even when you have no access to the network.
In addition, the program will show you a variety of collections of films and series, selected by expert advisors. Besides, the app contains the top list of movies and series, and you can use filters to pick the one that best suits your needs. In addition, you can use parental controls to prevent your children from watching unwanted movies or TV shows.
The app lists ratings, reviews, and brief information on the movie or TV series you want to. You will also be able to rate them and write reviews. If you stop watching a movie, the app will remember where you have stopped and you can easily continue watching it later.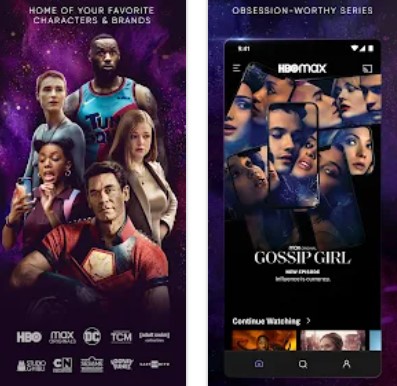 You may also like: 9 Best Apps to Watch Korean TV Shows
7. Paramount+
This international streaming service lets you take a look on your favorite content in a convenient format. Moreover, there is an impressive library of content available, including well-known cartoon series of famous brands and Paramount Studios. In addition, the streaming service has such local channels as MTV, CBS, Nickelodeon, BET, and others.
So you will find quite classy or super original content. Depending on your plan, you will get access to live news and sports as well. What distinguishes it considerably from giants like Netflix or HBO.
Also, this streaming service will offer you different subscription options, both monthly and yearly. Trial subscriptions last a week. In addition, there are parental controls to limit your children's viewing. Also, you can stream on three devices at once per account.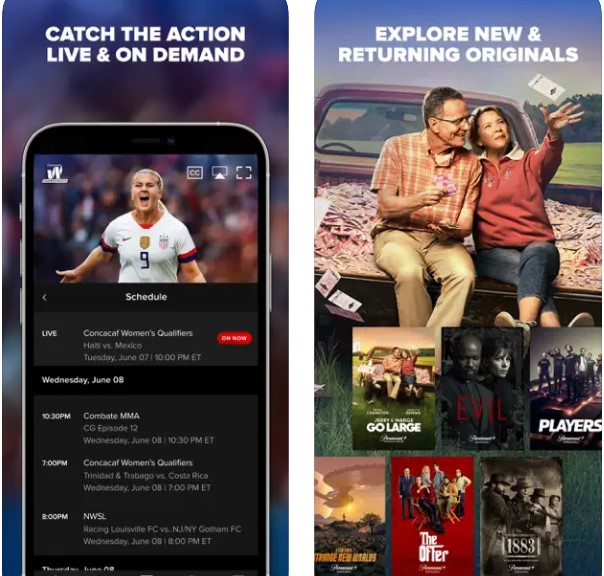 8. Disney+
It is an interactive online movie theater designed to stream Disney's immense library without ads. The platform works on all possible platforms, for example, Smart TVs, game consoles, tablets, and smartphones. And each platform has parental controls and a personal profile for all family members.
The preview window is at the top of the screen, and the bottom of the screen is where the content is located. In addition, there is a section with recommended programs, new movies, and series of different genres. Here you will find not only Disney movies and series, but also Marvel superheroes, Pixar cartoons, Star Wars, and nature from National Geographic.
In addition, the program offers a cool feature that allows you to purchase a one-time ticket to watch new releases on the premiere. It also has unlimited downloads available offline.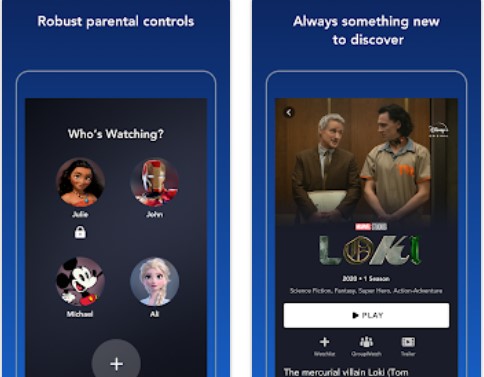 9. Yidio – Streaming Guide
This unique application gathers films from various top sources and makes them available for you to watch. Some films are free to watch, while others require a one-time payment or subscription. So, if you already have Netflix or Hulu, you can start enjoying a range of content. All movies are organized by genre and category that you can choose from in the advanced search here.
The impressive thing about this service is that it has movies for a different-age audience. There is a corresponding filter for this. In addition, it has all the basic features of other services, such as a handy player and the ability to use subtitles. Also, you can participate in rating up your favorite movies. However, only here may you find tabs that allow you to navigate through the different video sites.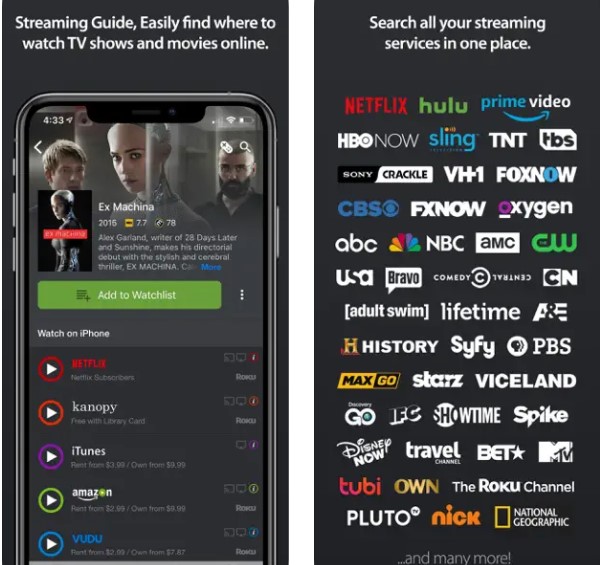 10. Apple TV
This is a famous service from the Apple company. The attractive thing about it is that you will get a free subscription for three months after purchasing the products of this brand. In addition, you can buy or rent cool blockbusters for a fee. It is also handy for playing movies simultaneously on all of your devices.
There is not a great selection of content, yet, here is a great chance to get exclusive and unique new products from this service. There are also concert recordings, documentaries, and cartoons. In addition, here you will find an effective transfer rate of 4K, which is significantly higher than the other services. In addition, you can watch subtitles and various dubbing.
There are several available subtitles: Spanish, Italian, Portuguese, German, Japanese, and, of course, English. This service also cares about people with hearing and vision impairments, so it supplies unique audio tracks and special subtitles. Another feature of this video hosting is the fact that you can watch films from another subscription.
This way, you can access all kinds of content from other companies as well as the exclusives. In addition, this hosting will be valid for travel. After all, a variety of films, shows, and serials are available offline. It is enough to download beforehand what you are attracted to.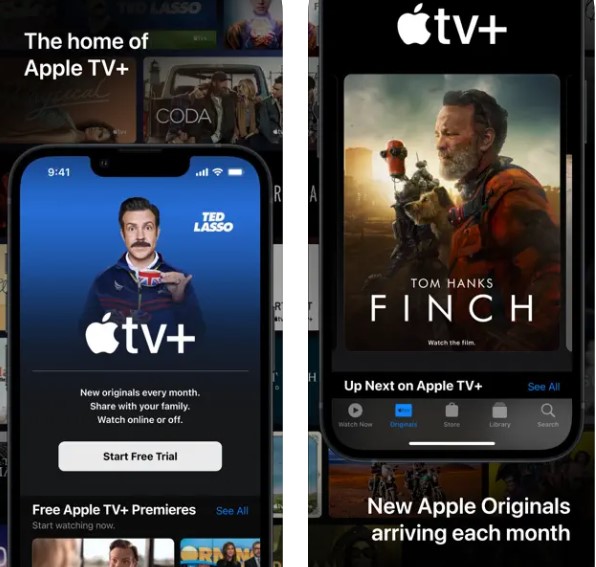 You may also like: 9 Best IPTV Apps
11. Netflix
This platform relies on its content, and regularly receives viewers' sympathy for it. At the same time, new products are released almost every day. Meanwhile, the service is famous for its amazing approach to shooting content, in which a subscriber can watch the entire season at once, without the hassle of waiting for a new series to be released every week.
In addition, you can immediately enjoy the entire content of the service by paying for a single subscription. There is no need to pay separately for watching a particular movie or series. Among the films available in the online movie theater, there are both original and third-party studios.
This service has digital releases of legendary films that appear over time. In addition, it is nice with its interface and unique design. The main page shows a large number of series and movies, so you do not have to search for them by yourself for a long time. And if you point to the cursor or click on any video, the trailer will start playing immediately.
Also, it is worth noting the speed of video loading and 4K resolution. This platform is perfect for a group of friends or family thanks to the ability to manage multiple profiles at once. There is a special profile for kids so they can decide what to watch on their own, which is outstanding for child protection.