There is no doubt that nowadays, most devices have a built-in screenshot capture feature. However, people still need apps to take screenshots.
The first reason for it is the lack of this feature on a gadget. It happens rarely, but it happens. Nevertheless, even if capturing screenshots available, one can be not satisfied with the quality of screenshots. Alternatively, sometimes a user needs more additional features to work with just captured screenshots. In this case, the built-in feature won't be efficient enough to meet your requirements.
If you are searching for an awesome snipping tool, this very post is going to help you for sure. Just become familiar with the apps of our list, install one of them, and enjoy taking screenshots with many more capabilities.
1. Screen Master: Screenshot & Longshot, Photo Markup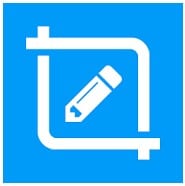 The first app that comes to mind is Screen Master. This tool from Google Play comes with a bunch of numerous features at once.
After installing the app, you will be able to take a screenshot in several ways: by tapping on a Floating button (it will be always on the top) as well as by shaking your phone. That seems so cool.
After capturing the screenshot, you will have access to dozens of tools. Thus, rotating, cropping, blurring, and zooming will be available for you. Besides, you can add any text, stickers, and even annotate a screenshot with arrows or drawings. So there is no need to use other apps.
Apart from this, the app has more advantages than you imagine. By this, we mean its capability of capturing the full web page. To do this, you will need to copy the URL of a page and paste it into this app. Not every app can cope with this task.
One more great feature is a long screen capture function. Talking about long screenshots, we should also mention that the app can automatically recognize and stitch multiple photos into one long screenshot. What is more, the photos can be stitched both horizontally and vertically.
It seems that the app can capture everything. However, keep in mind that there are some secure pages (like where you input passwords) unavailable for snipping.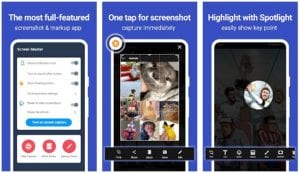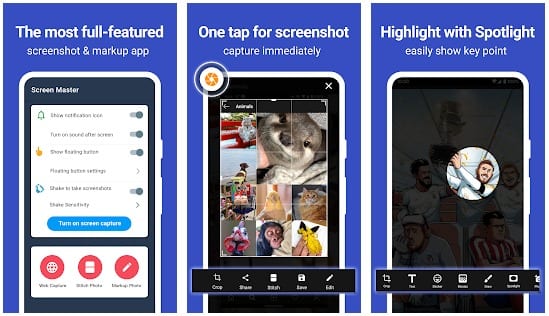 2. Picsew – Screenshot Stitching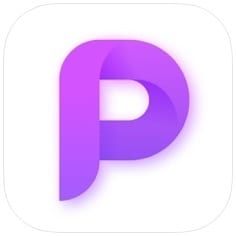 Picsew is considered one of the best iOS apps to capture screenshots. What is more, it will be so appropriate for those who need to take long screenshots.
The app represents a great snipping tool to capture screenshots of any size. What is more, you will be surprised by its capabilities in capturing long pages.
So right after capturing a screenshot, the app will allow you to use its additional tools to add watermarks, annotations, borders, and so on.
Like in the previous app, you will be able to stitch several photos vertically as well as horizontally.
The main distinguishing feature of this app is its widget for Home Screen. With it, you will be able to merge recent screenshots. Of course, this feature is adjustable. But some people find it really worthwhile.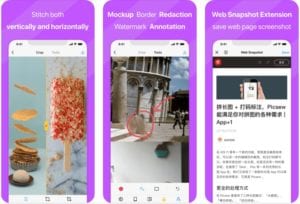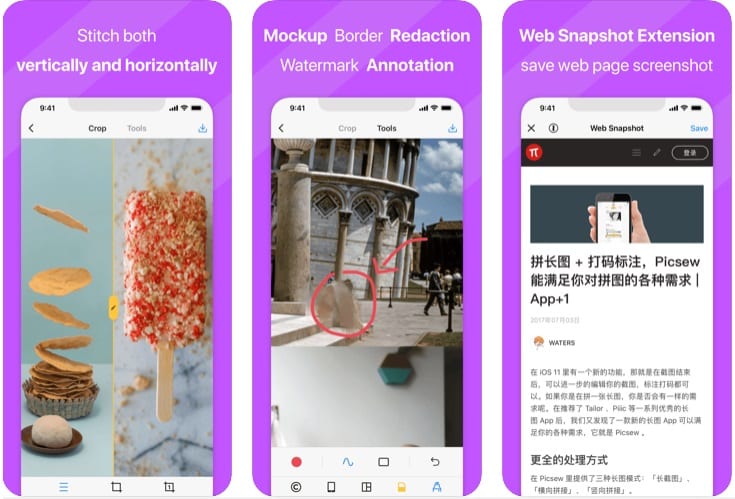 3. Screenshot Easy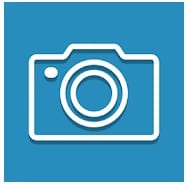 One more tool we want to tell you about is called Screenshot Easy. Though it is so simple, it will definitely meet all your requirements.
With only one tap, you will be able to capture a screenshot with any content. All you will need to do is to tap the app's overlay icon. It must be mentioned that the icon is fully adjustable so it won't irritate you at all. Alternatively, the icon can be placed in the notification bar.
Besides, you will be able to take screenshots by adjusting the combination of buttons. Finally, just shaking the phone also will be enough to capture the screenshot of great quality.
Apart from this, every user of this app will have an opportunity to capture a web page regardless of its size. One more nice feature the app contains is its capability of capturing long screenshots.
After capturing everything you want, the app will provide you with access to its tools. By using them, you will be able to add some marks, stickers, texts, and so on.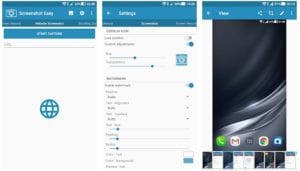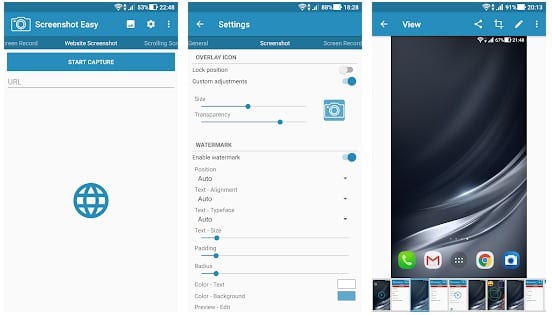 4. Skitch – Snap. Mark Up. Send.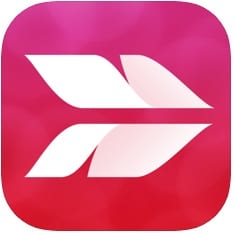 Are you searching for a snipping tool that perfectly suits for annotation? If you are, the Skitch app will be the best choice for you.
Let's start with its screenshot feature. Though it doesn't support taking long screenshots, one way or another, you will be absolutely satisfied with taken screenshots of the usual format.
Then, it will be high time for the app's best trump card. By it, we mean dozens of opportunities to annotate or mark up a photo. You will be able to add highlights (which is relevant for PDF files), add stickers, text, drawings.
After all, instant sharing a screenshot edited will be available for you. The app supports sharing an image via various social media or email.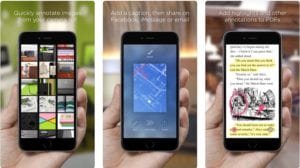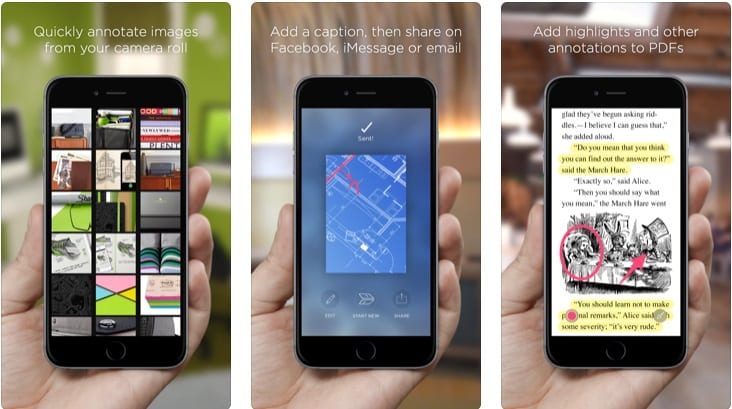 A screensaver is an integral part of your phone customization. So if you are interested in emphasizing your individuality, we recommend you to read about the best screensaver apps for Android & iOS.
5. Screenshot touch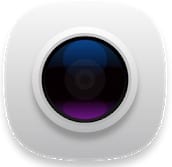 Here is one more similar snipping tool app that we can't help adding to the list. It is called Screenshot touch.
After installing the app, you will have a super powerful tool at your fingertips. Thus, you will be able to capture a screenshot in several ways. First of all, the app is going to provide you with a cool icon situated in the Notification bar or overlay. Secondly, the app also supports such a feature as shaking the phone to take a screenshot.
When it comes to considering screenshots of full-sized web pages, the app also offers various options to do this. Every user can copy the URL link of a page and paste it to the app. As an alternative, you will be able to open any link with an in-app web browser. In both cases, the result is going to admire you for sure.
Apart from this, as usual, you will be able to use various tools allowing you to edit a photo (crop or rotate), create drawings, add shapes, text, etc.
As a bonus, you will find one distinguishing feature in this app. To be more precise, the app is capable of capturing the videocast of the screen. What is more, you will be free to adjust the video captured by setting the Resolution, Frame rate, Bitrate, Audio, and so on.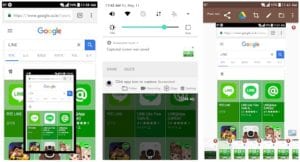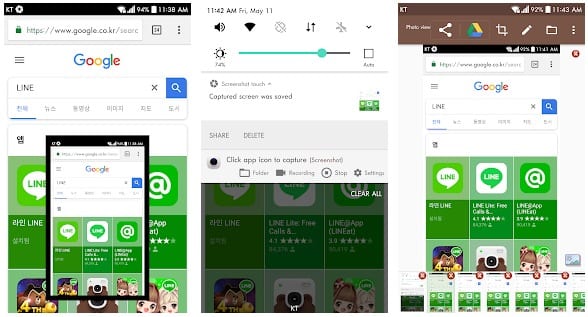 6. Stitch It!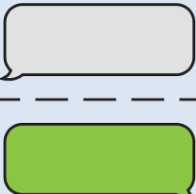 In case you are searching for more, we would like to present you with one more all-in-one app. Its name is Stitch It.
Taking screenshots has never been easier before! This amazing tool will allow you to do this without facing any difficulties.
What is more, it will be so appropriate for annotating screenshot captures. So you will be able to add arrows of various styles as well as text on your photo.
One more nice thing about the app is its capability of blurring out particular areas on a photo. That's why your private data will surely be protected from undesired views.
Of course, the main function of this app is the ability to make quick screenshots of a text message, cutting out only the important bits. You can also use it in your browser to extract what's essential.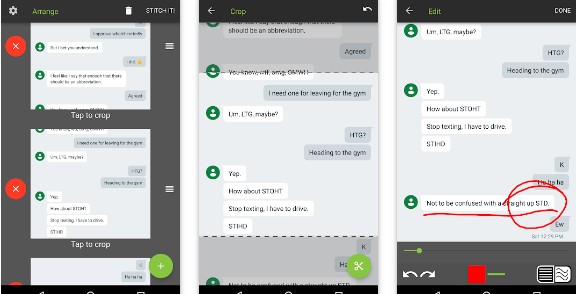 7. Screen Crop – Quick Settings Tile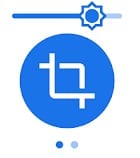 Screen Crop is probably the simplest app in our review. At the same time, you can't imagine how excellent it is.
The app's icon will be situated in the Notification bar. All you will need to do is to tap an icon and choose an area of your screen to be captured.
Unfortunately, annotating a screenshot as well as adding text isn't available in this case. So you will have to use some additional apps.
At the same time, the app will help you in sharing a screenshot via social media or email.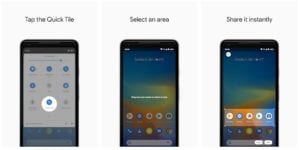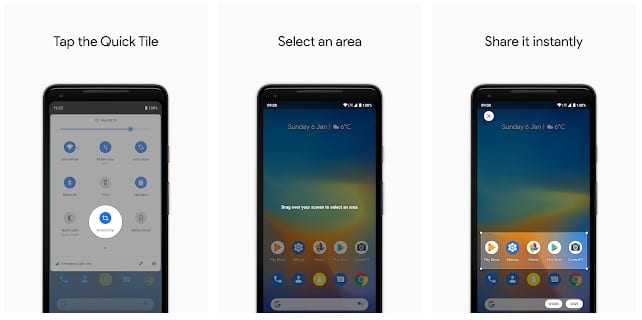 8.  Tailor – Screenshot Stitching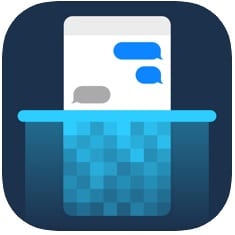 Just like the app above, Tailor doesn't have any features to annotate a screenshot. However, it has another advantage.
It will take you just a few seconds to capture screenshots with this app. After that, the app will become your assistant in stitching several images together. What is more, the process of connecting photos will be as convenient as it is possible.
One more enjoyable feature is instant sharing the content via all popular social media and services, add to Favourites, and so on.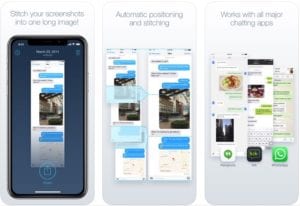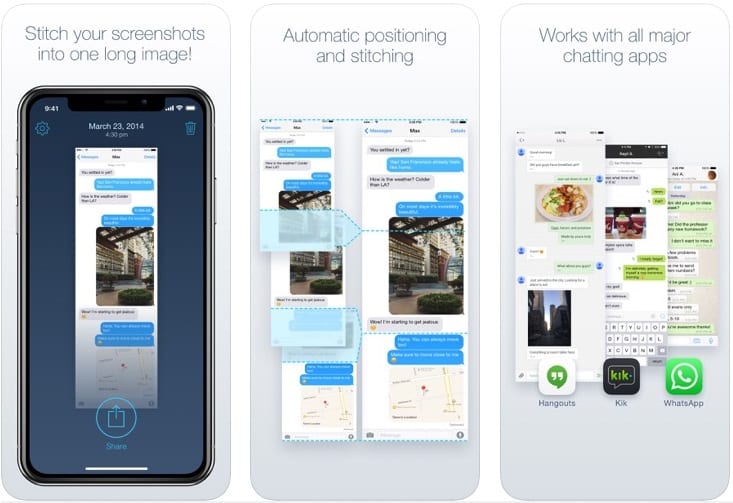 9. Screenshot X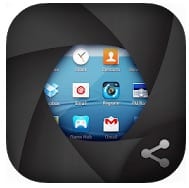 The penultimate app of our top is also a little bit primitive. But it will be perfect for those who are fond of minimalism.
The Screenshot X app will place an icon on the top of apps and messengers used by you. What makes it convenient is that you will be able to move an icon to avoid any disturbance.
Then, only one tap will activate the app and make it capture the screenshot. After that, as always, you can share the screenshot wherever you want.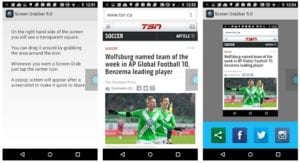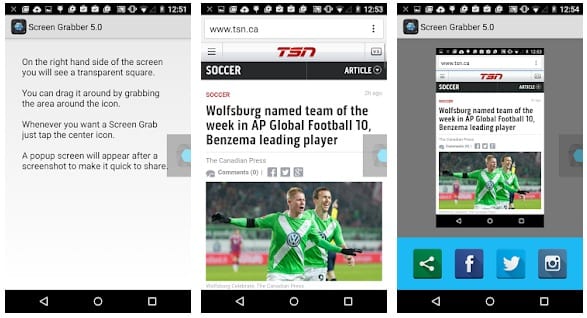 10. Super Screenshot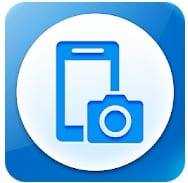 The last but not least app is Super Screenshot. It will be perfect for those who want to use standard button combinations to capture the screenshots.
The app will make the button combination work on your device. By pressing and holding the 'Volume Down' and 'Power buttons', you will be able to take a screenshot at once.
The next step is resizing a screenshot, scribbling, adding text or filters, and any other operations available. After that, it will remain just to share the image and enjoy the result.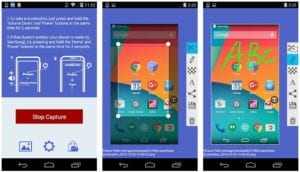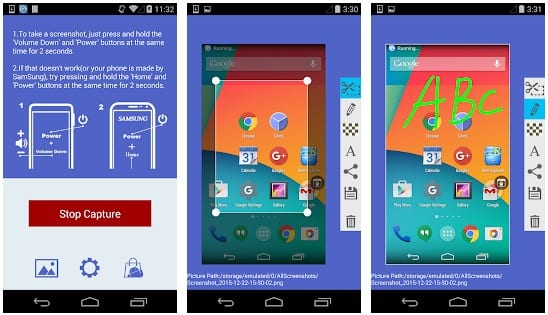 You may also like: 10 Best apps to unblur photos on Android & iOS