Embroidery is no longer just a hobby for your grandma, it's becoming a popular pastime for younger generations as well. And with its popularity on the rise, there's no doubt that there's an increasing demand for tools that make it even more accessible.
That's where free embroidery design apps for Android and iOS come in handy! With these apps, you can get creative with designs and make them to perfectly fit your project.
The apps cover tons of designs to customize your clothes, interior, and more. Not only that, but you'll also get to edit layouts and even make your own ones. Whether you're a seasoned pro or just starting out, these apps are sure to add a fun and interactive element to your projects. Let's get started!
1. mySewnet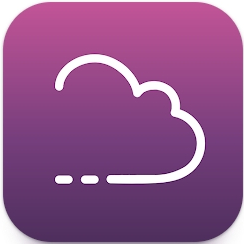 If you're a sewing enthusiast, don't get past this app. It is perfect for unleashing your creativity in the world of sewing and embroidery. The app also helps in improving your embroidery skills and diversifying the overall experience. It's free to use and there are no ads to bother you at all.
First of all, let's talk about the ease of use. The app lets you easily design and monitor projects from anywhere. The app's intuitive UI lets you place your design on the fabric area with precision, while the monitoring feature keeps you up-to-date on the stitch-out process. And when your machine needs attention, the app will notify you right away, so no need to hover over the machine all day.
But isn't just about convenience. The app also boasts advanced embroidery creation and editing tools, such as the QR Code make. With this one, you can automatically digitize any URL, email, or website into a QR code that's ready to be embroidered onto any garment or quilt.
And if you're feeling extra creative, why not use the photo stitch to turn your favorite pics into layouts? Just snap a pic and let the app do the heavy lifting.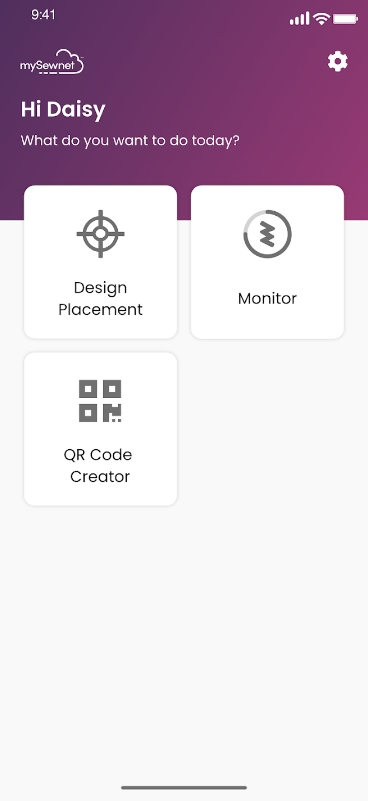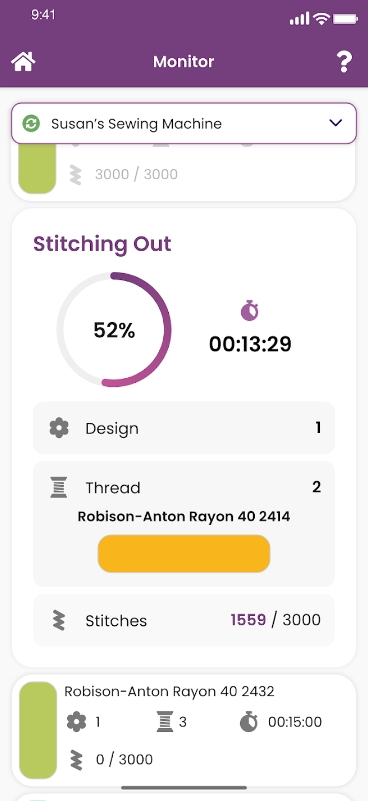 You may also like: 10 Best Clothes Combination Apps
2. Royal Present Embroidery
This app is a treat for those who love to add a personal touch to their home decor or gifts. It covers a vast range of exclusive layouts for both machine embroidery and cross-stitching. The layouts are so unique and creative that you'll definitely find something that suits your style.
You'll be pleasantly surprised to find designs ranging from traditional to modern, making it so easy to choose what you want to make. Hereby, the app is beginner-friendly, and it takes literal secs to figure it out. It lets you preview the design before purchasing, ensuring that you are getting exactly what you want. Plus, the selection of thread and color options is impeccable, making customizing designs even more fun.
Above that, the vast lib of designs has options that cater to different skill levels. Whether you're a beginner or a pro, there's something for everyone. You can also pick from various file formats such as PES, JEF, DST, and EXP, making it compatible with most embroidery machines.
All the designs are high quality, ensuring that your finished product will look nothing less than professional. The stitching process is smooth and seamless, resulting in gorgeous finished pieces that truly stand out.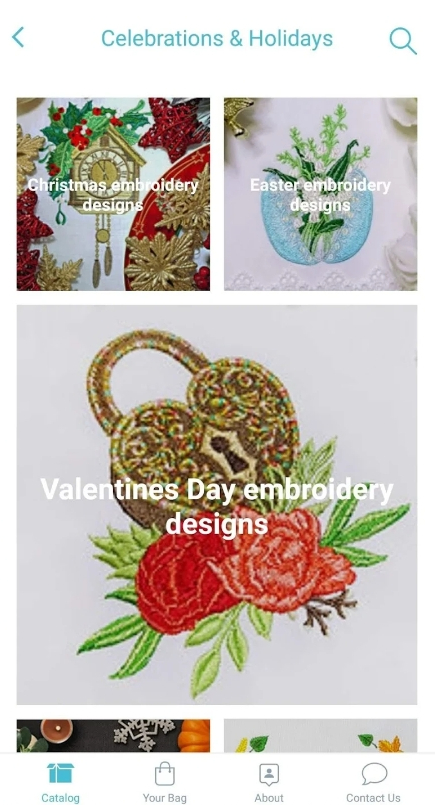 3. Embroidery App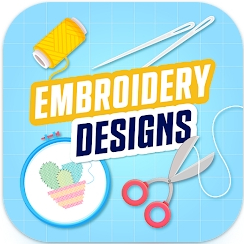 Tired of searching for the perfect embroidery designs online? This app is right here to help! It is a game-changer for anyone looking to learn hand-sewing patterns and make stunning embroidery art.
The app is bundled with step-by-step tutorials making learning embroidery easy and fun. With the help of basic stitches, even beginners can create gorgeous patterns and designs. If you're looking to personalize your shawls or blouses, this app can help you embroider letters or names with ease.
There's even a cross-stitch embroidery tutorial, which teaches you to stitch flowers like a pro. There are tons of vids with useful tips and tricks to help boost your skills right away.
The app covers all types of hand embroidery designs, making it easy to find an ideal pattern for each project. And with an embroidery viewer and stitch cal built right into the app, you'll be able to easily follow along and create stunning designs without any guesswork.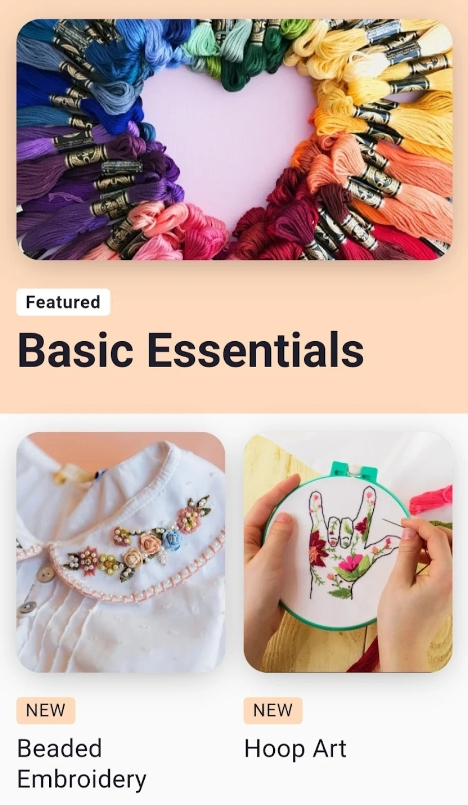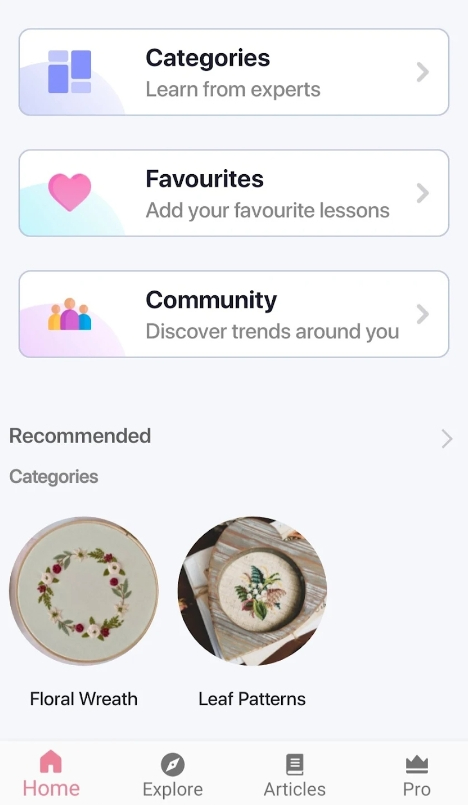 4. Love Embroidery Magazine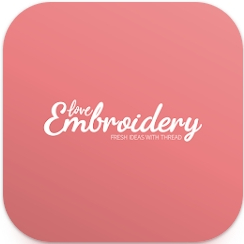 That's a great app if you're on the hunt for fresh embroidery ideas. As you may guess by the name, it's a full-on digital magazine to help elevate your stitching game and get more creative. It's like a little handy companion to assist in your crafts.
You'll definitely appreciate the quality and quantity of content available in each issue of this magazine. The new one comes out every month, so you won't run out of ideas. One of the standout features is the compilation of 10 trend raft projects that come with every issue.
All of these are complete with full-size templates, so no worries here. Whether you're a beginner or an experienced stitcher, there's something for everyone here, from delicate floral motifs to quirky modern designs. The instructions and technical tips make it simple to create stunning pieces that you'll be proud to show off to your friends and family.
In fact, the app is more than just a collection of patterns and projects. You'll get to watch multiple interviews with f the biggest names in the embroidery world, providing insights and inspo from the experts themselves. Not to mention, the stunning photography and new product features make it easy to stay up-to-date with the latest trends in the craft.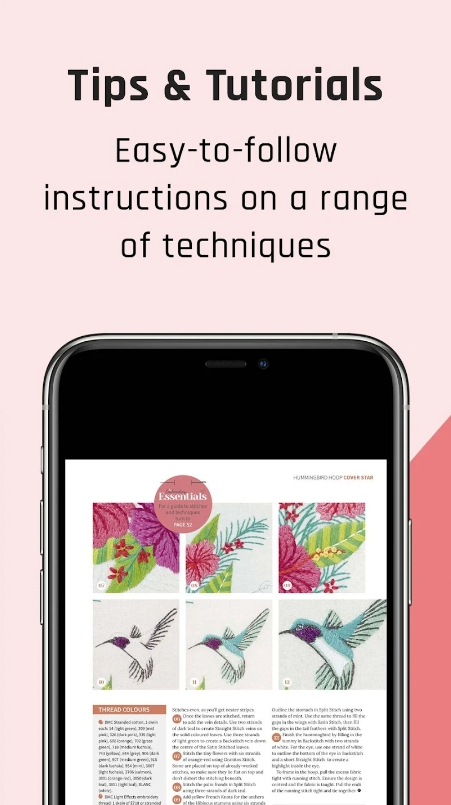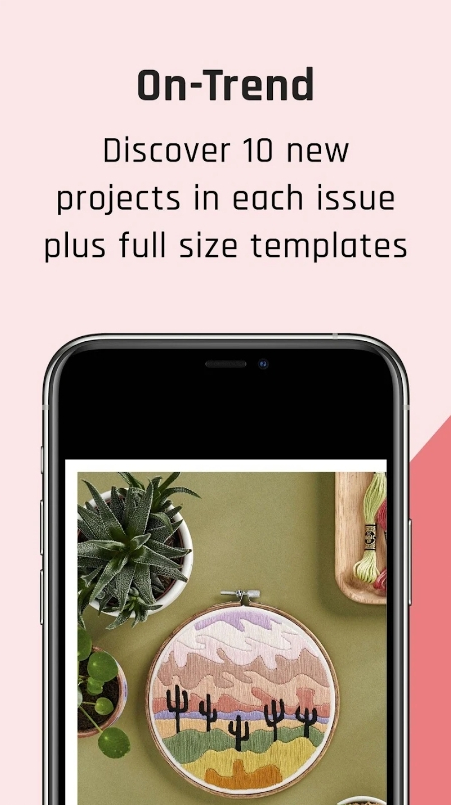 Check also: 11 Best Fashion Designer Games
5. Embroidery Design Viewer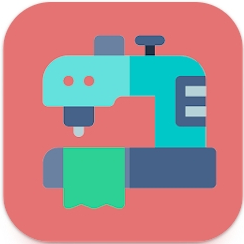 This app truly takes the cake when it comes to viewing any format embroidery design. Not only is it completely free for a lifetime with unlimited use, but the level of detail you get when viewing your designs is unmatched. You can easily view stitches, the colors, the size, and even the total jumps in the design.
One of the coolest aspects of this one is the ability to present your design in a realistic view. This gives you a better idea of what the finished product will look like. And with it being able to open all major embroidery stitch formats as well as all major quilt formats, you truly have all your bases covered. Plus, the fact that you can open email attachments directly within the app makes my life so much easier.
Above that, you'll get to save to major stitch formats and even specify the fabric color. What's even better is you can match your design's colors to standard embroidery thread charts like Madeir, Mettler, and all that. This is an incredibly helpful tool, especially for those of us who struggle with color matching.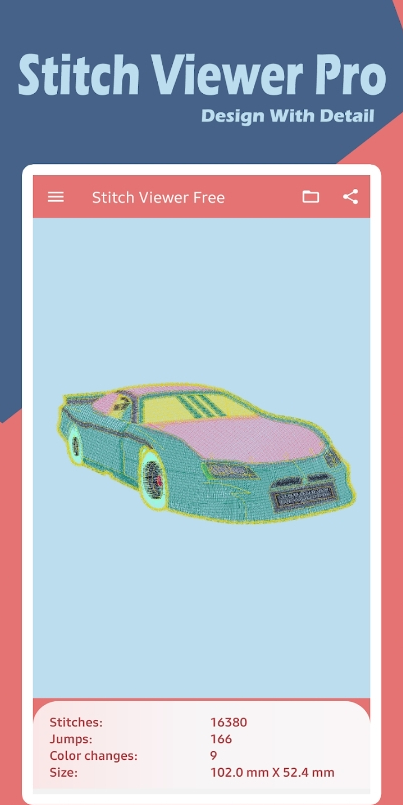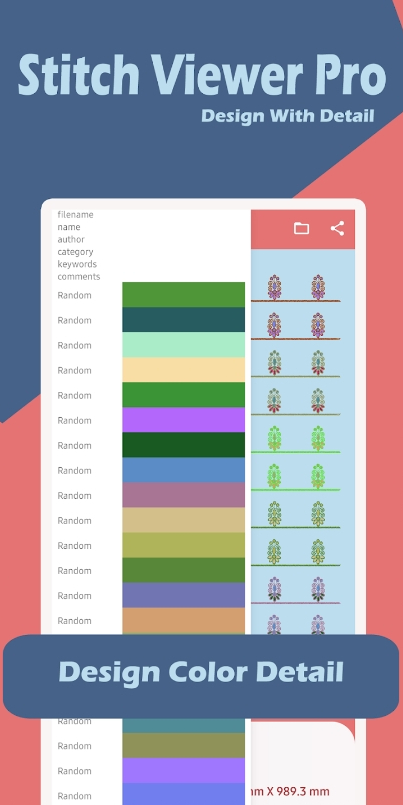 6. EmbroHub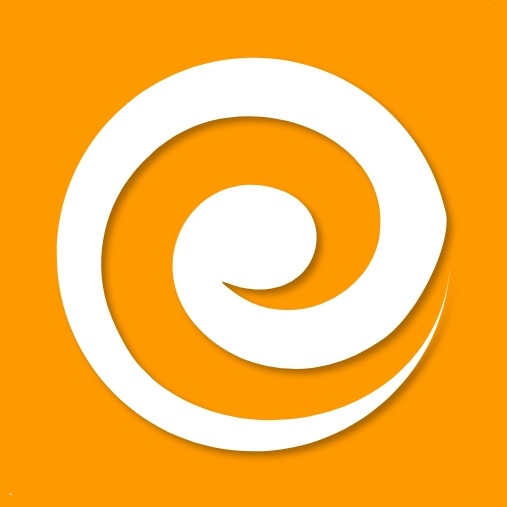 Here's an app to make your embroidery designs download simpler, faster, and more efficient than ever before. Whether you're an enthusiast or a pro, you'll find smth to enjoy here. The app covers a vast lib of top-notch embroidery designs with all the essential properties and details that you need.
The app puts meticulous attention to detail into every design. Speaking of properties and details, these include needle colors, height, concepts, machine areas, and all that. This level of information makes it easy to choose an ideal design for your project and ensure that it will work with your specific embroidery machine.
The app covers the design for all types of areas and multi-head embroidery machines, and it is also specifically tailored for small or single-head machines. The level of inclusivity is pretty impressive here, especially as most beginners tend to start with smaller machines.
The speed of design downloads is lightning-fast, and you'll get these saved in just a few secs. Plus, the app's UI is easy to navigate, which makes finding designs a breeze.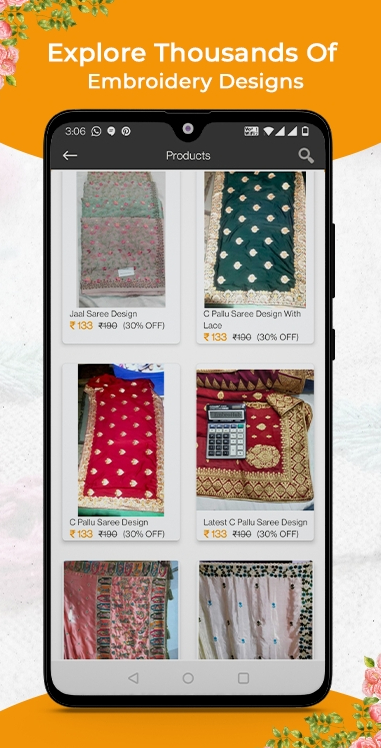 7. Brother My Stitch Monitor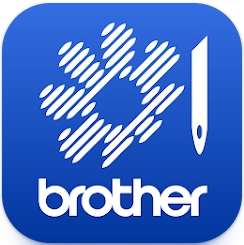 It's a smart solution to monitor your Brother machine. This app is truly a gem for all your embroidery needs. It lets you wirelessly connect to your machine and monitor the progress status of your needlework, including thread alerts and other important information.
You'll even get to check all the thread colors used for embroidering, so you can plan your next project with ease. It's pretty easy to connect the app with our machine, too. With just a few clicks, you can be monitoring your progress.
And if you're worried about missing any important updates while multitasking, fear not. The notification tool is very handy, and it will completely change your routine (for the better, of course). You can receive notifications on your smart device when your machine stops, which is especially useful if you're multitasking while embroidering.
Plus, the progress bar makes it easy to check the progress status of your embroidery at a glance. The app lets you view thread colors, brands, and the duration of the embroidery all from your device. Who knew keeping track of the project could be so much fun?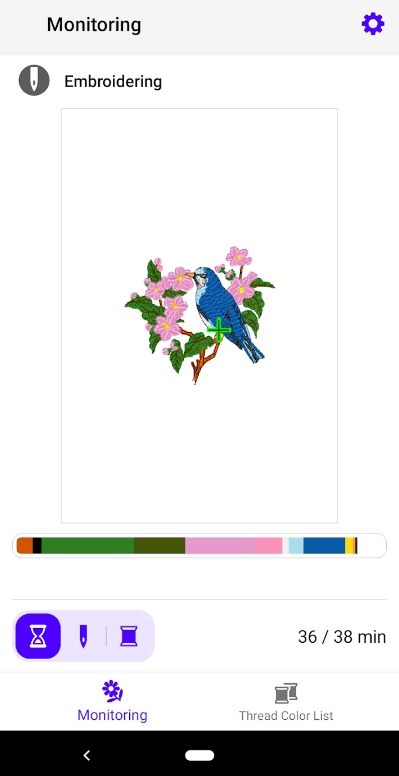 You may also check: 11 Best Consignment Apps to Buy & Sell Clothes
8. EMB Cart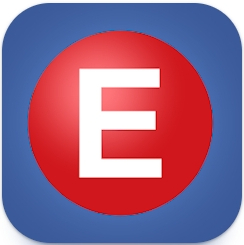 And lastly, we have an ultimate solution for all your embroidery design needs. With thousands of royalty-free designs available, you'll never run out of options. The best part? You can customize these according to your specifications and let your creativity soar!
The main goal of the app is to minimize design expenses for embroidery units. This makes it possible for small businesses and hobbyists to access a wide range of ready-to-use embroidery designs without breaking the bank. And they stay true to this by offering an extensive selection of designs in varying categories.
Considering a vast variety of options, it could be pretty easy to get lost here. But don't worry: the app gives you the ability to filter those by area, height, needle, and stitch range. It makes the selection process incredibly easy and efficient. And once you've found an ideal one, simply click the heart button to save it for later.
Downloading takes a couple of secs, so no worries there. The designs are saved in a special folder in your storage, ensuring easy organization and accessibility.