Want to shake up your fitness routine? Learning Zumba is a great way to do that, and we're about to help you get into it!
We've got the scoop on the best Zumba learning apps for Android and iOS you could try. These apps offer a variety of Zumba classes that are easy to follow. These classes are not only fun and energy-boosting, but they can easily become your workout of the day.
From beginner-friendly routines to more advanced dance moves, these apps have something for everyone. You'll be able to learn the steps, master the routines, and get in the best shape of your life. Let's dive in!
1. ZIN Play
This app is here to take your Zumba skills to the next level. It covers tons of dance tutorials for you to try and will keep you motivated along your learning journey. There are lessons for people of all skill levels, and the UI is super easy to navigate.
First off, the app is completely free to download, Once you have it on your phone, you have access to multiple Zumba tutorials that are easy to follow along with. The vids are high-quality and give you a great workout, whether you're a beginner or more experienced in the world of Zumba.
Above that, the app lets you make custom playlists with all the clips you like or would like to use in the future. This makes it easy to come back to your fave lessons and keep up with your routine easily. And speaking of music, the app's integration with your device's music library is amazing. You can add your own songs to your playlists, and the app will even suggest songs for you based on what you already listen to.
You'll also get to customize the songs to fit your need. Furthermore, you can trim them down or apply sound effects to give you a truly personalized workout experience. And the best part? The app works offline, and you can reach the vids at any time (but only if you've saved them first).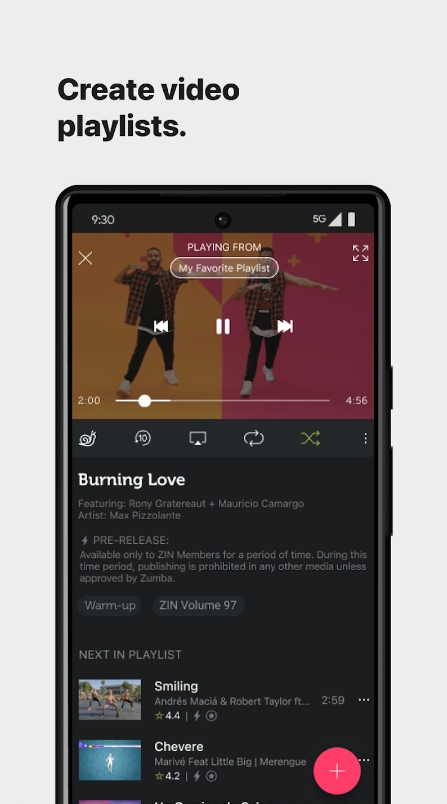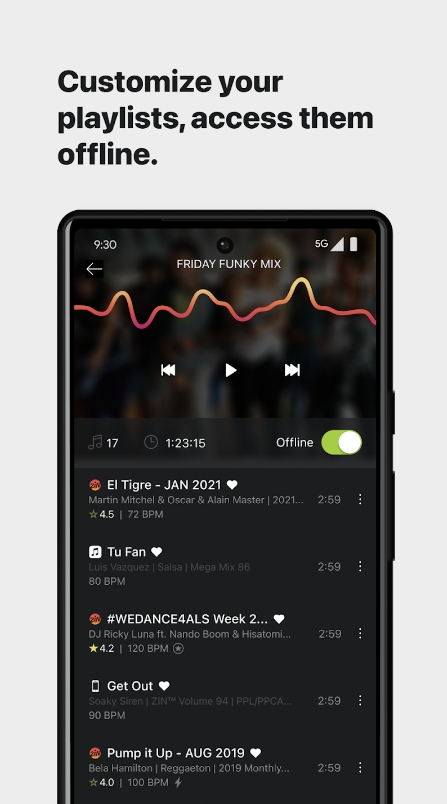 You may also like: 11 Great Gymnastics Apps to Help You Exercise
2. SYNC GO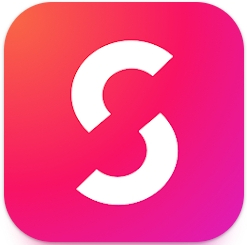 This one is made by Zumba enthusiasts for Zumba enthusiasts. It's the ultimate solution for toning your belly and getting fit in all aspects of life. The app has a team of expert instructions, making top-quality video lessons for you to follow. It's a great tool to help you get the most out of your Zumba dance sessions.
Hereby, you'll get to create personalized playlists of dance sessions and tracks. With the ability to trim music and video content to fit the duration of your class, you'll enjoy a seamless and rewarding workout experience. You'll be able to enjoy the content offline as well, just make sure to save it first.

And if you're a member of the SYNC program, you'll have access to teaching aids, that help you to perfect your technique and become a true Zumba pro. The app's simple UI and amazing trainers make working out feel like pure joy. Trust us, the infectious energy and high-octane choreographies will keep you dancing around your place, even after the lesson is over! Get ready to unleash your inner dancer!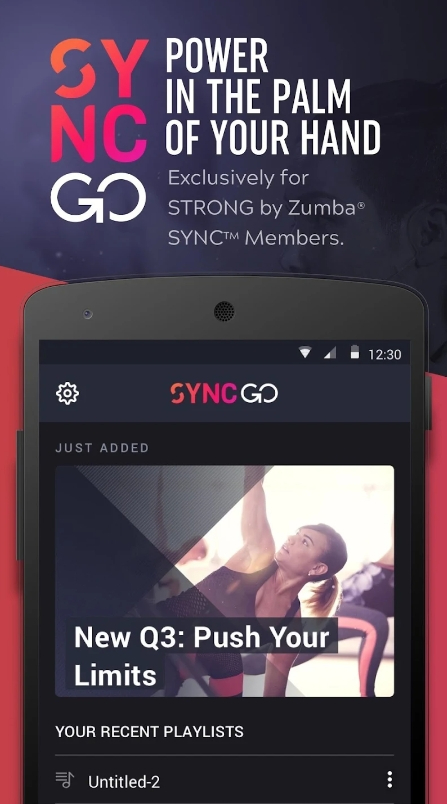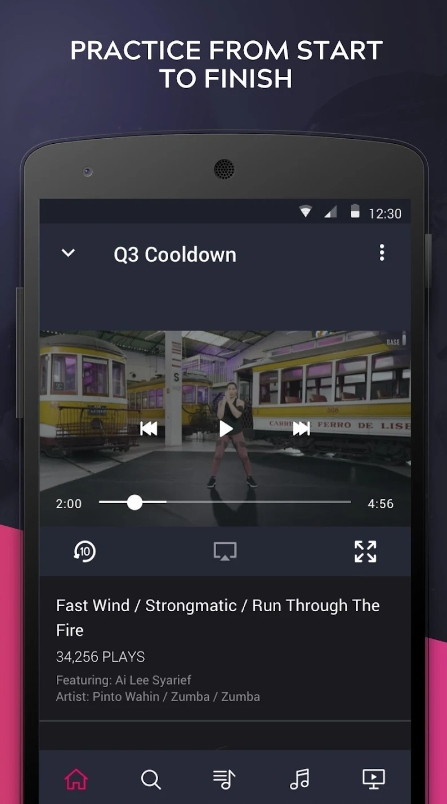 3. Body Groove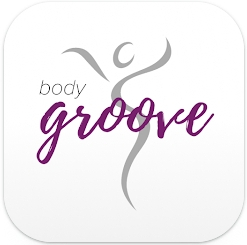 With this app, you'll get to feel healthier and more confident in your body. It will completely revolutionize the way you work out and dance. The best part about this app is that it meets you where you are. Whether it's your first time trying Zumba, or you have some experience already, the app tailors each session to fit your individual needs and goals.
Plus, the app gives you the freedom to add a personal flair to each move, making your workout as unique and special as you are. Not only it's incredibly fun, but it's also an incredibly effective way to get fit. By incorporating easy dance moves, you'll achieve a strong, flexible, and lean body without ever feeling like you're punishing yourself with a grueling workout.

One thing that really stands out about this one is the emphasis on body positivity. Each session feels like a celebration of what your body can do, rather than a punishment for what it can't. This approach is so refreshing and empowering and will help you to love and appreciate your body in a whole new way.
The app is free to use, and the simple UI makes it even more accessible. The ads will pop up here and there, but there are no hidden fees or locked lessons for you to pay for, so it's worth it.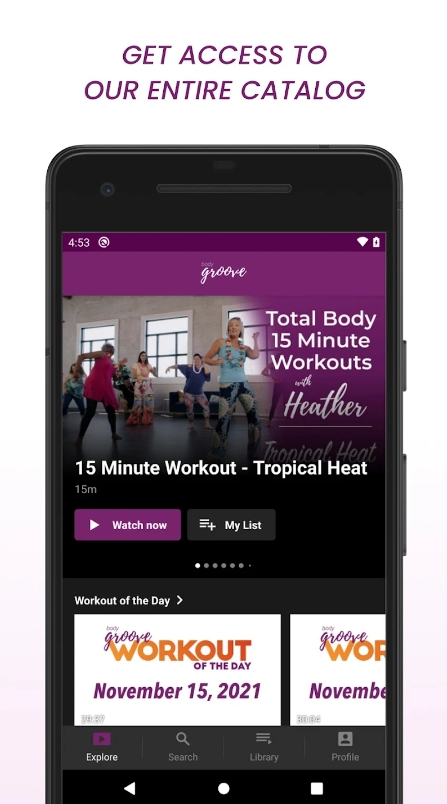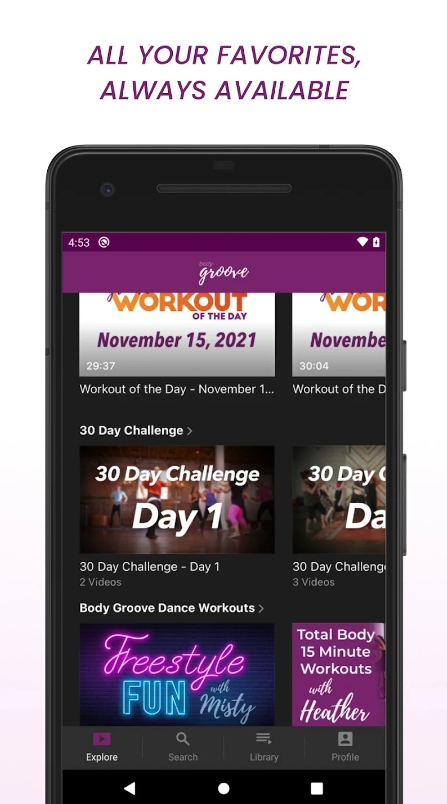 4. Zumba Dance Exercise Offline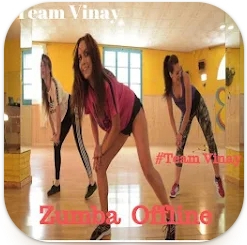 Need an exciting way to lose weight without dieting? Zumba can help, and this app covers tons of lessons for you to follow. It offers an extensive range of Zumba classes that can help you stay fit and healthy without having to resort to a strict diet plan. Trust us, working out at home has never felt more fun, thanks to the app!
The app's UI is easy to navigate and has a bright and colorful design that complements the upbeat energy of Zumba. Plus, you'll get to download the lessons and access them offline. Thus, you'll get to practice wherever and whenever you want, even if you don't have a web connection. It's perfect for those days when you just don't feel like leaving the house.
The dance routines are easy to follow, and the instructors' energy is contagious, you'll get engaged in the process right away. Beyond that, the app caters to people of all skill levels, making it a one-stop dancing companion for newbies and seasoned enthusiasts. With a growing collection of classes to select from, there's always something new to discover. And the best part? It's entirely free.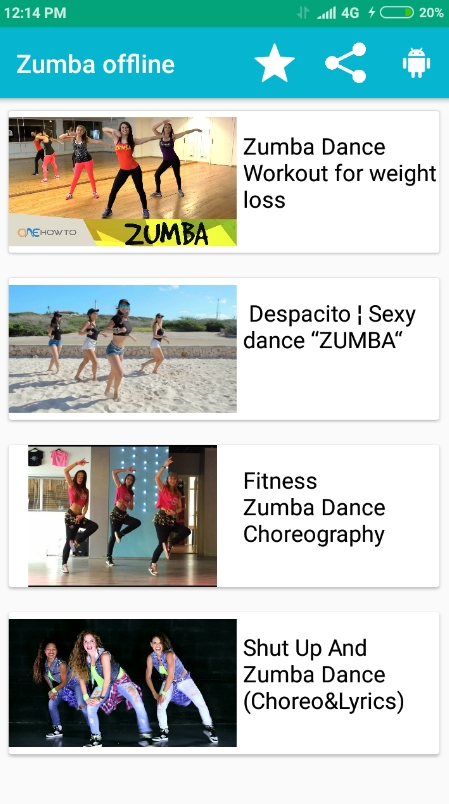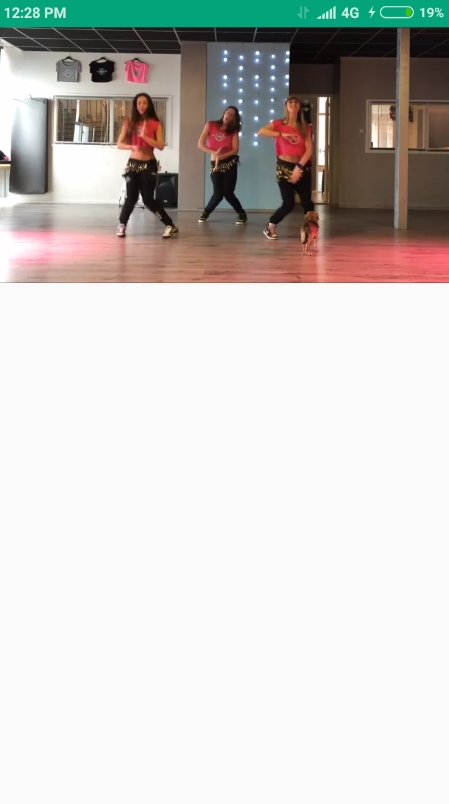 Check also: 13 Best Workout Timer Apps
5. Dance Fitness with Jessica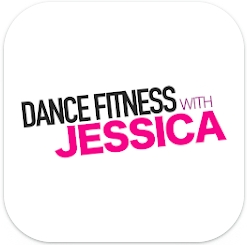 As you may guess by the name, this app is dedicated to dance fitness lessons. There are plenty of classes to choose from. These will help you learn Zumba moves and transform the way you train. So if you're tired of boring training that feels like a chore and wants to learn Zumba at the same time, this app is just perfect.
First of all, the app does a great job of inspiring and motivating you to fulfill your plans and keep moving. With the trainer's contagious energy and uplifting attitude, you'll be eager to come back for more. Whether you're striving to improve your health, fitness, or overall wellness, this app will help you achieve your goals with ease.
The app is bundled with fun, calorie-burning dance moves with a focus on healthy lifestyle choices. You won't find any fad diets or extreme workout plans here. The app is all about encouraging you to make positive changes in life at your own pace.
The duration of lessons may vary from 15 min to hour-long ones, so whatever your schedule is, you'll be able to fit the lessons in without effort. There are tons of options you'll get to access anytime, anywhere. And with aerobic dancing mixed with fitness, you'll be burning the most calories while toning your body at the same time.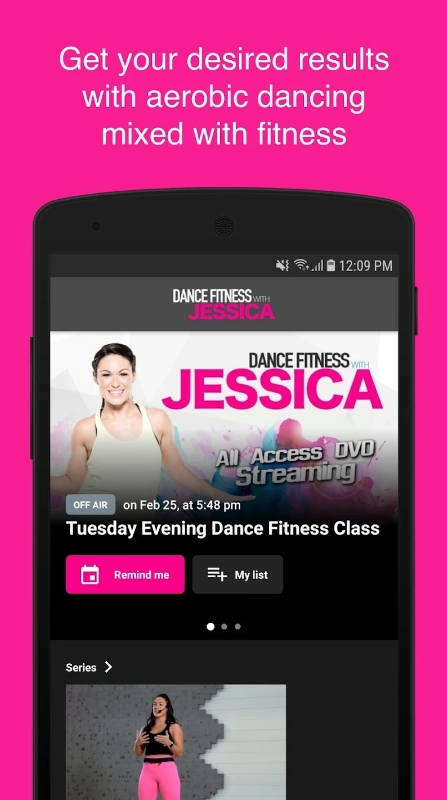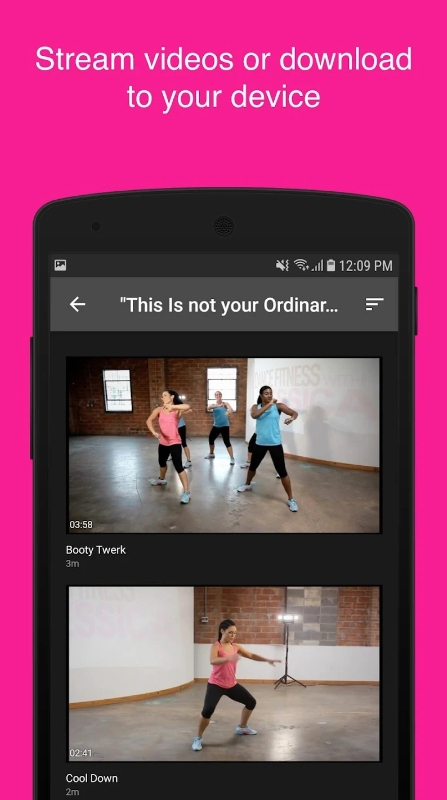 6. Zumba Fitness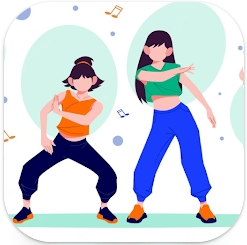 This app will help you learn Zumba dance and make you get fit doing so. Its program includes loads of high-energy exercises that are both effective and enjoyable. The range of lessons offered is simply incredible, with countless options to choose from, ensuring you'll never become disinterested.
Regardless of whether you're new to Zumba or have some experience with it, this app is ideal for you. Starting a new workout routine can feel daunting, but the instructors are incredibly supportive, making it easy to follow along. Beyond weight loss, there's a plethora of health benefits to glean from these lessons.
Featuring a blend of lively rhythms, aerobics, and interval training, this app will ignite your energy and leave you invigorated. With its diverse and fast-paced nature, it's perfect for those who like to keep their workouts fresh and exciting.
Above that, there are multiple challenges to provide extra encouragement and help you stay on course. Challenges, typically lasting a month, can serve as the driving force that helps to reach new heights. Upon completing a challenge, the jubilant feeling of accomplishment is truly unparalleled.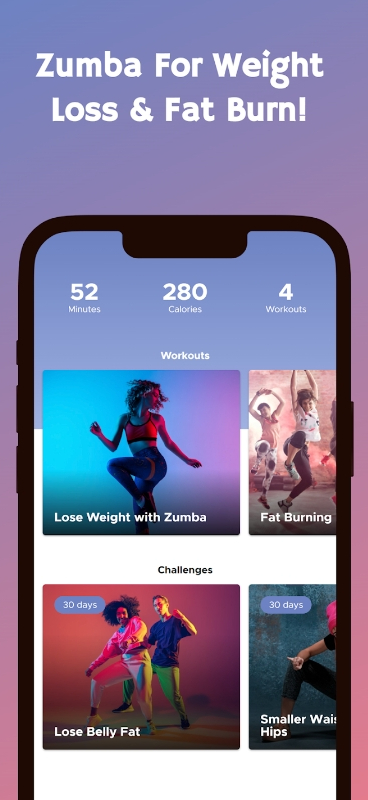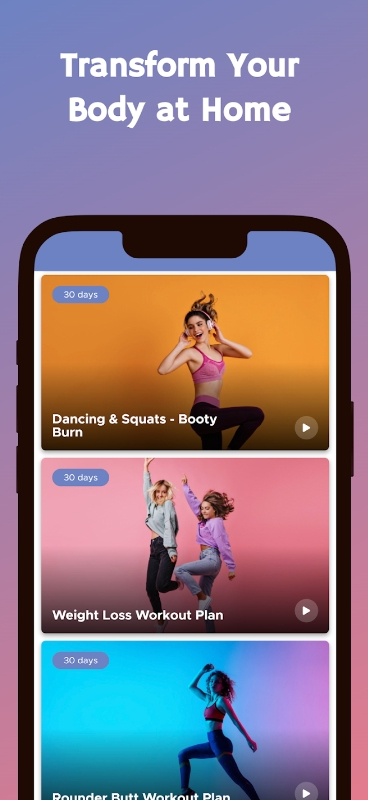 7. Zumba | Dance Yourself Fit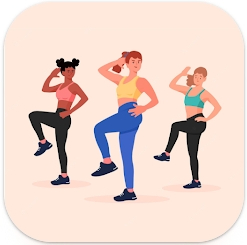 This app covers a vast range of Zumba classes that you can do anytime, anywhere. These work great if you want to exercise at home, without extra equipment or smth. It's a real treat for anyone who wants to train via dancing and have fun doing so.
The app offers a diversified collection of dance styles, from hip-hop to salsa, catering to all your prefs. You can customize your workout to fit your mood or groove. And with the catchy and inspiring music, you'll be grooving even after the session is over.
Not only are the classes enjoyable, but they also come with an array of health benefits. Improvements in balance, coordination, and weight loss are just a few of the many advantages. Additionally, the beginner-friendly choreography lets you focus on having a great time.
The classes are made for fitness enthusiasts of all levels, whether just starting out or seasoned pros. Regardless of your skill level, be prepared to break a sweat and move your body to the beat! Plus, the UI is top-notch, with easy navigation and crystal-clear instructions.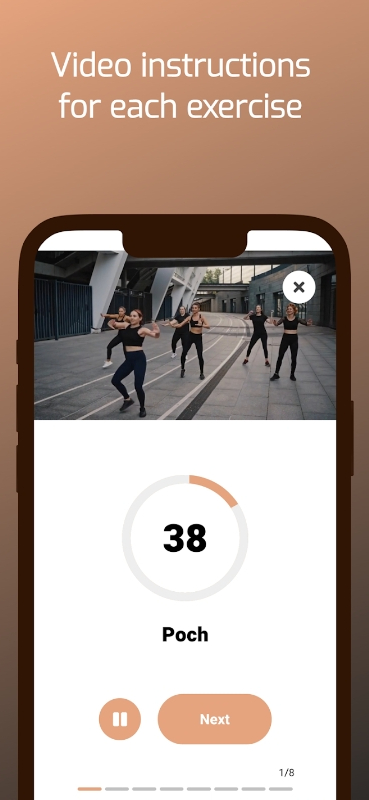 You may also check: 7 Best Yoga Streaming Apps
8. Cardio Dance Workout – Zumba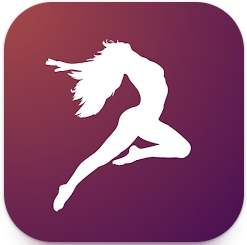 To wrap up, there's an app that makes Zumba learning easy and convenient. This app provides step-by-step instructions on Zumba dance routines and covers the lessons for every skill level. Regardless of your experience level, there's a class to suit your needs. And if you're pressed for time, fret not! The lessons range from a quick 15-minute blast to a full-hour endurance test.
The variety of lessons gets regular updates, so you won't run out of material and will never get bored. And the music is guaranteed to keep your energy levels high throughout the entire session. But the best thing is, these lessons not only teach you to dance but offer a full-on body tone.
Each song's choreography is tailored to target specific muscle groups, yielding numerous health advantages. You'll be amazed by the results! Moreover, you can personalize the lessons according to your preferences and skill level.
If you're not a fan of traditional training and prefer to exercise via fun dances, this app is for you. Its wide range of dance moves and styles is nothing short of impressive. All of these are easy to follow, and there are no hidden fees in this app.