Sports is the thing that inspires a great number of people. There are many apps for winter sports available right now. A smartphone is an essential component of high-quality leisure activities. After all, they can provide weather conditions, mountain trails, and routes, as well as let you compete with other users.
Hence, we have gathered the best apps for skiers and ski resorts in today's article. We also recommend the Best Home Screen Weather Widget article to keep you always ready to face extreme weather.
1. Ski Tracker
This is one of the most advanced programs for recording your skiing or snowboarding sessions. It allows you to measure time, distance traveled, and maximum speed during your training. Also, you can mark ski slopes and determine the altitude you have climbed. The program generally has many trackers that allow you to monitor your activity quality.
Also, the program has a social component. You can see share your results history with your friends who are using this app. In the settings, you can attach photos to your activities. Besides, you can add some information to the photo, such as altitude, location, coordinates, and speed.
In addition, the program is suitable for both beginners and professional athletes to prepare for various winter sports competitions. Moreover, all activities are stored in the history of the app, which allows you to check your progress.
It is worth mentioning that you do not have to be constantly online to use the app. A significant part of the data is collected with the help of GPS satellites. Also, the program records each of your climbs and descents separately.
In addition, it collects a bunch of data about your performance. On top of that, the app offers a trial version so that you can evaluate all its features.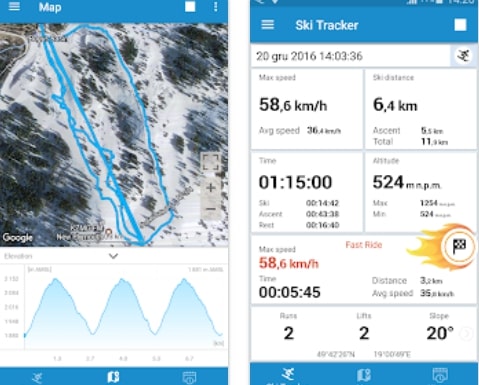 You may also like: 11 Best Mountain Biking Apps
2. Ski Tracks
This is another popular app among winter sports enthusiasts. It shows and records all the data you need. For example, you will know the number of climbs, location, altitude difference, average and maximum speed, length, and time of descents. In addition, the program can record the track and save the data without access to the Internet.
And it tracks your entire route thanks to GPS in battery-saving mode. This program is especially loved by owners of iPhones, as all data is synchronized with the built-in app, to track activity and health. In addition, all of your data can be stored in the app's huge storage, allowing you to avoid wasting too much space on your phone.
In addition, this app can be comfortably used on a Smart Watch without grabbing your smartphone. There are 4 modes of winter activities: skiing, snowboarding, downhill cross-country, and walking with snowshoes.
The main advantage of this app is its ability to track your performance in the mountains. Everything happens autonomously. The program itself detects when you are in a mountainous area.
There is even an option to share your progress and photos on social networks. After an activity, you can email it to a friend, upload it to Facebook or send it to your computer using the iTunes document sharing feature. Moreover, photos are saved with geotags.


3. SkiPal – Accurate Ski Tracks
We present your winter activity instructor. This app combines everything the modern skier or snowboarder needs. In addition, it is the best option if you need to collect information about your training or hiking. On the main screen, you will see all data regarding speed and distance traveled, descents and ascents.
Also, the app works in offline mode. So you can view maps being in the mountains. All you need to do is to download the desired section of the map. In addition, all the data is stored in the cloud space of the app. Also, you can track your improvements by using graphs with the history of all your activities.
In addition, you can name your performances any way you want. In addition, you can add a private photo report. Also, the program is available on your smartwatch. So you can view the traveled time, distance, speed, and heart rate without having to pick your phone out of your pocket.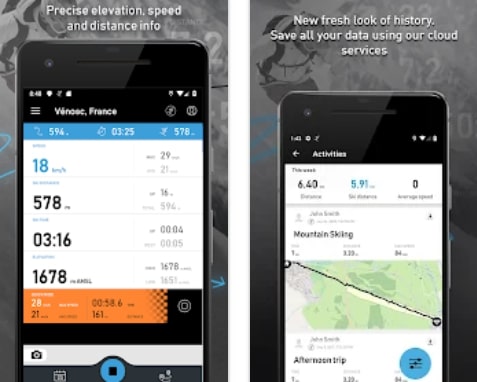 4. Slopes: Ski & Snowboard
This is a program that fits all devices. There is even a version for the Smart Watch that allows you to use only it during your activity. As soon as you start, you will get a short tour, after which you will have access to four tabs: Record, Resorts, Journal, and Friends. In addition, you can create a new account or synchronize data from other devices.
In the Reports tab, you can find popular resorts and get to know practical information for the snowboarder or skier. So you can find out, for example, the quality of snow, according to riders, over the past week, or see the weather conditions.
Moreover, the program allows you to view the statistics for the day, getting information about the state of the snow cover without ads. In addition, it is also suitable for using an online map of the routes. All routes and indicators can be shared with friends.
It also helps to search for elevators and tracks, and find out how long the trip was and how much distance you covered. This tracker is beneficial in unfamiliar areas. Since its storage contains over a thousand places in different parts of the world, where ski resorts are located.
In addition, you get full statistics on each training session in the form of charts and reports. There are also interactive winter maps available even in offline mode. In addition, the app offers different plans that are affordable for single skiers or an entire family.
In addition, if you are scheduling a trip to the mountains, you can create a reminder and the app will let you know that it is time to activate the program when you get there.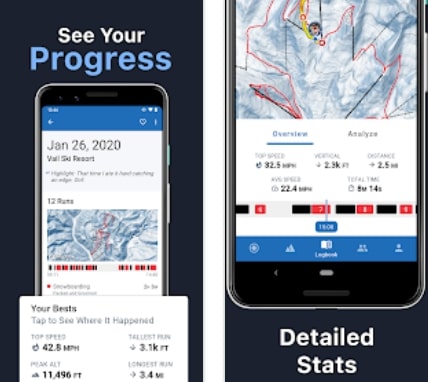 5. Ski Tracker Pro
It is a program that combines a navigator, a commonwealth of skiers, and many features for winter sports enthusiasts. It also allows you to build the perfect route, record your path and share it with friends. In addition, this app is suitable for a group of friends or family, as it can show their location on the map.
In addition, you will be able to track your indicators such as speed, current temperature, distance, time, and so on. You can also track your downhill and compare them with the past. In addition, you can share a photo report with your friends.
After all, the program has a striking photo editor with unique stickers of your performance. It also has a kind of community of people who are interested in sports. In addition, you will have your profile with all your downhill skiing scores.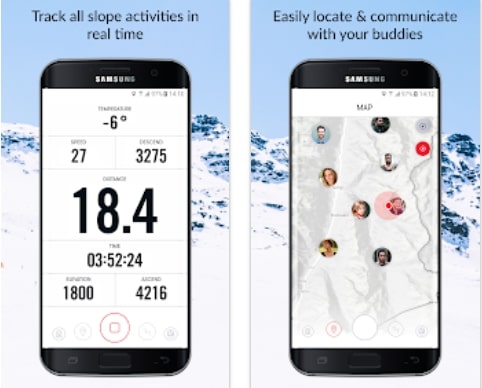 6. We Ski & Snowboard Tracker
This is one of the best apps to help you keep track of your skiing as well as snowboarding trips. You will be able to keep track of the days you spent on the mountain and also watch your statistics. The app works quite simple and it is designed with a custom user-friendly interface.
To use this app, all you need to do is turn it on before you plan on skiing or snowboarding. The app will track your top speed, most visited elevators, and resorts. It will also give you the information in the form of speed and altitude charts. Besides, there is a social network built into the app.
You will be able to track your friends and compete with others on personal leaderboards. In addition, you can send your geo-position directly from the app to share your time with your friends. Also, the app offers a view of the nearest elevators and gives detailed information about the resorts.
In addition, there is an option to view the speed of any elevator. This will help you understand the elevator's real speed and get to the top faster. There are over 2,000 resorts on the map for you to visit. Moreover, you can modify your map, there is a choice between the terrain map and the satellite map styles.
The activity tracker works even when there is no internet connection. You will not need to keep track of whether the app is on every time, the app works offline. The app automatically turns off GPS and stops recording when the battery is less than 15%.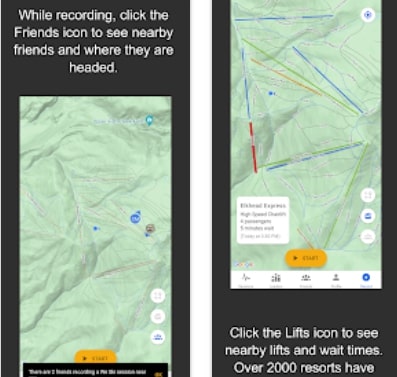 You may also like: 7 Best NFL Prediction Apps
7. Skill: Ski & MTB Tracker
The Skill app is a mobile app designed for ski enthusiasts. With this app, you can view your detailed ski statistics and improve your results every time. Besides, you can compete with other users in the global rankings and set your records. You will also be able to follow your friends and track their downhill stats.
Moreover, the app gives you information about all the snowboarding and skiing trails. In addition, you can track the elevators and the time it takes you to get to the ski slope. When skiing or snowboarding, the app will read all downhill information.
This way you will know the average and maximum speed you had, the time you spent on the descent, the distance in you traveled, and the time it takes you to get uphill. The app will combine all this into a table and give you a complete report. It will suit both beginner snowboarders and pro skiers.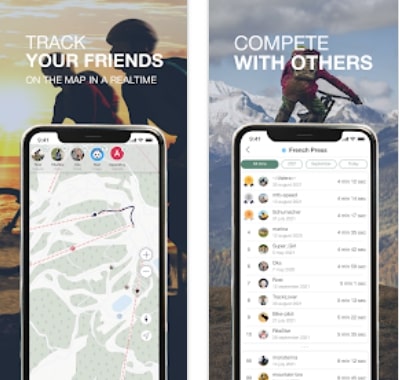 8. Ski Tracker Gold Edition
This app will help you if you are interested in skiing. The app is created with a nice-looking interface and it is clear instantly how it works. You can easily use this app to record all your achievements and find out a lot about your performance. There is no need to have Internet on your mobile to use this app, a GPS will be enough.
Besides, you can measure your speed and record your best skiing speed. In addition, you can map out the route you need to ride. After you have traveled the route, the app will give you statistics about your trip.
Furthermore, the program has a special function, which will help you measure your maximum speed, time, and distance to any location on the Earth. Moreover, you can take pictures and share them with your friends right from the app. All data and stats can be recorded during the day to be later reviewed.
As well, you can check the ski slopes that are close to you. It measures the time you spent skiing, ski elevators, and rest. The app is not free, but it is worth noting that Ski Tracker offers you many features that other apps do not have.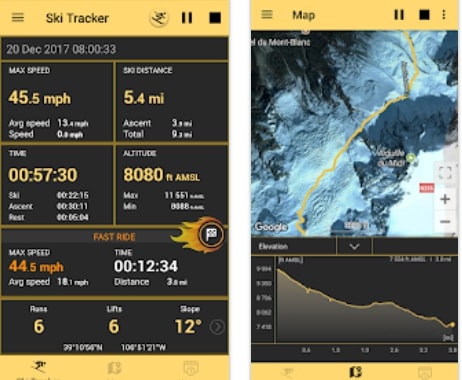 9. Skitude: Outdoor GPS Tracker
Skitude is one of the best apps for skiers and mountain sports enthusiasts. Thanks to this program, you can view real-time information on more than 2,000 resorts and make reservations right away. In addition, you can check the live streaming from web cameras and the snow condition in real-time.
It is worth noting that many other apps do not have this feature. You can also plan your trips directly through the app. Since this program helps you organize your trip and offers you the best prices at resorts. Likewise, it is cost-free to keep track of your vacation stats.
The app automatically counts distance, speed, time, days off activity and so much more when you go skiing or snowboarding. With the app, you will be able to view your stats in a handy table and charts. In addition, you will get an interactive map of your activity.
Also, you can compete with other users of this app. It is possible to follow your other users and add them to your friends. The app can also pair with your Smart Watch. In addition, there are active tasks here, through which you can compete with your friends and also get a prize.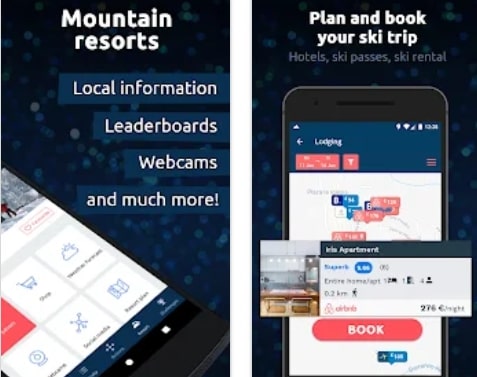 10. snoww
The snoww app helps you capture great skiing or snowboarding moments. It is a modernized, beautiful, social, and functional app. This program is created to help you keep track of your skiing or snowboarding stats and share your moments with your friends.
You will be able to add your friends to this app and watch where they were and how much time they spent at the resort. You can also watch stats, what route they took at what speed and so much more. Besides, you can add photos to trip reports and make an automatic leaderboard with your friends. It is available to export race statistics to Instagram.
To use this app, you need to enter it before riding and click on the start button. It will start recording the distance you rode, the vertical descent, the maximum, and average speed, and the calories burned. All information will be illustrated in a table and a graph. There is also a system of rewards.
You will get a reward for your achievements with virtual stickers. You can compare your performance with other users of this app as well as get trophies for reaching milestones. The app works without mobile data, all you need to do is turn on your GPS.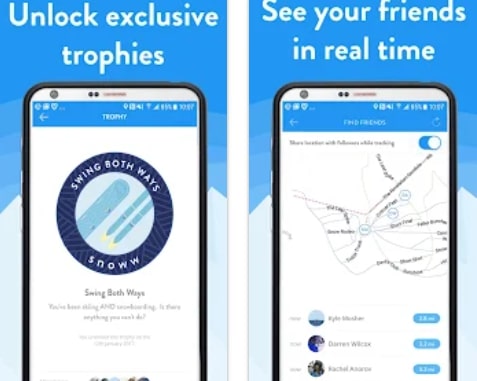 You may also like: 7 Best Wind Radar Apps
11. Relive: Run, Ride, Hike & more
This app is great for those who like to run, slide, resorts and walk outdoors. The app is wonderful for all sports. This program will help you keep track of your statistics when you practice any sport. It is also suitable for tracking your skiing or snowboarding using GPS. In addition, you can view your statistics and location after you have practiced a sport.
The app will autonomously record how long it took you to complete your route, what your average speed was, and how many miles you traveled. You can also take pictures during your workout right from the app. It is possible to share photos with your friends right from the app.
Relive is also compatible with many other apps that can improve your outdoor recreation. In addition, you can view your route in a 3D landscape. Also, you can create video stories and import them wherever you want.