When we were kids, we always wanted to be a spy so we could hear what was going on through the walls. You probably want to improve your phone's ability to hear much louder. Sometimes all of us would like to eavesdrop a little bit. There are different applications for that, about which we will talk in today's article.
This is you will see all kinds of applications with interesting functionality and possible areas of usage. Also, if you like fun apps we recommend you to look at the selection of the Best Naked Scanner Apps. You can use these apps to make fun of your friends.
1. Ear Agent Live: Ultimate Super Hearing Aid App
Ear Agent Live: Ultimate Super Hearing Aid App is a mobile spy app for Android. You can download the application absolutely free on Google Play. The free version will allow you to turn on and off the microphone, adjust the sound, suppress noise, and amplify weak sound. Other additional features will require payment.
It is clear from the name that this is an app that will allow you to eavesdrop on everything that is happening around you. It is enough just to hold your phone close to the object of interest. This application has a unique feature that many other programs do not, which is the ability to listen through headphones. That is why Ear Agent Live works perfectly with a Bluetooth headset.
So, for example, you can leave your smartphone on the table or in your bag and record everything that happens in the room or the car. The app runs automatically, so all you have to do is press the start button. Moreover, for additional processing of the recording, you can use the equalizer, which will help you to achieve an appropriate sound recording.
Thus, the advantage of the program is the simplicity of its setup and use. The application allows you to instantly turn the microphone on and off, which makes it indispensable for discreet listening. Launch the app, put on your headphones, and get ready to find out exactly what is going on around the house.

You may also like: 10 Best Lie Detector Test Apps in 2021 for Android & iOS
2. Ear Scout: Super Hearing
Ear Scout: Super Hearing is an app that also helps you hear what is going on even behind the wall. The amazing thing is that this app not only increases the sound but also does it safely. After all, by plugging in the phone headset, the sound you hear will be increased gradually so that your ears can get used to it.
Moreover, the app also allows you to save recordings for you to listen to it afterward. In addition, you will be able to share what you hear later. Users note that the app can also be used by family members with hearing difficulties, for example, to better hear the TV or radio. In addition, Ear Scout: Super Hearing has a pleasant and, most importantly, user-friendly interface.
You will only see the equalizer and the start button on the main menu. In the settings of the application, you can activate such functions as automatic sending a recording or notification to your mail, as well as playing the recording immediately after recording.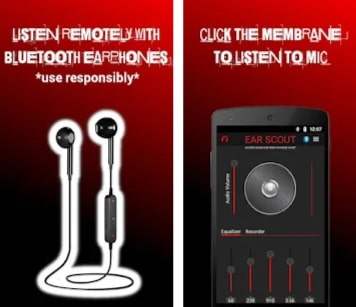 3. Ear Spy: Super Hearing
This application works best with headphones. So Ear Spy: Super Hearing will transmit in real-time exactly what is going on around you. Launch the app and you will find out about everything happening through the wall. The convenient thing here is that you can adjust the volume of the sound being played by moving your finger over the volume mixer.
You can also use the equalizer to change the sound parameters, for example, to increase the bass or to get rid of unnecessary noise. So, you can use this application for other purposes as well, for example, if you are poorly able to hear. In addition, you can save the recording and send it immediately to your email.
By the way, the recordings are saved in a convenient MP3 format. You can even give a name to the saved file. The principle of the application is simple – it only increases the sound of the built-in headset significantly.

You may also like: 8 Best Male to Female Voice Changer Apps (Android & iOS)
4. Hearing Amp Device
When you want to be able to hear and record for example conversations, you need the Hearing Amp Device app. You can not only increase the volume but also do it in the best possible way. After all, the application has a kind of presets, which means that the application will know right away what you are recording.
For instance, you can set the app to record the voice of a man, a woman, children, or TV. In other words, the Hearing Amp Device adjusts itself to the situation. Also, you will be able to use the multifunctional equalizer. It has as many as 10 parameters. It will help clean the sound of unwanted noise, lower the tone, suppress echoes, or reduce the bass.
In addition, the app has a built-in voice recorder. That means you can save your audio tracks. Find out what your neighbors are whispering or what people are saying behind your back. The app also has headset settings that help you calibrate your headphones to make them work well with the app.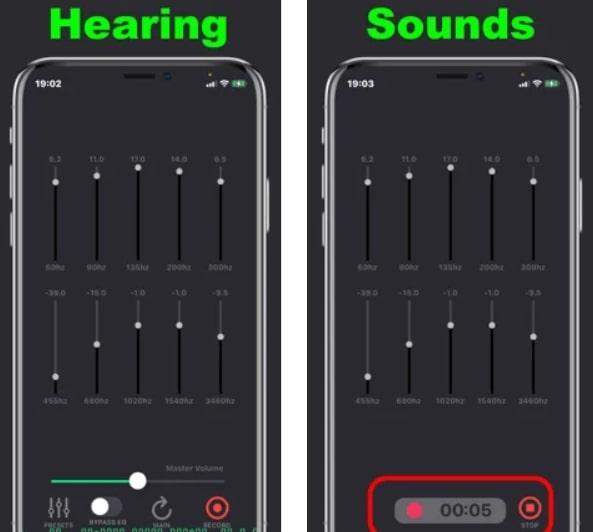 5. Hear Boost: Boost Microphone Volume & Recording
Hear Boost: Boost Microphone Volume & Recording is one of the best options for improving sound quality and boosting your headphone signal or call volume. In general, the app makes your phone sound louder, whether on headphones or through a portable speaker. In addition, the equalizer is easy to use.
You can add or remove bands of certain frequencies. In addition, you can use the equalizer sliders to correct any distortion that may appear as a side effect. This application enhances the sound by nearly 200 times. In addition, you will be able to use different filters to remove certain sounds.
Also, after listening, users can save the track. And then the resulting audio track can be deleted, renamed, or shortened. You will also be able to share the file via social networks or send it to your email. In addition, the application is available both in Play Market and AppStore.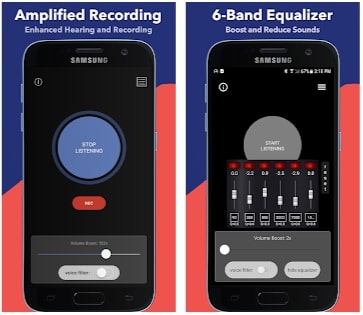 6. EAR SPY: Listening Device, Mic
EAR SPY: Listening Device, Mic is another good combination of equalizer and amplifier. With this application, you can significantly improve the quality of sound produced on external speakers or headphones. The app has a built-in multi-band equalizer and a very useful function of tripling the volume.
This allows you to increase the bass, or add a surround sound effect. In addition, you can create and save your equalizer presets, which is a good addition to the other features. After all, you will be able to adjust each preset to a specific situation. You will also be able to take advantage of the automatic sound adaptation.
This way, the app itself will make your recording better. The developers claim that you can hear what is happening within 20 meters. You will also be able to listen from a distance with different headsets by turning on Bluetooth.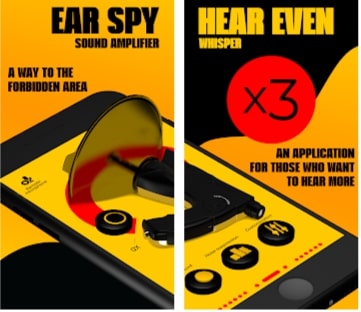 You may also like: 11 Free apps to cartoon yourself on Android & iOS
7. Volume Booster for Hearing
In order to use the last application, you will need headphones to get started. In the beginning, you will be able to calibrate the earphones to make them work correctly. This is performed automatically. The Volume Booster for Hearing has many useful features to improve sound quality, and it is not just volume enhancement.
For example, you can take advantage of the equalizer, which has up to 10 different bars. Also, there is a set of sound effects, which greatly extends the possibilities of sound control. This application allows you to amplify the low frequencies, control the sound balance, which is convenient when using both headphones and external speakers.
It is interesting that the recorded audio tracks can be saved directly in the application. It also has a share button. In addition, there are as many as 7 presets that you can use for certain situations.