When we were kids, we always wanted to be a spy so we could hear what was going on through the walls. You probably want to improve your phone's ability to hear much louder. Sometimes all of us would like to eavesdrop a little bit. There are different applications for that, about which we will talk in today's article.
This is you will see all kinds of applications with interesting functionality and possible areas of usage. Also, if you like fun apps we recommend you to look at the selection of the Best Naked Scanner Apps. You can use these apps to make fun of your friends.
1. Ear Agent Live: Ultimate Super Hearing Aid App
Ear Agent Live: Ultimate Super Hearing Aid App is a mobile spy app for Android. You can download the application absolutely free on Google Play. The free version will allow you to turn on and off the microphone, adjust the sound, suppress noise, and amplify weak sound. Other additional features will require payment.
It is clear from the name that this is an app that will allow you to eavesdrop on everything that is happening around you. It is enough just to hold your phone close to the object of interest. This application has a unique feature that many other programs do not, which is the ability to listen through headphones. That is why Ear Agent Live works perfectly with a Bluetooth headset.
So, for example, you can leave your smartphone on the table or in your bag and record everything that happens in the room or the car. The app runs automatically, so all you have to do is press the start button. Moreover, for additional processing of the recording, you can use the equalizer, which will help you to achieve an appropriate sound recording.
Thus, the advantage of the program is the simplicity of its setup and use. The application allows you to instantly turn the microphone on and off, which makes it indispensable for discreet listening. Launch the app, put on your headphones, and get ready to find out exactly what is going on around the house.

You may also like: 10 Best Lie Detector Test Apps for Android & iOS
2. Ear Scout: Super Hearing
Ear Scout: Super Hearing is an app that also helps you hear what is going on even behind the wall. The amazing thing is that this app not only increases the sound but also does it safely. After all, by plugging in the phone headset, the sound you hear will be increased gradually so that your ears can get used to it.
Moreover, the app also allows you to save recordings for you to listen to it afterward. In addition, you will be able to share what you hear later. Users note that the app can also be used by family members with hearing difficulties, for example, to better hear the TV or radio. In addition, Ear Scout: Super Hearing has a pleasant and, most importantly, user-friendly interface.
You will only see the equalizer and the start button on the main menu. In the settings of the application, you can activate such functions as automatic sending a recording or notification to your mail, as well as playing the recording immediately after recording.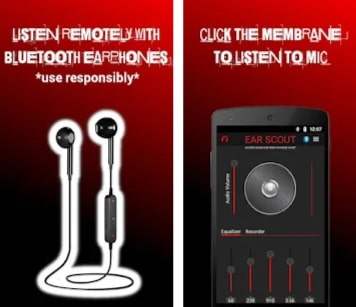 You may also like: 8 Best Male to Female Voice Changer Apps (Android & iOS)
3. Hear Boost: Boost Microphone Volume & Recording
Hear Boost: Boost Microphone Volume & Recording is one of the best options for improving sound quality and boosting your headphone signal or call volume. In general, the app makes your phone sound louder, whether on headphones or through a portable speaker. In addition, the equalizer is easy to use.
You can add or remove bands of certain frequencies. In addition, you can use the equalizer sliders to correct any distortion that may appear as a side effect. This application enhances the sound by nearly 200 times. In addition, you will be able to use different filters to remove certain sounds.
Also, after listening, users can save the track. And then the resulting audio track can be deleted, renamed, or shortened. You will also be able to share the file via social networks or send it to your email. In addition, the application is available both in Play Market and AppStore.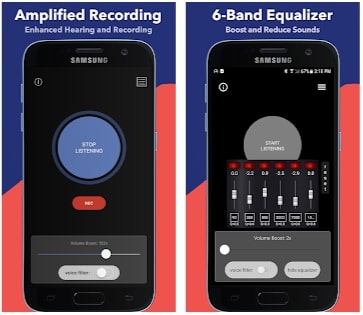 4. EAR SPY: Listening Device, Mic
EAR SPY: Listening Device, Mic is another good combination of equalizer and amplifier. With this application, you can significantly improve the quality of sound produced on external speakers or headphones. The app has a built-in multi-band equalizer and a very useful function of tripling the volume.
This allows you to increase the bass, or add a surround sound effect. In addition, you can create and save your equalizer presets, which is a good addition to the other features. After all, you will be able to adjust each preset to a specific situation. You will also be able to take advantage of the automatic sound adaptation.
This way, the app itself will make your recording better. The developers claim that you can hear what is happening within 20 meters. You will also be able to listen from a distance with different headsets by turning on Bluetooth.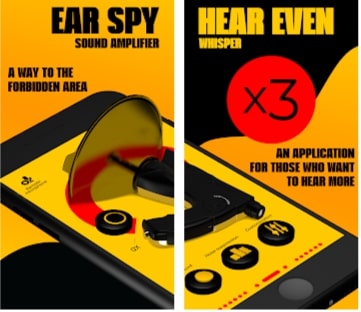 5. Sound Recorder
This is a free and proven program for tracking the environment through the phone. The advantages of this application: very easy to use, easy to press and turn on the microphone, easy to turn off excellent recording quality.
This might not be the best choice for gearing through walls, but this Sound Recorder might be a useful tool for recording the quiet sounds and and playing them to you louder.
You can also record absolutely any sounds that surround you. Also, a huge plus is that there is noise reduction in this application, which is very popular with all users! Of the minuses, it can be noted that this application weighs a lot and when you use the application, it eats up a lot of charges.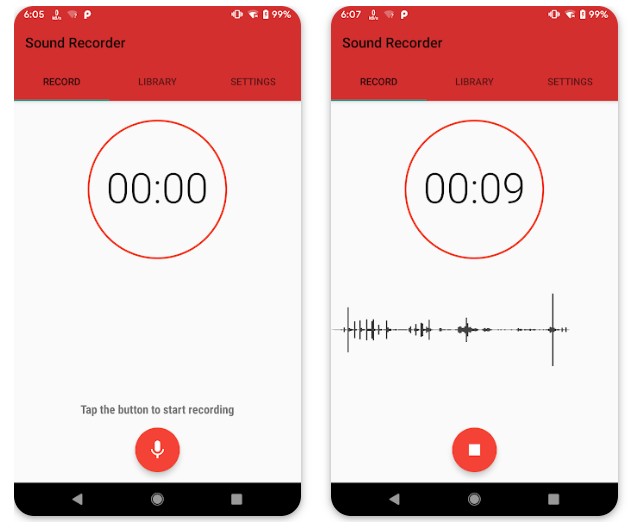 6. Mobile Monitoring
If you are the first to encounter wiretapping, then the convenience and speed of setting up this application will surprise you very much.
This application has extensive functions and capabilities, for example, listening to the environment in the process, recording a conversation, saving SMS, determining the subscriber's location, and subscriber routes at any time, and support for any mobile operators.
It has quite a straightforward interface design, but it will be only a benefit to people with limited abilities. In general, Mobile Monitoring is more of a GPS-tracking app with some hearing features.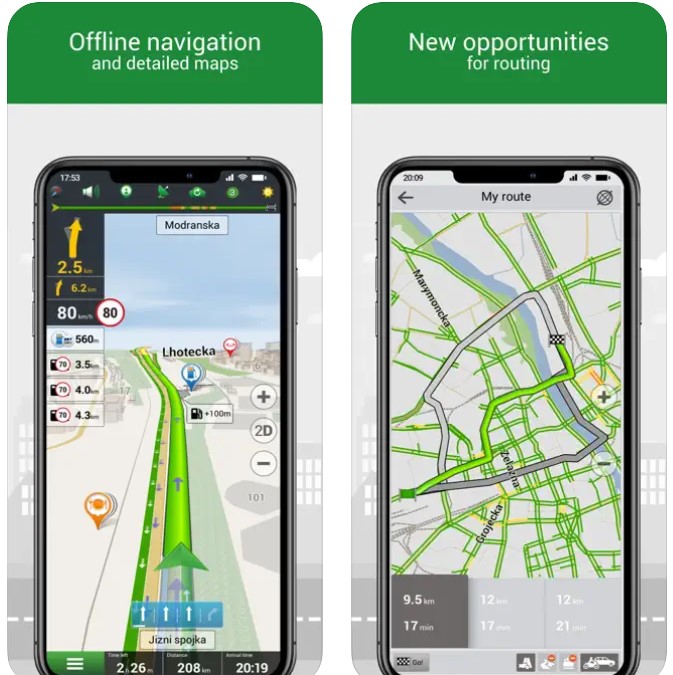 7. Google Sound Amplifier
This app allows you to recognize ambient sounds better. It works with both the phone and headphones. It is also possible to get rid of unnecessary noise.
The audio amplifier connects directly to your phone, providing it with new feature in accessibility features. It will be useful both for people who hear well, for example, listening to what is happening behind the wall, and hearing impaired.
There is a conversation mode that allows you not to be distracted from the interlocutor. It will also be useful when watching movies or listening to lectures. The application is fully customizable, so it will suit everyone.
Before using it, you need to make sure that it is compatible with your device. This application can be downloaded for free in Google Play, and to use this application you need to connect headphones.
However, this application does not have very good reviews, users write that the application often crashes after updating, the sound has deteriorated, and there are a lot of unnecessary and annoying ads that do not allow normal use of the application.
Also, this application can appear by itself on people's phones, but they did not even install it, therefore this application has a lame privacy. But at the same time, users cannot delete this application until another person does it, who is watching you.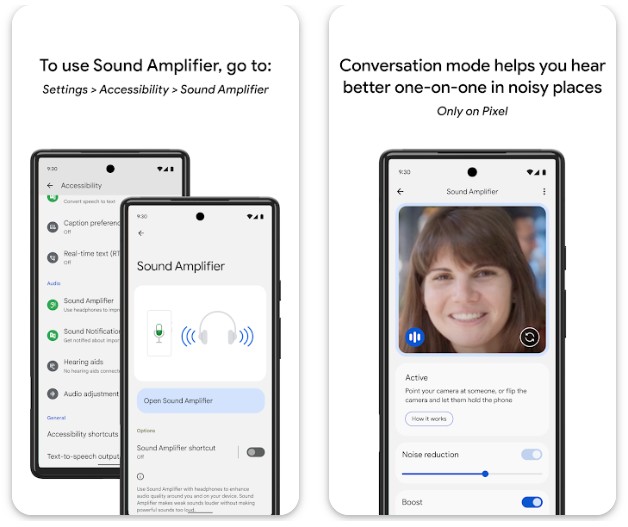 You may also like: 11 Free apps to cartoon yourself on Android & iOS
8. HEARING AID, HEARING AID APP, OK
This application is the most convenient for amplifying quiet sounds. It will adapt to the peculiarities of your hearing to work as efficiently as possible. Also, the application does not require registration and does not contain ads.
In addition to sound amplification of up to 30 decibels, it can correct your hearing, work in any environment, and support any Bluetooth devices. It is worth noting that it is fully customizable. The data on your hearing will be recorded in a special database, where it will be contained.
This can be used both for free and with a paid subscription. The app has a lot of positive reviews, so you can trust it.
It is in demand among users, but it does not have the highest ratings and reviews. Users note that the application can produce errors and crashes. But the app itself is not bad!