We store our memories in our photos and many people like putting a stamp with the date of a photograph. For someone, it is important to remember the day of a photoshoot to memorize the time when an event occurred. But as for me, I just like to design my photos with a timestamp, because I consider a photo with a timestamp looks pretty nice and stylish.
On some photo cameras, a timestamp is settled on photos automatically. But on the phone most likely you will use an app for date stamping. We put stamps on the photos to remember the times we were young. By the way, to make you look younger in the photo you can try wrinkle remover apps, read about them in the article 9 Best wrinkle remover apps (Android & iOS).
1. Survey Cam: Geotag & timestamp
This app is quite simple to use and the number of settings won't cause any trouble to you. I suppose that Survey Cam is the app that was made mostly for workers of construction sites or scientists in survey areas. To use this camera you just need to settle all adjustments for your need and then feel free to use it.
You can write a project and company name (if you have the ones), some notes, address, time, weather, and the elevation above the sea or above the Earth's surface. And about the weather settings: you can change the type of measurement.
There's also an option to choose photos from your gallery and edit them in the program. You can change the font and size of the caption. And to remove the app's watermark, text color, or color of the photo background you need to go Pro and purchase the subscription.
As a disadvantage, I can notice that there's a huge amount of advertisement. Opening the app for the first time advertisement was the first thing I encountered with.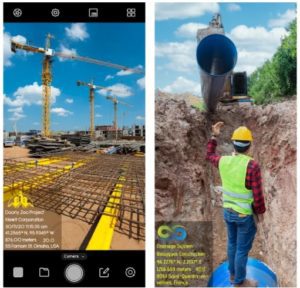 You may also like: 10 Best Split Pic Apps for iPhone
2. Auto Stamper: Timestamp Camera
In this app initially, you need to adjust settings for your timestamp. You can put on the photo your signature, GPS stamp of location, weather, and logo. But the distinguishing feature of this app is the function to change the sequence of elements on your photo.
One more thing I haven't seen in all other apps is that you can change not only color and font but you can also put a shadow under your caption and regulate its color.
I found extremely handy the option to make a shortcut of the camera, so opening it you go directly to the Auto Stamper camera and take your picture.
About complaints from users: some subscribers noticed that after a while the weather information becomes almost completely random, but there is always a possibility that the problem was hidden in the device.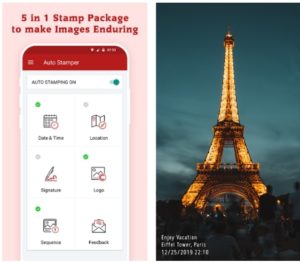 3. Timestamp Images
The design of this app reminds me usual settings of an iPhone, so that's a warning: don't get confused by the interface while opening the app for the first time.
In this app, you can put stamps on the photos from your gallery or take new photos using the inbuilt camera. If you take a picture using the integral camera the app will save this picture to your camera roll tacitly. There's allowed not only to put stamps, but you can also put a watermark to your photo as well.
The application includes a variety of options for the configuration of your timestamp. If talking about a date: you can put a current date, date of a photoshoot, or just choose any date you want by hand. You can manually change the color and outline color of the timestamp, its format, and its font.
The disadvantage of this app is that you can't put a location on your photo automatically. If you are not at the place of the photoshoot the program won't remember the location. So if you need this, you will have to put a location manually.
An interesting thing about our application is that to make your work a bit faster, you can take a picture within the app using the Siri shortcut. The Siri shortcut for this app will also allow you to take a picture from your photo library.
Because of the last enhancement, if you want to put the same timestamp in the same place onto two or more photos you can stamp multiple amounts of photos with one modifying request.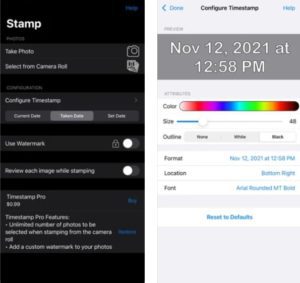 4. Timestamp Camera Enterprise
This easy-to-use camera includes multiple interesting functions and you can add a lot of precise information to your photo. Using this app you can:
put the information about your coordinates (even using the Swiss grid)
add the information about your address and it knows even your index, so you can use it as well
you can add an image with a map or compass showing cardinal directions
add information about altitude and speed (if you are taking photos while walking)
add and remove timestamp margin
regulate position and opacity of your text
change format of photo, video segmentation, and quality
I like that this app helps you to make the information about your photo even more reliable. For example, after turning on the compass projection there was a notification telling me that I should make some movements with my phone to calibrate a compass.
From the comments of subscribers, I haven't found any errors. Some people say that after a few weeks there are appears to be a problem with camera quality, but I think it's more likely to be a problem with the user's device.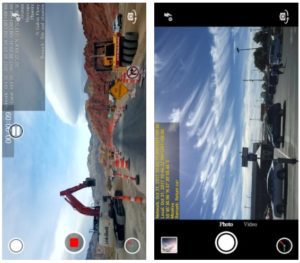 5. Marki: timestamp & GPS camera
This app has the most gorgeous ready-to-use templates I've ever seen. And the interface of this app is quite practical and nice as well. I hope that the payment of the designer is high enough because he deserves it.
Different watermarks with date, time, address, etc have different purposes. So you can add different kinds of data on different templates. For example, to the watermark with information about the building construction, you can add information about
address, area, altitude, azimuth, coordinates
weather: temperature, wind force, air quantity
names of contractors, supervisors, and workers
There you can also find such watermarks as «stock check», «security patrol», «construction records», «delivery», «cleaning», «security patrol», «check-in», «check out». All these watermarks you can use both for photos and videos. There are also some nice filters inbuilt into the Marki camera.
I like that there is also a guide for users where you can read a piece of primary information about the app and using the link in that article you can get down to the tutorials on YouTube where you will learn how to use Marki to its fullest.
From the commentaries from users, I discovered that you can record a video no more than 3 minutes and I didn't find any other problems with it.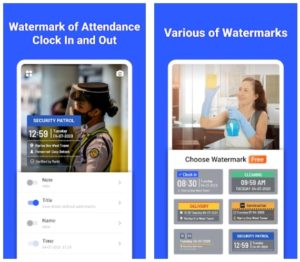 You may also like: 8 Best Mirror Collage Apps for Android & iOS
6. TimeStamp Camera
When you open this app the first thing you will see is the camera. I think it is extremely convenient that you can open the program, take a photo and automatically edit it. You can also adjust the settings of the application so the timestamp you want will be settled on the photo mechanically.
In the settings of the camera, you can change the font size, format of your timestamp (the order of data and time and their spot), and stamp position. Changing of color and font are available as well. And by the by, there's an enormous amount of fonts, you can upload new fonts again and again and it seems that there's no end, because I didn't manage to reach the bottom.
I like that in this app you can simultaneously put not only the location of the photo but also your current location while editing. And there are some amusing extra functions like logo settlement or you can put your signature on the photo.
Users like this app because it is pretty easy to use and the interface won't confuse you. But some problems could occur while using a phone with 2, 3, or more cameras. Some exploiters say that there is a problem with the camera focus.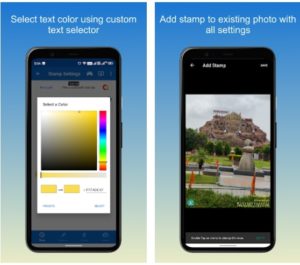 7. SurveyCam – GPS Camera: notes, timestamp, location
In this app, you can not merely write a caption on the photo, but also change and redact the file name.
SurveyCam gathers the analytics from every device that uses the program to improve the app and to make it more reliable. But you can opt-out of this function in the settings of the application.
Launching your program for the first time you will get an offer to settle your project name, company, and logo. Then there will be a camera and in the left bottom angle, you will see your location, date, and time. Talking about the location, you will see not only the address, but you will also see the degree of parallels and meridians as well.
There are 2 main buttons below the camera. Using the first one you will take a photo with your location, date, and time (and maybe with your logo if you settled it). And using the second button you will be able to write an extra caption for your photo. I like that by writing the caption you can return to the captions you wrote before and choose one of them if you need.
I think this app would be thoroughly suitable for scientists on some kind of archeological excavations because using this program you can settle not only coordinates and basic photo data, but also the accuracy of coordinates, altitude, direction, and full detailed address (not only the usual short one).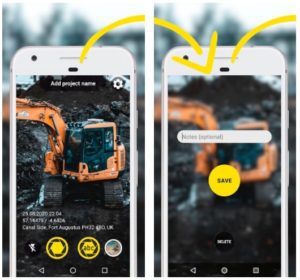 8. Timestamp It – Photo Stamper
This photo stamper will help you to put a time and location on your photo or any other kind of caption.
The key advantage of this app is that you can set default settings for your timestamp. For example, you are a journalist and for all your photos you need a location, date, and time in the same style (the same font, color of letters, etc). You can set all these preferences in the default settings. And then when you will upload your photo into the app you will be able to put the required caption fast enough. The date and location will be changed automatically while the style and appearance of the caption will remain invariable.
All the photos you take within the app will be saved into the inbuilt camera roll. By the way, to edit the photos from your gallery you need to purchase a paid plan for the app. From the commentaries from users, we can say that the paid plan fee isn't too big and it is worth purchasing. The app almost doesn't have any bugs and never fails.
iMessage app is sired to this program. So you can send the photos from this app to your friends using iMessage. I found this function pretty handy so I think it is worth mentioning.
The developers adding new fonts and other enhancing options with each new version of the app, so don't forget to update it regularly.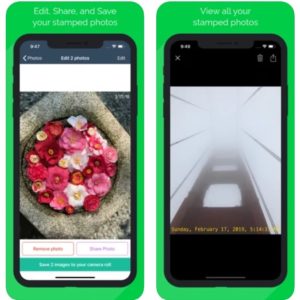 9. Photo Stamper: Add Date Timestamp & Text By Camera
This app is extremely simple and elementary to use. Firstly you need to settle it:
choose what caption you want to see in your photo. You can state a date, time, and your signature simultaneously or separately.
decide how your timestamp will look: adjust the color of your caption, its font, and font size.
Then you can turn the camera within the app and after you took your image, the photo with its caption will be saved to your gallery automatically.
There is a restriction for the number of edited photos: 50 per month. But of course, you can remove this restriction and all advertisements by purchasing a paid subscription.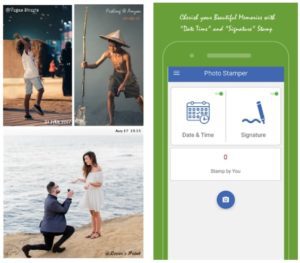 10. SnapTime: Silent Stamp Camera
This app appears to be a camera. And after using this camera the photo with date and time will be saved by the program involuntary. In the settings of this program you can adjust:
location. You can choose whether or not to insert a location into the photo. You can search for an accurate location outdoor by turning on your GPS
format of location stamp: full address/ City, State, and County/ Latitude and Longitude
camera resolution
font camera mirroring
stamp position
date and time format
Using the Pro version you can also edit the font and color of the stamp, put a QR code or watermark on your photo, edit stamps on your photos.
And some comments from users: every subscriber appreciates the simplicity of the app and easiness of settings. But there are some complaints about the fact that the application doesn't save photos to a mounted SD card.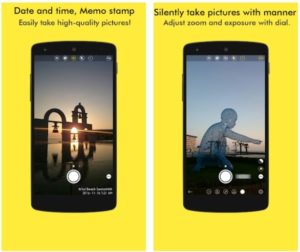 You may also like: 9 Best Apps to Put White Background on Photos (Android & iOS)
11. Timestamp Camera – Date Stamp
I found the interface of this app extremely appealing. The amusing design seems to be a big advantage because it's always cool when you enjoy using your app.
Even though in this app you can stamp only date and time, there are plenty of functions to make your caption and your photo as such stylish and beautiful. You can change:
stamp location. The app changes not only the location but font and size of the caption automatically. There is a variety of templates and all of them look alluring.
font. I think that the key point of this app is its rich library of fashionable fonts.
color: the palette of colors is fairly unusual. It seems like the programmers of this app gathered all Pantone colors and inserted them into this application.
It's a pity that a majority of colors and fonts you can unlock only by purchasing the subscription. There is one more thing that irritates a lot of users: you can put stamps only on photos of squared format.