If you're someone who loves to cook and bake but struggles with measuring ingredients accurately, we've got you all covered here.
Gone are the days of painstakingly measuring ingredients with mere guessing. We'll be taking you through the best food scale apps for Android & iOS to take away all the guesswork. No more worrying about using too much flour or adding too much sugar, these apps ensure you do everything right.
These apps can assist with measuring ingredients, calculating nutritional information, and even helping with portion control. All of these are also easy to use, making food measuring a breeze. Let's dive in!
1. Smart Chef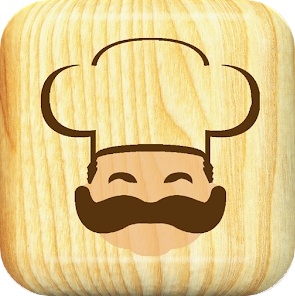 Tired of guessing the perfect measurements for your recipes? This app is here to help. It's a real gem when it comes to cooking and meal prepping. Not only does it help you make tasty and nutritious meals, but it also provides education on the nutritional value of your ingredients.
First off, the app promotes nutrition education by displaying detailed info for all your foods. It operates as a simple calorie counter as well. By inputting your ingredients and measurements, it calculates the exact calorie count of your dish! This makes it so much easier to track your daily caloric intake and stick to your dietary goals.
And if you're looking to experiment with new recipes, the app provides recipe-building and unit conversion tools to help you navigate any kitchen challenge. It can also analyze your food intake curve over time, making it easier to identify patterns and make adjustments as needed.
With all that, it's hard to believe that the app also doubles as a productivity tool. Need to count coins or sort eggs by weight? No problem! This app and its accompanying tool can do it all.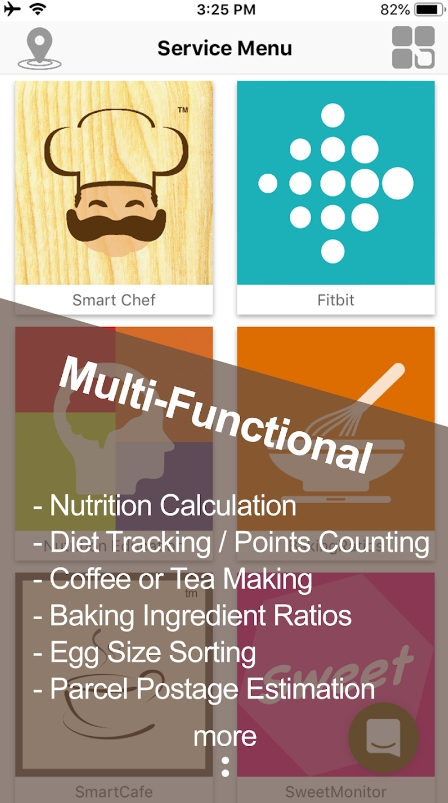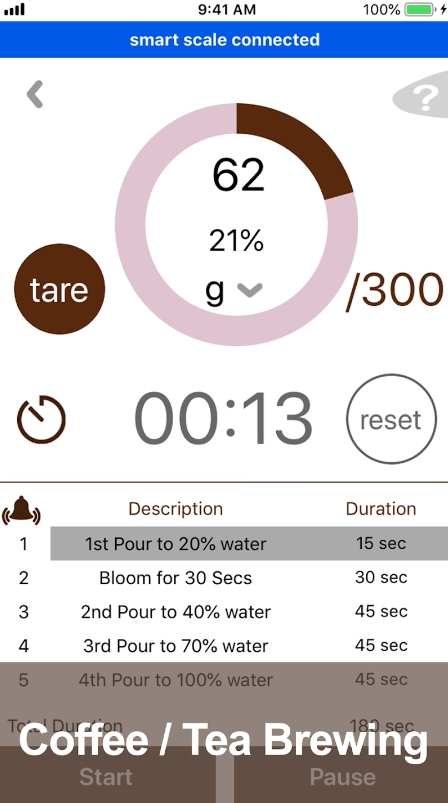 You may also like: 11 Best Apps to Prevent Food Waste
2. Just Scale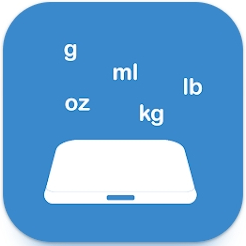 If you're someone who loves to cook or bake, you have to give this app a try. It truly takes your cooking game to the next level. With this app, you can use your phone as an extra large display for your scale, saving you from squinting at tiny digital numbers. Plus, you can perform unit conversions seamlessly, making sure you get the measurement just right for your recipe.
One of the best aspects of this one is the ability to access various weighing units, including kg, oz, lb, fl oz, ml, and all that. You can even measure in cups, which is great for honey, sugar, or flour. But if you think that's all, think again. The app offers a whole range of measuring units beyond the standard digital food scale, allowing for even more precise measurements for your culinary creations.
And let's talk about the UI: it's sleek, easy to navigate, and downright fun to use. The down arrow button is easily accessible and makes it a breeze to switch to different measuring units. Once you start using it, you'll never go back to your old, clunky scale again. Happy cooking!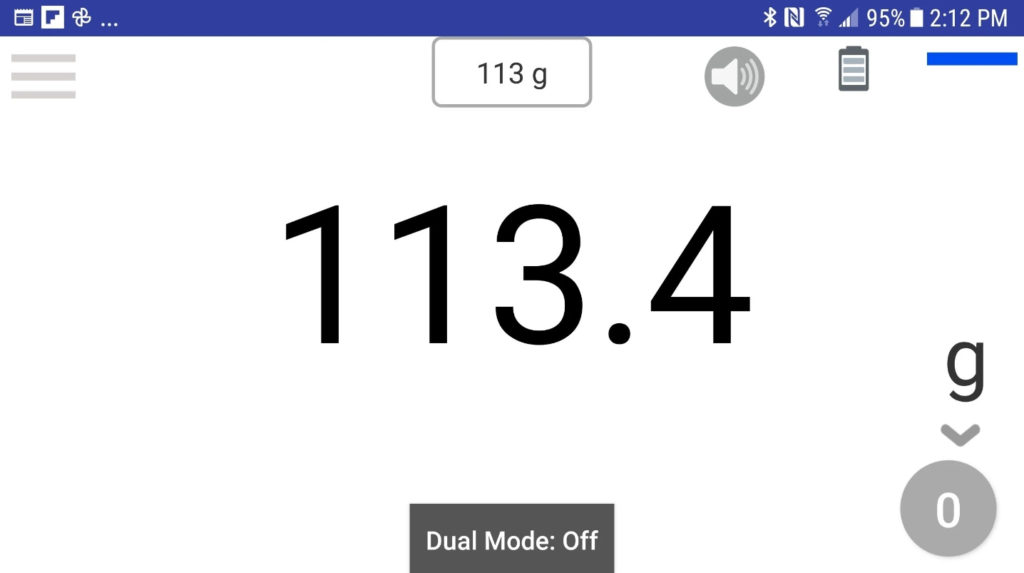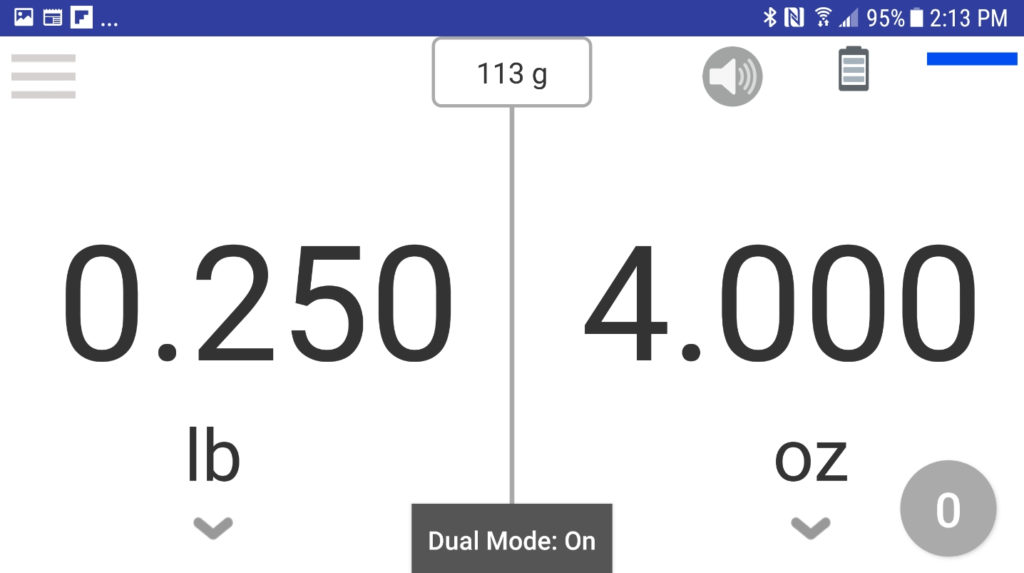 Check also: 7 Best Meal Planning Apps for Couples
3. Digital Kitchen Scale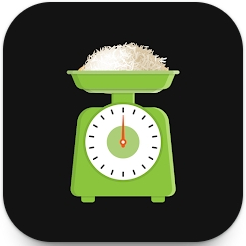 This is the kind of app to revolutionize your cooking game. If you're into cooking, then you know how important it is to use the right amounts of ingredients, and that's exactly what this app does. No more guessing or eyeballing ingredient measurements.
This app has all the comprehensive scale measurements and weights for kitchen scale items in one place. Talk about convenience! It lets you switch between different units of measurement such as tablespoons, teaspoons, 200 or 250 ml glass, and even grams. This makes following recipes a breeze and ensures accuracy in measurements.
Not only that, but it covers a massive selection of cereals, flours, nuts, dairy, oils, and other products. This means you can easily find out the weight of any ingredient you need for your recipe. No more guesswork!
And the best part? You don't need an actual kitchen scale to get the job done. Hereby, the app is easy to navigate, and the design is visually appealing. Plus, the typical weight of common fruits and veggies is also provided. The app is fully free, and there are no hidden fees or limits to bother you at all.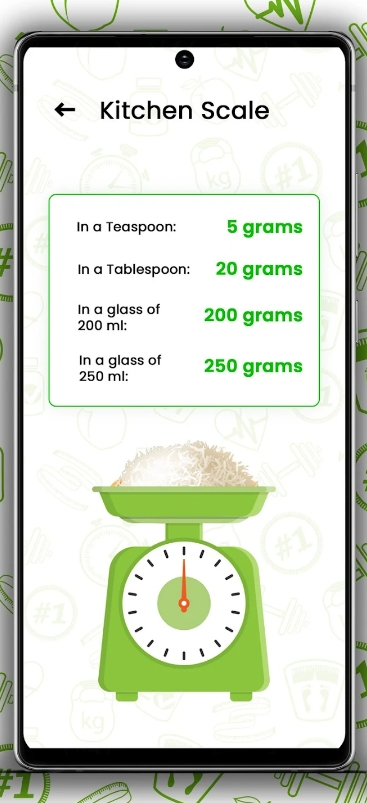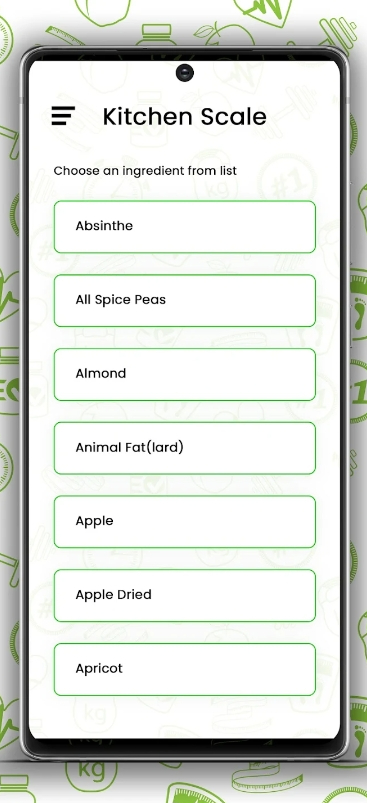 4. Kitchen Scale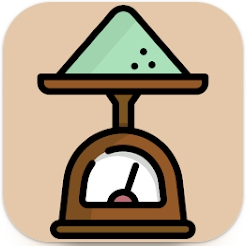 This app is here to make your cooking experience way easier. It's a must-have for any aspiring chef or homemaker who wants to simplify their cooking process without sacrificing taste. With a whopping 180 items in its extensive database, this app covers all the bases from various bowls of flour, dairy products, oils, spices, and even common fruits and vegetables' average weights.
Gone are the days of trying to eyeball how much flour to put in your recipe. The app will tell you precisely how much you need for your dish. Plus, with the ease and convenience of the app, you won't need to clutter your kitchen with extra gadgets such as measuring cups or scales
Instead, everything you need to know is right at your fingertips. Simply select your ingredient, and you'll discover how much it weighs in teaspoons, tablespoons, and various cup measurements. This app is not only helpful, but it's also fun and easy to use. Its intuitive UI makes it a breeze to navigate, and its colorful design adds a touch of excitement to the cooking experience. It's free to use, and you won't get too annoyed by the ads.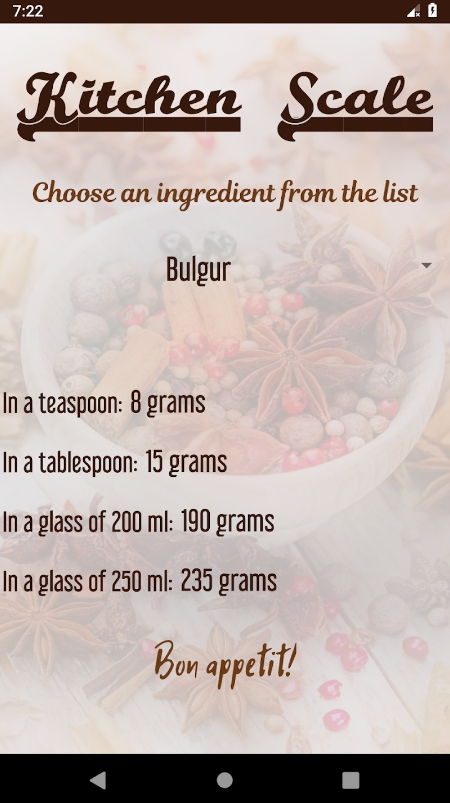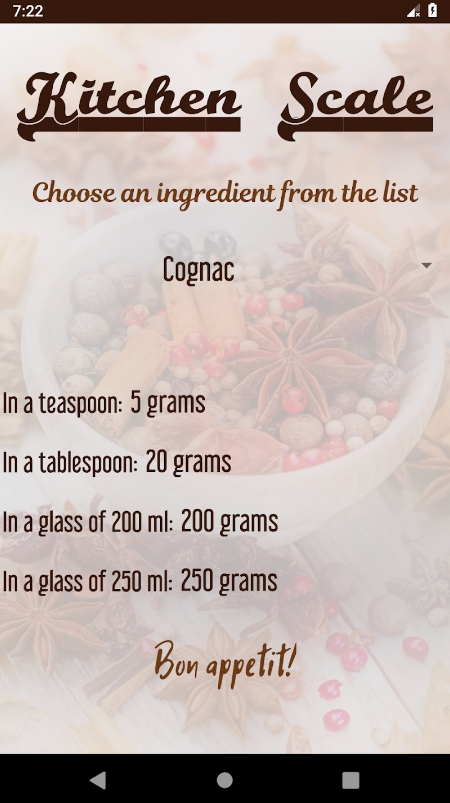 You may also check: 11 Best Price Checker Apps for Stores Like Wallmart
5. Food Scale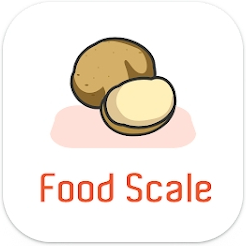 If you're a health enthusiast, always on the lookout for ways to improve your overall well-being, this app can help. It's smart nutrition intake calc that makes it incredibly easy to track and control your food intake. It's like having a personal dietician right at your fingertips!
What really sets the app apart is its extensive food library. With over 1 million foods and their corresponding nutrient values, you can easily track exactly what you're consuming. And if you can't find food in the lib, you can add it manually and the app will calculate its nutrient content for you.
You can easily search for the nutritional content of your fave foods and add them to your daily intake log. The best part is that the app calculates the nutrient content of the food based on the known weight, which means I can be sure that I'm getting accurate info.
And if you've ever tried to weigh foods with a kitchen scale, you know it's a hassle, not to mention you're likely to be off by a few grams. But with this app, you can simply input the weight of your food and the app will do the rest for you. No more guesswork, no more inaccuracies.