Scheduling meals can be a daunting task, especially when you're on two busy schedules. Luckily, we know exactly how to help!
Here's our take on the best meal-planning apps for couples (Android & iOS) to ease your life. These apps offer convenience and flexibility to accommodate your unique needs as a couple. These are also helpful if you want to reduce food waste.
With these apps on hand, you'll never have to worry about what's for dinner again. Say goodbye to boring, repetitive meals and hello to delicious, exciting dishes. Let's get into it!
1. MealPrepPro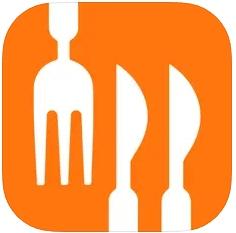 Tired of eating the same dish over and over again? Struggle with planning meals for you and your significant other? Well, this app is right up your alley. It's a treat for anyone who wants to eat healthy and delicious food without any hassles. Whether you're busy working or not, this app will make food scheduling a breeze.
First of all, the customization options are endless. You can set the preferred amount of calories, and add stuff like allergies and personal dislikes for both you and your spouse. You can even input your schedule! The app then generates personalized recipes and a smart grocery list, all consolidated in one place.
As for the list, this one is a godsend for those who get overwhelmed by the need to go get food and tend to buy too much all the time. And then the app will build a plan around your life and your goals. You can prep for a week or just a single dish, the app is flexible enough to work for you.
Plus, you can add multiple people to your planner and set their goals too. You'll get to customize the portions and recipes for everyone, so no more guesswork on how much to make for dinner with your mate.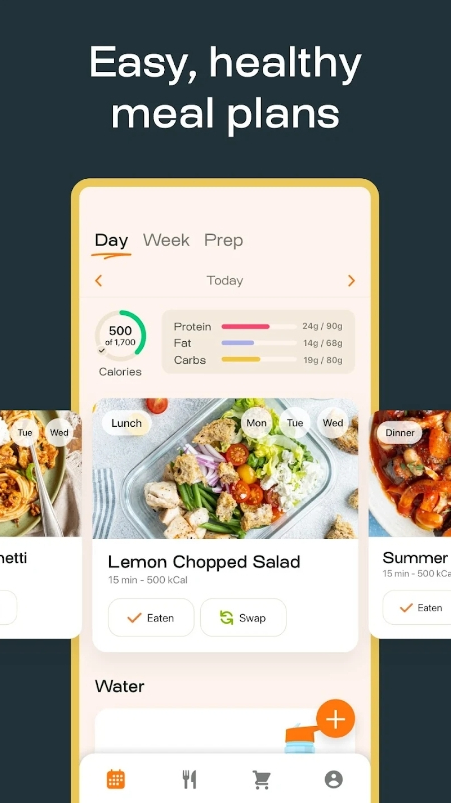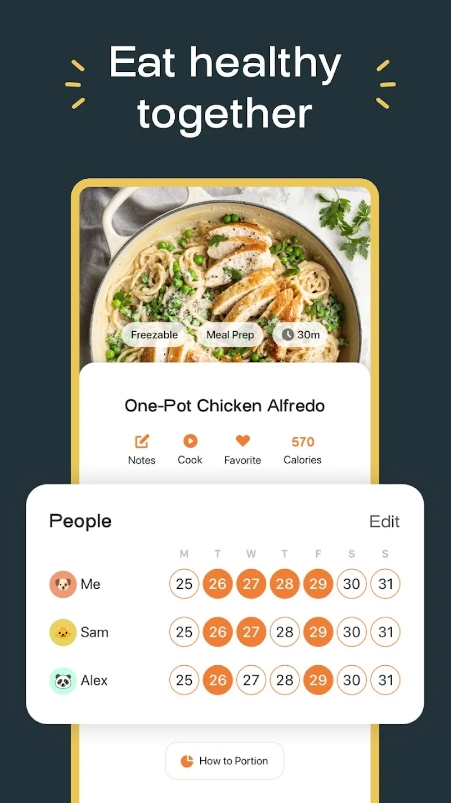 You may also like: 15 Best Carb Calculator Apps & Websites 2023
2. Cozi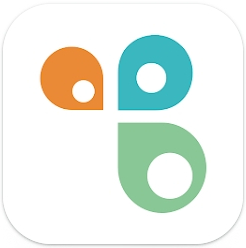 Are you the kind of person who is constantly forgetting that one crucial ingredient for your family's dinner? This app will fix that. It is a game changer when it comes to managing your fam's dishes. Plus, it works great if you want to keep up with the daily tasks of all your loved ones.
The major part of this app is dedicated to lists. There are to-do lists and ones for shopping, so you're all the way covered. With the ability to add items in real-time, everyone in the fam stays updated on what's needed at the store. No more trips back to the market because someone forgot the milk! Plus, the convenience of having the list accessible on your phone, while you shop, is unbeatable.
As for the recipe box, this app covers a great way to organize all your go-to meals in one place. Add ingredients to the list with ease, or schedule dishes onto your calendar for ultimate planning.
And with the no-dim button, your phone screen stays on during cooking: no more interruptions! The widgets are also here to let you see all the upcoming events and tasks for the day.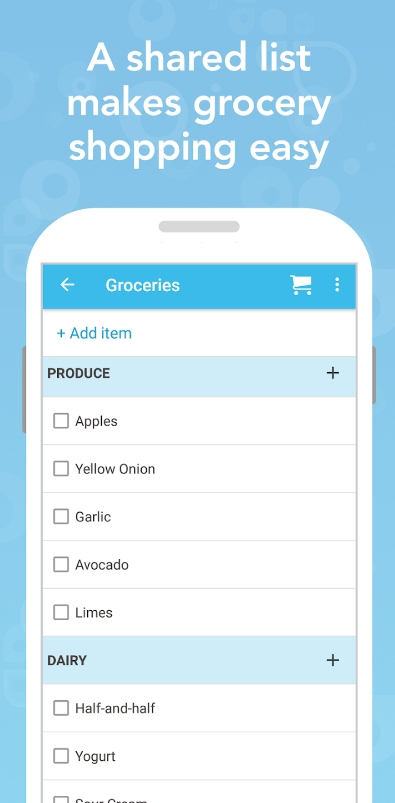 3. BigOven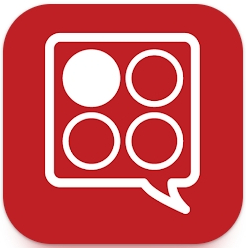 This app is a lifesaver for anyone who loves to cook or just wants to get more managed in the kitchen. It lets you have all your recipes in one place, which is incredibly handy. No more sifting through stacks of cookbooks or trying to remember which website had that delicious chicken dinner you made last month. You'll get to save dishes from all around the web and even add handwritten ones if needed.
And speaking of being organized, you'll get to easily plan out your foods for the week (or even the whole month, if you're feeling ambitious). Plus, you can easily share your plan with your spouse if needed. You'll also get to specify your prefs and dietary needs to avoid unpleasant surprises.
The app also adds all the grocery items to your list with just one tap. The seasonal collections and suggested dishes are a great source of inspo for when you're feeling stuck in a cooking rut. You'll be able to filter dishes by categories and occasions as well. And you'll also get to see what your friends are cooking too. It's like having a virtual potluck party!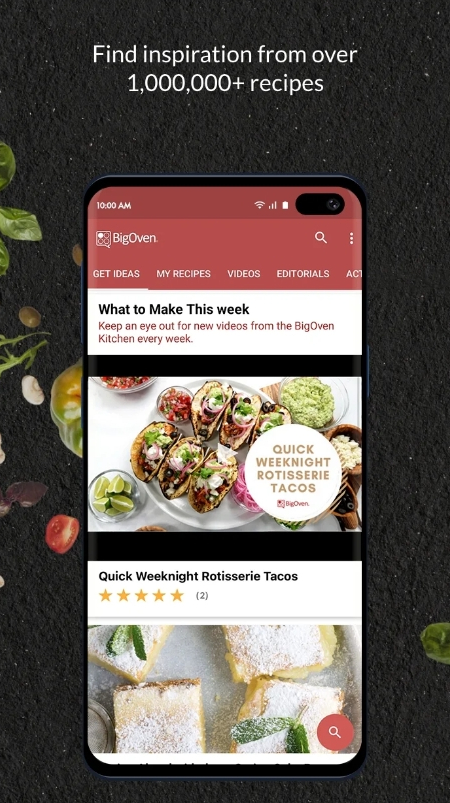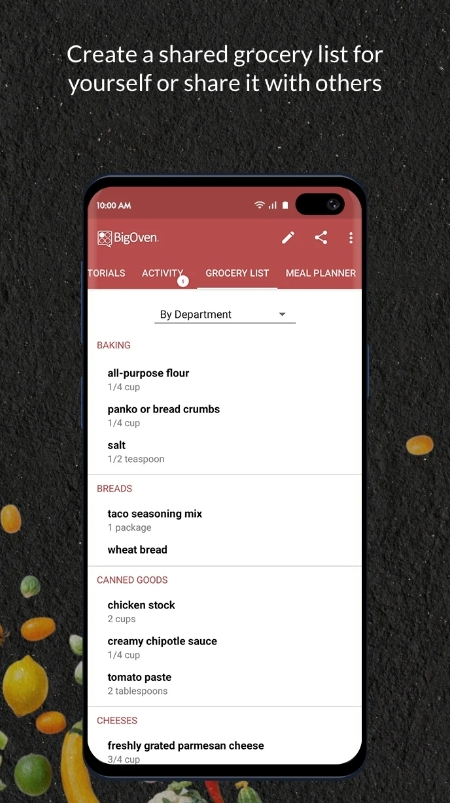 4. Mealime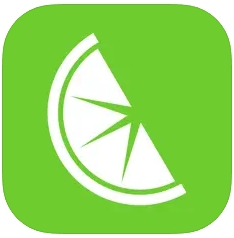 It's a handy app that lets you schedule your dishes with minimal effort. The app offers tons of healthy dishes you can cook in record time, and it lets you adjust serving sizes as well. In case you've already tied similar apps and find the recipes too complicated, this is the one.
Whether you're a seasoned home cook or a complete newbie, you'll love how easy the app is to navigate the app and find the perfect recipes for your needs. The step-by-step and hassle-free cooking instructions are fool-proof, and you'll never have to worry about forgetting an ingredient or piece of cookware again. It's honestly like having a personal chef on your phone!
As for the plans, each week, you'll receive a customized plan that takes into account your dietary prefs, restrictions, and goals. With over 119 individual dislikable ingredients and allergies to use for filtering, you can rest assured that every meal will be tailored to your exact needs and tastes.
Plus, the app will help you reduce food waste and focus on fresh, whole ingredients, Most dishes only take 30 mins to cook, which is ideal for a romantic dinner in the rush.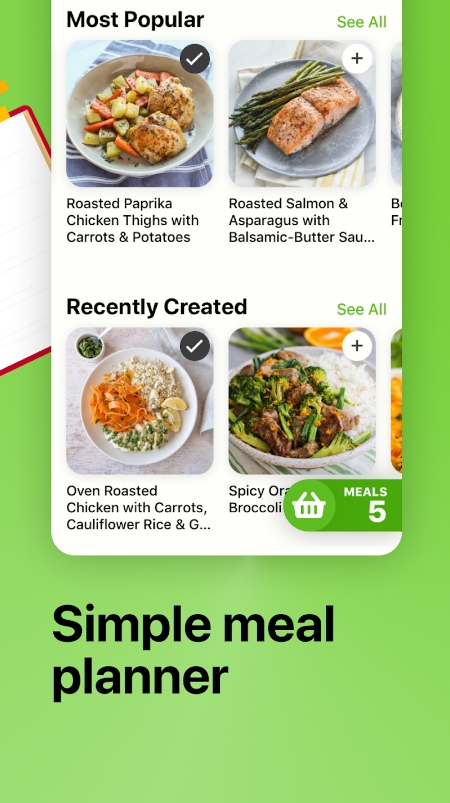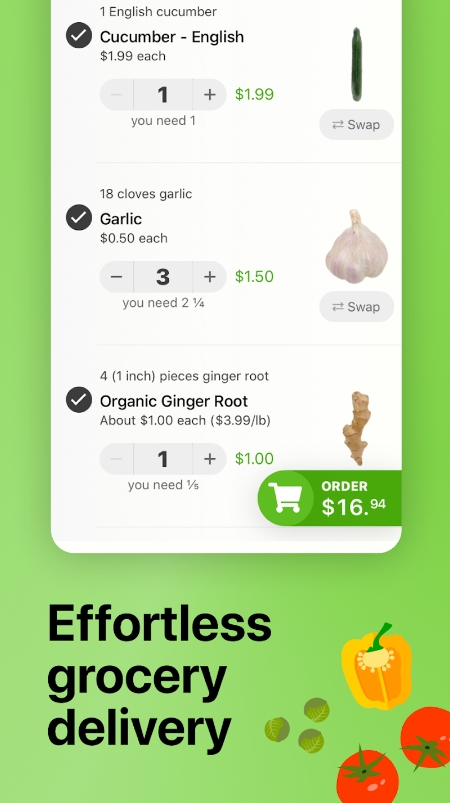 Check also: 11 Best Farmers Market Apps
5. eMeals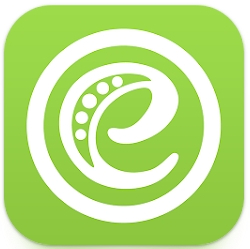 If you're looking for efficient meal-planning options to simplify the way you cook, this app is here to help. Firstly, it lets you pick a plan that suits your dietary needs. Whether you're vegetarian, vegan, gluten-free, or follow a low-carb diet, there's something for everyone.
There are several plans to pick from, so you can try one that works for your family's schedule as well. You'll get to specify the serving size, the number of portions, and all the little details needed. There's even a tool that filters all the kid-friendly foods within secs. Handy, right?
And if you hate shopping for food cause you tend to forget smth or buy too much all the time, you'll be impressed by the smart list tool. It integrates with popular delivery services, so you can have all the components you need to be delivered straight to your door. How cool is that?
Of course, like anything, there are some cons. One downside is that some of the dishes can be time-consuming to make. So if you're looking for quick ones, this might not be the app for you. Also, canceling your subscription can be a bit of a hassle.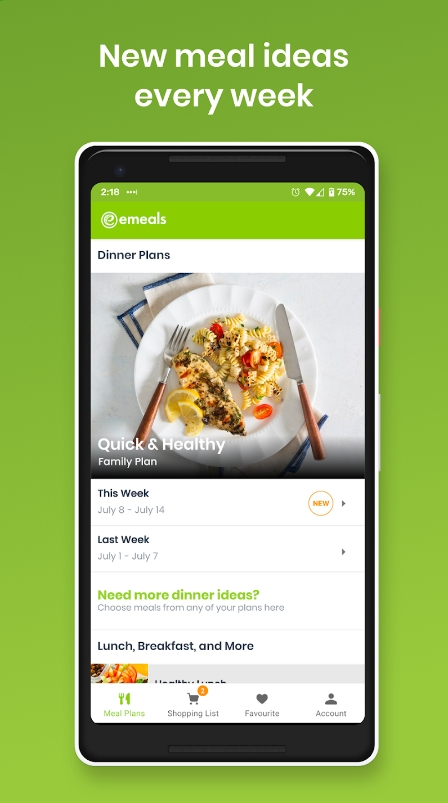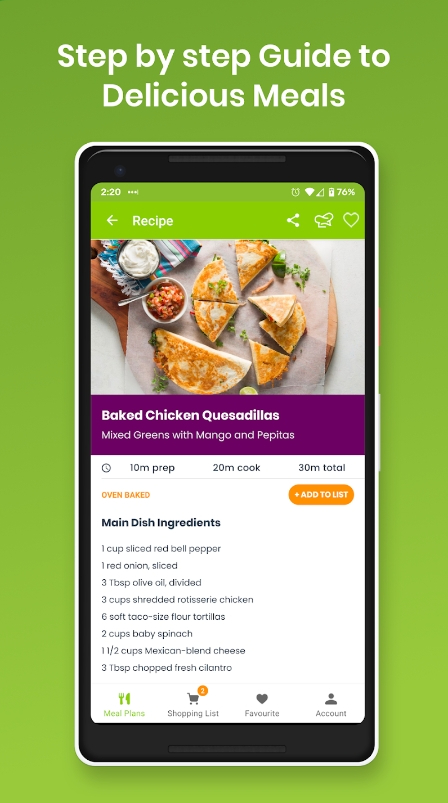 6. Eat This Much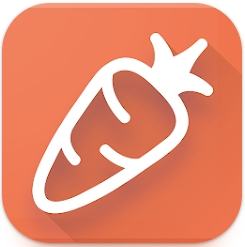 That's a great app if you're trying to eat healthily while satisfying your taste buds. Sounds challenging, but the app makes it a literal breeze. This app is loaded with instruments that cater to all kinds of eating styles, from paleo to vegan and everything in between.
The app is made in such a way that you can personalize your dishes to suit your specific dietary prefs (or prefs in general). You can set up desired macronutrients and calories to make sure you're hitting your daily targets without any hassle. And if you have any allergies or simply want to avoid certain foods, the app lets you filter that too.
What's more, it caters to different eating styles, so whether you're following a paleo, keto, or other diet, you're sorted. You can even personalize any of the recipes or add your own to the mix. It also lets you set nutrition targets. You'll get to adjust the serving size and needs of your partner as well.
Above that, you'll get to set the cooking time for each dish to match your schedule, so you're not scrambling for food when you're strapped for time. There's a free plan available, which is always great.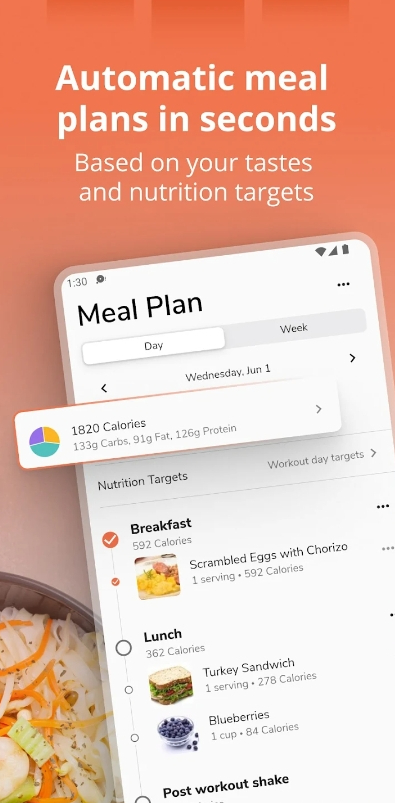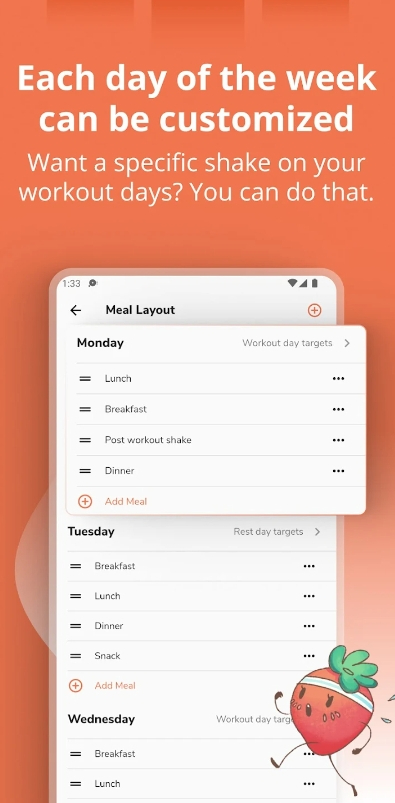 You may also check: 10 Best Yoga at Home Apps
7. SideChef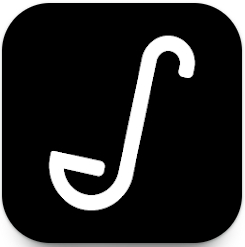 And lastly, there's an app that will take out the struggles of deciding what to make for dinner next time. It covers over 18K step-by-step tutorials, so you will never run out of inspo here. Hereby, you'll get to filter the dishes by diet and prefs. Whether you are a vegan or keto enthusiast, there is something for everyone. Feel free to add these for yourself and your spouse to ensure there are no mistakes made.
Plus, you can easily search for dishes based on items you already have on hand and create a list of the ones you need. The personalized recipe recs make it easy to discover new dishes that you will love. And, if you are a busy couple, you'll definitely like the ability to pick up the dishes that take minimal time e to make.
Even if you are a beginner in the kitchen, the app has you covered. With each dish, you can follow along with images or vids for every step, so you know exactly what to do. And the built-in timers ensure that you never overcook anything again!
And for those who want to learn more about cooking, the how-to videos will teach you valuable culinary skills. The list tool syncs with popular grocery delivery services, so you can order everything right away.