Music is something that brings us all together. Songwriting needs to learn how to find inspiration and come up with certain ideas for lyrics. You also need to master other technical aspects to evoke the exact emotions you want to convey to your audience. You may not even have a musical or philological background to write songs. And our article today will prove it.
We have collected for you different, but certainly useful applications that can reveal your talent. We also recommend all song lovers check the article Best Apps to Play Music from SD Card. This app will help you have music at your fingertips whenever you need it.
1. FL Studio Mobile
FL Studio Mobile is one of the most popular music-making software. Today you can create and save complete music projects on your mobile phone or tablet. The world-famous music assistant is suitable for creating music in almost any genre. Besides, it is available for iOS and Android users. Here you can record, edit, mix, and play your songs.
Anyone who is even a little bit involved in audio editing will find the interface of the application convenient because it is well organized and optimized. There are various effects, such as synthesizer, in the left menu. Moreover, they are highlighted for more convenience. The main tools are hidden in a special menu, which opens when you click on the fruit icon.
Here you can find the panel of demo tracks, settings, and a store. In the main part, there is a panel with effects and soundtracks applied. Besides, the projects between the mobile and desktop versions of the program are linked, so you can work on two devices at once.
Another advantage is that you can connect external devices, such as a keyboard or microphone, to the phone. To do this you will need Bluetooth, or in some cases, extra available plugins.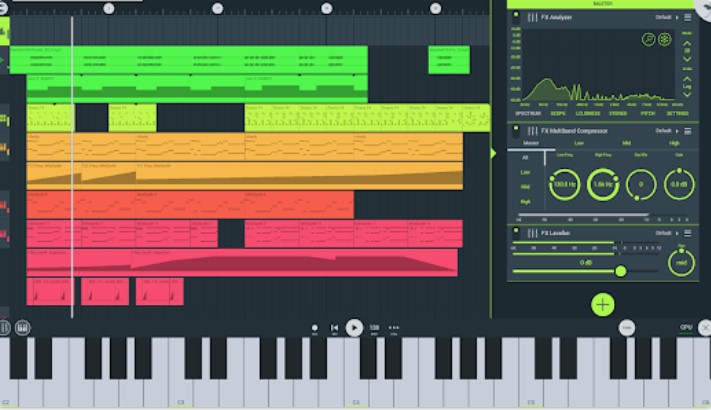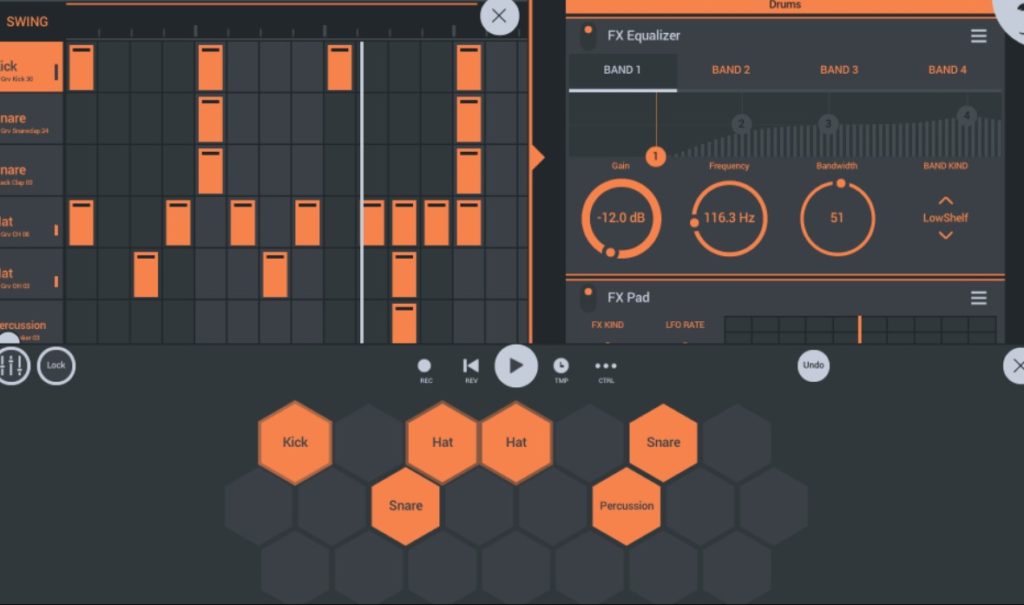 You may also like: 10 Best Lie Detector Test Apps
2. Audio Evolution Mobile Studio
This mobile app is practically a complete virtual sound recording workstation that can fit in your pocket. In addition, there is the multitrack playback option. For each track, there is an in-app volume control option. Also, there is a powerful equalizer with the ability to insert three effects.
Among the effects, you will find classic or very fancy ones. An equalizer and a metronome are available as well. The application is also distinguished by its ability to import files. It is available in mp3 and wav as well as AIFF or FLAC. The only limit in creating projects is the memory of your device.
You can even use your keyboard to play a song in real-time or record a song with a microphone. It all depends on the tech features of your smartphone. In addition, the app has a sufficient set of basic editing tools that you can undo and redo. You will be able to apply most of the effects for free. It is also possible to record two tracks at the same time.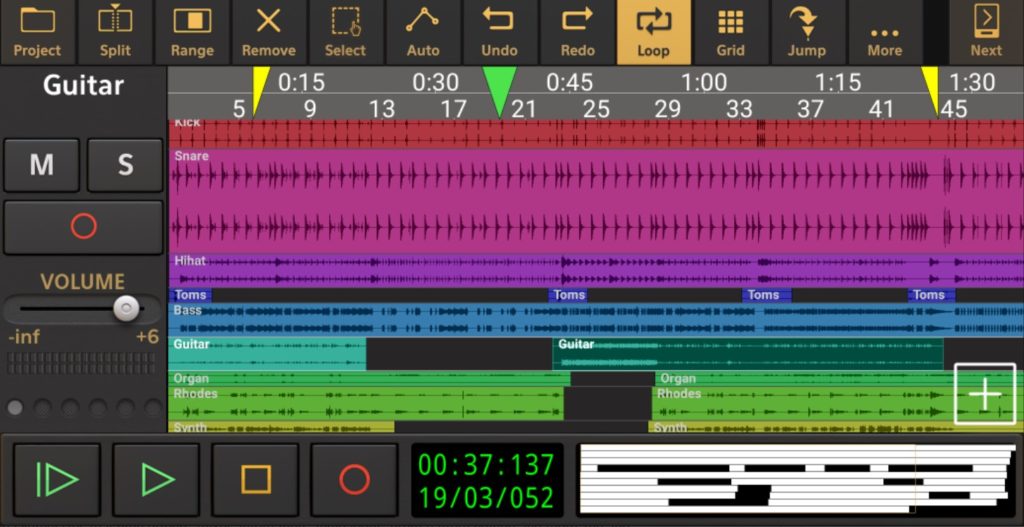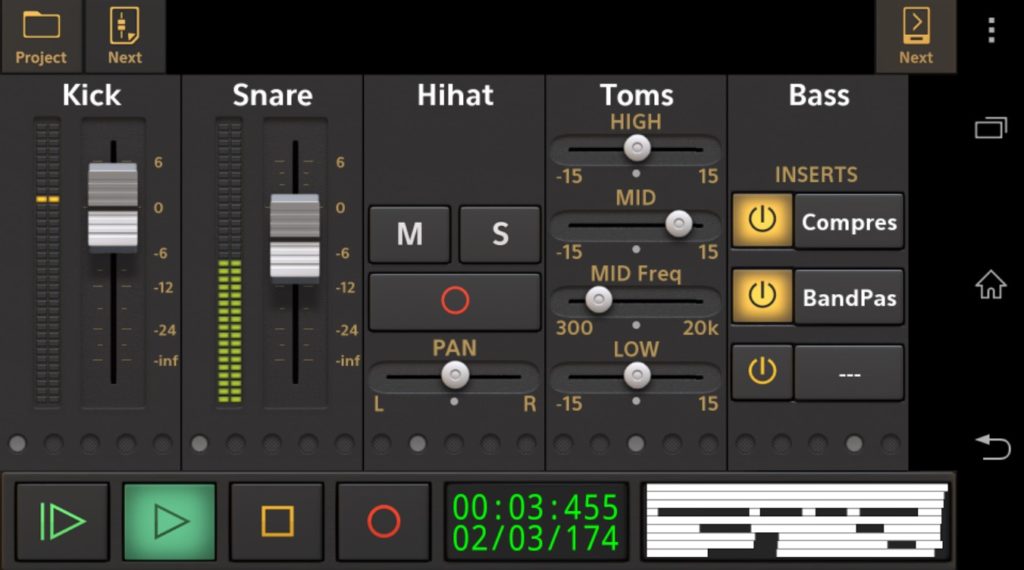 3. GarageBand
If you want to record a proper track, you can even use a built-in program like GarageBand. It is a free, simple, and functional music writing program with lots of ready-mades presets. It also features several basic musical instruments so you can easily record a tune that comes to your mind.
You will get access to keyboards, drums, strings, and other instruments. For each one, the app has lots of different settings. In addition, you can choose a style for your songwriting, such as hip hop, dubstep, rock, chill, and so on. This app can plug in different instruments and create unique music that you can edit using your device. It is also a good app for recording vocals.
All project work is shared with your cloud storage. Thanks to the sound library, you can select and download new free instruments and loop sets. In addition, there is a user-friendly interface and a nice design. Besides, everything is done in a fairly minimalistic way, with pretty shades.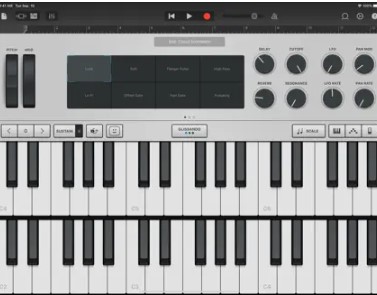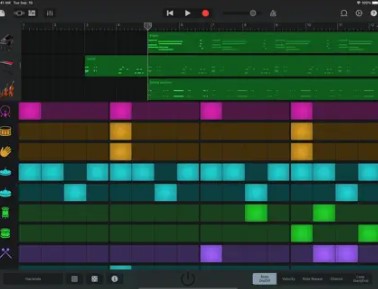 4. Music Maker JAM
This songwriter program has impressive potential. It includes tons of audio samples from all kinds of music styles. There are loops from genres like blues, rock, metal, reggae, house, dubstep, hip-hop, and even more. Its users pay attention to this program primarily because of the ability to use it without any special musical education.
All you need is your unique style. This application already has everything you need. You simply download the styles you want and mix tracks. On the other hand, the app is a community of musicians where millions of users share their creativity. This program will offer an eight-channel mixer where you can turn on, tune, and change the parts of particular instruments.
In addition, it offers the ability to switch to special effects, change the tempo, add soundtracks to your track, set rhythm or beat, and much more. Moreover, it is possible to use sound effects simply by turning the phone in different directions. Also, the app offers you to test your DJ skills by creating crazy remixes.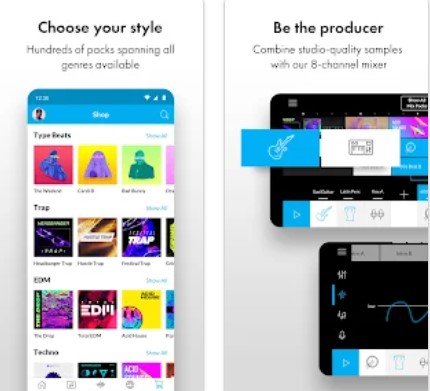 5. BandLab – Music Making Studio
Making music notes is more convenient when you have a proper program at your fingertips. For example, BandLab is a pretty decent digital sound working station that lets you record your music. It also has a mixer with 12 channels, a limitless project size, various music effects, and a metronome. This music editor is more oriented toward creating the effect of real musical instruments.
There are about two hundred professional instruments from drum kits to pianos. In addition, the app will offer guitar, bass, and vocal effects. It is possible to work on projects on different devices. Also, you can develop musical ideas together with your friends. A special control system will allow you to work on one song at the same time without too many obstacles.
In addition, BandLab is attractive to vocalists. It lets you record your voice for any melody and create a song's covers right on your phone. Also, this app works as a social network for musicians, where users can share their art and meet new music lovers.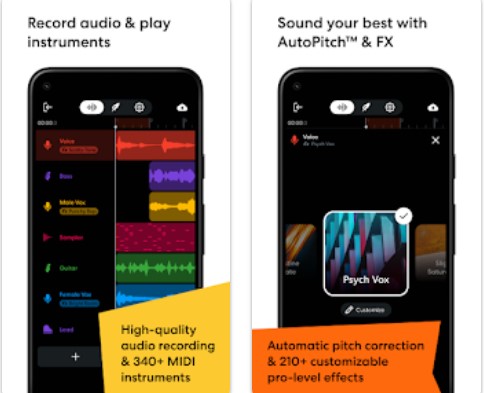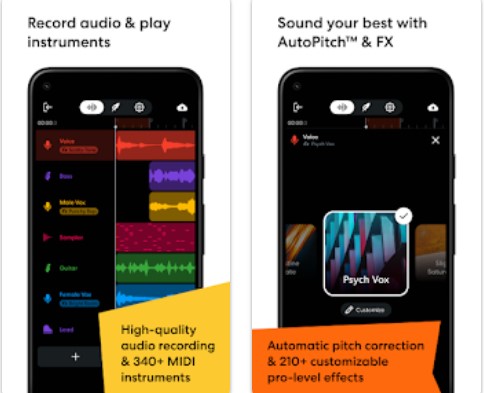 6. Tully
Once you have decided on a melody, you need the lyrics. The Tully app will help you create it. This is a storage of your ideas and thoughts. The app has a desktop version in which your songwriting will be even more convenient, but the program is appealing for its mobility.
The main recording feature is divided into typing and recording. When you type the text of your future song, the program helps you come up with the lyrics and offers you some rhyme lines. In addition, you can store your notes and edit them directly in the app. So you can cut or title your project. Even though there are few editing features, it is sufficient for draft writing.
For song recording, the app will offer you to use built-in beats to make it easy to compose your lyrics. Also, the app lets you add your beats. Likewise, you can arrange duties between your team. So you can work together on one song. The app allows you to save and share the finished project, of course.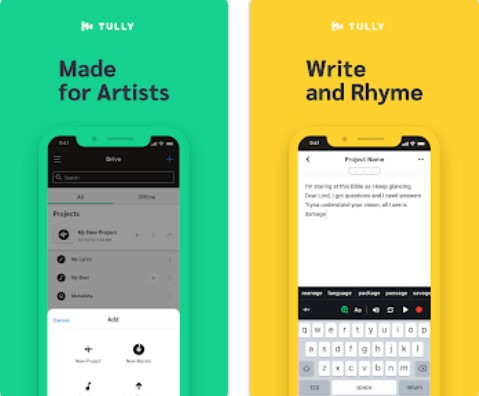 You may also like: 8 Best 3D Photo Apps
7. Apollo 16 – Songwriting
Apollo is a songwriting tool. Its interface is laconic and pleasant. It encourages its users to capture creative lyrics ideas in a special notebook. Moreover, you can use your audio tracks.
For example, play a beat or a melody and come up with lyrics at the same time. You can also record audio directly in the app. If you do not like the text, you can put it in the trash. The files will be stored there for another 15 days in case you want to restore them.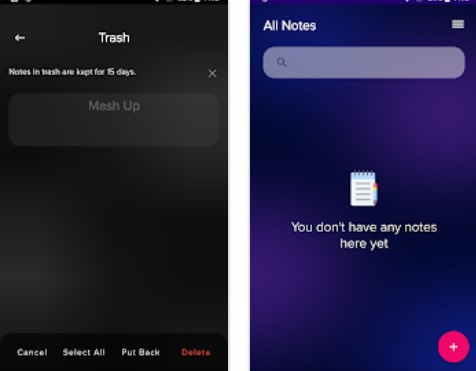 8. Song Recorder
Song Recorder is distinguished by the fact that it has several useful functions all in one app. In addition to its main function, voice recording has some extra features. It supports recording in high-quality MP3 format. You can also choose the audio channel in the settings, which is mono or stereo. In addition, the appl automatically titles the tracks according to the date of recording.
You can also use the automatic notification mute function in order not to be interrupted during the recording. While you are recording, you will be accompanied by a pleasant interface with intuitive navigation. In addition, it allows you to choose a folder for saving on your device. Moreover, the app is not only suitable for creating songs, but also for use as an ordinary voice recorder.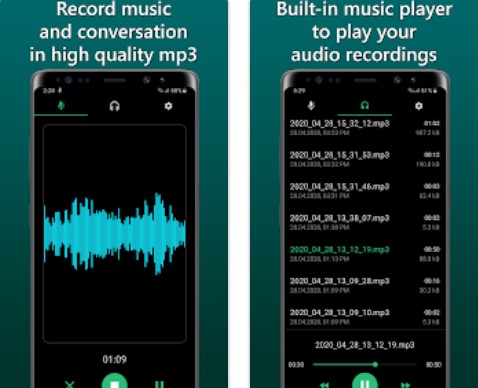 9. Lyric Notepad
This app combines a notebook and a personal musician's diary. You can use both your recording and text way to write a song. One of the great things about this app is that it can enhance your writing and take into account its quality of it.
In other words, the app will rhyme your lines or highlight them in different colors rhyming words. To find a rhyme, you click on a word and the app displays several possible choices. Also, it considers syllables in the lyrics, displaying them on the phone screen allowing you to create a harmonious text.
Even if you are confused about a particular word, the app will be able to help. There is a search bar for this. In addition, it will be pleasant for you, if you are a musician, to be able to use sheet music. So, you may compare whether the lyrics match the notes. For convenience, you can use a ready-made songwriting template consisting of a title, verse, and chorus.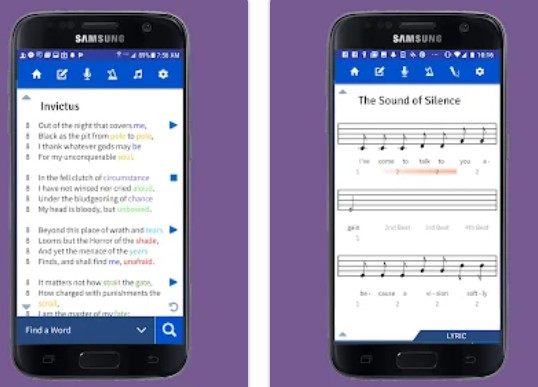 10. Song Memo
Song Memo is an application for quickly writing a chord sequence. Songwriting is much faster thanks to this app. After all, you only need to select one note and it will automatically determine the chord.
In addition, the app is flexible in terms of importing data. You can import records from any app, phone memory, or cloud storage. Also, you can change the key. That way, you can record a song using just this app.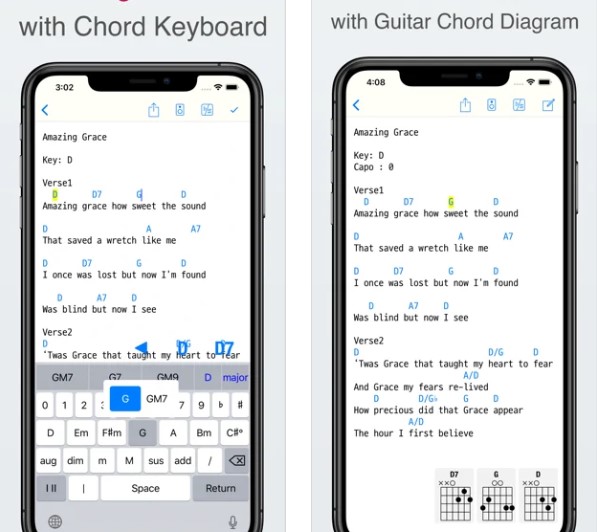 You may also like: 9 Best Catfishing Apps for Kids and Cats (Android & iOS)
11. Rapchat: Auto-Tune Song Maker
The last app on our list is the dream of all rappers. It will become a mini studio for you to record your hits. If you want to try yourself in this style, but do not know how to start this app is exactly for you. It has all the basic voice effects you need to record your lyrics, like autotune.
There are also thousands of ready-made beats for your tracks. You can share your finished rap on social networks or save it to your device. In addition, this app is a social network where you can pump up your follower base.