Lucid dreams aid in the avoidance of nightmares or exhausting phobias. They allow you to work out actual problems and find a solution. Dream programming gives you rest and strength for life. Nowadays, dream catchers have been replaced by special applications for night fantasy interpretation.
Therefore, we have collected the best of them in this article. A few are designed for entertainment, while others may improve self-awareness. We also recommend the article 9 Best Dream Meaning Apps, to encourage understanding your dreams better.
1. DIY Dream Catcher Simulator
Use this app to eliminate distressing nightmares by changing them into peaceful ones. The app is designed in a minimalistic style and it is easy to understand what is required of you. Basically, it is a game in which you will need to create your dream catcher. Use this app to master sewing basics with threads and other tools.
The only things you will need to make your dream catcher are feathers, beads, and thread. There will be several levels to go through. You will have a picture of the dream catcher and you will have to create it from the tools that will be presented on the screen.
After each level, you will receive coins, for which you can buy new tools in the game. With each level, the difficulty of a dream catcher will increase. Thanks to this you will learn more about dream catchers and attract good night adventures.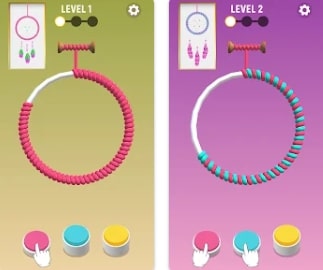 You may also like: 9 Best sleep talk recorder apps
2. Dream Catcher Journal
You no longer have to write down your dreams in notes. All your night adventures can be neatly organized. The app will allow you to analyze things you saw at night and reach a state of lucid dreaming. All you need to do is write down the details of your dreams in a journal. There is a calendar in the app where you will need to record your dreams.
You can describe them as much as you want. The space in the app is unlimited. As more details you record, the closer you get to introspection and lucid dreaming. In addition, you can get an advanced level of security by setting a password. You will be able to enter the app by a code or your fingerprint. This will allow you to secure your dream data.
You may also get a sleep report. The app will check out the dreams' quality whether they were positive or negative. It requires you to rate your night adventures with an emoji.

You may also like: 11 Best Philips Hue Apps
3. Dream Journal & Lucid Tool
This is a tool for leading your sleep diary. It allows you to complete a note of everything you have in the app's calendar. There is no limit to the amount of information you can add to the app. You can add as many details as you want. While you record notes in the app, you might write down your emotions and tag them. The more dream journaling you do, the closer you get to lucid dreaming.
You will understand the system of your dreams and why you see particular things at night thanks to the app's analysis. It will show you graphically the most frequent dreams and the feelings you experienced in most of your dreams. This will lead you to a better understanding of the nature and basic correlation of your dreams. You can also set a reminder in the app which will be triggered when you wake up.
Moreover, you will be able to record your entire night story without losing it. Additionally, you can secure the app with a password or fingerprint. This app is perfect for those who want to analyze their dreams and comprehend their meaning.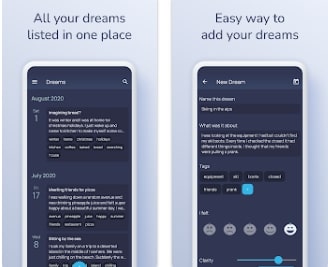 4. Dream Journal & Lucid Dreaming
This is is an app that will immerse you in the world of controllable dreams and improve your mental state. You will be able to keep your diary and analyze each of your dreams. The app recommends recording your dream each morning as you clearly remember the details of your dream. This will contribute to the development of your consciousness.
As well, you can mark days when you have an impact on your night and note it as lucid ones. In addition, some tags will appear once you start to create a detailed description of your night story. This way you will figure out why you saw particular things at night. It is worth pointing out that the app has an audio recording feature that cannot be found in other apps.
This is a great way to record your vivid emotions and analyze what you had. The app will also provide you with a chart that will show you the percentage of days you had whether positive or negative experiences. This app is good for those who want to improve their mental state and dive into another world.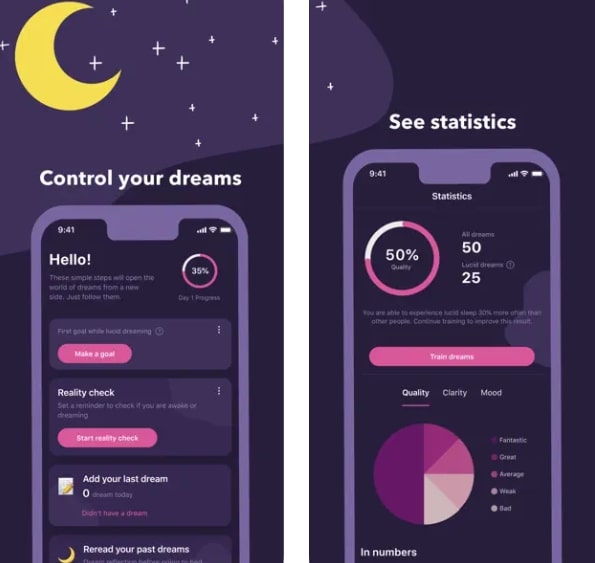 You may also like: 6 Best Pull-Ups Fitness Apps
5. Lucid – Dream Journal
This night catcher is appealing for technical and functional reasons. Many users note that it includes all the essential features critical for this sort of app. To begin with, it allows its users to store notes both in text and voice formats. In addition, all night stories can be defined in detail thanks to particular tags that will rate your nighttime.
Secondly, the app provides secure data storage. From now on, all your notes will be synchronized. Finally, users love the app because of its ability to evaluate awareness. All details regarding your dreams will be delivered in colorful and easy-to-understand charts. This app will offer you an overview of the possible reasons for your state to increase your self-understanding.
There are also various calendars to keep track of your nights, feelings, and mindfulness. The more data the app has, the more clearly it will give an overview of your inner world.