Nowadays, it is vitally important to have our phones charged all day long. However, because of the constant use of devices, it seems to be impossible to have at least a 20% charge by the evening. To make the charging much faster, we strongly recommend you install one of the tools below.
These very apps were designed to charge your Android device battery as much as possible. As a result, due to numerous optimizations, you will get your phone charged much faster. We have chosen the most efficient tools of this category, you will need just to choose the suitable ones. After that, follow the links to install it from Google Play in one tap only.
1. Charging Master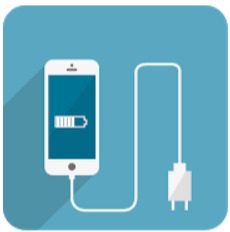 The first app to be reviewed is Charging Master. Since it is the most top-rated app on our list, it is an undeniable leader in this category.
This very tool is perfect for optimizing all the processes to reduce battery consumption while charging. Also, it will reduce the screen brightness and control the device temperature to avoid the device overheating.
Apart from this, in case of abnormal power consumption, the app will notify you every time it happens. That is a real advantage of this tool.
Finally, for faster charging, the app will stop all the background processes. What is more, it tells you when unplugging is required. At the same time, owing to this tool, you will always stay aware of the charging time remaining.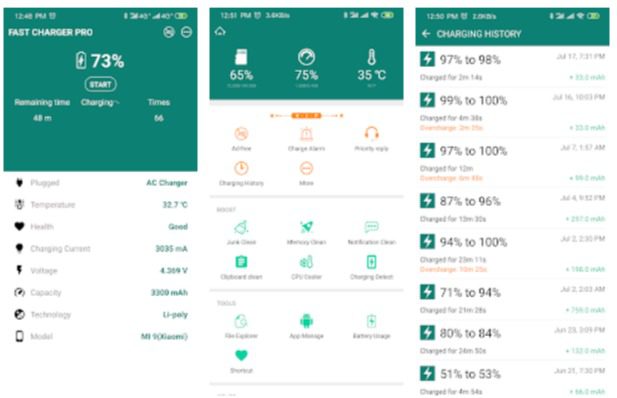 2. Battery Health – Battery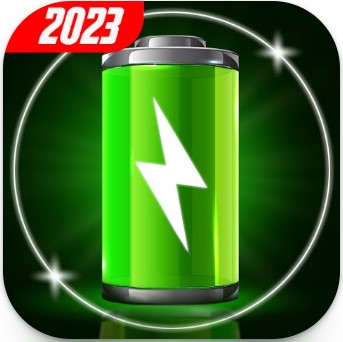 Battery Health – Battery is the next worthwhile app to be installed. After you install it, you will have a powerful battery charge tool to analyze and monitor it at your fingertips.
The app is considered to be a pro in extending the battery life and charging your device faster up to 40%. All you will need to do is to tap the button. After that, the tool will find the applications and processes that drain your battery too much.
If you wish, the app will also let you turn off wifi, Bluetooth, auto-sync, brightness, screen timeout, mobile data, and so on. Just choose the parameters you need to be paused, and suspend them with one tap only.
Plus, if you want to know the details about your battery, the app will help you in this case as well. The thing is that it supports defining battery temperature, voltage, and even capacity.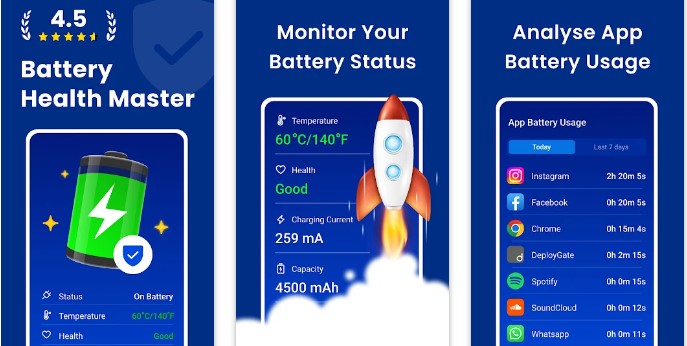 3. Battery App
Here is one more cool app letting users charge phones much faster. Its name is Battery App.
Every time you charge your phone, the application will try its best to optimize the processes, making charging faster. What is more, you will also have access to general info on your battery like temperature, voltage, capacity, technology, charge status, and so on.
Apart from this, the app will offer you to choose a ringtone to notify you when a phone is charged.
You know how important it is to remove cache files and junk from your Android device. Here is the list of the best cleaner apps for that!
4. Green Battery – Power Saver Free, CPU better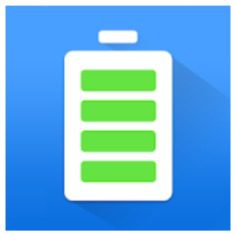 If you are in search of a tool capable of boost charging and battery saving at once, Green Battery will be the best alternative for you. Here are the features it includes.
First of all, the app functions perfectly when it comes to making the battery charge faster. Moreover, it also displays the time remaining till 100% charge, which is cool. Finally, it creates a healthy environment for the battery, which makes its life longer.
Then, the main specialization of this app is power saving. Thus, the app will always be in charge of optimizing the current and background battery-consuming processes. By the way, you will be able to stop them with one tap, if you wish. Also, adjusting the screen brightness, timeout, connections, and other battery-draining things will be possible here as well.
Finally, the app allows its users to create numerous battery-saving modes. By adding this or that app or service, you will easily create sets of parameters to be adjusted according to your battery level.
As a bonus, the tool will provide you with the rank of the apps that drain the battery the most. So you can always control the battery consumption, optimizing this or that application. Besides, it can cope with boosting your phone by offering you to close the apps you don't need.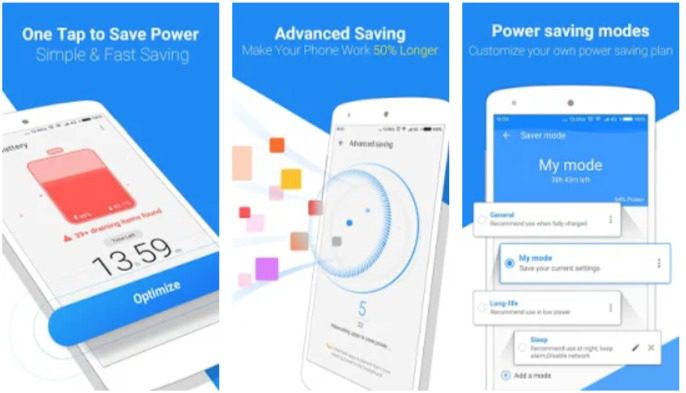 5. Accu​Battery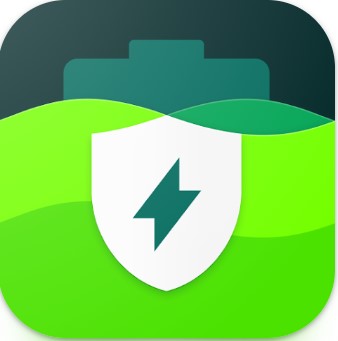 If you prefer ready-to-use modes, here is an app for that. It is called Accu​Battery.
This very tool includes monitoring charge speed and other stats. Also, you may see which apps are most destructive to your phone. So, the app will tell you to stop their work.
As for minor advantages, it will also notify you every time you connect your phone to USB or AC. Also, you will stay aware when the battery is fully charged. Of course, the notifications can be easily adjusted.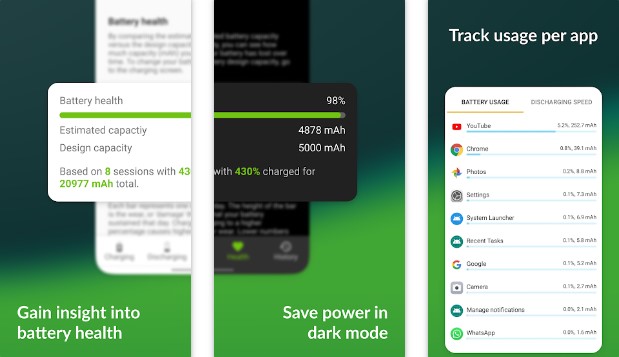 6. Fast charger – Fast Charging & Charge Battery Fast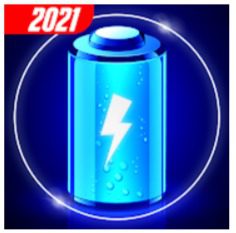 The next tool that should be included in the review is a Fast charger. Here are the main features it has.
To make the charging super-fast, the app is going to optimize the processes that drain the battery the most. At the same time, it will be up to you to decide which app or service will be paused.
Thus, with one tap only, you will be able to suspend apps running in the background, clear RAM, turn off WiFi, Bluetooth, screen rotation, and so on. Select the processes you don't find essential and pause them while charging within seconds.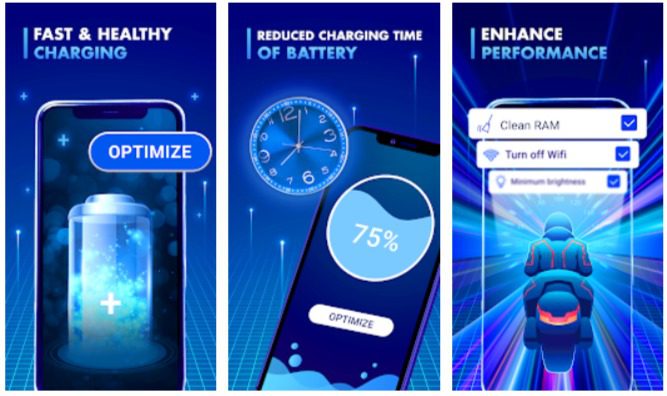 7. Battery Saver – Bataria Energy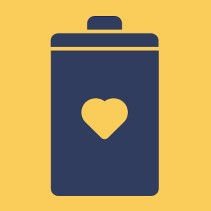 Now it's high time to review the last battery charge app. As it is clear from its name, the Battery Saver – Bataria Energy tool will let you boost charging significantly.
Like most apps in this category, this one perfectly optimizes the processes that prevent fast charging. Whether it will be an app running in the background or Bluetooth turned on, the app will find and pause processes that consume battery too much.
Apart from this, you will be provided with access to general info on battery status, level, temperature, voltage, health, technology, and so on.
You can also set a charging schedule so that your phone is always charged and ready to use.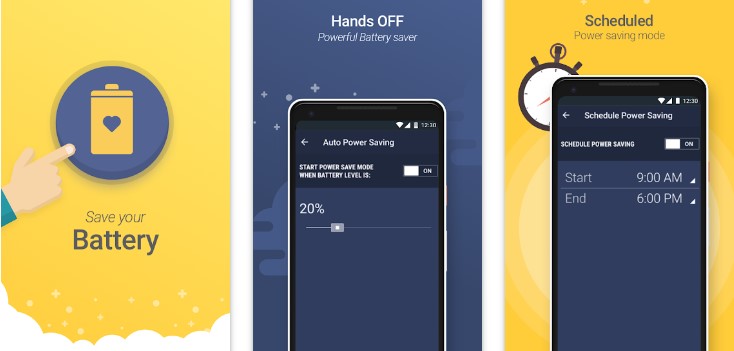 You may also like: 7 Best ROM Manager Apps for Android