Just like a house, your phone requires regular cleanings from unnecessary stuff. To remove all the cache files and junk, a cleaner is a tool you need. As a result of these in-app operations, you have your Android device uncluttered and optimized, with much better performance.
Since Google Play is full of applications of this type, it's our duty to find the most suitable of them and make a list of the best cleaner apps for Android. Your task is just to go through the post, choose an app you like the most, and install by following a link. After that, enjoy the smooth-running browsing, playing, or chatting. 
1. Nox Cleaner – Booster, Optimizer, Cache Cleaner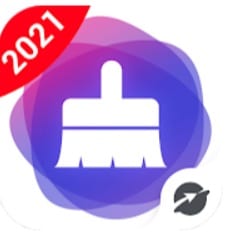 The first tool to be reviewed is Nox Cleaner. Being the most top-rated application on this list, it will ensure complete simplicity and efficiency in cleaning your phone.
The app comes with a kit of tools capable of optimizing your phone and removing odd junk and RAM in both internal and external storage. Also, it will let you delete cache from social media and messengers without affecting important files. To put it shortly, not only the storage space will be enlarged, but also the processes will be fastened.
In addition, the app includes an antivirus system. As a result, whatever the virus is, it will be detected and removed. However, the tool will constantly protect your gadget from dangerous files.
Also, the app is considered to be a professional in boosting your phone by lowering phone temperature and increasing the speed of all operations. By the way, if you are especially interested in boosting the games, there will be a special feature for that. It is one of the reasons to try this very tool.
If you want the cleaner tool to include the notification blocking feature, this very app will meet your requirements for sure. Just open the application to enable or disable particular notifications.
Finally, the app will be powerful enough in analyzing the content of your phone to make it work faster. Thus, it will compare photos in your gallery and tell whether there are similar photos that can be deleted with no harm. Apart from this, you will also stay aware of the apps that you don't use or battery-draining ones. Then it will be up to you to decide what to do with these issues (whether to delete, remove, or stop them). However, the app's suggestions are always advisable.
Do you want to protect your messenger and social media from unwanted access? Or maybe you keep some secrets in the gallery, messages, or calls? If it is true for you, the app will help you to protect them with a pattern, fingerprint, or passcode. That sounds cool.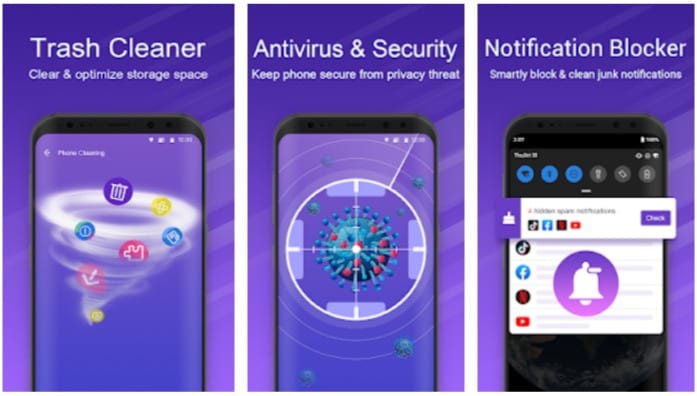 2. Avast Cleanup & Boost, Phone Cleaner, Optimizer
The next tool that worth your attention is called Avast Cleanup & Boost. Here are its key features.
First of all, the app is perfect for getting rid of junk on your phone. Within several taps, you will be able to clean up space by deleting cache, temporary files, RAM, and other leftover data.
Like in the previous case, the application will constantly analyze the tools and apps you have installed. It will let it find something that takes a lot of space in your memory, or consumes a battery a lot, or is frequently used. After that, the cleaner will ask you whether you want to delete them or stop the processes to save the battery. There is no doubt that it will increase the performance of your device.
As for the distinguishing features, the app supports creating profiles depending on your location. Since you use different apps in different places (such as home, work, car, etc.) you will be able to choose the apps and phone functions to work within a particular profile. We find this feature so handy.
Moreover, it is capable of identifying photos of bad quality or old, similar ones. For your convenience, you will be able to manage them according to their size. After that, just choose the suggested components you want to get rid of and make the app boost your phone by deleting files you don't need. However, if you don't want to remove them from the internal or external memory, the app will easily optimize the size of photos or videos from your gallery saving much space.
Finally, there is also a pro version of the app. Though the tool is powerful by itself, being a Premium user here provides you with some benefits. For instance, you will be able to completely hibernate the installed apps, adjust automatic cleanings, choose the theme, and so on. Also, this very version is ad-free.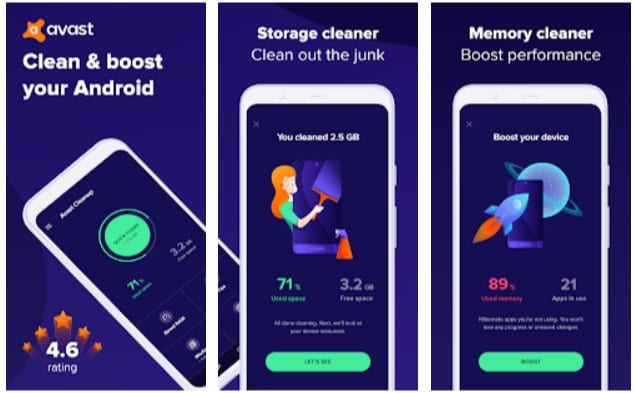 If you suspect having any spyware programs installed, here is the guide on how to remove spy apps from your gadget.
3. CCleaner: Cache Cleaner, Phone Booster, Optimizer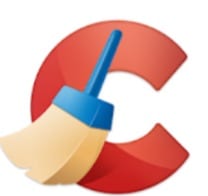 Here is one more amazing option for you. Its name is CCleaner.
Like other tools of this category, this one will significantly speed up your device by finding and removing all the junk, cache, RAM, temporary files, etc.
Apart from this, the app is considered to be an expert in analyzing the processes that run on your device. Thus, it will notify you about the apps or functions that consume a lot of battery. Then you will be able to make use of the Hibernation feature to make them stop running in the background. Otherwise, if this or that tool is not frequently used, you will be able to uninstall them in this app directly.
Also, this very tool will help you to create profiles and choose the apps to be used in particular places like home, work, or car. There is no doubt that it will be beneficial for your battery.
When it comes to your phone gallery, the app will also do its best in saving space. Thus, after analyzing the files, the app will tell you whether they are similar, old, or bad-quality photos. Then choose the offered images you want to delete and boost up your phone a lot. Apart from this, you will be provided with the in-app compressor capable of functioning in 3 modes (Low, Moderate, High, and Aggressive file compression). Just choose the one that suits you best and decrease the file size. Finally, if you want to move them to cloud storage, the app will become your assistant in this matter as well. The whole process will be as smooth as possible.
Plus, if you have some compromising photos in private chats, the app will help you to delete them without facing difficulties.
Finally, this very cleaner will constantly monitor the system of your gadget. In case of some problems, you will be able to optimize and cool your phone within one tap only.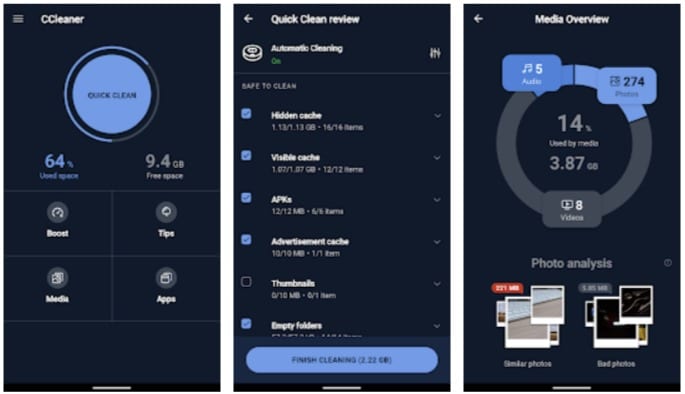 4. AVG Cleaner – Junk Cleaner, Memory & RAM Booster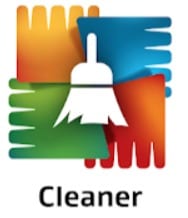 As for an alternative, we also recommend you install the tool called AVG Cleaner. Being installed on more than 50 million devices, it will boost your gadget performance as well.
It will take you several seconds only to remove junk, cache, RAM, and obsolete/residual files from your phone. As a result, you will get much more space, boost the speed of the processes and functions.
Apart from this, if you are interested in enlarging your battery life, installing the app will be a good idea. The thing is that it will provide you with the necessary information on the apps, the storage, and the battery they consume. After that, you will be offered to hibernate the particular tools because most of them run in the background. Consequently, the cleaner will help you to save your phone battery and even mobile data. By the way, in case you want to delete the apps that drain your device, it will be so easy to uninstall them using this very tool.
Like the tools above, this cleaner is also a file manager. By analyzing the elements in your device, it will tell you whether you have files to delete (like similar or poor-quality photos). The thing that makes the app so convenient is sorting according to the file size. So you will surely know which files are recommended for deleting.
Finally, the main distinguishing feature, in this case, is that the app already has pre-created profiles. As a result, you will have access to such modes as "Low Battery", "Home", "Work", and "Car". Using each of them will be so efficient in saving your device battery life.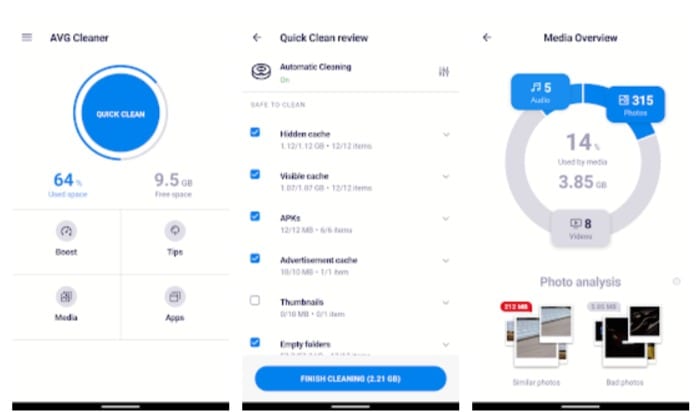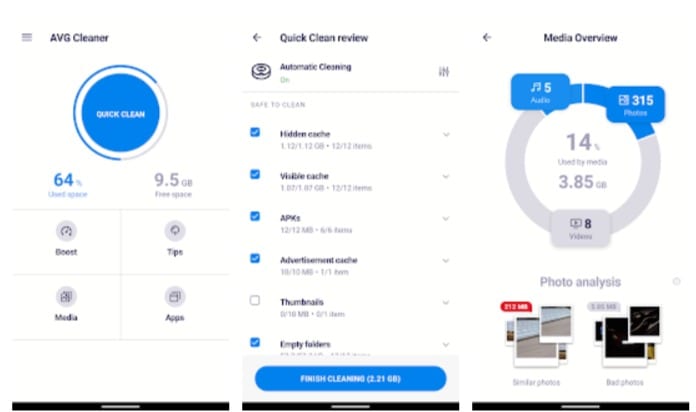 5. Files by Google: Clean up space on your phone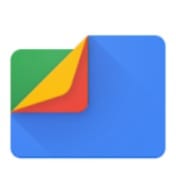 Files by Google is one more must-have tool for you. Though it is a cleaner in a way only, it will help you to save much space in your gadget.
The way it works is so simple. The application regularly checks your files and analyzes documents, photos, videos, and apps that can be odd. It means that they are not frequently opened, or have duplicates, or too large in their size. Your only task will be to choose the files you want to delete, and they will be removed from a phone.
By the way, if you want to share the files on a gadget nearby, you will be able to do that even without having an internet connection. The only requirement is the installed app on both devices. Moreover, sharing will be secured with WPA2 encryption.
If you have much space on your SD card, the app suggests you transfer the files from your phone's internal storage to an external one. It will also influence greatly your gadget's performance. As for an alternative, if you have Google Drive, you can also transfer your files there with the help of this tool as well.
When it comes to deleting junk and temporary files, the app can also deal with that. Thus, it is capable of deleting files you don't need to make your phone functions work faster.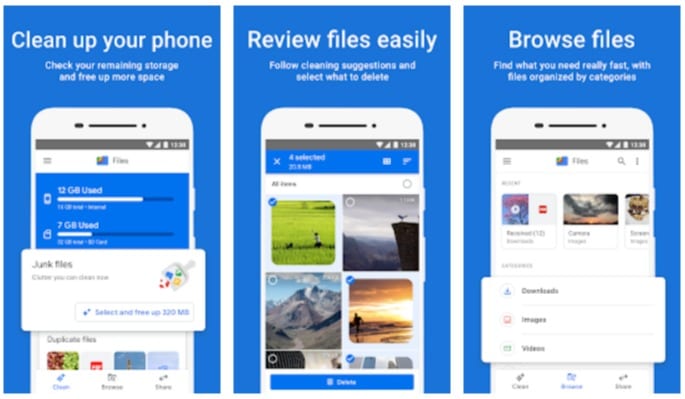 6. ONEBOOSTER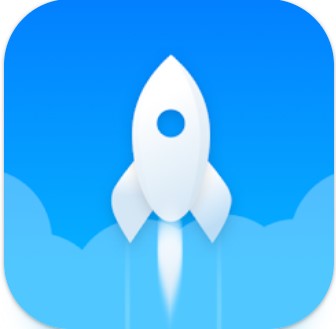 If you are in search of a tool with fewer features, here is what you need. With the app called ONEBOOSTER, you will easily remove all the unnecessary files from your phone making it function 100%.
First, after installing this app, you will have a powerful cleaner at your fingertips. It will quickly find junk of any type such as residual, cache, RAM, and so on. It will remain to tick them to make the app delete the files.
As for the additional features, with boosting, you will be able to optimize your phone performance by tapping one button only. Then, the app will also let you manage the apps by adjusting notifications or uninstalling the tools you don't use.
Just like the tools above, this one is capable of finding duplicates in your gallery allowing you to delete them and clean more space.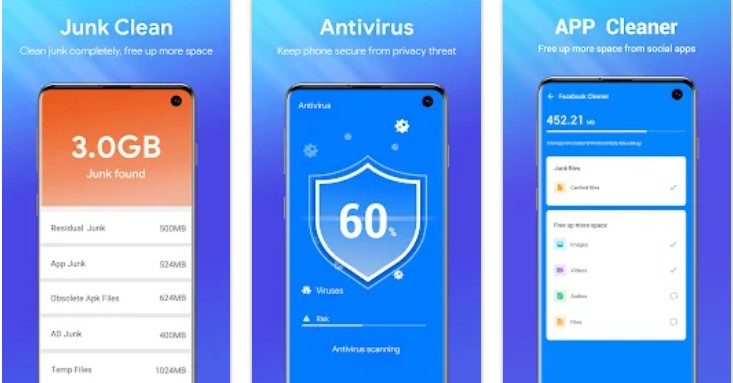 You may also like: 7 Best ROM Manager Apps for Android