New Year and Christmas are just around the corner. We have already started decorating our homes and getting ready for the upcoming holiday. The only thing left to do is to make greeting cards and some pictures. We recommend using the apps about which we will talk about in today's article to enhance the New Year's spirit.
These programs will help you to add Santa to your photos and selfies. You will find a variety of stickers as well as New Year's Eve effects. Also if you still miss the warm days and want to feel some sunny days, then we recommend you to refer to the article about Best apps to add tan to your photos.
1. Photo Santa App Add Santa To Your Pictures
Do you want to surprise your children or your friends with Santa hiding presents inside your apartment? Then we suggest you use the Photo Santa App Add Santa To Your Pictures app. It allows you to place Santa Claus on all surfaces and corners of your home. That way, you will get a fun photo.
Santa Claus will be in various poses in all your pictures. You will be able to add different parts of the nice Santa, otherwise, you will be able to place him all over your photo. Moreover, you will be able to change his size and shape. So you get the most realistic character running around your apartment, which creates the spirit of the New Year and the holiday.
All pictures of Santa Claus are made in pleasant bright graphics. You will also be able to add the famous red hats with pompoms to your selfies. The app is incredibly easy to use. You will see only four buttons such as character, hats, crop, and brightness.
It only takes you a couple of seconds to choose which Santa you want, add a hat, crop the photo and add brightness. That way your photos will be most suitable for Christmas and New Year's Eve.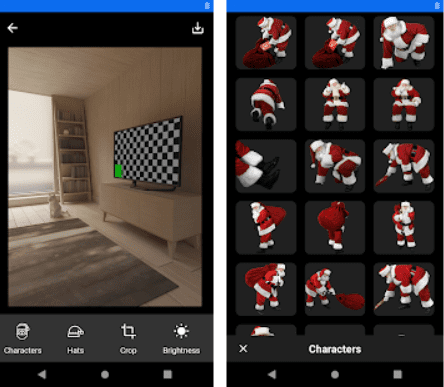 You may also like: 10 Best Apps to Combine Photos in 2021 (Android & iOS)
2. Santa Moments
New Year's Eve preparations take a lot of time and money. The things that come easy are the pictures. And what could be better than pictures with the real Santa Claus? The Santa Moments app will give you that opportunity. Well, what can the app do? First of all, you will be able to use the most natural-looking stickers of the real New Year's Santa.
In addition, you will be able to add not only him, but also a Bigfoot, a snowman, elves, and some other New Year's Eve characters. Add them to photos of the Christmas tree or place them next to the fireplace. You can also apply different Christmas decorations like jingle bells, twisted icicles, foil balls, teardrops, and more.
Make a holiday and share your pictures directly out of the app. You can also experience Santa alive on your smartphone. Just open the camera in the app and the mysterious character will appear right next to you. Use the Santa Moments app to create interesting and colorful Christmas cards.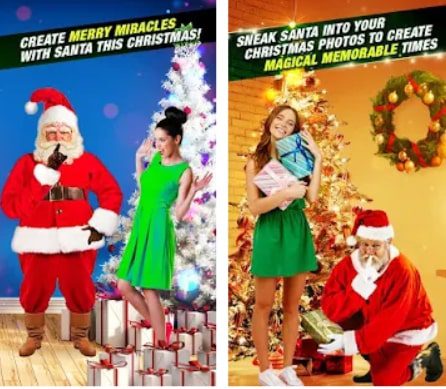 3. Merry Christmas Photo Editor
Choose a photo from the gallery or take selfies directly in the app to get a cute Santa Claus photo. With Santa Claus Photo Editor you can choose from a variety of photo frames. That way you can make a funny Santa Claus out of yourself and your loved ones. After that, you will be able to overlay text on the resulting image.
By the way, you will be able to choose your own style of text. In other words, it's font and size. Also, you can put a lot of funny stickers that will liven up your picture. With this application, you can easily insert your face into many different pictures of Santa. You can easily move, rotate, and resize the applied photo frame.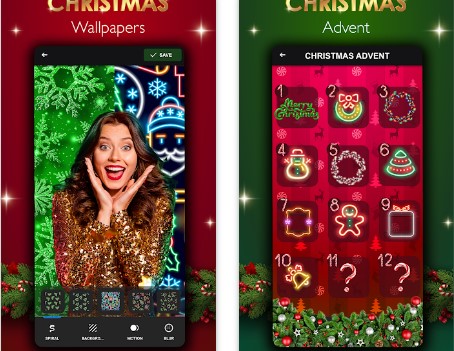 4. Santa Hat Photo Editor
Christmas is just around the corner, so it is the time to turn into a real Santa. Just go to the app and take a picture. Santa Hat Photo Editor not only allows you to choose from a variety of different Christmas hats but also rabbit ears, elf hats, Christmas decorations, presents, Christmas trees, and more. And most importantly, you will get all the stickers in HD quality.
You can also add a filter to make your face look brighter and smoother. All the stickers you can customize to your preference. Then you can change their size, shape, rotate them in a way that everything looks the most natural. The texture of each smiley is made so that it really has the same look as the real one.
The app has a handy function to share directly from the app. So you can send your photo as a greeting card via email, or through all possible social networks such as Twitter or Facebook.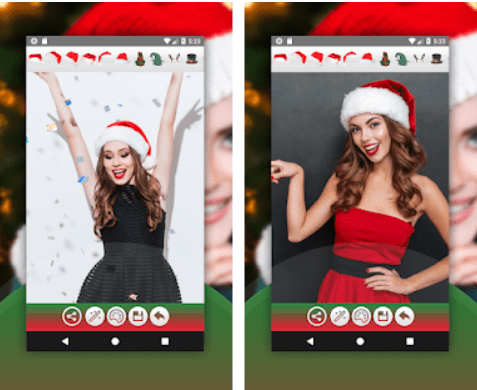 5. Santa In Photo – Christmas Stickers For Pictures
One click is all it takes to get a Santa Claus sticker on your photo. This app will help you save time and quickly edit any photo from your gallery. So, you need to choose an image and put it into the app. Then you will have to select the Santa Claus you like from the numerous sets.
Stickers For Pictures gives its users the possibility to add numerous holiday-related stickers, especially for the upcoming New Year and Christmas. In addition, the app offers simple image processing functions. For example, you can rotate, resize not only the applied sticker, as well as the image as a whole.
In addition, you will be able to place Santa Claus in completely different ways. This application has a wide range of stickers. So here there are a running, flying, hiding gifts, and standing Santa Claus.
To make your task easier, the developers have placed three handy buttons on the main screen. These are Twitter, Instagram, and Facebook icons. By clicking on them you will immediately share the resulting edited photo.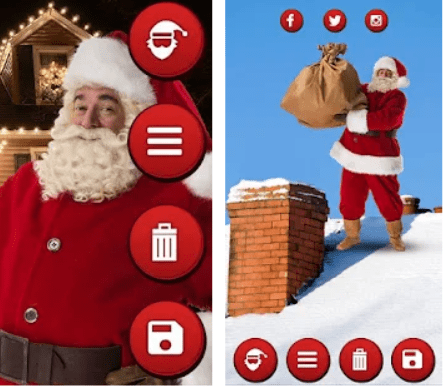 You may also like: 7 Best Photo Frame Apps for Android & iOS
6. Catch Santa in My House
When we were kids, we always wanted to catch Santa as he was putting down presents. Unfortunately, you probably never managed to do that. If you have children and nieces and nephews, you will probably want to use the app Catch Santa in My House. You can try it to get pictures of Santa Claus right in your home.
This works as follows. The first thing you do is upload a picture from your phone. Secondly, you choose from a list of proposed stickers. Then you can save the image to share it with your children or friends via social networks.
We should also state that especially for New Year, the developers added even more Christmas-related stickers, such as carriage of reindeer, Christmas trees, elves, magic lights, and more. Also, here you can choose from 3 different Sant Clauses. You will see these stickers in completely different variations.
This way you can easily find the right sticker for you to apply to your picture. All the stickers look the most natural. So you do not have to use complex programs. Your wish can be fulfilled in just a couple of clicks with the Catch Santa in My House app.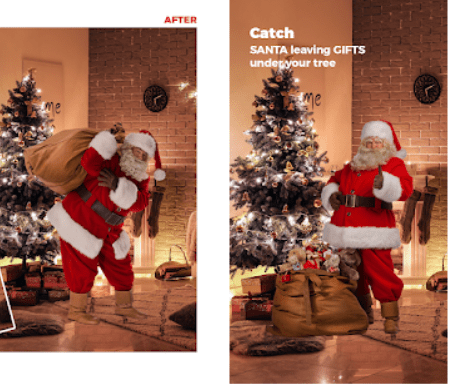 7. Snapshot Santa – Photo Editor!
Snapshot Santa – Photo Editor! is an incredibly simple application that will surprise your whole family. You want to cheer yourself up in the new year with a beautiful photo with Santa Claus, which means this app is especially for you. You will not see any unnecessary advertising in it, because it is not sponsored by anyone.
It is made only for the pleasure of users. So, what do you have to do to get Santa? Well, like in other applications, it is very easy. It is enough to take a photo and choose a sticker. Here you will see a lot of stickers from good Santa Claus, his helpers reindeer, snowflakes, snowmen, Christmas trees, ornaments, and more.
All applied stickers you can rotate and resize. You can put them on so that they complement the composition of the original image. You will never get confused about what to do.
The application offers a tutorial, which is located directly on the main screen. If you do not need it you can quickly hide it by double-clicking on the screen. Share New Year's Eve images via post, Twitter, Instagram, and other social networks.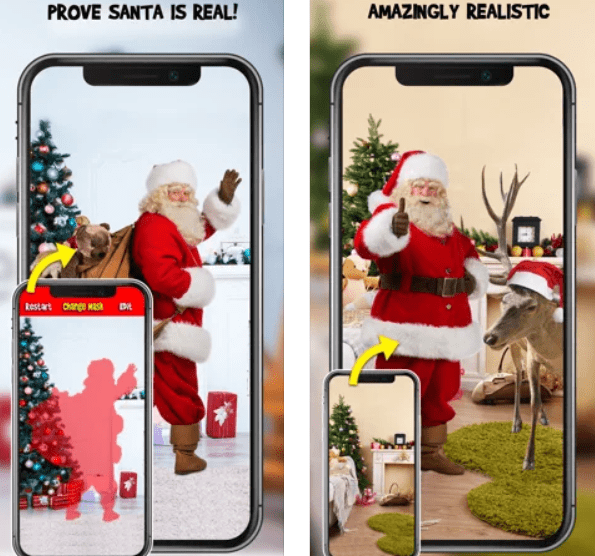 8. Santa Photo Editor and Frames
It will certainly be convenient for iPhone owners to use the application that will help make up Santa Claus, developed specifically for the iOS platform. Santa Photo Editor and Frames will allow you not only to add a magical old man to the photo but also to make you a real Santa Claus.
To do this, you just need to choose the prepared templates of bird, hat, and knuckle of Santa Claus. Otherwise, you will be able to leave only your eyes and put him entirely on the photo. Moreover, you will be able to add various Christmas-related stickers. Here you will see them under different categories.
It will make it easier for you to find the right sticker. Here you can see such sets of stickers as costumes, decorations, Santa Claus himself. Also the resulting image, you can edit directly in this application. So you can resize, crop, and rotate the image. In addition, you will be able to use basic effects such as quality enhancement, blur, contrast correction, and more.
Check out what else the app can do. So you can quickly share your images. Make the most of your holiday mood with Santa Photo Editor and Frames.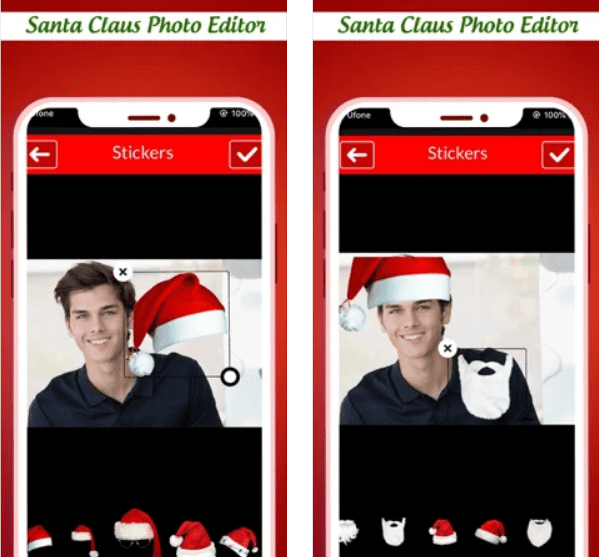 9. iCaughtSanta
You can prove to your children that you really caught the real Santa with the iCaughtSanta app. This app is designed specifically for all iPhone owners. It has few functions, but the main one is super easy. So, you can easily transform your New Year's Eve photos with this app. Add the image of a real Santa right into your family photo.
Otherwise, take a picture of a Christmas tree and make it look like Santa is hiding presents. Then, you can add some congratulatory text in a Christmas frame. So you will get not just a framed picture, but a real greeting card for your friends. The app has three amazing sets of stickers. They are Santa, a magic fairy, and cute bunny stickers.
In each set, you will find characters in different poses and different sizes. For example, in the Santa set you will see Santa sleeping, sneaking, hiding gifts, and funny reindeer. All stickers are made in good quality, which resembles natural pieces of photography.
By adding stickers you will get the most realistic magical photo possible. Check how you can make your photos more magical with the iCaughtSanta app.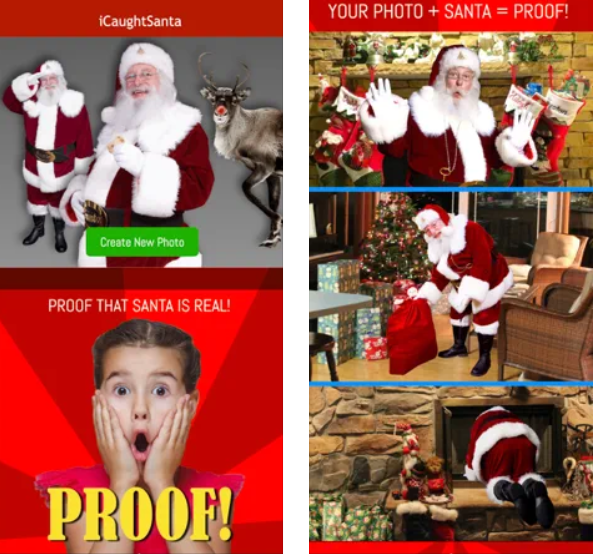 10. Your Selfie with Santa Claus
Are you ready to celebrate Christmas and New Year's? Perhaps you have not yet had time to decorate your home? Your space can become more festive. All you have to do is use an app. Your Selfie with Santa Claus is a humorous app that adds Santa to all your images. Here you can try to take selfies with a real Santa Claus.
In addition to that, you can add cool ribbon stickers, candles, candy cane, Christmas flowers, Christmas yard decorations, Christmas tree lights, various Christmas characters, and much more related to Christmas and New Year. The main thing is that it does not take a lot of time. So you can create a real Christmas album.
The app offers a small but very useful set of fascinating stickers. You will find the hottest selection for the coldest season. Add some text right in the app editor. You can import your photos into social networks or share them by mail. The app supports both the iPad and the iPhone.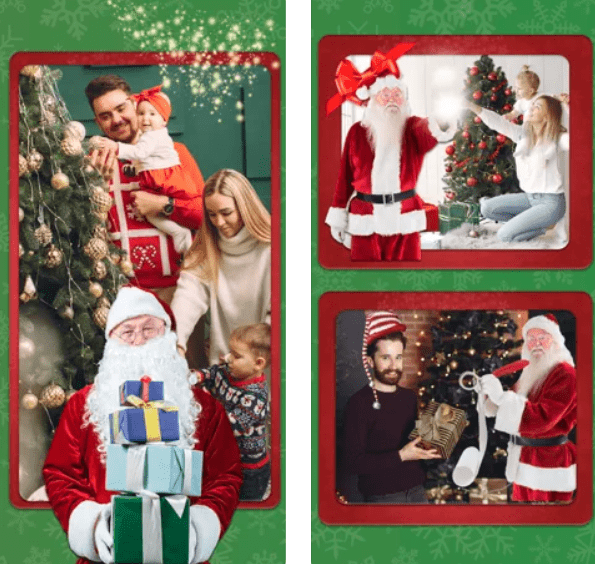 You may also like: 20 Best Age Regression Apps (Photo & Games)for Android & iOS)
11. Catch Santa In My House!
Capture the Santa In My House is probably the biggest app in terms of functionality for adding a Santa to your photo. With this, you can first add a variety of beautiful stickers. For example, here you will find several sections for finding stickers.
There is a collection of free stickers not only for New Year but also for other holidays, such as Valentine's Day, Easter, the Tooth Fairy, St. Patrick's Day. You can also take a look at the top section, where you can find stickers that other users like. Also, once you have chosen a sticker, you can resize it and apply it to your preferred location.
After that, you will be able to edit the photo. For example, you can set the brightness, color, contrast, white balance, blur, and more. You will also be able to crop the photo to the format you want. After that, you can easily add text. Your captions can be adjusted by selecting the style, size, and color of the font.
You can also use the application to tell your friends about the picture. Share the resulting image via social networks with your friends. All in all, you get a multifunctional app that offers many variations of New Year's Eve stickers.