Do you often have to be in other cities, and you have already repeatedly roamed on unknown routes in search of the desired place? Download one of the best apps for route tracking to your smartphone and no longer waste your time on the wrong trajectory, as well as personal money – to buy standard maps of this or that city.
Such navigators are much more functional than its paper counterparts because it will not only show you the way to the right place but also has a whole range of useful features.
Waze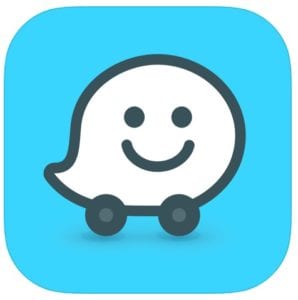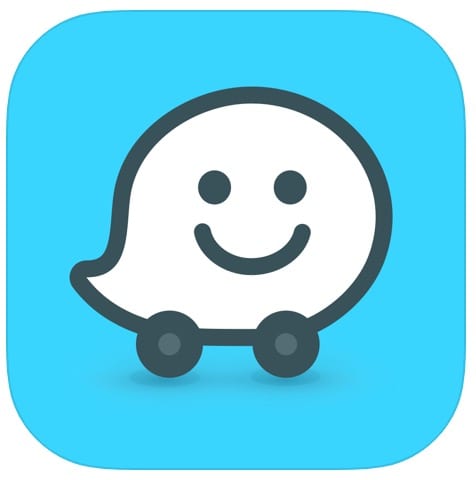 Waze is a social navigator designed for owners of mobile devices on Android and iOS. It can become a daily assistant for each driver of a personal vehicle. It's free and doesn't require additional purchases.
Functionality. It is intended for car drivers initially. However, owners of other vehicles can also use the tool. Thanks to the program at hand, you will be able to know in advance about possible traffic jams and other obstacles.
The work of the tool is based on the principle of mutual assistance. Each user can make a contribution and help other drivers to avoid unpleasant situations. The main menu of the application is a handy map with navigation mode.
On the map, depending on the selected route, police stations, video cameras, places of accidents, traffic jams and many other obstacles are displayed as icons. This information will help you to correct your route and avoid unpleasant events.
The tool can even calculate how long you will be on your way, depending on the specified departure and destination. The system will also advise you when it's better to start travel to avoid traffic jams and delays.
In addition, the tool also performs standard navigation functions. In the settings, you can specify a voice to guide you in the direction of travel.
Interface, sound. Waze is available in terms of voice assistant and standard interface. It's worth noting the quality of map display, bright design of the interface, icons. The menu is intuitive and easy to remember. Voice assistant works without complaints.
Pros:
navigation functions;
real-time alerts about road problems;
the ability to help other drivers;
calculation of travel time;
pleasant interface.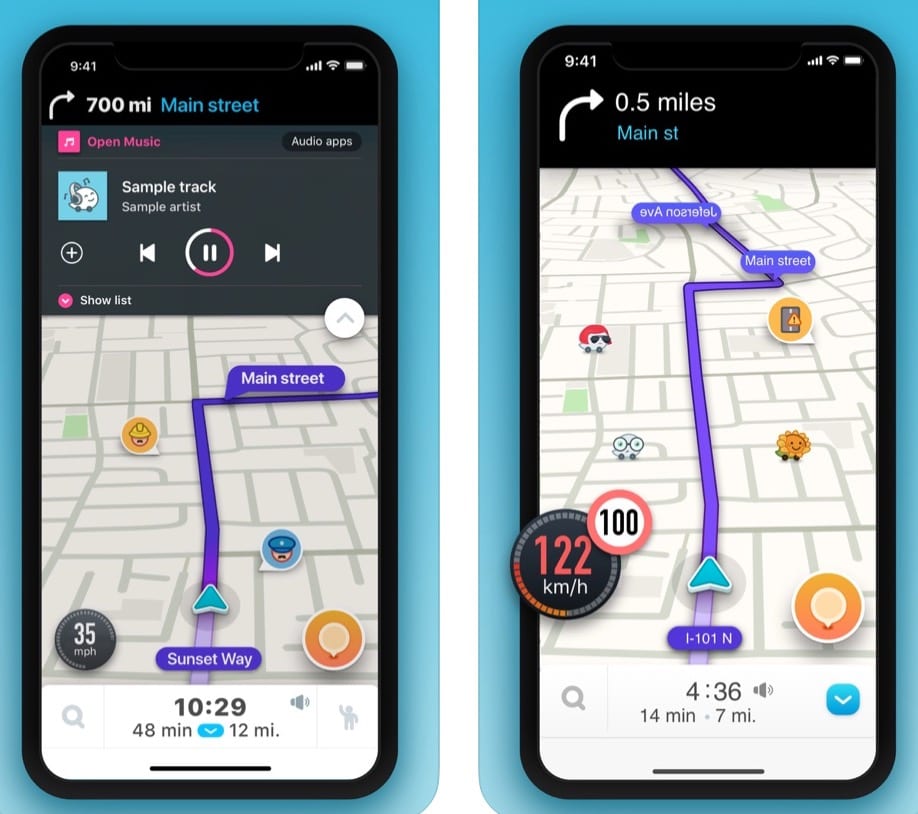 You may also like: 10 Best car maintenance apps for Android & iOS
Sygic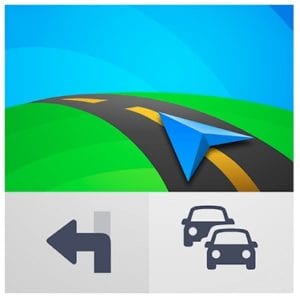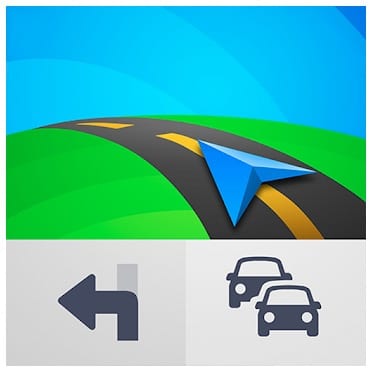 A great program, which is a powerful navigation system. With Sygic, you can use all the delights of GPS, even without a connection to the Internet.
In order to use the city maps, all you need to do is download the right map package for the country you are going to. This way you will have access to any place on the map, even if you are offline because all information will be stored locally in your device.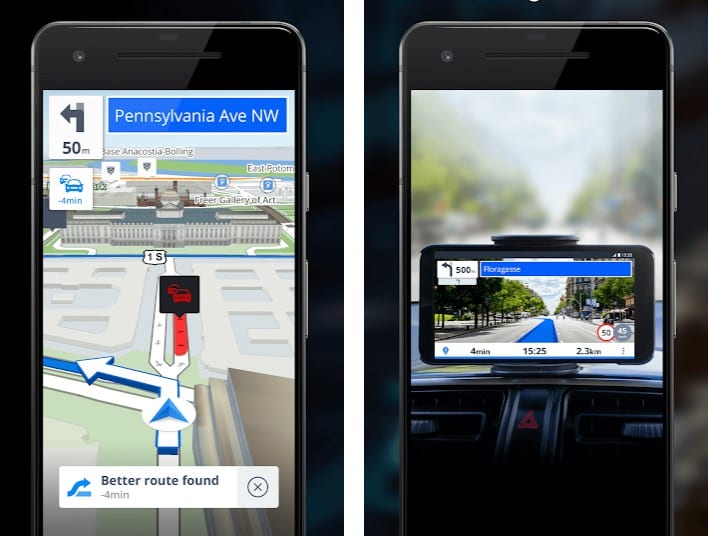 Maps can be pre-downloaded at home and they will be saved in the device memory. In order to get directions on how to get from one place to another, you just need to activate the GPS sensor in your phone. Downloaded maps are usually updated regularly, so you will always get reliable and accurate information quickly.
What's more, 3D animation in Sygic turns navigation with this application into a real pleasure, as you will see right in front of you buildings and parks, which will significantly reduce the risk of getting lost somewhere.
You can expand the functionality of your application at any time with additional features such as voice commands, a video recorder, and many other equally useful features.
Everything is done in a minimalist style. The map is very convenient, there is a search, it's possible to create a route, the interface is very nice and generally understandable.
This multifunctional tool also includes a pedestrian navigation system, so you will be able to explore nearby shops, businesses, and parks. Whether you choose to travel on foot, by bike or car, Sygic is the perfect alternative to the traditional navigation apps.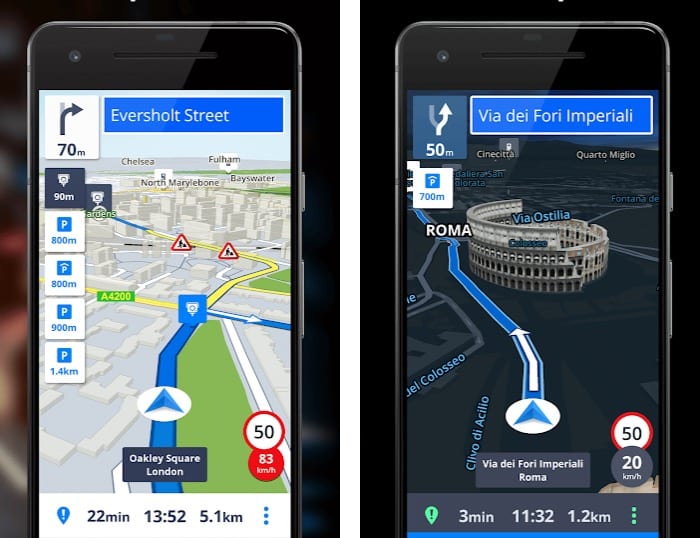 MAPS.ME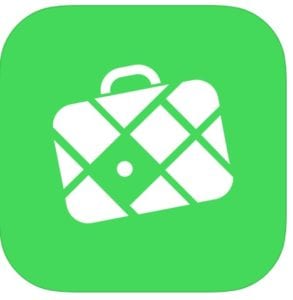 MAPS.ME is an application for viewing maps of any place in the world from your smartphone that doesn't require an Internet connection to work.
Keep in mind that although access to MAPS.ME doesn't require an Internet connection, you will still need to download them first. All you have to do is find the Wi-Fi network and choose which country map you want to save on your device. After that, you can always access the maps without an Internet connection.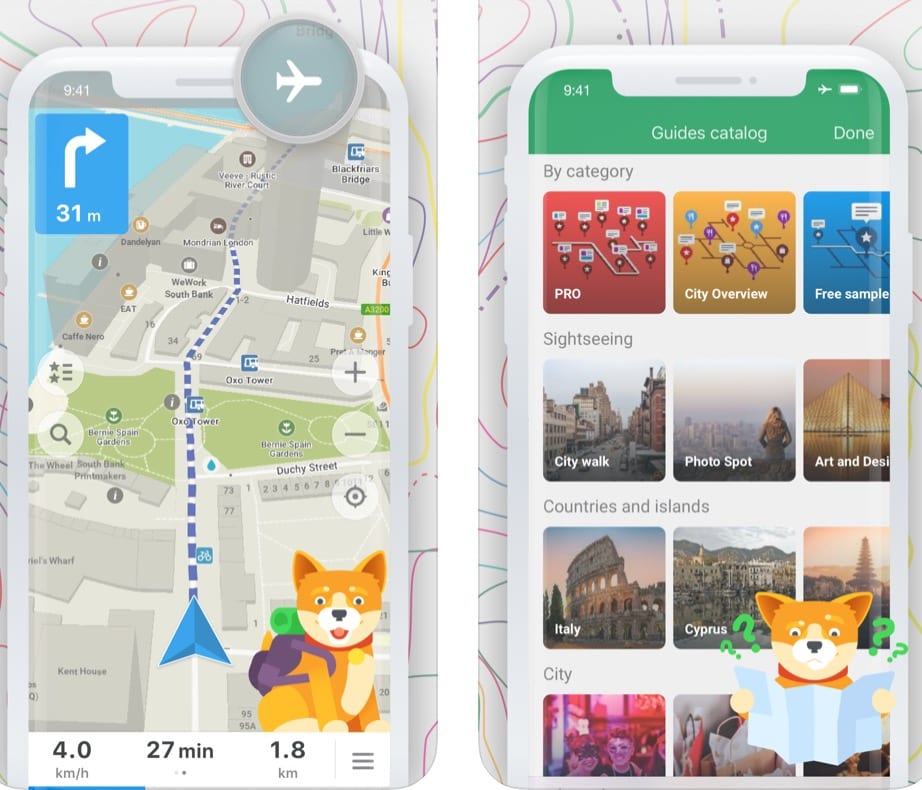 In MAPS.ME you can download detailed maps of any country and use geolocation to determine your location if your device has GPS.
In addition, the application allows you to create routes. To do this, you must enable the geolocation function on your device. Thus, MAPS.ME is also a universal offline navigation device. You can create a route both inside the map of one country and between several regions, which allows you to plan your journeys.
MAPS.ME is a very useful map application for everyone who loves to travel because it doesn't require an Internet connection. And most importantly, the lack of a permanent Internet connection will keep your battery charged.
The program can be called an indispensable companion of a traveler.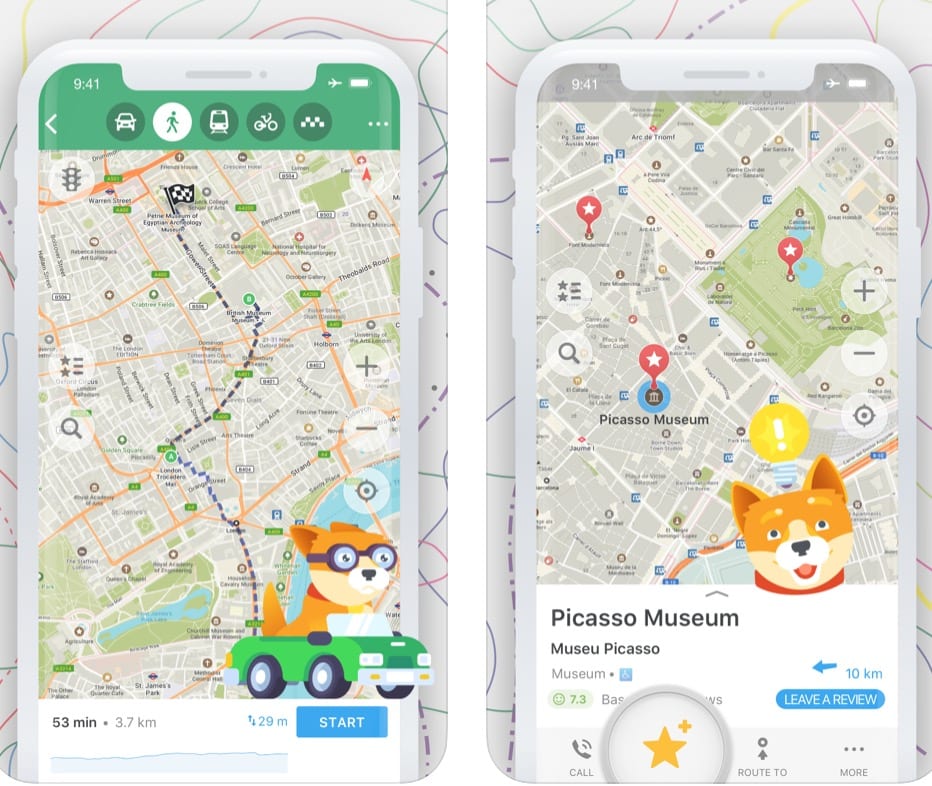 Google Maps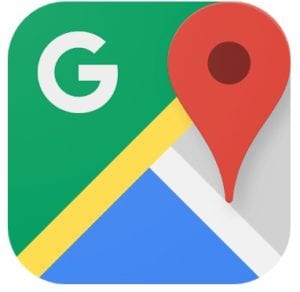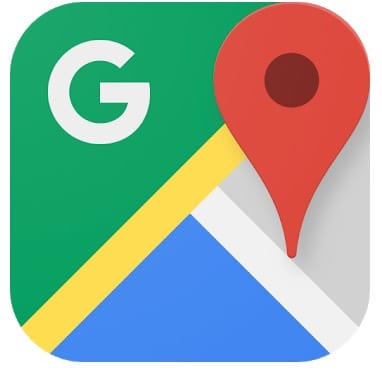 Google Maps is the most popular GPS application. By downloading these maps to your device, whether it's a tablet or mobile phone, you can create the easiest and shortest route to the desired destination.
Also, the program will help you find the right address, get information about city traffic jams, as well as understand the location of all sorts of shops and city attractions.
To all the above, Google Maps will always be with you and at any time will build a new, most correct route. You will no longer lose your way in an unknown city, visit the most interesting places, and can get to the best hotel in the area, as well as have breakfast in the nearest cafe. For girls, overviews of the biggest shopping malls, boutiques and all kinds of clothing stores will be a useful addition.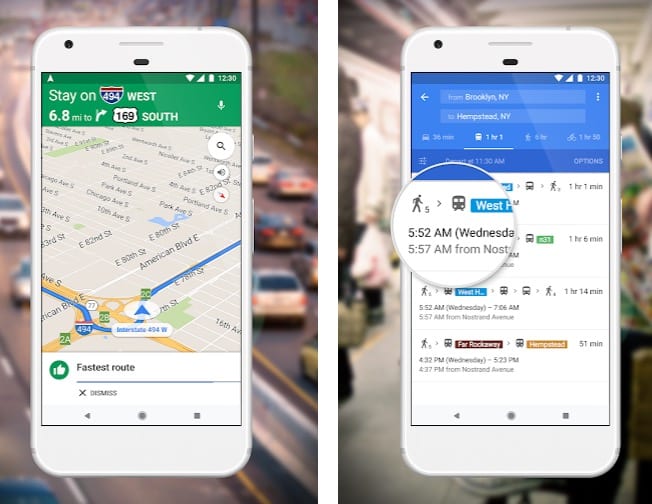 Drivers will now be aware of traffic jams all the time and will also be able to find the shortest way to their final destination. These maps are regularly updated with all kinds of additions, which will be very useful at the right time, so if you have the opportunity, update the maps every time.
The main features of Google Map:
The navigator differs from most analogs by a better quality display of maps;
A simple system to find the addresses you need;
The program allows you to set the easiest and shortest route;
The most accurate geodata of two hundred countries;
GPS navigation with a voice command for car drivers;
Supports panorama.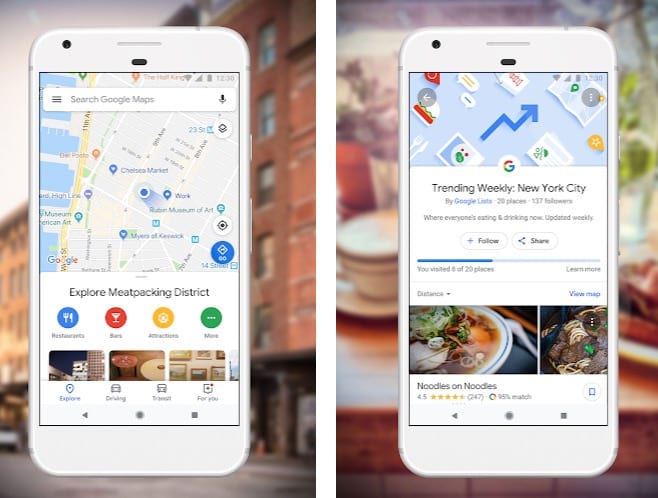 HERE WeGo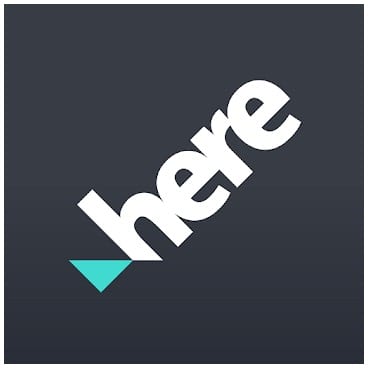 HERE WeGo Maps is a good alternative to Google Maps. It has a clean interface and allows you to download maps for offline work.
The application allows you to view maps of different regions and get different information. You will be able to view maps both in the classic form of terrain and roads with information about traffic jams in real time, as well as in 3D displaying all buildings.
With Here WeGo app, you will be able to see the cost of public transport tickets and taxi rates, find parking spaces and learn about traffic jams for any trip.
Whether you are walking or taking public transport, HERE WeGo will guide you every step of the way and at any point on your route, just when you need it.
No doubt, it's an excellent tool that will work even if your phone doesn't have an Internet connection. This is possible because the application allows you to download map packs individually with full geographical information about a specific city or region. In the same way, you will be able to download additional voice packs for your browser.
The application also includes other tools such as shopping and service point searches, adding bookmarks to save your favorite places, and full integration with local transportation services, so you will always know not only the best route but also how long to wait for the bus or subway.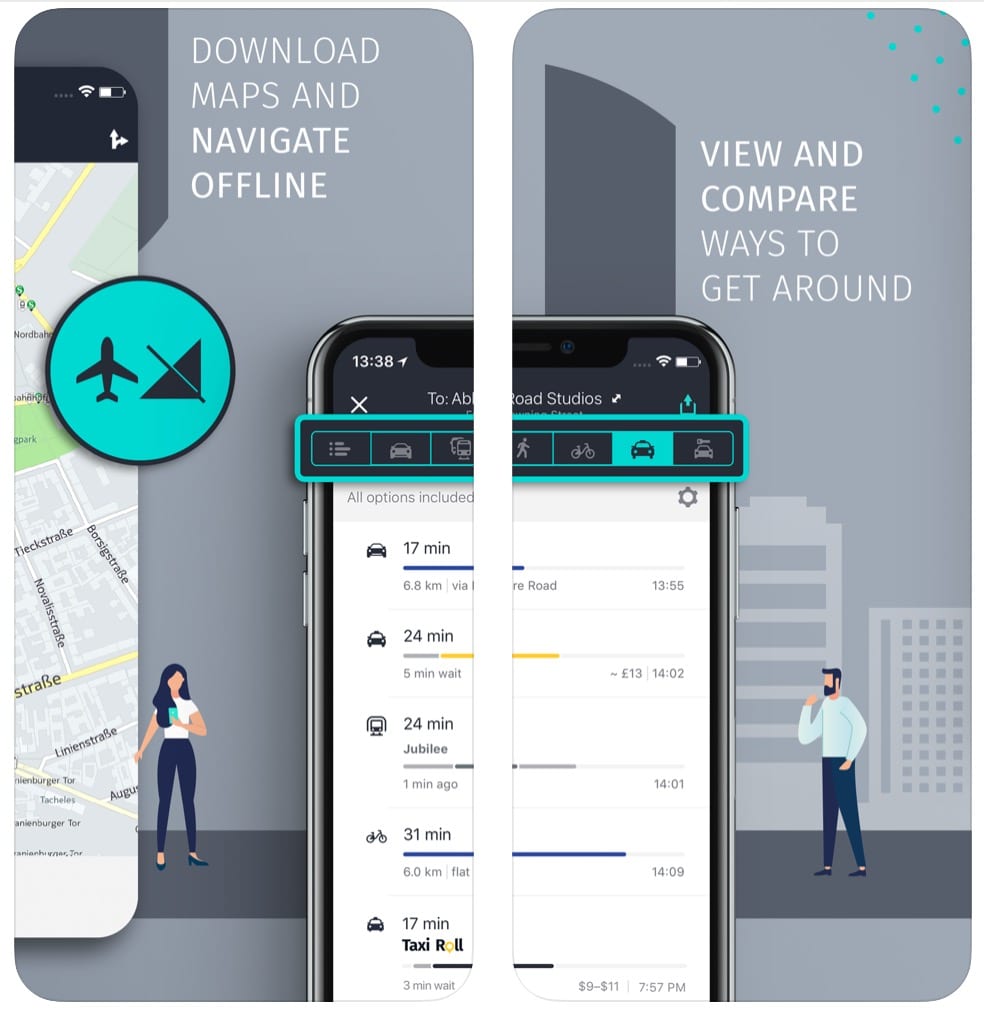 Navmii GPS World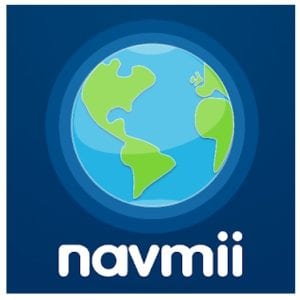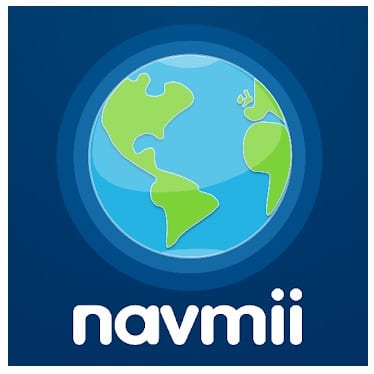 Navmii – free GPS navigation, which is used by more than 20 million people.
Navmii is voice navigation, real-time traffic information, neighborhood searches, places of interest and a driver rating system.
The main features of Navmii:
New modern look;
free traffic jams and traffic events;
updated maps;
improved address search;
multi-million POI search.
And all that aside from the standard functionality of Navmii:
Great voice navigation;
high-resolution maps;
works without an Internet connection;
built-in search in Foursquare, Google and Live POI;
day and night mode.
Navmii uses Open Street Maps that are installed on your phone or tablet. This way, you don't need the Internet to be able to navigate.
Ideal for traveling! (Just remember to download the maps).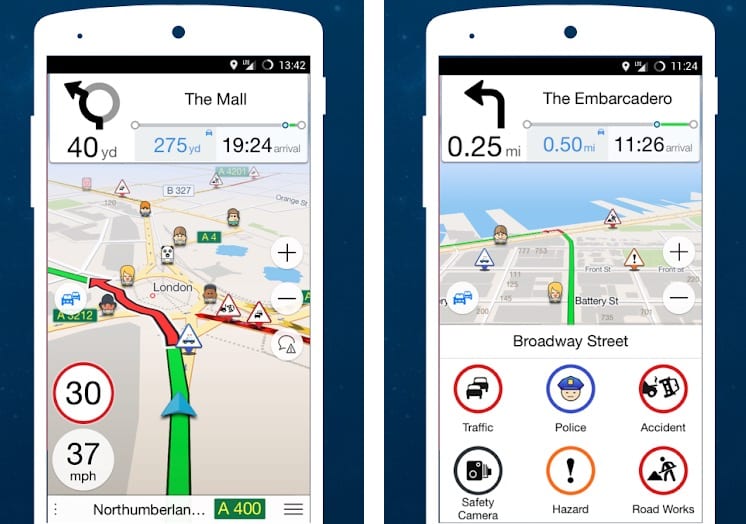 Magic Earth Navigation & Maps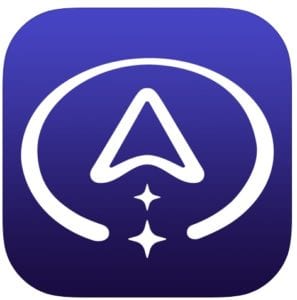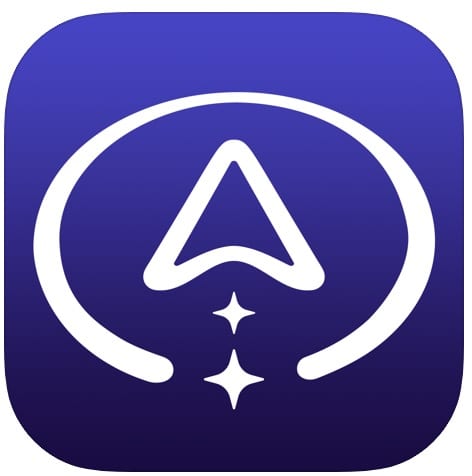 Magic Earth Navigation is a free navigator, which contains maps of the whole world with the ability to create routes for hiking and cars taking into account the terrain.
Features of the application:
A completely free navigation tool for mobile devices;
several types of map display: scheme, 3D, satellite.
display of traffic conditions, signs and traffic lights along the way;
possibility to build routes for car drivers, hiking as well as bicycle routes;
the navigator offers several routes to choose from and updates traffic data every minute;
display of public transport routes.
Find the best route to your destination, even without an Internet connection. Magic Earth uses OpenStreetMap data and a powerful search engine to offer you the best routes for driving, cycling, hiking, and public transport.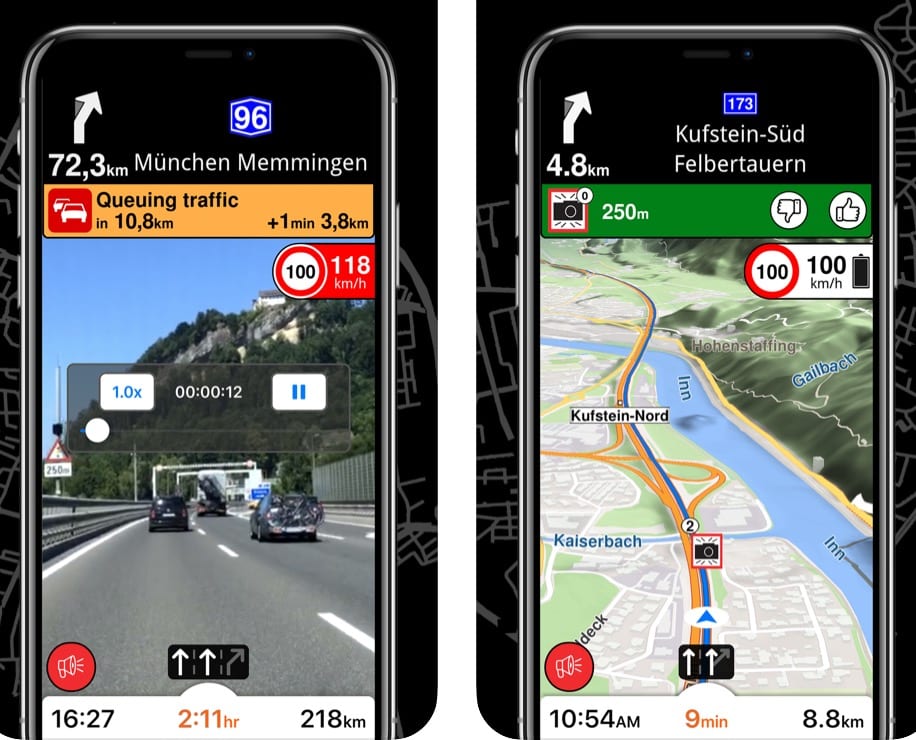 OsmAnd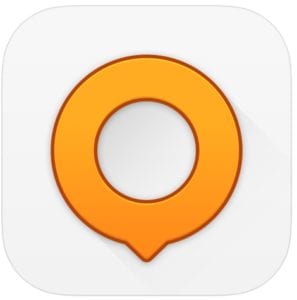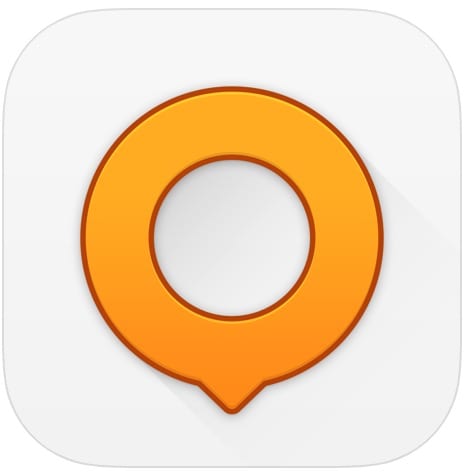 OsmAnd is an offline navigation application for working with maps that uses data from OpenStreetMap. Thanks to it, you can download and store on your device any number of high-quality maps from all over the world.
The OsmAnd application is regularly updated by developers. In general, the interface is user-friendly and has excellent functionality.
One of the advantages of OsmAnd is that, in addition to using data from OpenStreetMap, the application also allows you to access information from Wikipedia. The map may display nearby sights based on Wikipedia information.
OsmAnd is an excellent navigation tool. The application not only allows you to download maps to use them without an Internet connection, but it also has a lot of functionalities, including the possibility to change your visual or navigation style, adjust the map to your direction of motion (or compass).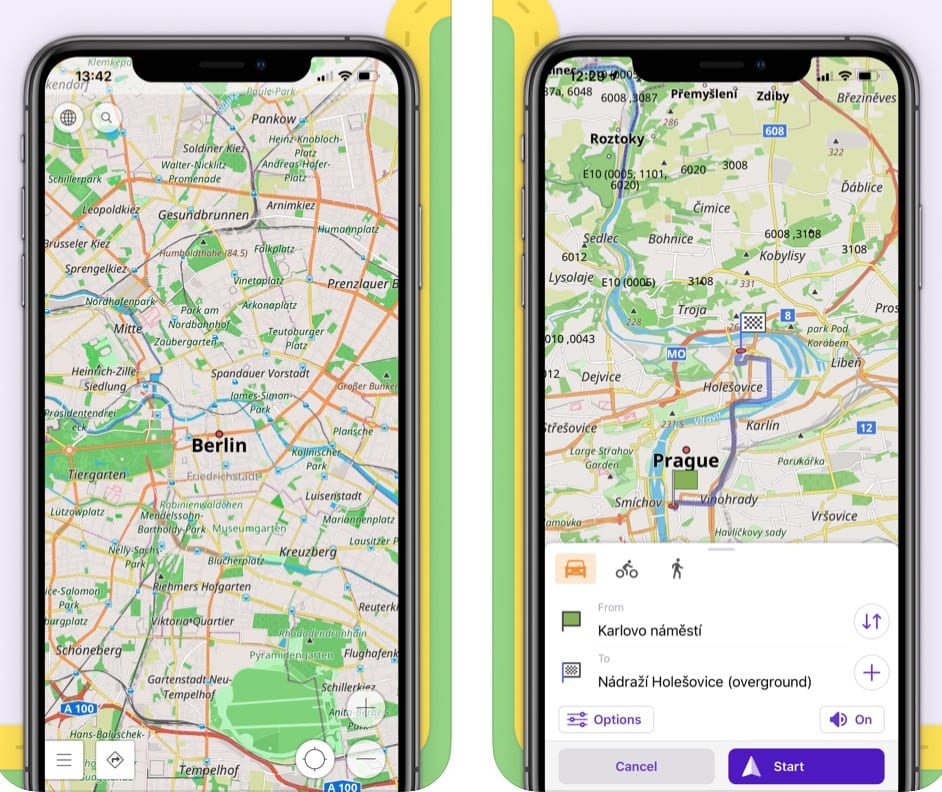 Offline Maps & Navigation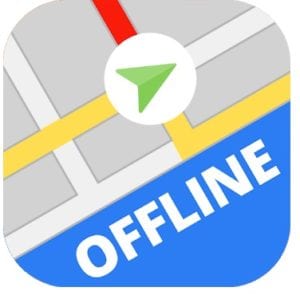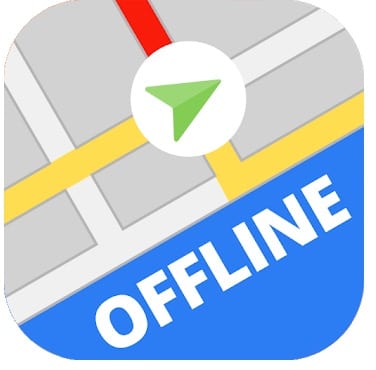 Offline Maps & Navigation is a useful navigation application based on offline maps. Enjoy unlimited possibilities and get free updates!
Features include offline GPS navigation, offline maps, free updates, speed limit alerts, 3D buildings, hiking, car navigation and night mode based on the sunset time in a particular area.
Advanced application features include real-time traffic viewing, multi-language voice guidance, roadside radar warnings, route recording, photo viewing and much more.
Navigate anywhere without an Internet connection:
Offline maps of all countries;
free map updates several times a year;
voice GPS navigation with precise instructions;
millions of Points of Interest;
providing real-time route information.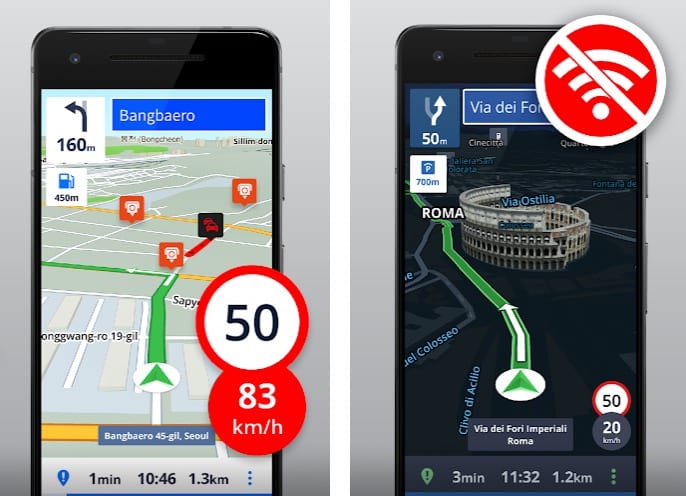 Strava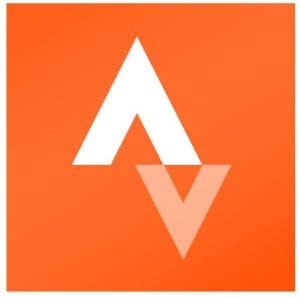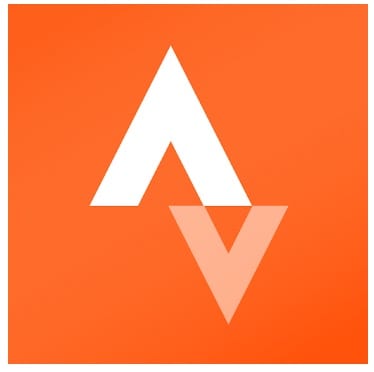 If you are into fitness, then it's the best app for you! Strava is a health and fitness application but it's also a GPS tracking app.
Strava allows you to track the perfect route to ride your cycle and also helps to find new routes and shortcuts to your destination. This app will help you to save some space on your phone because you can use one app for two different things. Great!
Strava is a great fitness application for all users who usually run or ride a bike, not only to keep track of all their workouts but also to share the results with other users.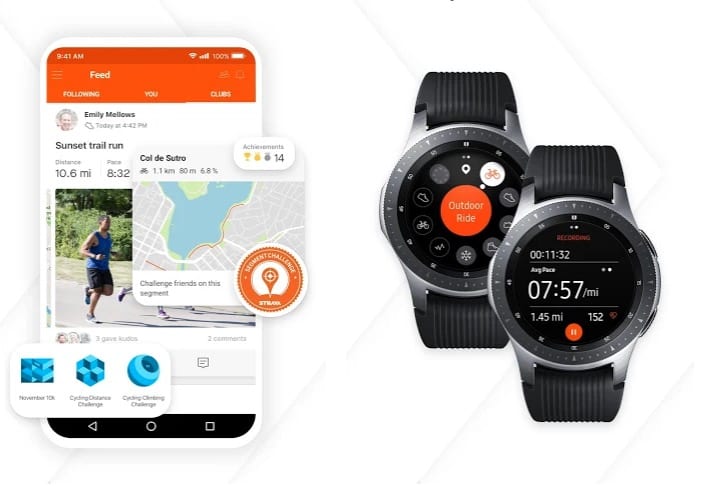 You may also like: 6 Best mirror link apps for Android & iOS
MapFactor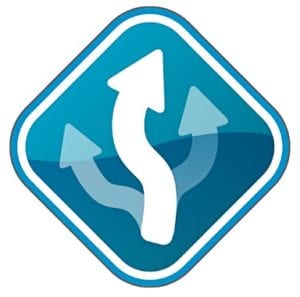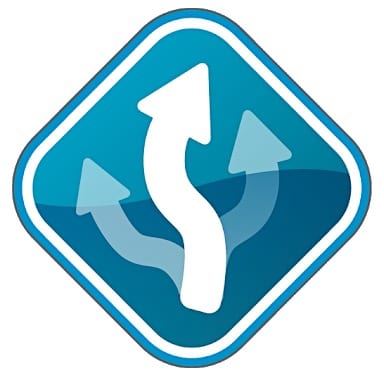 Some time ago, MapFactor was difficult to rank among the best navigation applications. But thanks to numerous improvements and free updates, it has become one of the most reliable and user-friendly applications in the world.
Once you have downloaded MapFactor to your device, there is no need for any Internet connection. You only need to update the application once a month to include new objects.
A voice-guided navigation system available in various languages is integrated, and it's also possible to pre-build a route. By switching modes, you can see both detailed and simplified maps in 2D and 3D.
When traveling on long-distance routes, it's more convenient to use simplified maps, as all you need to do here is to follow the direction of the movement. In populated areas, it's better to switch to detailed maps showing gas stations, cafes, restaurants, parks, and other landmarks.