Unusual appearance, strange habits, – dinosaurs fascinate. Children always enjoy watching them and learning their names. Now they can learn the names in eight languages! Walk around the 3D landscape with volcanoes, rivers, and forests and look for new dinosaurs.
No need for registration. No ads even in the free version. The paid version has more dinosaurs and other prehistoric animals, as well as other landscapes. Let's go to the main screen.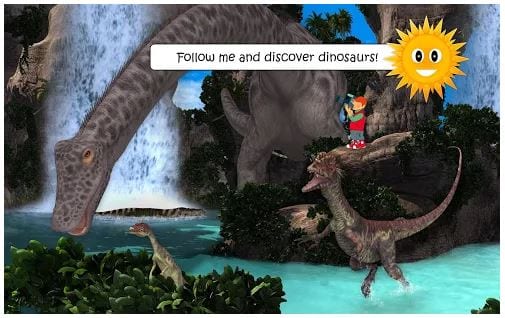 The Sunny Assistant will tell everything out loud in simple language, clear even for the smallest children (the application is for children from two to eight). Just click on the sun if you don't understand something. Choose the available terrain and dive into the adventurous journey.
When you find a dinosaur – click on it and find out its name. The sun will say his name and show the spelling. If you click on the flags that appear, you can find out the name in eight languages. Lifehack: at the same time, your kid will learn a few flags. When you have found all the dinosaurs, you "win" a camera.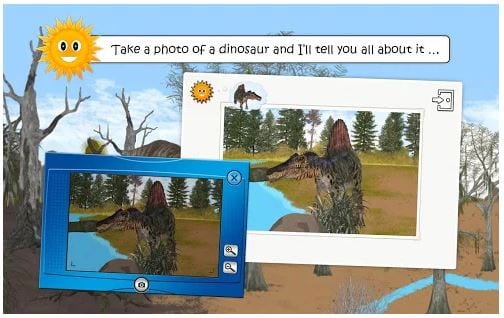 Now you can slide across the same landscape, seeing it as if through a camera lens. Animals move – hunt, graze, wave their tails, and so on. Choose a good "shot" and take a photo. When you do this, Sunny shares interesting information about this dinosaur, such as what its name means, what it ate, and so on. Collect 12 photos or more to make a photo album. It can be downloaded and printed with the help of an adult.
There are also quizzes in the application. For example, you need to answer the questions: What dinosaur is it, count the animals, who shout like this.
All in all, the game is very informative and educational not only about dinosaurs, but also about counting, languages, and so on. Even an adult can find interesting information in it. The developer is ready to help users attentively.
If you are tired of walking in a nearby park, take a trip to the volcanoes with dinosaurs. Find them all!