Time runs fast, so sooner or later each of us will become mature, then an elderly person. It's not a secret that this process is unstoppable. But a human's curiosity is something endless. That's why, we guess, most people ask themselves a question: What will I look like in 20 years? Or in 50 years?
However, there is no need to wait for several decades. Take a look into the future right now! Due to the cutting-edge apps, you will be able to find out what will you look like when you are old. Furthermore, the apps are capable of generating such photos just in a few seconds.
In this very post, you will find the best Age Progression Apps available on the App Store or Google Play. They will allow you to see yourself in old age. Apart from this, such apps will become great tools to entertain.
1. FaceApp – AI Face Editor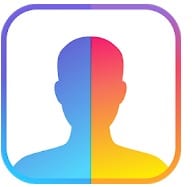 Our review starts with a stunning app that is called FaceApp. Let's talk about its features that make the app one of the best in this category.
Before we start, it must be mentioned that the app has a built-in AI technology. That's why the result will be amazing.
As for the feature you are interested in the most, the app will allow you to see yourself in old age. Thus, you will see the exact copy of yourself but in 30-40 years. the app will apply all the signs of aging to your photo – wrinkles, grey hair, loose skin, and so on. So we are sure that you will be excited about a result.
Apart from this, if you want the opposite effect, the app will help you as well. By it, we mean, that if you are mature enough, you will be able to renew your youth. Just let the app remove wrinkles on your face on a photo, make hair colorful again, and that's in.
Apart from this, you can virtually change gender with this app. Thus, female users will be able to turn themselves into men, and vice versa. This feature will suit best if you want to have a splendid time with your friends.
Also, the app's AI system is capable of choosing the most appropriate hairstyle or hair color by analyzing your facial characteristics. For men, this option differs. You will be able to find your perfect beard or mustache style. In both cases, you will admire your new look. And who knows, maybe you will change it in real life.
Besides, the app will be a perfect photo editing tool. You will be able to add an appealing smile to your face, apply photo filters, adjust lighting, replace the background, and so on. As a bonus, adding a cool tattoo will be also available.
Moreover, the app has two paid features. Thus, if you are a premium user, you will be able to apply virtual makeup (daily as well as evening). Apart from this, you will have access to a great gallery of photo effects.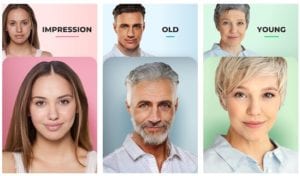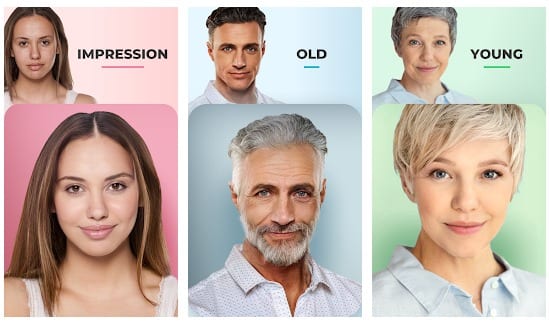 2. Age Face – Make me OLD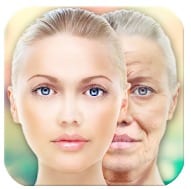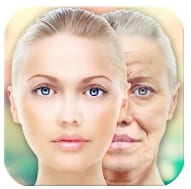 Age Face is the next application on our list. Just like the previous one, it will allow you to feel a wide range of emotions after seeing only one photo.
To begin with, the app includes dozens of different templates that can be applied to your face. Actually, these templates represent the faces of elderly people.
But don't worry, it will be still you in a photo. The thing is that your new appearance will have all your facial characteristics but with signs of aging from a template applied.
Besides, we want to emphasize that only a few templates will be available for free. As for the rest of them, you will be able to use them after purchasing them.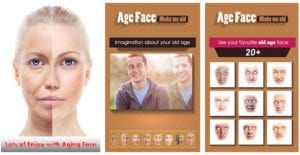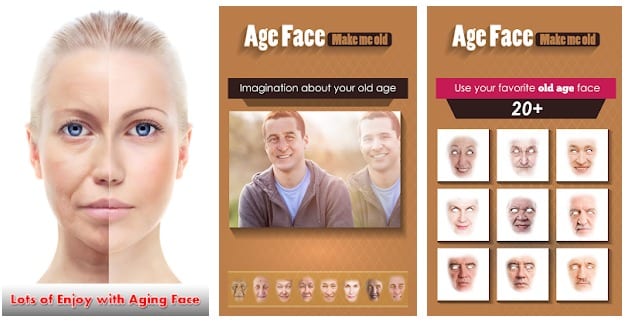 3. AgingBooth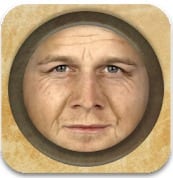 AgingBooth is one of the best apps of the popular worldwide PiVi & Co. Like any other apps of this developer, this one has a component -Booth in its name. One more similarity is that this tool is as fantastic as they.
Well, only in several seconds after opening the app, you will have a photo of yours in old age at your fingertips. It has a unique system capable of making a person on a photo look much elder. What is more, there is no Internet connection required.
Apart from this, the app has many other advantages. Thus, you will be able to upload your photo from a gadget library as well as from a camera, adding it instantly. Moreover, the app will automatically detect your face and crop all the unnecessary things.
Also, after applying wrinkles and grey hair to your photo, you will be able to view the original photo just by shaking a phone. The same can be done in order to view the final result of a photo with all signs of aging.
One more thing that makes the app so convenient to use is the Sharing feature. So you will have an opportunity to share a photo via social media from the app directly. Alternatively, saving it to your phone gallery will be available too.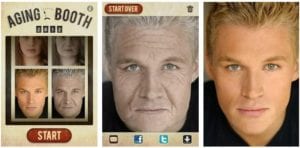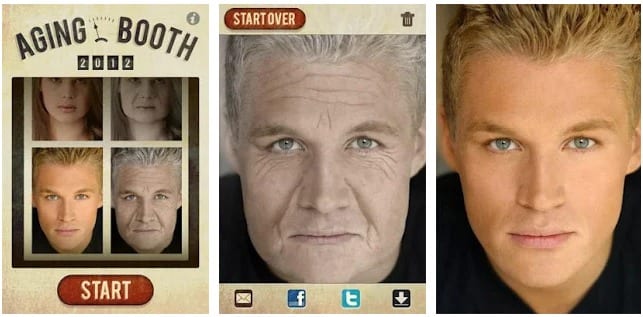 4. Oldify – Old Face App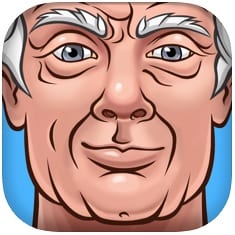 Oldify is the app that is so deeply appreciated by iOS device users. Being a specialist in making a person elderly on a photo, the app will become your effective assistant in this matter.
All you need to do is to choose the number of years that will be added to your current age. After that, you will see yourself when you are in old age. So the app has a distinguishing feature – you can not just make yourself look elderly, but view the gradation of getting older. That sounds really great.
After choosing this or that age, you will be able to take both photos and videos. It will make your content so amazing.
One more thing that makes the app outstanding is a good collection of 3D accessories that can be applied to your photo or video. What is more, these accessories are typical for people in years. For example, glasses or monocles. So they will perfectly complete your look.
Right after taking a photo or video, you will be able to share this content with your friends directly from the app.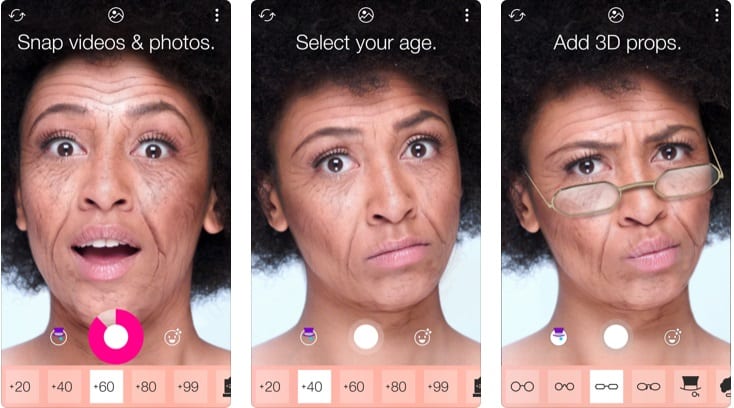 5. Future Self – Aging Prediction
Future Self-Aging Prediction is a must-have app from Google Play that will also let you see yourself as chronologically gifted. Install it to make yourself sure of how powerful it is.
Your task is just to upload a photo and choose an age that you want to add to your current one. After that, the app will generate a photo where you are past middle age. The older you want to be, the deeper wrinkles on a photo will be.
Apart from this, the app has so many other features. It is capable of palm reading, predicting your future baby, finding the best matches with celebrities, analyzing who is the most beautiful in a photo, and other girlish things. Though we find it superfluous, you can make good use of this all-in-one app.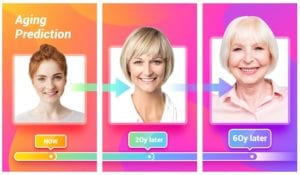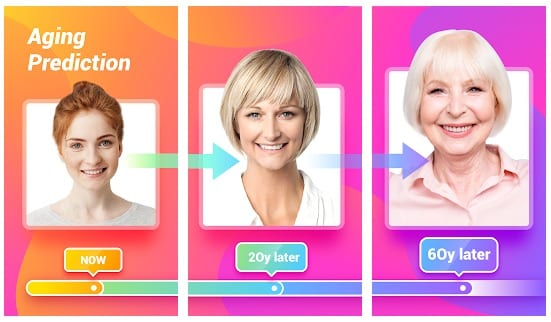 Are you searching for a full list of apps for palm reading? Well, get a benefit from our post on this theme.
6. What Will I Look Like Old Face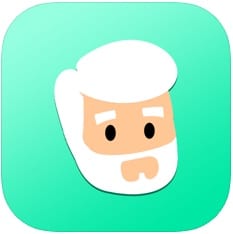 Still not satisfied? Try the What Will I Look Like Old Face app then. In this case, it is from the App Store.
The functioning principle of this app is quite similar to the previous one. First of all, you just need to upload a photo of yours or your friend. Then, it is necessary to choose how old do you want to be. In a second, the app will suggest various filters that you can choose from. Moreover, the signs of aging will match the age chosen by you.
Everything has its disadvantages, this app is not an exception. Well, only your face will be changed. So if you want to have your hair grey as well, this very app is not the best choice for you. However, if it's okay for you, you will enjoy the process of using it for sure.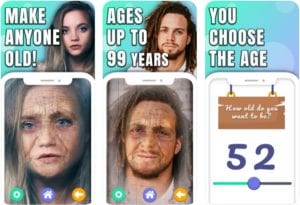 7. Agify : Age your Face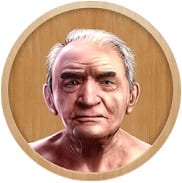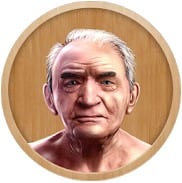 When it comes to reviewing an app for Android device users, Agify is one of those that comes to mind.
After uploading a photo, your task will be to mark the location of your eyes, mouth, and chin. Each of us is unique. So for better and more accurate results, this procedure is something that must be done.
Then the app will apply filters that will make you or any person from a photo look as an aged one.
In addition, your photo will become of a grey shade. As a result, you will become the owner of grizzled hair.
Finally, it will remain just to save a photo to your gallery or share it via social media.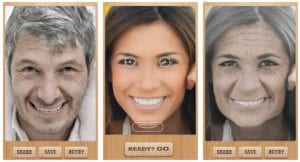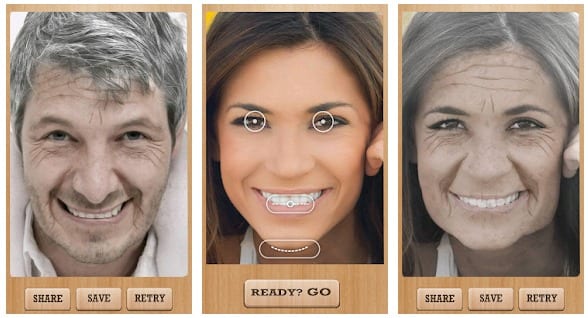 8. Face Story: Aging Camera App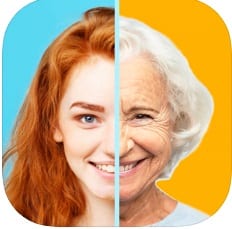 You got it right. The Face Story app also has all the necessary tools to turn yours into an aged person.
Well, it's not difficult for this brilliant app to change your real age. Owing to its system, you will be able to see yourself in the future when you are old. So you will learn whet timelessness is.
Additionally, the app will provide you with access to many other features. Thus, you will be able to learn which celebrity is the most similar to you. Apart from this, the app has a nice collection of photo effects available 24/7. Finally, one more nice feature is an accurate built-in horoscope.
It's so convenient to have everything in one app.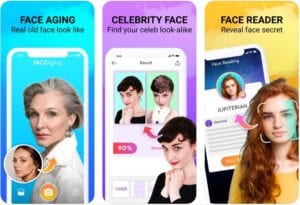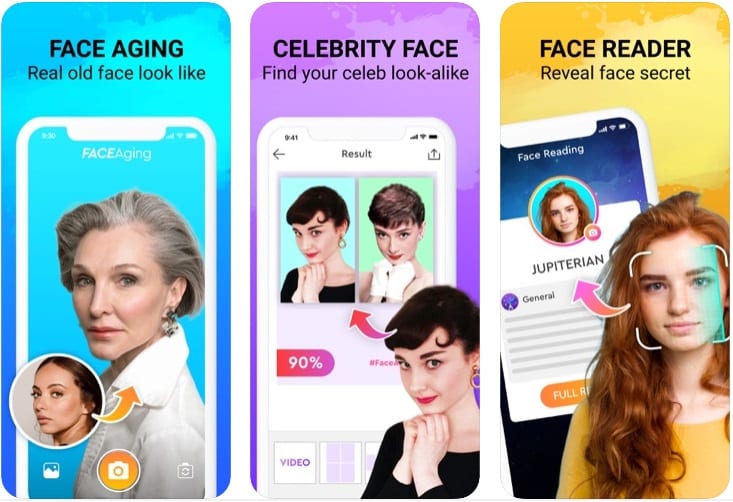 9. Old Face Maker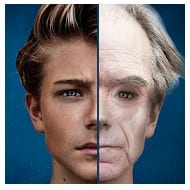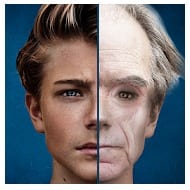 Do you want something more? Then we strongly recommend you to install the Old Face Maker app.
The app's uniqueness is that it contains a fine gallery of stickers that can be applied to a photo. Each sticker represents this or that facial characteristic typical for an aged person. We mean wrinkles, loose skin, grey hair, glasses, and many others. So you will be able to choose what you like the most. Due to this peculiarity, your appearance can be fully customizable.
What makes the photo look so realistic is that you will be able to rotate and resize the stickers to make them fit your photo.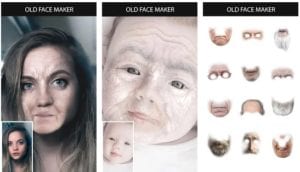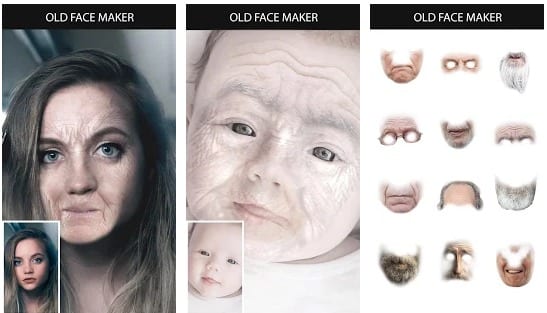 10. Age Editor: Face Aging Effects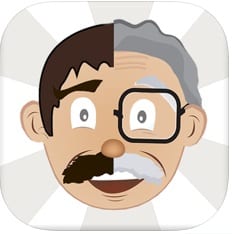 As for the alternative from the App Store, try Age Editor.
With only several taps, you will make yourself stricken in years. The things that will perfectly complete your new style will be grey beards, mustaches, hair, glasses, and so on. By the way, adjusting the intensity of grey color will be also available for you.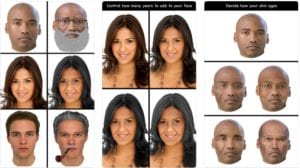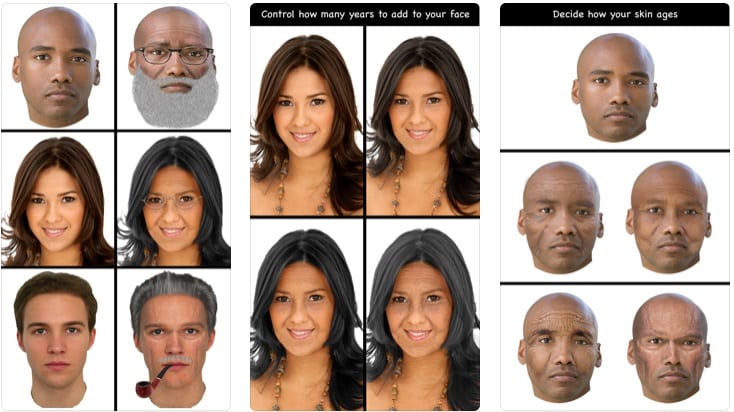 You may also like: 13 Best apps that make you look older (Android & iOS)